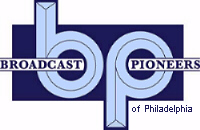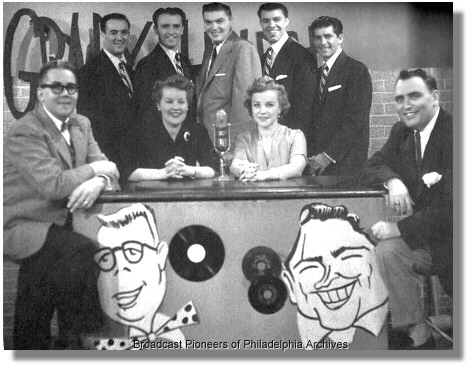 Grady & Hurst TV Set
(Left to right - back row) Sod Vaccaro, Dave Mahoney, Bob Eberly, Al Alberts and Lou Silvestri
(Left to right - front row) Joe Grady, Patti Page, Mrs. Jack Pleis and Ed Hurst
WABC-TV
circa 1952

Early in 1952, Broadcast Pioneers members Joe Grady and Ed Hurst did a pilot for a television show on WABC-TV, Channel 7, the ABC O&O station in New York City. Ed Hurst said that it wasn't a dance show but a variety program. It was an hour long and was live. To the best of Hurst's memory, the show was not recorded.
Ed Hurst told us that it was done between 9 am to 10 am and was not broadcast. Just the WABC execs watching the show in the control room. However, Broadcast Pioneers member Cissy Hurst (Ed's wife) disagrees. She said that the program was, indeed, aired over WABC-TV as a one-time special and series pilot.
On the back row are the Four Aces and Bob Eberly, former male vocalist for the Jimmy Dorsey big band. The front row has Grady and Hurst, plus the singing rage, Patti Page and the wife of Jack Pleis, the arranger for the Four Aces. Ed Hurst told us that the Four Aces drove all night in order to make the television show.
Sometime after the program, Ed Hurst sent the following correspondence to Al Alberts:
Joe Grady and I will never forget that you and The Aces traveled all night to New York to be guest artists on a Grady and Hurst audition for a morning TV show on WABC-TV.

Al once told me: "Ed, we made that overnight trip to New York because we never forgot what you and Joe and The 950 Club on WPEN, Philadelphia did for us with breaking our first recording of IT'S NO SIN nationally! That was the turning point of our career! Some things you never forget!"

I'm glad we were there for you Al! We gave you the ball, but you carried it! Congratulations on a great career!
Several times, Joe Grady and Ed Hurst appeared on Patti's network television shows, "The Big Record" on CBS-TV and "The Patti Page Show" on ABC-TV.
The last television appearance of Grady & Hurst took place on Saturday, March 6, 1999 on WHYY-TV. Broadcast Pioneers member Gerry Wilkinson, who was a television producer for WHYY invited Joe and Ed to appear on a Channel 12 pledge drive. The reason? The station was airing a Patti Page TV special and had Patti live in the studio.

(Left to right) Ed Hurst, Joe Grady & ed Cunningham
(All members of the Broadcast Pioneers)

(Left to right) Ed Cunningham with Patti Page
The WHYY Forum Theater

It was one of the last broadcasts to originate from "The Forum Theater" in the WHYY complex. When the WHYY building was renovated later that year, the theater was eliminated.

From the official archives of the Broadcast Pioneers of Philadelphia
B&W Photo originally donated by Al Alberts
B&W picture is from Alberts' book, "Al's Song"
2 Color Video Stills from the WHYY-TV membership drive
Video dub courtesy of WHYY Engineer Ken Tuman
Used with the permission and authority of WHYY-TV
© 2000, 2005 - All Rights Reserved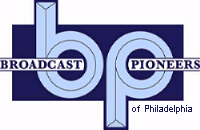 The e-mail address of the Broadcast Pioneers of Philadelphia is pioneers@broadcastpioneers.com