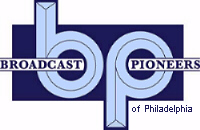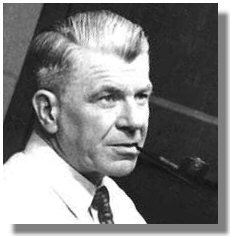 Gunnar Back
1962
J. Gunnar Back was integrity. That word is a recurring theme when people talk about the late Philadelphia news anchor.

Broadcast Pioneers member John Facenda (a previous Broadcast Pioneers Person of the Year), a mainstay at the WCAU-TV, Channel 10 anchor desk for decades said:
He was a competitor of mine, and a good competitor. Above all, he had integrity. …We had a great off-camera friendship. …As hard as we tried to beat each other on stories, we had enjoyed one another socially. I remember when we both went to Rome in 1967 for the elevation of Cardinal Krol. We traveled together and we dined together, even though during working hours we were competitors. …He was one of the few anchormen that I had a great deal of respect for. He was really a pro and really knew his business. …He was a quiet, reticent type of a person.
Broadcast Pioneers member (and former Broadcast Pioneers President and former Chairman of the Board) John Roberts, former weekend news anchor at WFIL-TV (Channel 6), now WPVI, and a former professor of communications at Temple University, also said that Gunnar Back was all "integrity." He remembered Gunnar covering the Army-McCarthy hearings for ABC-TV. John commented: "ABC decided to cover it because it had no soap operas on in the morning and it was a hit and he was a hit."
Roberts thought back to a Gunnar Back appearance in a Gimbel's Thanksgiving Day Parade. He had to ride in a vehicle following Sally Starr (a previous inductee into our Hall of Fame.) John said, "Gunnar was convinced that the kids watching the parade would be so dazzled by Sally Starr that they wouldn't know who he was. …He was delighted to discover that most of them recognized him, too."
The Philadelphia Inquirer has called Gunnar Back "an original." The paper said that by the time he retired in 1971, "he was…something of an institution."

Gunnar Back was a native of Escanaba, Michigan of Finnish background. With a Phi Beta Kappa key in hand and a bachelor's degree in English from the University of Wisconsin (class of 1931), he went back to the northern portion of the state and taught kids in one room schoolhouses in lumber towns for three years. He loved it, but loved knowledge more. His thirst had him return to the U of Wisconsin where he earned a master's degree, also in English. To pay his tuition, he worked as an English instructor for the college and began broadcasting over WHA Radio, the campus station.

He also wrote for Madison and Milwaukee newspapers, but he loved his news reporting job at the school's radio station best.

During this time, Gunnar met his first wife, Mary Eleanor Stophlet, a journalism student at the university. Once they were here in the Delaware Valley, by the way, she wrote feature stories for the West Chester Daily Local News.

Gunnar Back got work at a number of radio stations in the Midwest before going to the networks. His first radio gig was in 1930 with radio jobs in Indianapolis; Lincoln, Nebraska, and West Palm Beach, Florida at WJNO Radio (1200 on AM) where he served as program director in the late thirties.

Back was hired by WFIL-TV as News Director and Special Events plus main anchor. He started on Channel 6 on Monday, February 6, 1956 when the RCA Newsreel moved to the 7 pm timeslot. He was previously a distinguished reporter for CBS Radio for a decade covering President Franklin D. Roosevelt's news conferences, fireside chats and keeping tabs on the Supreme Court and Congress. One of his most memorable broadcasts on CBS Radio was on "The CBS Morning News Roundup." It was August 7, 1945, just 22 hours after the dropping of the Atomic Bomb on Hiroshima. It featured live broadcasts from Germany and Russia. In the nation's capital, Gunnar Back was on the news program with reaction from Washington with speculation about the future of atomic energy. He was the chief announcer for WJSV, the CBS station in the nation's capitol during the Second World War before joining the network.

From CBS, he moved to the American Broadcasting Company for seven years. His ABC assignments included daily newscasts, reporting of special events, narrating network documentaries and moderating programs. "Crossfire," "America's Town Meeting," "Headline Edition," "This Week Around the World," and "News of Tomorrow," were some of his ABC shows. Some of his ABC documentaries included "Should Congress Liberalize Our Foreign Trade Policy?" broadcast on January 27, 1953 and "Box-Score on the 84th Congress" aired on July 24, 1955. He also some work on WMAL-TV, Channel 7 in Washington, DC.

By the time Gunnar Back left Washington, D.C. for his Channel 6 gig, there weren't many government people who didn't know him or his voice. After all, he covered four Presidential inaugurations for the networks before traveling to Channel 6.

Charles Keller, vice president and general manager of Capitol Cities Television, which owned Channel 6 at the time of Back's death in 1983 said, "He worried over it (the copy which he wrote himself). He was constantly striving for the very best way of presenting the events of the day to the viewer at home."

Broadcast Pioneers member Dr. Francis Davis (a previous inductee into our Hall of Fame), former dean of Drexel's College of Science was the WFIL-TV weather guy from 1948 to 1971. He one time mentioned on our exclusive webcast, Pioneers in Broadcasting, that he and Gunnar Back were among the first in local TV to try "happy news." After a couple of weeks, Broadcast Pioneers member Roger Clipp, General Manager of Channel 6 decided that it was silly and the idea was dropped. Davis said, "Gunnar felt, and I agreed, a little levity here and there would improve the pace. …We did it for about two weeks and we thought it was pretty good. But the front office didn't think so. We got orders to cut it out."

"He was basically shy. Under the shyness, he was extremely warm. I never saw him lose his temper with anyone on the set. He respected all of us and we certainly respected him, said Dr. Davis.

Broadcast Pioneers member (and former Broadcast Pioneers Person of the Year) Larry Kane said:
He was a broadcast pioneer. …One of those people whose careers moved into radio and then into television. He had this mellow way of talking that was in the Murrow and Cronkite style. His writing was among the best I've ever seen in television.
Broadcast Pioneers member (a previous inductee into our Hall of Fame) Vince Leonard said:
When I came to Philadelphia in the spring of 1958 and was the new kid in town, Gunnar and John Facenda helped me out in so many ways. …Gunnar introduced me to people in City Hall and in the business community and he helped me get started.
Stu Bykofsky, long time writer for the Philadelphia Daily News described him as having "excellent credentials, snow-white hair and deep, rich voice. He was a golden vein of credibility."

Bykofsky also wrote that Back had walked with the giants: Walter Cronkite, Edward R. Murrow, Edwin Newman, Arthur Godfrey and Eric Sevareid, with whom he maintained a long friendship.

Sevareid said, "He was a very solid fellow, …a careful fellow; nothing flamboyant about him, a Scandinavian like me, so he was cautious."

When Gunnar Back came to the Delaware Valley as WFIL-TV's news anchorman, he led Channel 6 to top ratings. It was a position the station held for years until John Facenda edged him out.

In late 1965, Broadcast Pioneers member George Koehler (Station Manager of Channel 6) decided to make some changes. Gunnar was replaced as anchor and news director and went back to reporting and doing commentary. Not many would have accepted that, but Gunnar Back loved the news. It was in his nature and he loved every minute. John Facenda once commented that the only thing that equaled his love for broadcasting was "chopping wood," his form of exercise.

Broadcast Pioneers member Pat Polillo, news director at WFIL-TV after Gunnar (and later General Manager of KYW-TV) said:
I removed him as anchor and made him into a commentator, which is what I thought he was uniquely qualified to do. He would do a minute-and-a-half or two-minute commentary on the top news story of the day. Being removed didn't matter at all to him.

(Back was) bright, perceptive, who knew how to get to the bottom of a story. … He was what was known as a crusty realist, very hard and demanding of himself and a legitimate journalist. … He was genuine, and it was a pleasure to work with him, because he had the ability to cut through the heart of stories and help the younger people. He helped me a great deal and I owe him a great deal.
Broadcast Pioneers member Mike Strug first met Gunnar Back went Mike went to work for WFIL. The year was 1966 and Gunnar was no longer anchor. Strug said:
Gunnar was the old head. It was like sitting at the master's knee. You just sat there and listened to the guy. He had done everything and been everywhere. The thing that impressed me most was that after he stopped anchoring and was put on 'nights' as a reporter, he could cover meetings with politicians from anywhere and everywhere without even bothering to check newspaper clippings. I had to spend hours backgrounding myself on obscure congressmen, but Gunnar would just show up and they'd say, 'Hi, Gunnar.'
While most of Gunnar Back's work at the WFIL stations was on television, he did do some radio for them. For years, he narrated the year in review radio specials carried over WFIL Radio.

Gunnar Back has many awards to his credit, including the 1960 Columbia University Award and the Donaldson Award, for a documentary on air pollution.

After retiring from WFIL-TV in 1971, Gunnar Back served as the Director of the American Swedish Historical Museum for several years and did voice-over work.

His first wife died in 1971 at the age of 56. Gunnar remarried (Birgit) just six months before his death.

On Friday, November 19, 2004, Gunnar Back was inducted into our "Hall of Fame." His son Andy and Mrs. Birgit Back were in attendance.

Gunnar Back passed away on Sunday, November 27, 1983 at his Paoli home from a heart attack. He was 77 and a true legend.
From the official archives of the Broadcast Pioneers of Philadelphia
Photo originally donated by Gunnar's children
Scan e-mailed to us by Linnea Klee, Gunnar Back's daughter
Text written by Broadcast Pioneers member Gerry Wilkinson
© 2004, 2005 and 2012, Broadcast Pioneers of Philadelphia
All Rights Reserved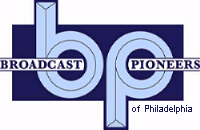 The e-mail address of the Broadcast Pioneers of Philadelphia is pioneers@broadcastpioneers.com