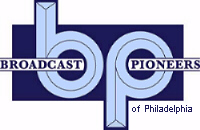 Bill Webber
Wednesday, June 15, 2005

Broadcast Pioneers member Bill Webber started his broadcasting career in radio working during 1948 in the mail-room of an FM New York radio station after attending classes at New York University and the University of Pennsylvania. He was working in Lancaster before the Army put him behind a microphone with the Armed Forces Radio for two years. He came back to commercial broadcasting work in Reading, PA. where he became known in the trade as "Kiss of Death Webber." Seems he was hired in 1953 to do the sign on of a new UHF station, WEEU-TV, Channel 33 (an NBC-TV affiliate). After a little more than a year, the station went broke and Bill signed the station off the air. In November of 1953, Bill was anchoring the weekend TV news at 11 pm and doing the weather casts at 6:15 pm on WEEU-TV.

Later that year he came to Philadelphia and got a Sunday shift at WPEN. He was hired by Jack Steck at WFIL AM & FM as a summer relief announcer in 1954 and filled in for vacationing Shelly Gross, Dr. Neil Harvey, Charlie O'Donnell and Dick Clark. WFIL personalities Bill Webber and Allen Stone once shared an apartment on Farragut Terrace, between Spruce and Locust Streets in Philadelphia. Their apartment was just a couple blocks away from the WFIL studios at 46th and Market Streets.

Two years later, Bill became full-time at Channel 6, where he worked on TV as well as AM & FM Radio. At that time, he was given a music slot on WFIL Radio. A man of boundless energy, Bill auditioned for various TV commercials and shows. He was picked to host "Breakfast Time," a daily, two-hour morning children's show with cartoons, weather, news and sports. While at Channel 6, he was booth announcer for the Army-McCarthy Hearings and on certain days opened "American Bandstand." He was the voice that introduced "Bandstand" as the first live local color show in Philadelphia. During his ten-year stint at Channel 6, Bill also hosted Fashion Shows and Toy Shows for Hess "Department Store.

In 1963, he joined WRCV Radio and Channel 3 as a disc jockey and air talent. It was Bill who played the last record on KYW Radio before it went all news. Bill also hosted the TV quiz Show, "Tug-o-War", sponsored by Penn Fruit. Although the show doubled TV 3 ratings, it was canceled to make room for a newcomer to Philadelphia, Mike Douglas. But luck was on Bill's side and that very same week he was offered a chance to host the "Kids Block" on a UHF Station.
In 1965, he became the first face on Channel 17 and for ten years hosted the "Wee Willie Webber Colorful Cartoon Club". The show ran for 3 and a half hours a day (3 to 6:30 pm) and was one of the first successful programs on UHF. Bill also did many of the Philadelphia Phillies pre-game shows on WPHL-TV. After 10 years on Channel 17, Bill joined Channel 48 and hosted their "Kids Block" for three years. During all this time, Bill was a 25-year fixture at WIP Radio. He was on the radio from 10 am to 1 pm and on TV from 4 pm to 7 pm.
In 1972, he was on WIP from 10 am to 1 pm, six days a week. From 1989 until early in 2005, Bill had also been doing a very successful radio program on WPEN where he started in the 50s and was back there into the new millennium. In September of 2004, WPEN flipped formats to oldies. Bill and fellow Broadcast Pioneers member Ed Hurst stayed with the station into 2005 playing oldies. Bill finds time to be a community volunteer serving the Easter Seal Society as a member of the board of directors for 25 years and has served as its vice president.
In 2006, Bill Webber started doing a three-hour radio broadcast on WVLT in Vineland, NJ. The station's signal booms into Philadelphia. In 2009, started another radio show, this time on WHAT Radio. He kept both shows on two different stations until shortly before his death on Sunday, May 23, 2010.

The 6 foot 5-1/2 inch Webber, affectionately known as "Wee Willie" (a nickname given to him by the wife of WFIL morning man and channel 10 weather man, Phil Sheridan), was born in Havana, Cuba and grew up in Brooklyn, New York.

Bill originally pursued a career in the theater, acting at summer stock in New Milford, Connecticut. Then his career path took a turn and he ended up as a broadcaster. A natural choice for him, Bill says that he's always enjoyed talking to people, and "feels very fortunate to have been able to work in both radio and television for several decades."

Bill was a partner in a video production company in West Chester, PA known as C.C.I. Videos. With what little spare time Bill has, he enjoys spending it traveling. In fact, he and his wife, Constance (who Bill met while she was visiting WFIL-TV in the fifties) have hosted many trips with his listeners and viewers to several different destinations including Russia, Tokyo, South America and Australia just to name a few.

Bill has a son, Bill, Jr. who resides with his wife in Upper Gwynedd, PA and their daughter, Grace. Bill, Jr. is in charge of Selector, the music software used by over 7,000 radio stations around the world. Wendy lives with her husband and three sons in Lancaster, PA. Webber's son-in-law, Andy Scheid, is the local sales manager for WGAL-TV, Channel 8 in Lancaster. Bill and his wife now reside in Center City Philadelphia.

In November of 1999, Bill was inducted into the Hall of Fame of the Broadcast Pioneers of Philadelphia. On July 1, 2002, Webber started serving 2 one-year terms as President of our organization. Two years later, he moved on to be our Chairman of the Board and was elected to 2 one year terms in that position. On Friday, November 17, 2006, Bill Webber was honored by the Broadcast Pioneers of Philadelphia as our "Person of the Year."
Bill served as Chairman of our Board from 2004 to 2006. A year later, he again resumed that post and served in that position under his death. He was the longest serving Chairman of the Board in the history of our organization. He served just a few weeks short of 5 years in that position.

In September of 1958, Bill Webber was hosting Breakfast Time on WFIL-TV in the mornings and was on WFIL Radio from 3 pm until 8 pm. Maybe that's why "Breakfast Time" became one of the first Channel 6 programs to air via videotape.

Roger Hill, a visitor to our website e-mailed:
One of my most cherished memories was of the little transistor radio I received for Christmas when I was about 11. I listened to WIP for hours. I would put the radio under my pillow at bedtime and fall asleep listening to the wonderful sounds. I must have been born in a time warp because even though I was born in the Beatles, Rolling Stones and Beach Boys generation, I loved to listen to Tony Bennett, Frank Sinatra and especially Nat "King" Cole. I love that music still today but of course no popular radio station plays it anymore, Too bad. I can still remember listening to you (Bill Webber), Ken Garland, Tom Brown and even the "Morning Mayor" Joe McCauley. ...Obviously you have touched a great many people throughout your career.
Mark Molyneux, a visitor to our website, e-mailed:
I've encountered Bill in the years since childhood and he's always been an original; always entertaining whether showing cartoons, telling stories, talking about the news or the Phillies. For those memories, I thank him very much.

I golf a lot. I've played since the early 1960s when I had to fib about my age for the privilege of playing our city courses for $1.50. I tip the kid who loads up my bag on the golf cart more than $1.50 now. Sometime later this summer, I will reach a milestone as I play at my 500th different golf course.

If my memory serves me correctly, it was springtime 1961 when I played my first round of golf at Walnut Lane. I was 12. I nervously told the Park Guard in the hut near the first tee that I was 14. That ploy had worked for a couple friends my age. They simply cautioned me to "... go at a time when nobody's out there." because the "Parkies don't care if you're not slowing up the good players and you won't be so nervous if nobody's watching."

So I paid my money and carted my dad's bag full of clubs over to the tee. There was a single, very large man, left-handed as I recall preparing to tee off. He invited me to play along with him. I was already nervous with those first-time, first-tee jitters and then I realized that my potential playing partner was Wee Willie Webber! I wanted to stay. I wanted to go but he was such a gentleman. Besides, he was a "friend" from all those TV broadcasts.

I told him that I wasn't very good. He didn't seem to mind. Over the course of the next few hours, I hit plenty of sour shots but none seemed to disturb my playing partner. I shared some stories about growing up in the neighborhood. Mr. Webber mostly listened and encouraged (and told some funny stories of his own).

He was much more than just a TV star. He was a genuinely nice human being. I thank him for my "brush with fame" all those many years ago. Little things can mean a lot. That encounter meant quite a bit to me. To this day, I try to respect Bill Webber by always welcoming a playing partner, no matter their skill level and by trying to encourage them every step of the way. It may be coincidental that I also ended up working with kids in schools; not on TV but the messages of acceptance and encouragement still go a long way.
When Bill Webber passed away, he was our Chairman of the Board. We did an extended tribute to him on the front page of our website and it is preserved here.

From the official archives of the Broadcast Pioneers of Philadelphia
Photo originally donated by Broadcast Pioneers member Gerry Wilkinson
©2010, Broadcast Pioneers of Philadelphia
All Rights Reserved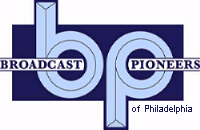 The e-mail address of the Broadcast Pioneers of Philadelphia is pioneers@broadcastpioneers.com