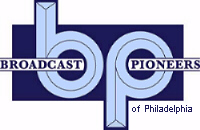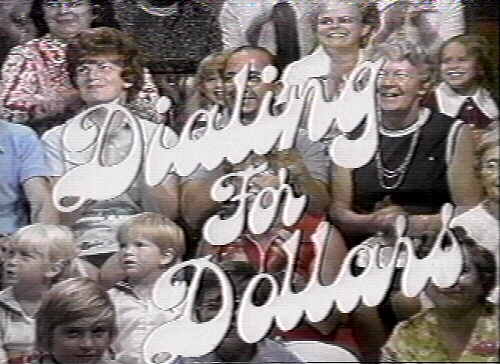 Title Graphic
WPVI-TV
1973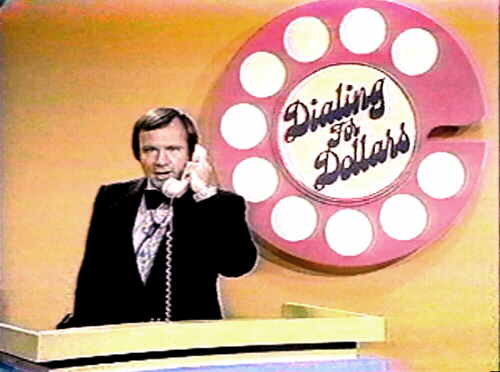 Bob McLean
WPVI-TV
1973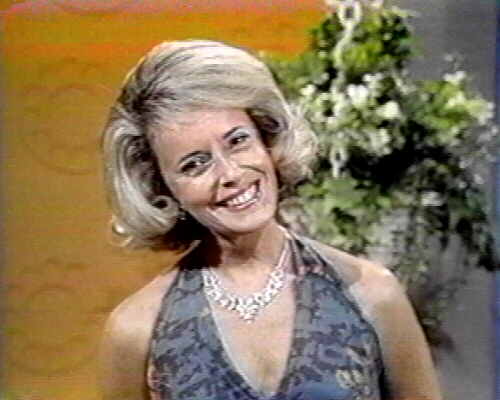 Connie Roussin
WPVI-TV
1973

Show Personnel in 1973
Bob McLean - host
Bob McLean was one of the earlier hosts (there were many) for Channel 6's "Dialing for Dollars." It was a local daily program (in several different time periods but usually in the morning). Broadcast Pioneers member Paul Norton says "It was on for an hour, as I recall, at about 10 in the morning. Bob McLean was replaced by Jim O'Brien, I think, and (McLean) returned to Canada to do a show on CBC." Paul's right! "Dialing for Dollars" was on Channel 6 from 10 am to 11 am.

That show was called the Bob McLean Show amd was on the CBC-TV Network (The Canadian Broadcasting Corporation) from September 1, 1975 to September 28, 1981. It was designed to be a lunchtime magazine show dealing with many subjects. It had regular guests which included comedian Howie Mandel.
Time Periods of the daily CBC Show

12 noon to 12:55 pm, September 1, 1975 to July 2, 1976
12 noon to 1 pm, September 6, 1976 to July 1, 1977
12 noon to 12:55 pm, September 5, 1977 to March 31, 1978
1 to 2 pm, April 3, 1978 to August 4, 1978
1 to 2 pm,, September 4, 1978 to March 30, 1979
3 to 4 pm, April 2, 1979 to June 29, 1979
3 to 4 pm, September 10, 1979 to June 27, 1980
12:30-1:30 pm, September 8. 1980 to September 28, 1981.
Beginning on May 25, 1981, all shows were reruns.
Bob McLean was with CKCO-TV in Ontario from 1991 to 1996 hosting a talk show called "Morning Magazine." Broadcast Pioneers member Paul Norton adds:
"About that time (1980) Larry Ferrari went to see him (Bob in Canada). He (McLean) was with KYW-TV (doing a talk show) prior to coming to WPVI. A very good interviewer and broadcaster.
Connie Roussin - Co-Host
Paul Norton tell us:
"Connie had the Romper Room on Channel Six, and graduated to doing interview shows. She married the Chief of Cardiology from Temple (University) who came in to be interviewed about blood pressure. His (blood pressure) went up and she married him. She is now living in Charleston, South Carolina, as Connie Roussin Spann."
Larry Ferrari - Music Director & Organist
Lazarus Louis Ferrari, known to us as Larry, was a Boston native, born in 1932, and became interested in playing the organ while attending elementary school. In 1952, Larry joined the Army and was assigned to special services at Fort Dix, New Jersey. Part of his duties was performing for patients at the base hospital. Larry loved his craft and it showed. He auditioned and was signed to play a four -week engagement for the Army on television in Philadelphia (WFIL-TV, Channel 6) in 1954. For 43 years, "The Larry Ferrari Show" could be seen every Sunday in the Philadelphia area. It was the second longest running show on the station, only surpassed by Chief Halftown. It is believed to be the only show of its kind in the country. Larry Ferrari was an officer of the Broadcast Pioneers of Philadelphia for many years.
Paul Norton - Announcer
Paul Norton was born in Olean, New York in May of 1929. He began his broadcast career mowing the lawn and mopping floors at WHDL in Olean in 1944. In 1946, a high school senior, he began his announcing career at the station. In 1949 Norton moved to WSNY Schenectady as announcer and disc jockey, later moving in the same capacity to WPTR, Albany. In 1950 he was with WKBW Radio in Buffalo. In 1953, he went to work at WGR Radio, Buffalo. During 1956, he went to WTOP-TV in Washington, DC. Four years later, in 1960, he was hired as a disc jockey at WFIL Radio in Philadelphia, and soon was doing weather on Channel 6 Television. Paul served as President of the Broadcast Pioneers of Philadelphia during 1986-1987 term and since that time has served as the organization's newsletter editor.
In 1997, WPVI celebrated its 50th anniversary on television. The station presented a special to honor the event. Part of that broadcast contained a clip of "Dialing for Dollars" with Bob Lean. The narrator was Broadcast Pioneers member Wally Kennedy.
There was an earlier version of "Dialing for Dollars" hosted by Broadcast Pioneers member John Carlton and aired over WKBS-TV, Channel 48 in the late sixties. There is no association between these two broadcasts other than the name.

From the official archives of the Broadcast Pioneers of Philadelphia
Video & Photos courtesy of WPVI, Channel 6 who supplied the tape
Written and resarched by Broadcast Pioneers historian Gerry Wilkinson
© 2007, All Rights Reserved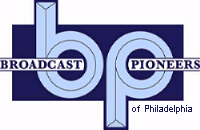 The e-mail address of the Broadcast Pioneers of Philadelphia is pioneers@broadcastpioneers.com