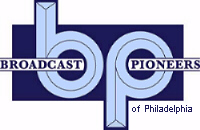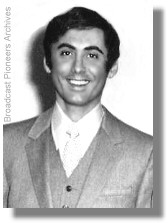 Gene London

Broadcast Pioneers President Gerry Wilkinson was hired as a consultant by WHYY-TV for their television show about Philadelphia TV Children's Hosts. Broadcast Pioneers member Gene London and Gerry have known each other for several years. Here's part of an e-mail from Gene to Gerry with background information for possible inclusion into the broadcast. He writes:
(The character) Gene London was born (created) in New York City where I began my TV career. At first, I was Philip London on "Johnny Jupiter," (an) ABC Network series as "Reject the Robot." (Also) Puppeteer Gene London (was on) with Shari Lewis on "Hi, Mom," on WNBC-TV, Weekday mornings. Also, "The Today Show" (with Dave Garroway), NBC Network Holiday programming, etc.

...It was a very young counselor at Summerdale Day Camp that Philadelphia's Gene London was really born. Sam and Ruth Browne, owners of the camp became my mentors. They steered me to Philly TV, so I would be near them. Dave Garroway of "The Today Show" also made some calls on my behalf to the General Manager of WRCV-TV (the NBC O&O TV Station in Philadelphia, Channel 3), who promised me a TV show in a month's time. After the meeting, I went to WCAU-TV and did an in-office audition. It won me a TV test. Cartoon Corners (General Store) was born which was a great success from the start. Within months, I was on seven days a week and twice on Sunday. The overflow commercials created a demand for additional kid programming, and thus Pixanne was born.
London tells us about the day he went to Channel 10 to speak with Jack Snyder, the station's General Manager.
So I took a piece of paper and drew on it. I was always a good artist and told him Snow White and the Seven Dwarfs. Then I told the story to his secretaries in the outer hall. Then he rang all the buzzers and the whole building was in his office, and by the third time I told Snow White they were cheering and clapping, and I was almost carried out of his office.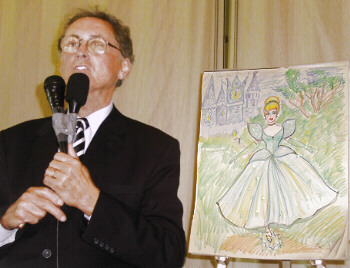 Gene London and his drawing of "Cinderella"
The Broadcast Pioneers of Philadelphia Luncheon
Wednesday, October 17, 2007
Gene's real name is Eugene Yulish. Born in Cleveland in 1931, the family moved to Miami Beach, Florida when Gene was 13, and it was there where Gene spent his teenage years. His dad was a grocery store owner and his mom wanted to be a Ziegfeld star and started a family instead. "She saw in me the spark of drama and so little Eugene was destined to fall in love with the movies," said London.
His brothers love baseball, but Gene would get dressed in his best and went to the movie matinees with his mother. He loved Bette Davis and he would cry his "heart out." On the way home, the two would talk "about Bette Davis and her makeup and her hair and her clothes and the situation and why I wept. Mom was touched and wept with me," mentioned Gene. London went to the University of Miami and majored in puppeteering.
Johnny Jupiter was originally on the old DuMont TV network. However, the program ended on June 13, 1953. Shortly thereafter, the show was picked up by the ABC television network. That's when Gene became involved as "Reject the Robot." The last ABC program was on May 29, 1954. Gene London said: "He was kind of a sweet robot, which was perfect for me."
Broadcast Pioneers member Don Rosenblit e-mailed:
When I graduated from college, I worked in NYC for a few years at a small ad agency and also as a freelance writer. I wrote some scripts for Howdy Doody and Johnny Jupiter. Years later at Elkman, when I first met Gene, he thought I looked familiar. Turns out that years ago I met him on the Johnny Jupiter set. He played Reject the Robot, so I never saw him out of his robot outfit.
He was worked on Shari Lewis' NBC-TV shows, "Kartoon Klub" and "Facts 'n' Fun." Later on "Hi, Mom." Gene also worked on "Tinker's Workshop as "Tinker Tom." The character was really big and Gene had his very own float in the New York City's Thanksgiving Parade, ran by Macy's Department Store. He wanted to stop showing the old silent cartoons from 30 years before, so he told the boss that they would have to go or "he would." They kept the cartoons and New York's lost was Philly's gain.
Gene's theme song was sung by London himself and went like this:
Come right into the General Store
We have licorice, gumdrops and sourballs;
Anything you're hankering for,
You'll find in Cartoon Corners General Store.

There's lots of stories and songs that you know,
Toys to build and a big pot belly stove;
Cartoon fun with your favorites so,
Let's ring up the curtain on this show!

There's something else I've forgotten, let's see,
Of course, Gene London, that's me!

(Then a box of confetti fell on his head. The General Store was next to a fictional confetti factory.)
Gene is doing well and lives in Reading and New York and spends a large amount of time at his Miami Beach condo.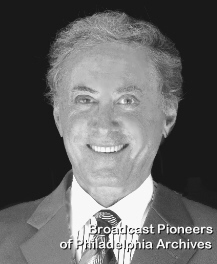 Broadcast Pioneers member Gene London
Summer 2009
Dr. Bob Lewis, a visitor to our website e-mailed:
Gene London used to visit Summerdale Day Camp during the summer and visit with us kids. His Uncle, Sam Browne, I think owned the camp and was also one of my teachers at Lincoln High School. ...When I used to hang around the set, I remember a very tall and skinny announcer that used to do the news occasionally and the station I.D., "WCAU TV, in Philadelphia." I think his name was Bill Hart. He was old when I knew him. My sister was on the Gene London show also. ...Wow, I am having an onslaught of fond childhood/adolescent memories.
Shari Zubrack Gulley, a visitor to our website e-mailed:
Late in the 1960s', early 70's, Sam Browne became the 3rd partner with my dad, Fred Zubrack, and also Herb Fisher, as owners of Mountain Run Day Camp, in Medford, NJ.

Gene London came along with 'Uncle' Sam. Gene would come to camp once or twice a summer and entertain us kids. I believe he was actually no longer on the air at the time, but we all remembered him.

My clearest memory is of the sketch he drew on the wall of the lunch hall, of a large group of we campers. I was amazed watching him draw quite a large number of caricatures, each one different, and drawing them all very quickly.

I believe this only last for a few summers, and I haven't thought about it for years. I guess I was about 16 or 17 at the time.
Here's another e-mail from Gene London. He writes:
Over the years, hundreds of thousands of school children visited WCAU-TV and became a vital part of my shows.

It was "I love Lucy" who first provided bleachers for her audience whose love and the laughter were essential
to the spirit of the show, for when you watched I LOVE LUCY you felt the audience's admiration and gratitude for being invited.

What most folks don't realize is that long before "Lucy," kid shows had an audience of children sitting in the peanut gallery. I was truly blessed to have my own theatre. Its seats filled with two hundred and fifty cheering kids every week, and they never fidgeted or had to go to the bathroom.

When WCAU tore down the theatre to turn in into a gigantic news set, "Cartoon Corners" was moved to studio three, a large studio where they set up two rows of bleachers, although show was still great, somehow it was never the same. Remember when I offered a prize to the best screamer at the beginning of the show? well, everyone won candy provided by the shows sponsors and WCAU gave autographed 8 by 10 photographs of gene wearing his apron and jeans taken on the set of Cartoon Corners General Store.
Mitchell Blumenthal, a visitor to our website e-mailed:
Summerdale day camp outside philadelphia, where gene london worked as a young man, and its memories from as long as 50 years ago washed over me....

Summerdale was quite a camp. In addition to having Gene as arts and crafts instructor, we were taught basketball by members of the Philadelphia Warriors, the team that preceded the 76ers, including such players as Paul Arazan. Our counselors included Bill (Pickles) Kennedy and Bruce Drysdale, who were both all-american basketball players at Temple. They first met Sam Browne at Lincoln High School, where he and Pat taught.
KNOWN TIME PERIODS
Sunday, February 22, 1976 - 8 am to 9 am - WCAU-TV - The Gene London Show
Saturdays during 1978 - 8 am to 9 am - WCAU-TV - The Gene London Show
Gene has asked: "Were you ever on the show? Do you still have the photograph or a drawing he gave you.? E-mail and tell us of your memories of Cartoon Corners General store and Gene London. I'm waiting your reply."
Elizabeth Jenkins Becker e-mailed:
In the early 70's, I took my four daughters to the Channel 6 (it was Channel 10) studio on City Line Avenue on Philadelphia to see the Gene London show. It was a day off from schools, but it turned out that myself and 4 daughters were the only ones who were in the studio. I think it was bad weather.

Anyway, we spoke with Gene before the show. He was just great. The girls all watched his Saturday morning show faithfully. I gave Gene an old Mickey Mouse fork and he asked if I had the matching spoon, which I had lost.

The show was about Gene taking off in a space ship and at the end of the show, he sat my girls around him while the space ship took off! What a thrill for them.

They watched the next episode on TV to see themselves, and of all things, the last segment with them didn't show well... something went wrong with the camera or something.

Anyway, it's still a memory for them, and me, and we often think of Gene and wonder where is he now to write to? ...If possible, say hello to him for us.
Broadcast Pioneers member Gene London replied:
Just read your letter about a visit to WCAU, Channel 10 (not 6, that was the ABC station that carried Sally Starr.) I remember taping the Rocket segment. I loved that series. The apes from our version of "Planet of the Apes," let me fly the ship.What a fabulous experience. Shame your children didn't get to be seen on the show. I wish I still had the tape of that adventure. Funny. I remember it so clearly. Thanks again for your delightful email. Much love to you and your "kids."
A Visitor to our website, Cathy Jacobs, e-mailed:
What I remember most is:

Let's pretend that it's story time and I'll tell a tale to you
I'll tell you a story of make believe and hope all your dreams will come true
And when the story's over and when we reach the end
We'll live happily ever after…where?
In the land of let's pretend.

If I could type in musical notes I would do that as well. That was the lead in to Story Time where Gene would tell a story and draw his amazing pictures.
On Friday, November 20, 2009, Gene London was inducted into the Broadcast Pioneers of Philadelphia's "Hall of Fame."

From the official archives of the Broadcast Pioneers of Philadelphia
Top Photo originally donated by Broadcast Pioneers member Bill Webber
Middle Photo originally donated by Broadcast Pioneers historian Gerry Wilkinson
Bottom Photo originally donated by Broadcast Pioneers member Mike Anderson and the Reading Public Museum
Written, researched and compiled by Broadcast Pioneers historian Gerry Wilkinson
© 2009, Broadcast Pioneers of Philadelphia
All Rights Reserved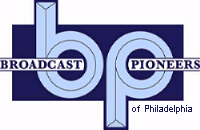 The e-mail address of the Broadcast Pioneers of Philadelphia is pioneers@broadcastpioneers.com