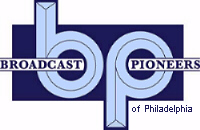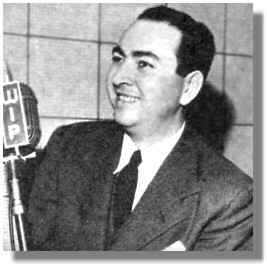 Howard Jones
WIP Radio
1946
Broadcast Pioneers member Howard Jones was in broadcasting for 4 decades. However, most of us will remember him as "Happy the Clown." Born in the middle of July of 1909 in Rockingham, North Carolina, Howard Jones had done it all. Disc Jockey, TV Host and friend to millions of Delaware Valley children.
Before becoming a clown, he was "Farmer Jones" on WFIL-TV. Beginning in 1939, he also hosted "Dialing for Dollars," an early version of the well-known program that was used for several different kinds of shows. His sponsor was the Food Fair Grocery chain.
During the summer of 1942, Jones made a live "Dialing for Dollars" on WIP. He called a woman in Haddonfield, NJ. He asked her if she was tuned in to the radio and WIP, if so, she would win $25. However, he was told that there was an air raid test going on in the area, and she had turned off her radio. She also told Howard that he shouldn't be on the telephone during an air raid drill. She loved her country, she said, more than she would love the $25.
Jones, in the early days of his career, he hosted "C'mon 'n Dance" (later done by Bob Horn of Bandstand fame) and in the early days of WFIL-TV, hosted a cooking program.

WFIL Radio Lineup
from a WFIL Radio Newspaper Ad
1955
Howard Jones told colleagues that he was the "chief announcer" at WIP Radio when a young and talent guy came to the station. Jones took him under his wings and showed him the "ropes." The newcomer was John Facenda.
From 1956 to 1968, it was in the role of the ever-lovable "Happy the Clown" that Howard Jones would gain fame. The 2-year to 8 year-old demographic became his devoted fans.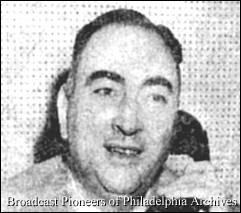 Howard Jones
from a WFIL Radio Newspaper Ad
Early 1956
Jones' program became so popular that children would have to wait for up to a year to be one of two dozen kids selected to be on the program. They would side down the sliding board, march behind Happy hitting their "marching sticks" and get a ride in his golf cart, lovingly called "Chippy, the Chipmunk." Over the years, Howard said that he had 109,000 children on his program.
Broadcast Pioneers founding member, Jack Steck, Program Director for WFIL-TV, created the role of "Happy the Clown". It was given a three month trial that lasted 48 times that time; 12 years. It originally was a 30-minute program, alternating with "Features for Women." It expanded to an hour and 45 minutes in length at the height of his popularity. Happy had an smile with just a hint of a smile, a bowler hat and an oversized costume with blue stripes on his pants and red polka dots on his shirt.
Previous to becoming "Happy the Clown," the portly Howard Jones played "Santa Claus" on the TV station. The telephone company had a recorded message from Santa to children and it was Howard that played the role. It became so popular; it tied up the lines and overloaded the phone system. Eventually, they decided to lessen the demand on the lines by removing the "Santa Service."
Howard Jones once said:
I used to play Santa Claus. The ratings on the show were good, and after Christmas we wanted to keep them that way, but you can't do Santa Claus 12 months a year. So we wondered what the children would like. Clowns, we decided, and the show was born.
In 1963, he said:
All 25 children present each morning appear on camera, but sometimes, the doting relatives feel their child or grandchild doesn't get to be seen as much as the others, and they complain. I love them, and I think I get more fun out of the show than the children do.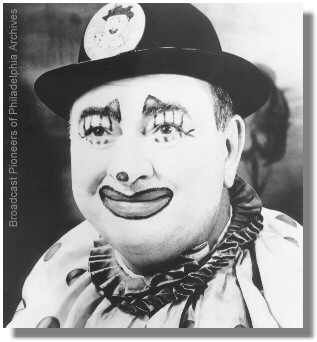 The children loved Happy and he would teach them to make toy animals, taught them the words of songs and hymns. He celebrated birthdays, showed cartoons and did magic tricks. It was he who taught the children how to sing songs. He plucked coins from their ears and celebrated birthdays with those candles that couldn't be blown out.
Although born in North Carolina, Howard Jones grew up in Virginia Beach & Portsmouth, Virginia. Howard studied drama at the University of Michigan where he received his degree. He had several minor roles in several motion pictures.
He got into show business as an actor performing mostly in musical comedies. Then he became a radio announcer in 1928 (at the ripe ol' age of 19) in the Norfolk market and then Boston before moving to Philadelphia in 1933 when he joined the staff of the station owned by the Gimbel Brothers Department Store, WIP Radio. He was there that he had a talk show with his first wife, Mary. She passed away in 1969. The couple interviewed a "who's who" of celebrities including Charlton Heston, Pearl Buck and Victor Borge.
In the forties, Howard Jones told a national publication that his favorite gimmick was having bandleaders "come up and take a bow," and that he had every great orchestra leader on his program. He would also read messages from them to his radio audience.
A 1946 magazine article mentioned that Howard was on WIP:
Howard Jones does "Eight Bells" from 8:30 to 9 am, five days a week; "Housewives' Serenade" from 9:15 to 9:30 am and on Tuesdays, Thursdays and Saturdays "Midday Melodies" from 11:01 to 11:30 Mondays through Thursdays; and "Quaker City Brevities" from 2:45 to 3:00 pm, Mondays through Fridays, all on WIP.
Both of the Joneses' moved to the WFIL Stations, and they had a program called "the Farmer Jones Show" which was broadcast live from 6 to 7 am from the Wiffletree Farms, a farm in Pennsburg in Montgomery County, Pennsylvania. The "Wiffle" part of the name stood for "WFIL."
On the broadcast, Mary and Howard talked about raising cows and pigs and how to can and freeze vegetables and fruit. Sometimes, they even presented a recipe or two. He wrote a garden column for "The Philadelphia Inquirer" at the time when Walter Annenberg owned the paper and the WFIL stations.
During 1956, Howard Jones was hosting a WFIL-TV program entitled, "This is Hollywood," an offshoot of his WIP talk program. On Saturdays, he was there for "The TV Garden Club." Shortly before this, he hosted a radio "talk show" called "Philadelphia Speaks" on WFIL Radio. It was on this program that listeners could call in with problems and suggestions about the Quaker City.
In 1968, he retired from broadcasting and purchased the farmers market in Downingtown, Pennsylvania, which he ran for five years. Then he traveled the world for quite awhile.
He dabbled in real estate both as a realtor and as a speculator. Howard spent the last 23 years of his life with his second wife, Delia Sciochetti Jones who called him "Jonesie." Delia said that she had, at one time, figured it out and that over 100,000 kids appeared on the program.
Howard had one daughter, Elaine. From cancer, he passed away on Sunday, July 11, 1993 at Sacred Heart Hospital, just a week before his 84th birthday. In 2008, Howard Jones was inducted into the Broadcast Pioneers of Philadelphia's "Hall of Fame."

From the official archives of the Broadcast Pioneers of Philadelphia
Ads originally donated by Broadcast Pioneers member Bill Webber
Happy the Clown photo originally donated by WPVI-TV
WIP Photo originally donated by Broadcast Pioneers member Allen Stone
Bio researched, compiled and written by Broadcast Pioneers historian Gerry Wilkinson
© 2008, Broadcast Pioneers of Philadelphia
All Rights Reserved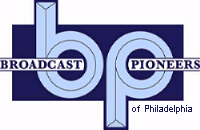 The e-mail address of the Broadcast Pioneers of Philadelphia is pioneers@broadcastpioneers.com