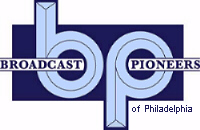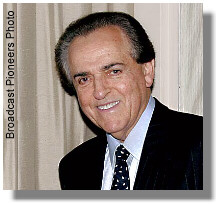 Joe Pellegrino
Broadcast Pioneers Luncheon
Wednesday, December 20, 2006

Broadcast Pioneers member Joe Pellegrino has been an Emmy-award winning TV-radio personality and sportscaster at 7 major TV stations in 6 major cities through a 35-year career. Born in Washington, D.C., he attended American University on a baseball/basketball scholarship and won the outstanding senior athlete award. He captained both teams in his junior and senior years and made All-Conference in baseball for two years. He got his commercial start as a disc jockey in Virginia during grad school.
Standing six feet, one inch tall, he got his first major job was as a radio reporter/anchor at WWDC (AM) in Washington, covering Congress and the White House for 3 years before moving to WMAL-TV news. His sports career started as weekend sports anchor at WMAL-TV and was hired by WRC-TV (NBC) in Washington as the 11 pm sports anchor and radio reporter. His weatherman was Willard Scott. Four years later, he was named sports director/anchor at Channel 7 in Boston.
Two years later was named sports director/anchor at KGO-TV San Francisco, and 18 months later he was hired as sports director/anchor at WPVI-TV, joining Larry Kane to help launch Action News with the late Jim O'Brien. Six years later, he accepted a lucrative offer at WDIV-TV, Detroit as sports director and announced Tiger baseball for two years with Hall of Famers Al Kaline and George Kell.
Three years later, he moved to WKYC-TV, Cleveland as sports director where Al Roker was his weather guy. But he longed to return to Philly and re-joined Larry Kane at WCAU-TV as 11 pm sports anchor for 6 years. He was caught in the CBS money cutback purge of the late "80's and joined WIP radio as sports talk host for 4 years, and TV host for 76ers telecasts on Channel 17, WPHL-TV.
He also did talk radio for 5 years at WSSJ, Camden while in the financial planning business. He continues to make TV-radio commercials and guest appearances on CN8 and 950AM sports talk. In addition to Tiger baseball, he has done pre-season play-by-play of the Eagles, Detroit Lions, and Cleveland Browns, and Michigan State and Navy football, Michigan and Villanova basketball.
He was a sports show telephone-talk host on two major Philadelphia radio stations. Pellegrino has been the host and master of ceremonies for major banquets and fund raising events, including the Jerry Lewis Telethon. He's been a keynote speaker and master of ceremonies for non-profit organizations, such as the Terry Lycoff Foundation, the American Cancer Society and the March of Dimes.
Joe has done national Dodge/Chrysler TV and radio spots and has served as narrator of many industrial, educational and training videos. Pellegrino has had leading roles in area dinner-theater productions of "Barefoot in the Park" and "The Rainmaker." He has performed the National Anthem at major professional sporting events and high-profile banquets. He's been a singer and MC at Caesar's Casino in Atlantic City.
Joe Pellegrino is also a financial planner, licensed in Series 6 (mutual funds and annuities; Series 63 (Blue Sky-state laws and Life, Accident and Health for both Pennsylvania and New Jersey. Joe has been honored with local TV Emmys for "performance" and "coverage" in Philadelphia and Detroit and Radio Emmys for "style" and "coverage" in Detroit, Cleveland and Philly. He was the "Outstanding Senior Athlete" at American University in DC. That's where he earned his B.A. and M.A. in Communications with a minor in journalism and public relations. Joe has also taught public speaking at nearby Villanova University.
A grade school choir boy, Joe has sung professionally at Caesars Casino in Atlantic City, has performed the National Anthem at two Eagles games, the 76ers, minor league baseball games and numerous banquets. He recently became a grandfather for the first time and his two daughters live in suburban Washington, D.C., and Phoenix, Arizona, respectively.
On Friday, November 19, 2010, Joe Pellegrino was inducted into the Broadcast Pioneers Hall of Fame.

From the official archives of the Broadcast Pioneers of Philadelphia
Photo originally donated by Broadcast Pioneers member Bob Kravitz
© 2010, Broadcast Pioneers of Philadelphia
All Rights Reserved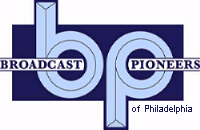 The e-mail address of the Broadcast Pioneers of Philadelphia is pioneers@broadcastpioneers.com