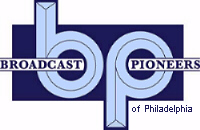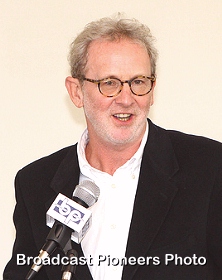 Bill St. James
Broadcast Pioneers Luncheon
Bala Golf Club, Philadelphia
Wednesday, March 21, 2012
Bill St. James was born in West Hartford, Connecticut, an idyllic Midwestern town located in New England. Other notables native to West Hartford include Woodstock legend Wavy Gravy, David Naughton of "I'm A Pepper, You're a Pepper" fame, Dictionary author Noah Webster, and that J. Peterman guy from "Seinfeld."
Bill started in radio at 16 on WEXT, a 1,000 watt daytime country station in West Hartford, playing tunes such as "Good Deal Lucille" by Carl Smith and Red Sovine's "Hello, I'm A Truck." While still in High School, he was hired at Hartford's WDRC where he spent a year and a half.
In 1971, at the ripe old age of 19 the big break happened, a chance to work at WIP as swing man. Eventually Bill inherited the 1-4 pm shift and spent 6 years at the station. WNEW in New York beckoned and after 2 years there, a trip to 30 Rock and NBC's WYNY.
The NBC connection has lasted over 30 years....from acting as announcer on the final Bob Hope NBC Radio Network Christmas show to voicing TV sports promos and serving as studio announcer for Super Bowl broadcasts and the last 3 Olympics.
Bill continues on various voice over assignments including promos, commercials and film trailers. Radio has remained a constant, however. For over 25 years, Bill hosted "Flashback!" a syndicated weekend show for ABC radio.
Now the team that created it has launched a new show called "Time Warp" for United Stations. The camaraderie of WIP and Phildelphia radio in general was a great experience. Great preparation for a broadcast career.

From the official archives of the Broadcast Pioneers of Philadelphia
Photo taken by Broadcast Pioneers member Jerry Klein
Bio courtesy of Bill St. James
© 2012, Broadcast Pioneers of Philadelphia
All Rights Reserved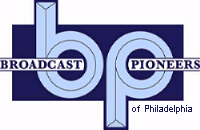 The e-mail address of the Broadcast Pioneers of Philadelphia is pioneers@broadcastpioneers.com