Broadcast Pioneers member Dave Neal, 86, passed away at his New Jersey home on Wednesday morning, May 30, 2012 at 4:45 am after a long illness including a stroke, congestive heart failure and kidney failure. Member Cherie Bank said: "We adored Dave at Channel 10."
Imagine the perfect mentor for any aspiring, broadcast news professional. That person would surely be accomplished, creative and connected. Now, throw in a little jazz musician, some MacGyver, plus a dash of Mel Brooks & you have one of our 2010 Hall of Fame inductees, Dave Neal.
Watch Dave being honored in Real Video!
Watch Dave being honored in Windows Media!
For those having trouble hearing the audio on the above video, we have an audio only file which was recorded off a different microphone. Click here to listen to the audio!
It's was Friday night, November 19, 2010 (just a week after Dave was released from the hospital) that he was inducted into our Hall of Fame. Part of that evening was the playing of these remarks by NBC-TV News Anchor Brian Williams and NBC President Steve Capus. Capus knew Dave from Steve's days at WCAU-TV. At that same time, Brian Williams was the station's NJ reporter. Both were mentored by Dave Neal. Here's those remarks.
Watch in Real Video!
Watch in Windows Media!
While Dave has enjoyed a dazzling, 50-year career as a producer, assignment editor & all-around video visionary, we also honored him for his selfless dedication in helping young people find their professional paths in broadcast news.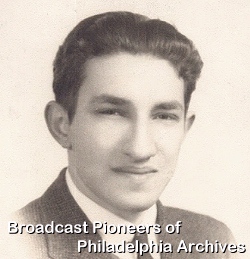 Dave Neal Gomberg
in his twenties
But, let's begin at the beginning. Born in, and raised above, his family's New Jersey's shoe store, Dave started his radio career as a salesperson at Camden's WCAM in 1961 as a salesman and, quickly, moved behind the microphone as a host & reporter.
While selling time in Camden, he received a call from a Jersey Teamsters official. Seemed that Union President Jimmy Hoffa was in town and none of the reporters were planning to show up. This, he was told, would be embarrassing. He borrowed a tape recorder, the old reel to reel kind, and spend over an hour interviewing Hoffa. Afterwards, he sold a sound bite to KYW Newsradio (which just started the all news format).
Dave was hired by KYW Newsradio, in 1965, as a stringer, earning $3 per story. He filed reports… 2, 3, 4 times a day. During his first month, they used 125 cuts. Then he found out that WCAU was paying five bucks and the networks, $25. He was providing cuts to all of them, using different names for each. Finally, KYW got tired of paying him all this money and hired him. And that's how it all started.
In 1971, Dave was recruited by KYW-TV, where his creative concepts reshaped local news. That was the first of 4 television stations (along with WPVI, WCAU & WTXF) at which he would serve over the next 4 decades.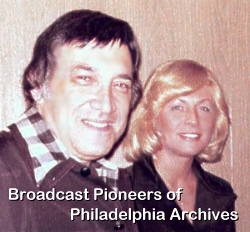 Broadcast Pioneers member Dave Neal and CBS 3 Anchor Jessica Savitch
during the seventies
Dave always made time to support young colleagues. Along the way, he advised NBC's Andrea Mitchell, NBC Nightly News anchor Brian Williams, CBS' Anthony Mason and many more talented reporters. He was also instrumental in charting the careers of two legendary, local anchor people: the vibrant Jessica Savitch & the tireless Larry Kane.
Broadcast Pioneers member Dave Gomberg is better known to people in Philadelphia's TV industry as "Dave Neal." During his career, Dave created Herb "Denenberg's Dump," Bill Kuster's "Kuster's Garden" (which Bill continued in Denver), the "Energy Warden" made famous by Dick Sheeran and Hank Sperka's "Sidewalk Gourmet."
There are legions of news people, behind the scenes, including a couple of network news presidents, who have reliably turned to "The Daver" for his advice and insight. That man is now gone but will never be forgotten.
Most recently, Dave was a consultant for WTXF-TV, Fox 29, here in Philadelphia. When not dealing with broadcasting, Dave loved playing the sax with a local jazz band. Dave is survived by his wife of 62 years, Rosalie and son Neal and daughters Nina and Merri plus four grandchildren and two great-grandkids.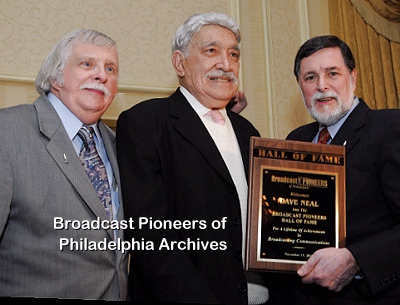 Broadcast Pioneers members Gerry Wilkinson, Dave Neal and Jerry Klein
Broadcast Pioneers Annual Banquet
The Hilton City Avenue Hotel, Philadelphia
Friday Evening, November 19, 2010
Broadcast Pioneers member Steve Levy e-mailed us:
Dave Neal was a true broadcaster. He understood something many people in the business never truly grasp, the audience. Dave could feel the viewers. That is why he was able to come up with so many terrific ideas. He knew how to reach the viewers where they lived, in their minds and in their hearts. He knew what they would react to. He had an ability that cannot be taught, or even learned. He just had it.
Broadcast Pioneers member Cherie Bank e-mailed us:
Dave Neal was one of the great ones. I loved him from the first time I met him. When the General Manger of WCAU called him to his office to try to convince me to come work at the station, Dave wowed me with his warmth and humor. He's the reason I decided to come to Philadelphia 33 years ago.

The first day I was on the air, Dave called my mom in St. Louis and held the phone up to the monitor so she could hear her daughter on TV in Philadelphia. That's just the way Dave was. In all the years we were friends I saw him come up with incredible and sometimes crazy story ideas. And he always had a cousin or old friend we could interview for the story. We used to laugh at the ways he sometimes gave instructions on how to get to a story.

He was so exuberant about the idea he would say, "Just follow the telephone lines until I find out how to get you there." Dave loved people and knew how to connect with them; how to tell stories that grabbed the interest of folks in row homes to people in Cherry Hill and Lower Merion. He got so many young people into television and called his friends in the industry to look at their tapes. He really loved what he did and he shared it. Any news director who didn't appreciate Dave's talents lost out.

At the time I met him, Dave's greatest accomplishment was as producer for Jessica Savitch. He insisted we get together because he loved us both and wanted us to know each other. Dave and his wife Rosalie invited me to their home for the Jewish Holidays one year. He used to say I looked just like his beautiful daughter Meri (I wish) and always said I was his adopted daughter. His last name is really Gomberg but he took his son Neal's name as his last name when he entered broadcasting. We used to tease Neal that his name was Neal Neal.

His other great friend, Kathy Gerrow, visited Dave with me several times during what turned out to be his final months. As sick as he was he wanted to talk television; what the morons were doing wrong, who needs to learn how to dress properly, who was great on the air and why so many stations were just hiring blondes. Kathy and I told him he is the reason we became friends and remained bff's for the past 33 years. He was very proud of that.

There will never be such a warm, wonderful character as Dave Neal. I have lost a great friend and I will always miss him and treasure the fun times we had together.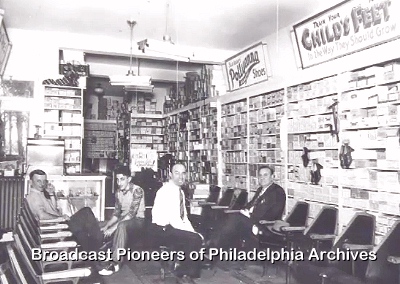 Dave Neal Gomberg (second from left) at his family's shoe store
Camden, New Jersey
circa 1941
Broadcast Pioneers member Bill Roswell e-mailed us:
I was a kid right out of Cherry Hill High School West when I started hanging out at WCAM Radio in Camden. It was 1968, and Dave Neal was the news director. One afternoon I was sent out to cover a fire in the basement of a shoe store right across from Camden City Hall. I called Dave from a phone booth and asked "so what do I do now??" Dave's instructions were direct and to the point: "Just tell what's happening. And don't mess it up." (Just to be factual, Dave used a slightly different verb at the time. And I learned later that it was his family's shoe store!)

Dave Neal gave me the best career advice of any one back then: "You don't wanna become a DJ. Get into news. Music gets old. News is now."

I also credit (and sometimes blame) Dave for my getting a job here at KYW Newsradio back in 1980. I was working as a reporter at the Courier-Post one Saturday night. Dave called me to say that KYW was looking for an editor who had broadcast and print background and was from the area. He'd given then-Executive Editor Nelson Cohen my name and told me to call "KY' on Monday" to get an interview.

We kept in touch over the years, and it was with a great deal of admiration and friendship to see Dave inducted into the Broadcast Pioneers Hall of Fame in 2010. Dave Neal will always be my news Godfather.
Steve Capus is the current President of NBC News. He had the privilege to work with Dave 30 years ago. Capus said:
In every newsroom, there are people who are natural-born mentors. Dave was one of those guys. He helped shape the careers of many of us at NBC News, including Brian Williams and Andrea Mitchell.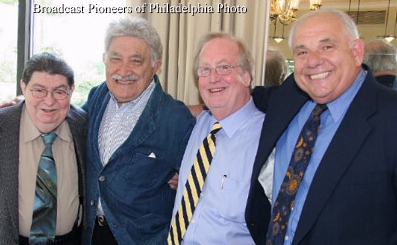 (Left to right) members Kal Rudman, Dave Neal, Paul Gluck and Dick Sheeran
Broadcast Pioneers of Philadelphia Luncheon
Bala Golf Club, Philadelphia
Wednesday, June 20, 2007
Broadcast Pioneers member Paul Gluck e-mailed us:
There are a few people in news, as in life, who are intuitive in the way they approach journalism. A handful of people imbued with the rare ability to define a story the way a great musician can improvise a melody.

Just a few folks who can observe and understand more about human behavior and social trends over a weekend at the Shore, during lunch at a South Philly diner or while walking down a Manhattan street than any pollster or sociologist could catalog after decades of data gathering.

The unusual characters who always seem to know the right source to call to get the best answer to even the most obscure question. The patient souls who take the time and make the effort to help others who struggle with tasks that seem insurmountable at the time, but which become the core skills that carry you you forward professionally. The visionaries who see the next big thing before anyone else in the room.

I've only met one of those folks, his name is Dave Neal and I will miss him.
Broadcast Pioneers member Dick Sheeran e-mailed us:
I first met Dave Neal in the early days of KYW Newsradio when it was located at 1619 Walnut Street. It was a Sunday morning. I was on the editor's desk. Dave was working the phones and writing scripts.

In between those chores, Dave was whipping up a fluffy three egg omlet on a hot plate. Newsrooms before computers were homey places. I thought to myself---this is quite a guy. He can report, write radio scripts and cook all at once. Little did I know from that day onward Dave would become my mentor, godfather and dear personal friend for more than 40 years.

He was one of the brightest men I know. He not only mentored me, but many others in the Philadelphia media world. He did it out of basic caring. He wanted nothing in return, just the satisfaction of seeing YOU succeed.
Broadcast Pioneers member Mike Strug e-mailed us:
Assignment editor is the toughest job in the newsroom. He or she is caught between the producers & writers on the inside and the reporters & shooters on the street. Dave Neal treated both sides fairly and with respect and, in turn, earned our respect and our admiration.

And he did it at KYW ,WPVI, WCAU and, in retirement, as a consultant at WTXF. He was the best, a total professional who did more than hand us press releases and send us out the door or scream and sending us speeding to some meaningless story because he "thought" he heard something come across the scanner.

And don't forget Denenberg's Dump, The Sidewalk Gourmet and the Energy Warden, all Dave's creations. He was missed when he left the business and he will be remembered for a long, long time.
Broadcast Pioneers member Vince Leonard e-mailed us:
The tributes paid to Dave Neal by the Broadcast Pioneers made me realize how little I knew about his extensive background in radio and television news. He was truly remarkable. I was aware of how much he meant to the people at Channel 3. When he gave Bill Kuster the idea for a garden outside our studios it seemed to energize Bill. He worked hard at it and when he moved to Denver he took the concept with him. That garden was a part of his career until he retired.

I know that Jessica so often consulted with Dave about her work at Channel 3 and her eventual move to the network. Dave was always there to help others. He had a calming influence on all of us and earned our respect. He will not be forgotten.
John Mussoni, formerly News Director for WTXF-TV, now at WHYY-TV e-mailed us:
It's hard for me to grasp how much Dave truly was a broadcast pioneer. By the time I met Dave at WCAU in the mid-80's, he already had a career and a half. He was part showman/craftsman, and always a journalist. He always had ideas. One day he wanted to make the Channel 10 Jersey bureau (in the Budget Motel in Mt. Laurel) a better looking place through painting a sign.

Another day, he'd come up with 6 story ideas because we were short a package. I could always tell when Dave thought something big was happening by the tone in his voice. We all know he just had "it." And the man could network. People boast about LNS and how it's boosting coverage among the stations who participate. When you think about it, Dave was doing his own version of LNS 30 years ago. If you missed a piece of video then Dave just "made a deal" and the video would find a way to your show.

Dave was less overhead too. I'm happy to say I was able to put Dave at Channel 29 and their New Jersey office. In a sense he retired in Camden. It is the place where he began.