Broadcast Pioneers member Sylvia Kauders successfully conducted two major careers simultaneously. On the one hand she was an award-winning public relations consultant whose innovative, unique special events have enabled her to work with seven Presidents of the United States. Her creative ideas carried out with little budget have dazzled the public and the press and enhanced the reputation of the City of Philadelphia.
On the other hand she was a critically acclaimed professional actress who has appeared on Broadway, Off Broadway, in major motion pictures, television series and commercials.
The long-time Special Events Director of the City of Philadelphia, Sylvia Kauders created, coordinated and marketed the events of Freedom Week which encompassed the City's 4th of July celebration at Independence Hall.
For Freedom Week, she created the Yankee Doodle Dandy program, an essay contest open only to youngsters between the ages of 12 and 15, born on the 4th of July, who resided in one of the 13 original colonies and whose composition of not more than 300 words on the subject of "What American Freedom Means to Me," won for them an opportunity to come to Philadelphia from July 1 through July 4, all expenses paid, and participate in a final competition in the historic area, and if judged the winner, read his or her essay from the platform at Independence Hall on July 4 along with the nation's prominent leaders.
She also created Miss Liberty Belle, a competition open only to teachers of American history in the public, private or parochial school systems, who became hosts to the city's celebration and whose activities also involved participation by the business community and the promotion of tourism.
These projects won countless awards. Top honors went to the "Wednesday is for Women" program which won for the City of Philadelphia the Silver Anvil, the Oscar of the public relations field. This was matched internationally with an award for the City of Philadelphia's Sister City program with the city of Florence, Italy.
A highlight of Philadelphia's Bicentennial program was her idea to push for the return of the Declaration of Independence to Philadelphia for the Bicentennial Summer.
She enlisted the help of Acme, Girard Bank, Ginos (the original fast food restaurant), Sunoco, John Wanamaker and The Morrison Company, along with the National Park Service. Each of these organizations placed petitions in their locations to gain one million signatures to be delivered to President Gerald Ford.
Through persistence, representatives from each organization were invited to the Oval Office for a symbolic presentation of the petitions. The effort was a great success when First Lady Betty Ford delivered to Philadelphia the Stone Plate – one of the first engravings from the Declaration. The program received countless public relations awards. Documents are archived in the Gerald Ford Presidential Library, along with a July 16, 1975 petition drive news release with Sylvia's name on it.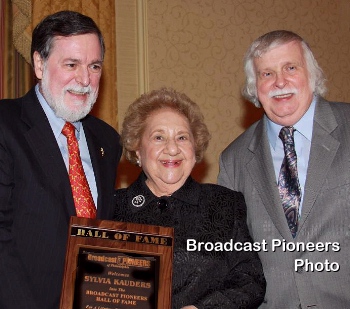 (Left to right) Broadcast Pioneers President Jerry Klein
Hall of Fame Inductee Sylvia Kauders and
Broadcast Pioneers Chairman of the Board Gerry Wilkinson
Broadcast Pioneers Annual Banquet
The City Avenue Hilton Hotel, 4100 City Avenue, Philadelphia
Friday evening, November 16, 2012
(Photo by member Don Hurley)
When Sylvia Kauders left the city to form her own PR firm, she became a specialist in the health care field, developing unique programs for St. Christopher's Hospital for Children, Hahnemann University Hospital, Graduate Hospital and the Betty Bacharach Rehabilitation Hospital in New Jersey.
In the theatrical world, she made her Broadway debut as Mrs. Beckoff in Harvey Fierstein's "Torch Song Trilogy" and played that role for five months in San Francisco and then in Florida.
She received an award from the Detroit Free Press for her performance in "Crossing Delancey." Bubbie, a role she created in the Off Broadway production of "Crossing Delancey," was her favorite.
She appeared in the original production of "Tale of the Allergist's Wife."

Sylvia Kauders created a series of memorable characters in the world premiere of "Under the Bed," a play by Susan Sandler who wrote "Crossing Delancey" and who requested Sylvia to play these parts in the production at the Caldwell Theatre in Boca Rotan in 2006. Her reviews were spectacular.
Sylvia Kauders returned to the stage in the world premiere of a comedy titled "Marty's Back in Town," written by Norman Shabel, a New Jersian, whose play "Are the Lights Still On in Paris" was produced in Philadelphia a several years ago.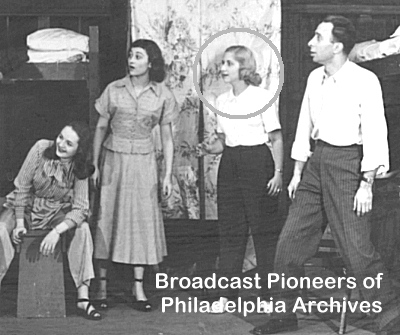 Sylvia Kauders (in gray circle)
an early live theater production
On the silver screen and on TV, Sylvia Kauders found art imitating life when she appeared with Al Pacino in the film "City Hall" and as a city official in the TV series "Spin City' with Michael J. Fox. She appeared with Michael Keaton and Nicole Kidman in "My Life" and several Woody Allen films, among them the much acclaimed "Crimes and Misdemeanors" which was incorporated in a Woody Allen documentary shown on PBS.
Her appearance in "The Man on a Ledge" generated much conversation and it increased when the film she made with the Coen Brothers titled "Inside Llewyn Davis" came out.
She was also seen in – "We The Peeples" with Terry Washington, star of the TV series "Scandal" and "The Wedding," a film starring Robert DeNiro, Diane Keaton, Susan Sarandon and a host of other stars.
Sylvia Kauders has appeared in a number of other high profile films including "Analyze That," with Billy Crystal, "Mr. Deeds" with Adam Sandler, "The Wrestler" with Mickey Roarke and "American Splendor" with Paul Giamatti, which garnered her great press.
On television she has been featured in the three "Law and Order" series, the CBS Hallmark Hall of Fame production of "Loving Leah" and Louie, 30 Rock, Sex and the City, Rescue Me and a recurring role in The Sopranos." She was seen in the NBC series "Smash."
Particular attention should be given to her success in commercials. Her commercial with former Pennsylvania Governor Tom Ridge has often been recalled as were her more recent appearances for The Lottery. From these appearances alone her face has widespread recognition. Perhaps even more memorable is the multi-commercials she made for VISA as "Meemaw" for the 2012 Super Bowl filmed in Indianapolis, and another she made with MVP Giants Quarterback Eli Manning for Toyota.
Sylvia Kauders claimed she cannot remember a time when she did not want to be a performer. She remembered as a very little girl entertaining her family by singing in her grandmother's living room in South Philadelphia and putting on shows in the backyard of her home in Upper Darby along with her sister Florence who was a pianist.
Her formal introduction to theater was in the second grade when she learned the vagaries of show business. It was some kind of an Easter play she recalled, and much to her consternation she was cast as an Easter fairy having hoped to get one of the two leads for which she auditioned. She cast herself as understudy and learned the lines and blocking – and yes, fate was on her side for the girl who was to play the role got sick or cold feet, and Sylvia went on. Naturally, she was brilliant, and from that day forward she was the one they turned to when acting was needed.
She made her start in radio as a teenager, appearing on the Uncle WIP show and continued to do voiceovers, interviews, and for a long period of time did an interview program on WHAT under the name of Sylvia Marlowe.
For ten years she was the producer/moderator of a TV program on WHYY titled "Under Billy Penn's Hat," telecast on Monday evenings. The topic had to be related to city services, and it was a tribute to her skills and personality to turn unsexy topics into sufficiently engaging viewing to capture an audience.
Active in civic and communal affairs, Sylvia Kauders was a past president of the Philadelphia chapter of American Women in Radio and Television, Women in Communications, which honored her with the coveted Sarah award for Lifetime Achievement, and the Philadelphia Public Relations Association. She was the first woman to be inducted into the PPRA Hall of Fame, the Nobel of all PR honors. A charter member of the Philadelphia branch of the National Association of Television Artists, she works with that group on the judging and presentation of the Mid-Atlantic Emmys.
She was a member of the Broadcast Pioneers of Philadelphia and a strong supporter of its scholarship program which awards scholarships to college students studying broadcasting in area colleges. On November 16th, 2012, this organization honored her by inducting her into its prestigious Hall of Fame.
Sylvia Kauders was an active supporter of the Free Library of Philadelphia and the Curtis Institute of Music. She also supported the Philadelphia Museum of Art, the Barnes Foundation, the American Jewish History Museum, the Kimmel Center, the Philadelphia Theater Company, the World Affairs Council and a host of others. She is a charter member of Women for Great Philadelphia, having served on its board for many years.
Sylvia was a member of Actors Equity Association and was very active with SAG-AFTRA. Prior to the merger, she was a vice president of the Philadelphia Branch of the Screen Actors Guild and a member of the Board of the Philadelphia local of the American Federation of Television and Radio Artists, as well as the alternate to the SAG national board, She attended several national meetings in Los Angeles and New York, and served on major national committees. She continued to serve on the board of the merged unions and was selected by the national union to serve on the nominating committee for the Screen Actors Guild television award awards.
She is listed in Who's Who of American Women and has served on many boards and committees of organizations whose purpose is to enhance and enrich the lives of people in the communities in which she lives. She has been honored by many of these groups for her involvement.
Sylvia Kauders was a graduate of the University of Pennsylvania. She had remained active in University projects and had endowed a scholarship to benefit a young woman interested in women's issues who seeks a career in elected politics.
She has endowed a luncheon series at Penn's Kelly Writers House to give students, as well as the community, an opportunity to hear from non-fiction writers. She also endowed a fund for the Penn Libraries for the acquisition of presidential materials.
She has also established a scholarship in electrical engineering at Technion University in memory of her late husband, Randle, who was a professional engineer.

Upon her death, she directed the establishment of the Kauders Foundation designed to give financial support to projects promoting historical and cultural organizations, education, the performing arts, government, health and human services and recreational activities, among others.
She had maintained residences in center city Philadelphia and in Manhattan. Sylvia passed away on Thursday, May 5, 2016.