The date was Friday evening, November 16, 2012!
PERSON OF THE YEAR
Dean Tyler, former WIBG Good Guy, former WIP PD and former WPEN & WMGK General Manager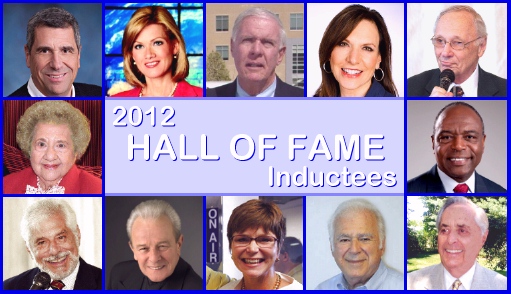 HALL OF FAME (LIVING INDUCTEES) (in alphabetical order):
Donald Barnhouse, commentator for WCAU-TV, now seen on WFMZ-TV
Lu Ann Cahn, eight-time Emmy winner, an investigative reporter for NBC-10
Angelo Cataldi, morning sports talk show host on WIP-AM/94, WIP Radio
Charlie Gracie, rock singer, big hits were "Butterfly" (1957) & "Baby Doll" (2012)
Stan Hochman, veteran sports reporter/commentator, Daily News columnist
Sylvia Kauders, veteran TV, stage/movie actress, & public relations consultant
Jay Lloyd, long-time Suburban Bureau Chief for KYW Newsradio, 1060
Robin Mackintosh, veteran "Eyewitness News" journalist for KYW-TV/CBS 3
Liz Matt, long-time co-host of 6ABC's "AM Philadelphia"/reporter for Fox 29
Beasley Reece, former football player/sports anchor for KYW-TV, CBS 3
Tommy Roberts, former owner of WTMR Radio, 800 on AM in Camden, NJ
Cecily Tynan, WPVI-TV, 6 ABC "Action News" prime-time meteorologist
HALL OF FAME (POSTHUMOUS)
Frank Beazley, WCAU-TV Sales Director, head of Center City Film & Video
Red Benson, former WPEN late night telephone talk host, also with WCAU
Bud Brees, best known as the "singing disc jockey" on WPEN Radio
Tom Donahue, pioneer disc jockey at WIBG, father of progressive rock radio
Christopher Graham, long-time "Uncle WIP" kids host in the twenties & thirties
Judy Lee, former Channel 3 & NBC-TV weathercaster/news anchor/weather girl
Al Martino, popular South Philly singer who appeared in "The Godfather"
Joe Pyne, radio/tv talk show host who pioneered debate type programming
Charles Shaw, CBS Radio journalist & News Director at WCAU Radio & TV
Ed Yates, former director for "Bandstand" and "American Bandstand"
Our MCs for the evening were Broadcast Pioneers members Larry Kane, Dick Sheeran and Pat Delsi. The invocation was delivered by Shane Coady, Dean Tyler's brother-in-law. Singing of the Nation Anthem by Bob (Chopper Bobby) Kravitz.
The event was once again take place at the City Avenue Hilton, 4200 City Avenue, Philadelphia. The date was Friday, November 16th.
PHOTOS!
Some pictures of the evening!
(Photos courtesy of Broadcast Pioneers member Don Hurley!)
VIDEOS!
The Pre-Show Interview Program!
Donald Barnhouse
Lu Ann Cahn
Angelo Cataldi
Charlie Gracie
Stan Hochman
Sylvia Kauders
Jay Lloyd
Robin Mackintosh
Liz Matt
Beasley Reece
Tommy Roberts
Cecily Tynan