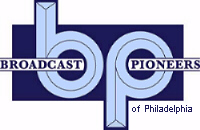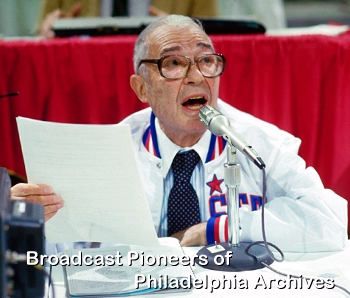 Dave Zinkoff
Dave Zinkoff was born on May15, 1910. His main claim to fame is that he was a memorable and colorful public address announcer for the Philadelphia 76ers.
He also worked for the Phillies at Shibe Park (later named Connie Mack Stadium) and the Philadelphia Warriors. He worked many jobs at Philadelphia's old Convention Hall where he deid college games plus wrestling and boxing matches.
Dave announced Wilt Chamberlain's 100-point game in 1962 at Hershey. Broadcast Pioneers member Bill Campbell did the on-air play by play.
He was well known for his popular introduction of former 76ers player Julis Erving. The announcement usually went something along these lines: "From the University Of Mazzzzzzachushetts, number six, Captain of the Philadelphia 76ers - Julius, The Doctor, Errrrrrrrrrving!!"
He passed away on Christmas Day of 1985 at the age of 75. Three months later, the team retired his microphone in his honor.
Julius Irving said the eulogy for "Zink." He said: "I laughed with him. I cried with him. I shared secrets with him. I roomed with him. I asked his advice. I worked with him. I pleaded with him. I plotted with him. But most of all, I learned from him.
On Friday evening, November 22, 2013, Dave Zinkoff was inducted into the Broadcast Pioneers of Philadelphia's "Hall of Fame."

From the official archives of the Broadcast Pioneers of Philadelphia
Photo originally donated by the Philadelphia 76ers
© 2013, Broadcast Pioneers of Philadelphia
All Rights Reserved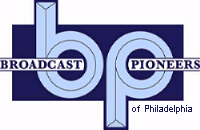 The e-mail address of the Broadcast Pioneers of Philadelphia is pioneers@broadcastpioneers.com