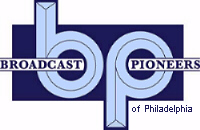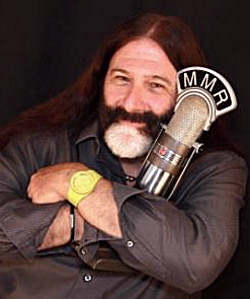 After establishing himself at one of the nation's first progressive rock stations, KSAN in San Francisco, Pierre Robert traveled east to begin what has become a 33 year run on heritage rock station 93.3 WMMR-FM in Philadelphia.
WMMR itself is a rock n' roll radio survivor, having now been a vital part of the Philly music scene playing a balance of both new and veteran rock bands for over 47 years without changing formats.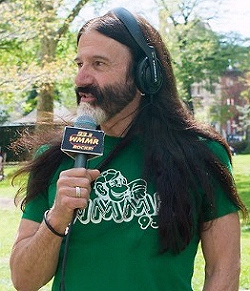 'MMR is one of the few remaining rock stations in the United States that still broadcasts live and local, 24 hours a day with real DJ's. Pierre is an integral part of the unique chemistry that exists within the air staff at 'MMR.
His laid-back and friendly on-air style and his ongoing commitment to a variety of local charities speaks to each listener in a one-on-one, very personal way.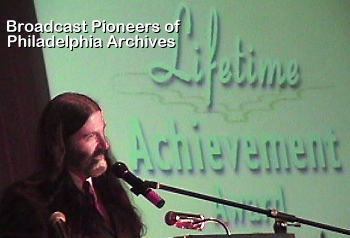 Lifetime Achievement Award Winner Pierre Robert
November 13, 2003
at the March of Dimes A.I.R. Awards
His vast knowledge of all styles of music has allowed a wide variety of artists, ranging from The Rolling Stones, Billy Joel, The Who, Bono, STP, Rush, Shinedown, The Pretenders, Pearl Jam, Foo Fighters, The Offspring, and Robert Plant among many others to feel quite comfortable in his interviews.
This plus his constant presence on the concert scene at venues ranging from the smallest clubs to the largest stadiums (to cover and report on shows) has helped keep him number 1 in mid-days for years.

From the official archives of the Broadcast Pioneers of Philadelphia
Top two photos courtesy of WMMR Radio and Pierre Robert
Bottom photo taken by Broadcast Pioneers member Gerry Wilkinson
Special thanks to Broadcast Pioneers member T. Morgan
Also thanks to Chris "Pancake" Ashcraft, Pierre's Producer
© 2015, Broadcast Pioneers of Philadelphia
All Rights Reserved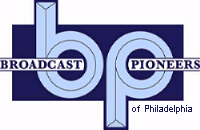 The e-mail address of the Broadcast Pioneers of Philadelphia is pioneers@broadcastpioneers.com