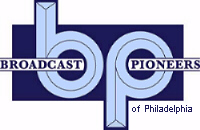 Born Erwin Selig Moore, better known to his friends and fans as "Wynn," was a native of Philadelphia, born and raised in the Logan section and a graduate of Central High School as well as Temple University. Though he was primarily known as a TV and radio personality, he was also an undercover investigative reporter and an entrepreneur, pioneering two of the city's earliest video stores while running his own advertising agency.
He was an author, as well as an avid classic car collector and father of five children. If there was anyone who knew how to captivate and hold an audience, it was Wynn Moore.
Moore, known for his one of a kind deep, sonorous radio voice that would rumble the speakers of his many listeners is often times considered to be the father of modern talk radio in the Philadelphia area. On March 17th, 1975, Moore developed the first all-day talk radio format in the country, both as program director and as on-air talent for WWDB-FM (96.5).
Most of his 'jawing' 45 years worth, were on the radio and TV airwaves in Philadelphia both as a talk show host and news announcer on the radio for such stations as WHAT, WCAU and WWDB. He was also a television News Anchor and Investigative Reporter for WTAF TV, Channel 29 News Probe.
Wynn had been in radio and television broadcasting since he landed his first job as a disc jockey at WHAT-AM (1340) in 1951 at the age of 17. He worked at the station for three years, while earning all but 18 credits toward an undergraduate degree at Temple. He then got married and moved to West Virginia to work in radio. He returned to Philadelphia in 1959 and worked for two years at WIP-AM (610).
Next he went to be a news director for a radio station in Norfolk, VA., and in 1963 moved to WSAI in Cincinnati, Ohio where on February 27, 1964 he was asked to interview the Beatles in their hotel room prior to their concert on their first US Tour.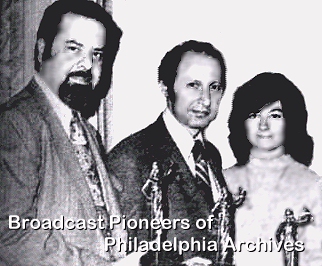 (left to right) Wynn Moore of WCAU Radio, Leonard Boasberg (Philadelphia Inquirer) and Kitsi Burkhart (The Evening Bulletin)
Law Day USA Day (sponsored by the Philadelphia Bar Association)
Belleview Startford Hotel
Center City Philadelphia
May 1, 1972
He returned to his hometown in 1968, working again for WIP and then WCAU in 1971 all while he was an Investigative Reporter for WTAF TV, Channel 29 News Probe. He later joined WWDB in 1974 as its program director. He expanded their talk-show format in Philadelphia to 24 hours.
Moore said it seemed logical to him to try the format around the clock, since most stations had at least one talk show on their schedules. Most of those shows did well, drawing a strong audience, he said. "I saw no reason why it (talk radio) couldn't continue to do well on a full time basis," he said, adding that for years many disc jockeys had done more talking than playing records. "Philadelphia had always had a strong following for talk radio."
Moore said and emphasized that he saw that trend continuing, even though only one talk station remained. He stated radio personalities such as Howard Stern had done a lot to teach the younger generations to listen to talk radio. "He is teaching kids that talent is not only playing records, that radio is not wall-to-wall records," Moore said.
For the next 10 plus years Moore continued working at WWDB as both Program Director and on-air talent developing his very popular Morning Show as well as his weekend auto and video shows. He worked with some of the legends of Philadelphia broadcasting, including Irv Homer, Merrill Reese, Howard Eskin, Frank Ford, Sid Mark, and others.
Moore retired from WWDB and found other interests during his semi-retirement stage. While still hosting a talk show at WBCB-AM (1490) in Bucks County, Moore did some freelance writing for Bradley Communications Inc. in Lansdowne, while finishing up his bachelor's degree.
In March 1991, Moore, while still hosting at WBCB, began teaching a course titled "The Art of Conversation" at Delaware County Community College in Marple Township. This was his first project that led Moore into his teaching career, which he saw as a fitting conclusion to his years on the broadcast scene.
In 1991, Moore took his final bow and left talk radio for good, beginning to teach at Rowan University, Camden County Community College and Olney High School, and did so up until his passing.
On February 6th 1998, talk radio fans and his family mourned the loss of Wynn Moore. He was 63 years old. "In my 40 plus years, if there is one thing that I have learned it's that most people want to be friendly," "Most people are just waiting for you to say, 'Hello.'"

From the official archives of the Broadcast Pioneers of Philadelphia
© 2015, Broadcast Pioneers of Philadelphia
All Rights Reserved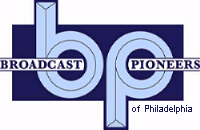 The e-mail address of the Broadcast Pioneers of Philadelphia is pioneers@broadcastpioneers.com