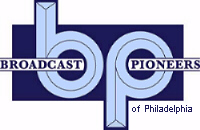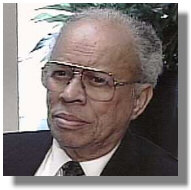 Malcolm Poindexter
Official KYW-TV Publicity Photo
1998
KYW-TV's Eyewitness News reporter Malcolm Poindexter, one of Philadelphia's most honored journalists, has marked more than 30 years on KYW-3 and more than 50 years in journalism.
Broadcast Pioneers member Malcolm Poindexter rejoined KYW-3's news team in March of 1990. Previously, he had been KYW's editorial spokesperson since March of 1985, during which time he won four Philadelphia Emmy Awards.
In addition to KYW-3, Poindexter's more than 50 years in journalism have included serving as a reporter for the Philadelphia Tribune, The Bulletin, Jet and Ebony magazines, the Associated Negro Press, the London Daily Express and KYW Newsradio.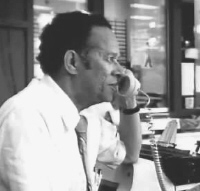 Broadcast Pioneers member Malcolm Poindexter
while a print journalist
He began his career with the Philadelphia Tribune and the Associated Negro Press in 1947 as a general assignment reporter and writer. During his 15 years with the Philadelphia Tribune, he served as a writer/photo-journalist, columnist, sportswriter and editor, city editor, business manager, assistant comptroller and comptroller.
In 1960, Poindexter joined the Philadelphia Evening Bulletin and it was not uncommon to see his by-line on the front page. He also contributed a number of feature articles which appeared in the Sunday magazine section.
In 1965, when KYW Newsradio started in Philadelphia, Poindexter was one of the first reporters hired. His five-part series on the plight of migrant workers in South Jersey (which he researched by actually becoming a worker) won the station its first honors, an Associated Press award and the Sigma Delta Chi Award for "Community Service."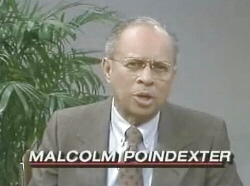 Broadcast Pioneers member Malcolm Poindexter
on Eyewitness News
CBS 3, KYW-TV
In 1967, Poindexter joined KYW-3's news team. In 1998, in addition to reporting, he also hosted the Channel 3 public affairs program, Newsmakers, which aired within KYW's Sunday morning newscast.
In addition to his Emmys and other industry honors, Poindexter, a popular speaker with community organizations, has received more than 300 community awards throughout his career. All of his achievements have not gone without national recognition. On June 30,1980, People magazine featured Poindexter in an article entitled "A Philadelphia Anchorman Fights to Change His Mean Streets." The story chronicled Poindexter's move from an affluent section of Philadelphia to a poor, ethnically mixed neighborhood, where he provided leadership in efforts to help his community.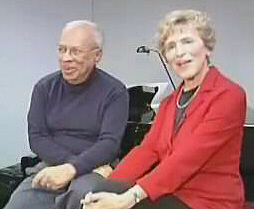 Broadcast Pioneers members Malcolm Poindexter
and Jane "Pixanne" Norman
He found time to work with several major civic and professional organizations, and formerly served as General Manager of Opera Ebony/Philadelphia, a company that came into existence in 1974 to provide more opportunities in opera for previously unheralded minority talent. He is presently a member of the board of the Mann Music Center, Scleroderma Research Foundation, the Philadelphia chapter of the National Academy of Television Arts & Sciences (NATAS) and Norris Square Neighborhood Assocation, Inc.
Born in the Eastwick section of Philadelphia, Poindexter was the son of a prominent concert baritone-pianist and he is a an active patron of the arts.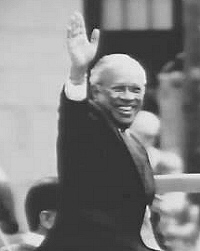 In 1996, Malcolm Poindexter was inducted into the Broadcast Pioneers of Philadelphia's "Hall of Fame." Malcolm passed away on March 30, 2010.

From the official archives of the Broadcast Pioneers of Philadelphia
Photos & Bio courtesy of CBS3, KYW-TV
© 2010, Broadcast Pioneers of Philadelphia
All Rights Reserved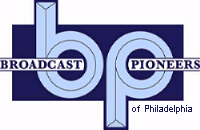 The e-mail address of the Broadcast Pioneers of Philadelphia is pioneers@broadcastpioneers.com