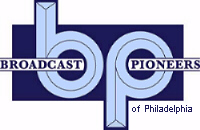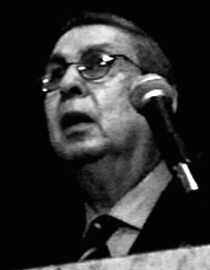 Broadcast Pioneers President Ed Papazian
Broadcast Pioneers Banquet, Bala Golf Club, Philadelphia
Wednesday, November 14, 2001
On Wednesday evening, November 14, 2001, the Broadcast Pioneers of Philadelphia inducted five people into its Hall of Fame. They were: Pat Delsi, Gene Hart, Dr. Neil Harvey, Sid Mark and Paul Norton. Our Persons of the Year were: W. Carter & Patricia Merbreier (Captain & Mrs. Noah).

The event was held at the Bala Golf Club in the Wynnefield section of Philadelphia. Broadcast Pioneers member Bob Kravitz opened the night by singing our National Anthem. Watch the Star Spangled Banner!
During dinner, Broadcast Pioneers member Bucky Clark played the piano to set the mood. Here's a classical music selection that he performed. Watch Bucky Clark!
Next we inducted new members to our Hall of Fame. These videos were shot with very low light. They had to be technically lightened by many stops. While now you can see the inductees, the lightening technique has made it looked like it was recorded with a night scope. However, at least now, there is something to view.
Watch Mrs. Gene Hart
Watch Pat Delsi
Watch Neil Harvey
Watch Sid Mark
Watch Paul Norton
The banquet, which was a fundraiser for our scholarship fund, ended with the honoring of our Persons of the Year, Captain & Mrs. Noah (W. Carter & Patricia Merbreier) who were also inducted into our Hall of Fame.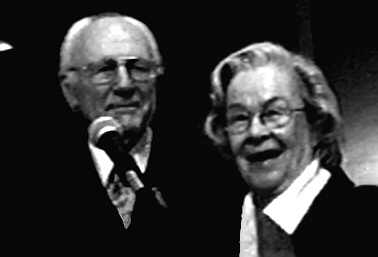 Broadcast Pioneers members W. Carter & Patricia Merbreier
Broadcast Pioneers Banquet, Bala Golf Club, Philadelphia
Wednesday, November 14, 2001

From the official archives of the Broadcast Pioneers of Philadelphia
© 2008, Broadcast Pioneers of Philadelphia
All Rights Reserved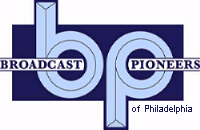 The e-mail address of the Broadcast Pioneers of Philadelphia is pioneers@broadcastpioneers.com