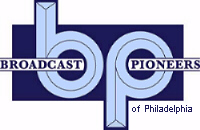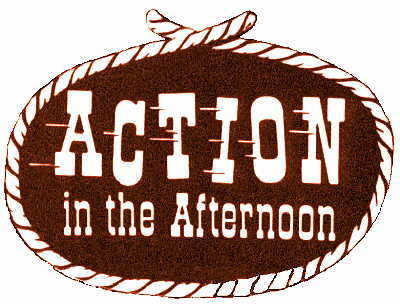 "Action in the Afternoon" logo designed by John Ferlaine
1953
The following account of "Action in the Afternoon" was written and compiled by a variety of people, most of whom worked on the television show. It was sent to us by Bill Bode, the Director of the Program, who edited this article and did most of the writing.
ACTION IN THE AFTERNOON was, to date, the only live-outdoor western ever telecast on network TV. It aired, five days a week, half an hour a day, for a year and a week, from February 2, 1953, to January 29, 1954. The program was on at two different times during the afternoon. According to an article on page 40 of Show Magazine for July 1953, for most of the year it was on the air from 3:30 to 4:00 p.m. Records kept by the Broadcast Pioneers of Philadelphia, newspaper listings indicate the other time was 4:00-4:30 p.m.
There were other "live" westerns on TV, but all except ACTION integrated film into their live production. On ACTION IN THE AFTERNOON all of our horses were live, not on film. We did use some pre-recorded audio, both for transitional effects which will be explained later and to represent thoughts and memories of live characters.
The program was telecast from the studios and grounds of WCAU-TV in Philadelphia. In 1952, WCAU moved from its original building at 1622 Chestnut Street in Philadelphia to a large plot of ground on the corner of City Line Avenue and Monument Road. (Later a small plaque was added to the sign for Monument in honor of John Facenda, who pioneered newscasting in Philadelphia and later became the voice of NFL Films.) There were other buildings in the area, but they were few and far apart. Later, a Marriott Hotel was built across Monument Avenue, but in 1953 the surrounding area was mostly trees and brush. There was even a creek which ran through our WCAU property, a creek we took full advantage of in our stories.
The program was conceived by and "sold" to CBS by WCAU-TV Program Director Charles Vanda. Before coming to WCAU-TV, Vanda had been active in radio in California, where he produced, among other shows, The Abbott and Costello Radio show. To Executive Produce ACTION, Vanda persuaded one of his former California colleagues, Leslie Urbach, to move East and take a chance on the new medium of television. Urbach had been a Dialogue Director on major Hollywood films (Check the credits on Murder My Sweet starring Dick Powell).
The legend was that Vanda had gone to New York to pitch two other programs, which were shot down by the CBS executives and that at the last minute Vanda had ad-libbed his idea to turn part of the station's parking lot into a replica of an 1880's Montana town. Ever the politician and salesman, Vanda proposed calling the town Hubberle, Montana. He proposed the name to Executives Hubble Robinson and Harry Omerle. When the CBS Execs green-lighted the project, Vanda had to hurry back to Philadelphia to have his production staff build the project he had ad-libbed.
Build it they did. Truckloads of soil were trucked in and dumped on top of the parking lot area behind the studio doors. Jan Ozog's Scenery Department built "fronts" of the town's buildings: the newspaper office, the bank, the General Store, the jail plus, separated by a road, The Copper Cup, the town saloon, owned and operated by its owner/manager Red Cotton. Separated by another road was the Blacksmith Shop.
A contract was signed to rent horses five days a week from Fairmount Stable, and after multiple searches, Les Urbach was able to purchase and/or rent the use of buckboards and an actual stagecoach.
The Scenic Department also built interiors for each of the exterior fronts. These interior sets were set up, as needed, inside Studio Two, immediately adjacent to the parking lot. This physical relationship, of course, became a problem for the actors and the writers. If an actor entered a building from outside, in order to appear inside, he or she had to run from outside to inside. Going through the door made them out of breath! The writers always had to write either another plot part or some "fill" to allow time for the character to "make it through the door."
The cast came from inside and outside the station. The hero, Jack Valentine, was from outside. He was a successful Western singer performing in clubs. His buddy, the sheriff, Sam Kressen, was a local actor. The Sheriff's wife, Amy, was performed by Jean Corbett, an actress who had been appearing at the station for years in the role of Aunt Molly on a daytime show called "Home Highlights." Another insider was the actress portraying Copper Cup owner Red Cotton: Elaine Watts. The editor of the Hubberle Gazette and narrator for the series was another insider, Blake Ritter, one of the station's staff announcers. Barry Cassell, played the role of Ace Bancroft, a slightly sleazy gambler type always one step ahead of the law in a very convincing manner.
Several other insiders played early roles that disappeared, more or less on purpose. Banker Grimes began with a WCAU Radio personality: Creighton Stewart. He was shot to death in one episode—about which more later—because of negative audience reaction. There was no complaining about his acting ability. He was a skilled performer. The negative reaction came from radio fans. Creighton had a luxurious, mellifluous voice. Unfortunately his face, full of lines and wrinkles, didn't match the image he'd created on radio. To protect WCAU Radio's valued talent, we killed Banker Grimes during a bank robbery.
Harrisse Forest, wife of one of our studio executives portrayed the owner of the newspaper run by Blake Ritter. We had to dump Harrise's character, I think, because she was developing an afternoon film show which she would host. We didn't kill her. We just had her move to Denver.
Music in the Copper Cup Saloon came from The Tommy Ferguson Trio, local musicians who also appeared regularly on a local show called "Say It With Music," directed by a famous TV10 graduate, Alan "Skip" Bergman. Alan had been one of the top directors at 'CAU, but he gave up directing to co-write song lyrics with his wife Marilyn for award-winning songs like "What Are You Doing the Rest of Your Life?" and "Let's Take it Nice and Easy."
Our Blacksmith was another "outside," local actor Norman Garfield. Actors for the non-recurring parts to fit each week's story came from both local Philadelphia sources and from New York. Some of our local actors developed into "Regulars," actors so convincing in roles created in one story and carried over into later episodes. Among these outstanding performers were Marvin Stephens (very visible in the surviving kinescopes as a resident villain), Nate Friedman, and John DeArman.
Two other such characters/actors went on to greater fame after ACTION. One, Walter Barnes, a former Eagles football star, joined us as a "fighter." His huge size and muscles made him a totally convincing fighter. As time went by, "Wally" developed into one of our finest actors, starring as the main character in several shows. He later appeared in a number of "Spaghetti Westerns" starring Clint Eastwood.
The second of our famous "graduate" characters was Grimey James, portrayed by actor John Zacherle (Broadcast Pioneers of Philadelphia has photographs of "Grimey" being made-up by Chuck Wells, whose full time job was in the Scenic Department.).
Zacherle , like Wally Barnes, went on to greater fame, first as a character, Roland, in a highly successful TV10 show, Shock Theater. (When they held an open-house for viewers, expecting maybe a hundred, thousands mobbed the studio, with police called out to control the overflow crowd and traffic.) The character Roland hosted the series of old horror movies and, with the connivance of Jim Hirschfeld, who directed the Saturday night series, would pop up in the middle of some of the movie scenes. He also carried on conversations with his invisible wife, "My Dear," and invisible cave-aide Igor.
When Zacherle went to New York, "Roland" became "Zacherle" and duplicated his Philadelphia success on New York City television and later on NYC radio.
Most of our writers came from California and New York, plus a few from Philadelphia. Les Urbach wrote the first week's script, creating all of the basic characters. Les recruited a number of fellow Californians to help us fill the writing demands. Five half hours a week add up to the equivalent of a two-and-a-half hour movie, longer than most movies, especially back in the fifties. Our California writing crew included William Cox, Dean Owens, and John Fleming. Richard Strome, one of the city's top ad executives, was a Philadelphia stalwart.
One Californian, Don Prindle, got so involved with us that he moved to Philadelphia and helped us feed the script beast. Don became one of our most prolific writers. (Once he moved, he had the advantage of seeing those actors run from outside, a concern difficult to convey to California on the phone.) We in production had to do a lot of re-writing of the California scripts. Don Prindle later went on to co-star with Ed McMahon on an afternoon TV10 show, Get Happy.
One of our top writers worked from New York: Clare Roskam. He created some characters with incredible depth and feeling, including a couple that starred our developing actor Wally Barnes. (Note: Copies of some of the week-long ACTION scripts are in the Broadcast Pioneers of Philadelphia archives.)
To fill gaps that developed by our having to edit some of the California scripts, some of us on the production staff pitched in. Producer Don Lenox wrote both a week-long and a one-day "fill-in" script. Yours truly managed, on off weeks, to write both a week-long and a two-day script.
Two other members of our production staff went on to greater success at the networks. My Associate Director, Jim Hirschfeld, went on to become Producer/Director of Captain Kangaroo in addition to being a producer on network specials with stars like Mary Tyler Moore and to directing some 400 episodes of Picture Pages with Bill Cosby. Howard Reifsnyder, Associate Director for John Ullrich, went to CBS Sports as a producer and later had a play, The Boys in the Truck, and was a producer on Broadway. It was based, allegedly, on the career of another WCAU-TV Director who advanced to CBS Sports, Frank Chirkinian, most famous for directing CBS's coverage of the Augusta Masters Tournaments. From our Technical Staff, Ralph Green, in 1962, became Director of Engineering for WCAU. In 1965, he became Director of Broadcast and Technical Operations for CBS in New York.
In 1969 he became Director of Engineering for CBS Radio, a Division of CBS Inc., later being promoted to Vice-President. In 1985 he became Vice President for Future Planning in CBS Television Engineering and Development, until his retirement after 37 years with CBS. Also from our technical staff, Elmer (Hank) Schorle finished up the last eleven of his 38 years at the station as Assistant Director, Operations and Engineering, WCAU-TV.
A third member of our team left TV for fame in film. Musical Director for the series was Richard Lester, who managed ingeniously to cover all the sounds of airplanes flying over and trucks working their backfiring way up City Line Avenue with appropriate western music, in addition to scoring all the action. Richard Lester is much more famous for inspiring all the music videos on MTV with his direction of The Beatles in A Hard Day's Night (1964) as well as other films including The Running, Jumping & Standing Still Film (1960), A Funny Thing Happened on the Way to the Forum (1966), How I Won the War (1967), The Three Musketeers (1973), Robin and Marian (1976), Superman II (1980) and Superman III (1983).
In terms of directors, John Ullrich was one of our staff directors with a solid background in drama. I, on the other hand, did not become a full staff director until ACTION. Until that assignment I had been an Associate Director. I'd filled in on occasion for staff directors, but I didn't get my "stripes" 'til ACTION, and I was assigned to the first week's show, so I got inducted in a hurry. To give you a shorthand version of the complexity of directing a live-outdoor western, this was back in the days when local directors still punched their own buttons on the switcher. Network directors then and all directors not long after ACTION called the shots, but the Tech Director punched the buttons to switch cameras. Also in the Fifties, when we superimposed a "white on black" title over video, we had to "split the fader," physically separate the two halves of the switcher used to fade (as opposed to cut) from one scene to another. The Crew Chief had to "ride gain" on the video signal amplitude created by putting two video sources together. The action in the opening sequence of the show—changing video images, cueing riders on horses and a buckboard, calling for AD's to flip to the next "super" card was so complicated I had to direct it for John's first week until he could absorb all of the calls and actions involved.
Further, no record of ACTION IN THE AFTERNOON would be complete without tribute to the technical crews who worked on the shows and made them possible. Remember, we started and ended during the winter in Philadelphia! We hadn't heard the term "global warming" in the 1950's. We simply accepted and expected cold weather, snow, sleet, hail, whatever came along with those winter months. Make yourself a crew chief, responsible for putting expensive and sensitive electrical equipment out into that cold weather, snow, sleet hail, five days a week. Then make yourself a cameraman who had to run one of the cameras out in that weather—five days a week. "Heroic" would not be a misplaced adjective for their efforts. The crews rigged up all kinds of gear to cover themselves and their cameras. They dug holes in the ground so cameras could be submerged and shoot dramatic up-angle shots of horses and the stagecoach, etc. The audiomen learned how to string cable over huge areas so that a buckboard could start at one spot, travel to another, and maintain audio at all points. The audio crews also had to learn how to camouflage microphones on hitching posts, on water troughs, on stagecoaches. And they had to brief the actors on (a) where the microphones were and (b) how best to get from one audio source to another without doing damage to themselves, the critter or critters they were using and, of course, the audio equipment. One of the memorable moments during my weeks came when we heard a loud, unscripted noise in the middle of a show. A camera not on the air pointed to the General Store and showed us the source of the noise, a horse chomping on one of the hidden microphones on the hitching post.
I will forget many names, I am certain, but let me just mention a few of the incredible guys on the engineering staff who made the series possible. We needed two crews, one for inside, one for outside. An inside camera could, when needed, shoot outside through the large garage-type door into the studio and an outside camera could be wheeled inside if three cameras were needed to cover close indoor scenes. The studio access had been built large enough to accommodate trucks and large scenery pieces. The opening freeze-shot of the show, with the cast in position on-set, frozen in action, was shot by the inside camera out through the door. The other inside camera was shooting the white-on-black super cards to be superimposed over the action. We didn't have digital effects in those days. The director had to split the fader, as noted, and the crew chief had to ride levels to make sure the total output didn't exceed limitations for good video. The inside crew was headed by Dan Falzani with cameramen Irv Gubin and Jim Manning, audioman Ralph Green, and Jim Hallowell on boom/lighting. The outside Crew Chief was Ed Harper with cameramen Norman Katz and Elmer "Hank" Schorle, audioman Bob Patton and Rene Norrell on boom/lighting.
It's almost impossible to describe how ingenious and creative these men were. I used to think, before ACTION, that we had miraculous crews--and I was right. In the 1622 Chestnut Street studios of TV10, built in 1932 by radio big enough to hold an orchestra and so large enough for TV, Jim Graham, one of the greatest cameramen I ever worked with, could—and on many occasions did—dolly his camera across the full length of the studio, moving from an extremely wide shot to a close-up—without losing focus, having to rack focus manually as he dollied the camera—an almost impossible feat. Audioman Dick Livingston comes to mind quickly because he was also the audioman who worked with Tony Verna to make possible the first Instant Replay even on television (during the Army-Navy Game, December 7, 1963). And for lighting there was no one in the business better than Dan Jones.
But the crews on ACTION faced hurdles no one could ever have imagined because the show was live-and-outdoors, regardless of weather. They had to lay yard-upon-yard of microphone cable so actors on buckboards could be heard at the beginning of a move and at the end of the move as well as possibly in-between. They had to hide microphones on hitching posts, water troughs, in the midst of hanging scenes taking place on horses. They dug holes in the ground to lower cameras to get "the right angles." And, of course, they had to protect the cameras and the rest of the equipment, plus themselves, from "the elements." And they did this five days a week for a year! They were, in short, amazing. Thanks to the memory of Hank Schorle, I can tell you the pattern of the two crews on ACTION. Hank says that Ed Harper's crew, with which Hank worked, spent the whole day on Action.
In the morning they set up all the cameras for both crews, all the mike cables, etc. And for the morning run-through of the show Norm Katz and Hank Schorle worked all four of the cameras, inside and out. Bob Patton worked the main audio console throughout the whole day. There was a lunch break. Then Dan Falzani's crew arrived, and we had a second run-through (with Les "fixing" whatever needed fixed) with the full crew who ultimately did the show on the air. The audioman from Dan's crew, Ralph Green would operate a smaller audio console covering outdoor sounds from a spot by the outside doors. When not operating a microphone boom the two boom/lighting men were available to assist camera re-positioning or lighting needs. Hank Schorle, by the way, also filled in as Vacation Relief Crew Chief for both Harper and Falzani.
I can fill in one other aspect of the production because I recently ran across two budget sheets from the weeks of November 9 (a script by Dick Strome) and December 7 (script by Don Lenox). You will get a sense of why New York farmed out production to owned and operated stations when I tell you that our weekly budget—WEEKLY budget—for five half hours a week was $6,400. Both weeks for which I found copies we came in under budget: November 9, we were $607.50 under; the December 7 week came in $112.50 under. Staff salaries are not broken down in the budgets, but I can tell you that my salary, as director, was $125.00 per week. Following are the budget stats.
Estimated Budget for the week of November 8
CAST
Jack Valentine: Vacation
Blake Ritter 102.50
Elaine Watts 102.50
Barry Cassell 102.50
Jean Corbett 205.00
Sam Kressen 205.00
Norman Garfield 125.00
Brenner $125.00 [NOTE: This name and the three following were set off as I have set them off here. I assume they were lead actors in the script as opposed to cast regulars.]
Timmins $125.00
Trudy $125.00
Tracy $125.00
John DeArman 75.00
Rudy Strange 75.00
Tom Slaugh 50.00
J. Burkle 50.00
Anna Turner 50.00
C. Zapacosta 25.00
Dom Lommacoio* 25.00 [Note: Dom's name is spelled differently week of Dec. 7.]
J. Saulker 25.00 (plus $25. For guns, etc.)
6 Extras (Monday) 60.00
Overhead $1300.00
Engineering $1100.00
GENERAL PRODUCTION
Teleprompter $215.00
Horses $250.00
Art (Credits, signs) $ 25.00
Music $285.00
Wardrobe: salary $ 50.00
2 dresses $ 12.00
2 suits $ 8.00
cleaning $ 15.00
Scenic, Props:
Liv. room $ 25.00
New set $ 50.00
Papering $ 25.00
Furniture $ 25.00
Food, etc. $ 25.00 (small props incl)
Misc: transportation $ 25.00
guns, ammo $ 25.00
stagecoach $ 30.00
PRODUCERS BUDGET $ 600.00
Outlay $5707.50
Budget $6400 under
Status $ under 607.50
Estimated Budget for the Week of December 7 (Lenox: "Locust Villa"):
CAST
Jack Valentine $250.00
Blake Ritter $102.50
Jean Corbett $170.00
Sam Kressen $205.00
Elaine Watts $102.50
Barry Cassell $102.50
Norman Garfield $125.00
Marvin Stephens $125.00
Zara Bishop* $125.00
Anna Varner $125.00
Kate Morris $100.00
Louisa Winslow $ 80.00
John DeArman $ 75.00
Tom Slaugh $ 60.00
Wally Barnes $ 50.00
John Zacherle $ 50.00
Nate Friedman $ 50.00
J. Burkle $ 50.00
Anna Turner $ 50.00
Boots Zapacosta $ 50.00
Dom Lamocoio $ 50.00
Jim Saulker $ 50.00
OVERHEAD $1300.00
ENGINEERING $1100.00
GENERAL PRODUCTION
Teleprompter $ 215.00
Horses $ 250.00
Music $ 285.00
Wardrobe Salary $59.00
4 dresses $24.00
Cleaning $6.00
1 Suit $10.00
Scenic, props
Building stairs $70.00
Wallpapering $30.00
Touch-up $20.00
Furniture $30.00
Small props $25.00
.Misc. Transportation $32.50 (Varner)
Stagecoach $20.00
Guns, Ammo. $30.00
Food $17.50
PRODUCERS BUDGET $600.00
OUTLAY $6387.50
BUDGET $6400.00
STATUS under $112.50
*This is my asterisk, not one in the budget, to note that Zara Bishop was Personnel Director for WCAU-TV. I have no memory of why we used her as a performer on ACTION.
Note also: there was an asterisk (in the budget) by Anna Varner's name. My guess is that it related to the expenditure for transportation, indicating probably that she was coming in from New York City.
Note also: the original Budget Sheets indicated the number of days each actor worked, a factor in costs. They also contained sub-totals and places for the signature of the Associate Director and the Producer. As always, for historical details, check with The Broadcast Pioneers of Philadelphia.
Note also: As you can tell from the closing credits on the few surviving kinescopes, episodes of ACTION (Again, check with the Philadelphia Broadcast Pioneers) we tied in with Levy Brothers for our western costumes.
I would be remiss, I think, if I failed to share with you some of the "highlights" of our year on the air. One that has stood out in my memory concerned our Production Manager, Frank Fisher. One day when the AD crew was moving the stagecoach, after the horses had been returned to the stable, the heavy coach "got away" from the ADs and rolled down into the WCAU-TV parking lot, directly into Frank Fisher's car. You can imagine the reaction he got when he called his insurance agent to report that his car had been hit by a stagecoach. There were also some technical glitches that Hank Schorle recalled for me. Hank wrote an article titled "Action in the Afternoon" for Broadcast Engineering Magazine of June 1976. The magazine had a column called "From Blue Bananas to SAG Tails" in which engineers reported technical and other "goofs" that plagued them on productions. In Hank's article he recalls the incident we all probably remember most—the day a horse chomped down on a microphone and scared the wits out of all of us, especially the audioman. Hank notes that the mike was an RCA 77D. Hank recalled, too, the day we had some steers for a plot line about a ranch. The ten animals got spooked by the gunfire, also part of the plot, and they stampeded off the set onto nearby fields and onto City Line Avenue! It took all of our production and technical crews to round up the unhappy critters. Perhaps the most embarrassing technical glitch came on a day Hank was acting Crew Chief. Following usual procedure, Hank needed a cameraman to choose a shot for a New York check on our video levels. Most of the crew was at lunch. The only cameraman on set was manning a Zoomar lens out in a woodsy area. He zoomed in on some recently dropped horse dung, a not unusual occurrence on Action. Hank fed the video to Master Control with a request to send it to New York. The Master Control tech, busy with other stuff, accidentally fed it to the transmitter rather than to New York, and the steaming horse droppings popped up, live, on the air during a cooking show. As you can imagine, there were several meetings held following that incident.
NOTE #1:
The original surviving kinescopes of ACTION are in possession of the Museum of TV and Radio in New York City. When I visited there several decades ago, the ACTION kines were not available for viewing because all rights had not been cleared. I spoke recently with the Museum Director, Ron Simon, and he informed me that people can now view the ACTION videos. The Museum is open from noon until 6 p.m., Tuesday through Sunday, The Broadcast Pioneers of Philadelphia have DVD copies made from videocassette copies made from the kinescopes. Video excerpts from two different episodes of ACTION can be found in the video section of the Broadcast Pioneers of Philadelphia website.
In the early 1950's we had no videotape. Kinescopes of live production were made by filming the images off the TV screen while programs aired. (Broadcast Pioneers of Philadelphia note: We know of reports of another existing kinescope. We have not been able to verify this or screen it as of yet).
Note #2:
You can see some still photographs from ACTION in the Directors Guild of America's DGA News for February/March 1995. In that issue they published an article I wrote ("How the West Was Shot") telling how Les Urbach taught me how really to direct. The article has three photos, one of the cast-freeze that opened each show, one of Les Urbach in action directing on the floor, one of Jack Valentine in a fight in the Copper Cup.
Note #3:
Writing as of April 2007, surviving members of the ACTION team include the writer of this article, William Bode, Jim Hirschfeld (now writing reviews of Broadway productions), Norman Garfield, and John Zacherle. Still with us from the Tech Crew are Hank Schorle, Bob Patton, Ralph Green, Norm Katz and Jim Hallowell. All of the rest of the cast and staff that I have kept in touch with are gone: Charles Vanda, Les Urbach . Don Lenox, Howard Reifsnyder, Jack Valentine, Sam Kressen and Jean Corbett.
Note #4:
A personal note: When I visited the Television and Radio Museum in NYC, while I couldn't view the ACTION videos because of clearance problems, I was able to see my script from Studio One Summer Theatre: "An Incident of Love" (1956) starring Jack Lord. And, as noted, the ACTION videos have been cleared and are now available for viewing. The Museum, located at 25 West 52nd Street in New York City and is open Tuesday through Sunday, from noon until 6 p.m.
Note #5:
I would be remiss if I did not call your attention to some of the other programs that WCAU-TV created and presented on the network. I suspect if you Google their names you will come up with information about them. They included the Sealtest Big Top (on which Ed McMahon was Chief Clown), In the Park (with Paul and Mary Ritts), Willie the Worm (a delightful children's show with Warren Wright as the puppet master) and What in the World (an incredibly entertaining and informative program done in cooperation with the University of Pennsylvania.) On the show a panel of scientists from both Penn and guest Universities tried to identify historical object pulled from the cellars of museums around the country, and Contest Carnival (a smaller circus show, done in one of the station's studios—as opposed to Big Top, which had acts so large it had to be done from a rented National Guard Armory).
Note #6:
I mentioned earlier that the door on the studios on City Line avenue were large enough for us to move equipment and vehicles in and out. If you want more information about the building, check the article entitled "New WCAU Studios" by John G. Leitch in RCA Broadcast Magazine, Volume 72 for January/February 1953.

From the official archives of the Broadcast Pioneers of Philadelphia
Text sent to us by Bill Bode, Director of "Action in the Afternoon"
Action in the Afternoon logo from a 1953 CBS-TV promotion booklet
Promotion booklet courtesy of Bill Bode, Director of the program
© 2008, Broadcast Pioneers of Philadelphia
All Rights Reserved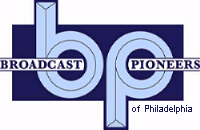 The e-mail address of the Broadcast Pioneers of Philadelphia is pioneers@broadcastpioneers.com