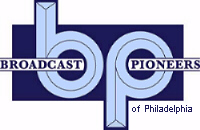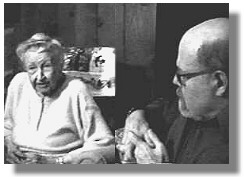 (Left to right) Florence Hanford & Ed Sciaky
at Florence's Home
March 18, 2002
On Monday, March 18, 2002, we visited Florence Hanford in her Glen Mills, Pennsylvania home. She lives on a nice piece of land in what was farm land when she and her husband moved there six decades ago. This is the same house she lived in when she started on WPTZ, Channel 3 in 1947.

This is part of the Broadcast Pioneers of Philadelphia's Oral Histoy project. It's now a webcast shot on video tape called "PIONEERS IN BROADCASTING."
After the formal interview, host Ed Sciaky and producer Gerry Wilkinson sat in Florence's cozy living room and chatted informally.
Florence tells about the hot lights!
Florence tells about her favorite recipe!
Florence talks about TV in 2002!

From the official archives of the Broadcast Pioneers of Philadelphia
© 2008, Broadcast Pioneers of Philadelphia
All Rights Reserved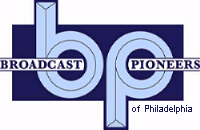 The e-mail address of the Broadcast Pioneers of Philadelphia is pioneers@broadcastpioneers.com