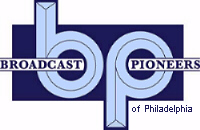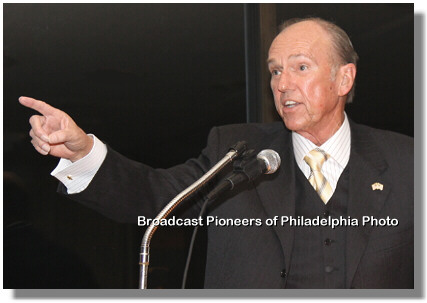 Broadcast Pioneers member George Michael
Broadcast Pioneers of Philadelphia Annual Banquet
Bala Golf Club, Philadelphia, PA
Friday, November 21, 2008
Here in Philadelphia, Broadcast Pioneers member George Michael will forever be remembered as one of the original WFIL, Famous 56, Boss Jocks. Coming to Philly in September of 1966, George stayed here until he replaced "Cousin Brucie" on WABC Radio in New York City. When the Famous 56 radio format was started, WFIL Radio poor ratings and Famous 56 went after WIBG, a station that ruled the marketplace with an almost 50% share.
What followed were eight years of the most exciting radio Philadelphia radio listeners have ever experienced. WFIL became the number one station in the summer of 1967, and along the way, was named the best top 40 stations in America.
Before arriving in Philadelphia, George Michael had worked as a promotion man for Motown, Scepter and other record labels while in college at St. Louis University. His radio career saw him serve as music director and evening DJ at WRIT in Milwaukee, WIL in St. Louis and KBTR in Denver. His arrival in Philadelphia was the beginning of the greatest days of his career.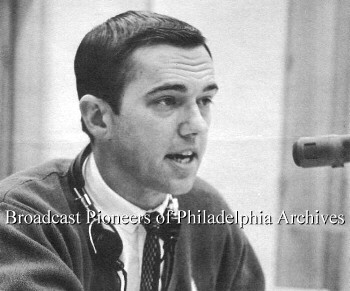 George Michael
From a WFIL Promotional Leaflet
Early 1967
Under George's photo, the promotional leaflet said:
Radio listening in the early evening belongs to the Young Adult. As a group, they have strong interests, desires, and loyalties. They insist on knowing what's happening while it's happening. George Michael is tailor-made for this audience. He's the "much more music" man with a savvy for picking and playing the hits. He's a sports buff who knows virtually every college and high school coach, cheerleader, and star player from Trenton to Wilmington and from Reading to Atlantic City. His regular newspaper column carries the fast-breaking news from all corners of the entertainment industry. The key word for George Michael, then, is involvement. The result has been instance acceptance and a strong rapport with listeners....
Michael was the music director at WFIL as well as the 6 to 10 pm disc jockey. He was named Billboard's top radio personality several times, as well as picking up numerous awards as Music Director of the Year. He was nicknamed "King George" Michael because he "ruled" evening radio.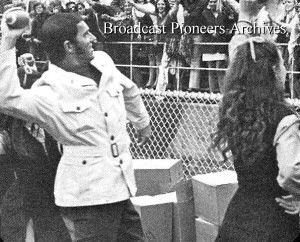 George Michael
at a local high school football game
(he was tossing out promotional WFIL footballs)
September 1970
In June of 1974, Michael, who was a bachelor father of three young children, met his future wife, Pat Lackman, who was working in the WFIL sales department. Lackman, who hailed from Broomall, Pa, entered television sports in 1975 and went on to win seven Emmy awards for her writing and producing.
In 1974, Michael did play-by-play for the Baltimore Orioles and turned down the opportunity to work for them full-time. Instead, he accepted a position as evening DJ (replacing Cousin Brucie) at WABC in New York, a position he held for the next six years. During that time, he also did play-by-play for the New York Islander, was a photographer for the Philadelphia Flyer, did "Speaking of Sports" fill in for Howard Cossell and was the weekend sports anchor for WABC-TV.
In 1980, he accepted the position of Sports Director for NBC-TV in Washington, DC where he still hosts several Emmy award winning sports show.
While Philadelphians may remember of George as a Boss Jock, the rest of the world will probably always think of George Michael as the legendary sportscaster who pioneered the sports highlight shows that fill the air waves today. Before there was EPSN, there was George Michael.
Originally called Sports Final in 1980, The Sports Machine went into syndication in 1984, and became the longest running locally produced show in the history of syndicated television.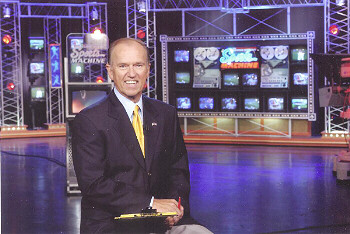 George Michael
on the set of "The Sports Machine"
2005
Upon his arrival at NBC in April of 1980, Michael's dynamic style brought a new energy to sportscasting that led NBC from fourth place in the ratings to a position of unprecedented dominance in the Nation's Capitol. During his 27 years as Sports Director at NBC4 in Washington, Michael earned more than 40 Emmy Awards for excellence in broadcasting.
Many of his features on athletes spawned major motion pictures, such as his story on the tragic death of bullrider Lane Frost, which led to the creation of the movie, "Eight Seconds." Michael helped produce that movie as well as playing an acting role. His feature on pitcher Jim Morris was the basis for the movie, "The Rookie."
George Michael is the host of the award winning "Redskins Report," "The Joe Gibbs Show" and "Full Court Press" with Tony Kornheiser, Michael Wilbon and David Dupree
(Left to right) Pat Delsi, Pat Lackman Michael, Bill Webber and George Michael
Broadcast Pioneers of Philadelphia Annual Banquet
Bala Golf Club, Philadelphia, PA
Friday, November 21, 2008
Michael and his wife, Pat Lackman, who won her seventh Emmy for sportswriting in 2007, live in Comus, Maryland where they have produced numerous World Champion Paint and Quarter horses. In November of 2008, George Michael was inducted into our "Hall of Fame."
We have received several e-mails from visitors to our website asking why we didn't mention George's time in 1971 at a Dallas radio station. We asked George to explain. He said:
I went from Denver to Philly in September 1966. Left Philly in September 1974 to go to WABC. Never worked in Dallas.
So, there's your answer. George Michael never worked in Dallas. Must have been someone else using the same name. Broadcast Pioneers member George Michael passed away on Christmas Eve of 2009. George had been fighting cancer (lymphocytic leukemia) since 2007.
Broadcast Pioneers President Gerry Wilkinson spoke with George just a few days ago. While his voice was a little weak, his spirits were good. When we asked him if we should put something in our newsletter, he wanted to think about it. Shortly later, he replied by e-mail saying: " No need to say anything, Gerry, because I am going to get well!!!! Thanks, George."
Ron Elz, better known as Johnny Rabbitt at KMOX in St. Louis e-mailed:
I was saddened to learn of George Michael's death, even though I hadn't seen him for decades, he often came to mind. We grew up in the same neighborhood of south St. Louis. He lived on Odell at S. Kingshighway and his dad Earl had a small grocery store on Tower Grove near Shaw. As kids (I'm 71), we would frequently talk about making it in radio..and we both did, in our own ways.

I recall when WIL had a one hour Sunday night at midnight show that they'd allow a St. Louis U student to host and George (given name Gimpel) did the best job of anyone which got him a full time job at the station. At the time WIL AM1430 was a Top 40 outlet and St. Louis U's campus was just across the street from the station which was located in the Coronado Hotel. I have many more memories of those days. I just thought you should know there are those who knew him from the 1940s to the 1960s in St. Louis who even though he's been long gone from here will nontheless miss him.
Mitchell "KC" Hill, former Famous 56 Boss Jock e-mailed:
What a loss, a superior talent that influenced many of us jocks. I met him only once and he was kind and generous with his time. Many years later when doing his same shift at WFIL I could still feel his influence in the room. As long as he is remembered he will still be with us.
Joel Denver, former Famous 56 Boss Jock e-mailed:
Very sad, indeed. George and I worked together at WFIL. George was an amazing talent and human being.
Member Bill Roswell of KYW Newsradio e-mailed:
Back in my teenage days at Cherry Hill High School West in the late 60s, George used to MC record hops (remember those??) at our school. Since I was a member of the Student Government Association, I was assigned to help George with whatever he needed. Since we both lived Cherry Hill, George would record promos for the record hops drop off the reel-to-reel tapes at my house on his way home from the station. The next morning, I'd play the promos as part of the morning announcements broadcast we did over the school PA system. I still have some of those old reel tapes.

Shortly after I got the job here at KYW Newsradio, I dropped George a note thanking him for all of his advice and suggestions and insights into radio. I told him that what he taught me about Top 40 radio would come in handy picking the top stories on all-news radio. We exchanged a number of e-mails over the past year, most recently when Jim Nettleton died. Jim lived up the street from me in Cherry Hill back in the WFIL glory days.

The king may be dead, but long live the king in our memories and hearts ... and in those old airchecks and promo reels.
Member Larry Kane shared these memories with Bill Roswell who shared them with us:
It was February of 1963 when I first met George Michael. I had just arrived at WIL Radio in St. Louis. George, a lanky and energetic young man from St. Louis, was a deejay at the station, and at the age of 20, I was the afternoon news anchor and evening street reporter. Three years later, we would team up with a brand new team to launch Famous 56, a new format of contemporary music for WFIL Radio in Philadelphia.

George was the nighttime deejay. And I did the news the same hours he was on the air. His engineer was a young man named Howard Eskin. Those of you who came of age in the late sixties and early seventies will remember that George became an instant radio star by embracing two appealing subjects of the time – pop music and high school sports. George was a big football fan and embraced the high school football scene with up-to-the minute reports on all the teams. It was a very exciting show. You had "King George," as he was called, spinning the "hot hits," and giving you the straight news from the gridiron through the sources of his vast personal reporting network.

We had many interesting personal moments, sharing the joy of working and achieving in a new community. When I started making the move to TV in 1967 and 1968 at Channel Six, George issued a warning. He said, "Stick to TV. You've got a face for radio." And I replied, "So do you." Little did I know that we would both wind up on TV. I never saw George as a TV star, but who knew was hard work and fierce determination would bring.

George was the hardest working broadcaster I had ever met. He prepared his programs with meticulous research. I'm talking about hours of preparation for each hour he was on the air. His voice rang with a high-pitched energy and excitement that made you want to listen. He was not to be denied in anything he wanted to accomplish.

And so it was that the animated, effervescent and determined young man wound up in Washington DC as that community's biggest sports superstar. His years on WRC TV, over thirty of them, made him the most successful local sports anchor in the nation. He was so big that he was featured on his own national program, "The George Michael Sports Machine." I tell you that a generation of sports broadcasters followed George's lead! George was ESPN before there was ESPN.

What a great success story. And now he's gone, the last of the original WFIL Radio jocks to pass on. First he was a fast legend here. And then he was sports in Washington.

The memories live on. They are vibrant. They ring true to all who were there, to those who listened, and to those who worked at that wonderful radio station during a golden era of radio broadcasting. I was proud to have been part of it, to have walked into that building on the first day, and to have watched the young broadcasters, who brought Philadelphia the sound of the sixties. George was a key part of it, and I can still hear his voice echoing through the summer air, from Allentown to Pottstown, from Devon to Avalon, his powerful delivery punctuating the dial at WFIL 560:

"This is King George, and this is Famous 56 in Philadelphia"
Member Allen Stone, newscaster for Famous 56 e-mailed:
George's passing takes me back to my best, most successful and most productive times in all the 36 years I spent as the morning prime time newsman at WFIL. I enjoyed the privilege of working side by side with the greats — Phil Sheridan, Jim O'Brien, Dr. Don Rose and Joe Niagara, to name a few. But, no era in all those years remains more imbedded in my memory than the thrill of joining the Boss Jocks in elevating Famous 56 to number one in the entire country. George's contribution to that effort stands as a beacon whose talent and dedication were exemplary.
Bruce Holberg, former General Manager of WFIL, Famous 56 e-mailed:
In addition to the loss experienced by family and friends, the deaths of the Boss Jocks represent something profound. With them passes a philosophy of radio as an exciting and personal medium. Personalities with credibility and style to whom listeners can relate. REAL localism. Entertainment.

Much ...that radio is going through is an inside job. Operators eviscerated too many music stations, bottom lining them, and squeezing out anything compelling about them. The idea that radio became a spot-carrying commodity was not forced upon it by advertisers, though. Advertisers wanted efficiency in delivery and results for their media dollars, and it was up to radio to decide how they wanted to go about designing the product to fit. I realize that there are a lot of generalizations here, some maybe unfair, but the loss of major air personalities has paralleled the loss of an important element of what made...makes radio great....
Member Dan Dinardo e-mailed:
I don't know if anyone has noted that George Michael was a (very) active member of the Society for American Baseball Research, or SABR. As a member, I enjoyed, immensely, his "detective" games where he would publish, in the SABR Research Journals, still pictures from games from seasons gone by, and ask you to solve who the players were, what year, what stadium, what part of the season, what inning of the game, etc.

Some of us SABR members would take that challenge, and we usually got close to the answer, but not exactly what he had. He would then respond (and he responded to EVERY email) with the tools and techniques he used to get the answers, and tell us that we could solve ANY still picture if you use the same tools and techniques.

I was well aware of his talents as a radio personality, going all the way back to my "gopher" days running errands for the board techs at 'FIL. I knew his two loves were rock 'n roll and sports, but I never knew he was into the subtle differences between the Boston Braves uniforms between 1914 and 1919, and such minutiae as SABR members are into. He truly was an expert researcher as well as a producer, writer, and announcer.
Tom Dooley, former WFIL Boss Jock e-mailed:
Like so many of his former colleagues and friends around the country, I didn't even know he was sick. We hadn't spoken for years. I had to stop and regain my composure.

I had the wonderful privilege of knowing and working with George in 1971 at WFIL. That was the year Famous 56 reached the summit of its broadcasting glory as the industry awarded us the coveted "Station of The Year," radio's Medal of Honor. George was a remarkable radio personality and dominated Philadelphia ratings at night. He was also a leader among the greatest air staff ever assembled. The lineup was Dr. Don Rose 6-9, Jim O'Brien 9-Noon, I did Noon to 3, Dan Donovan 3-6, King George 6-10, Brother Lee Love 10-2 and Dave Parks 2-6. Jay Cook PD (the best ever). I went out to KHJ-LA but came back to WFIL in 1978. George had left for greater heights but visited the station often. Everyone was always glad to see him. His voice, energy and smile will remain with me. George was an incredibly talented man who loved his profession with a passion and he was a real inspiration to those of us who looked up to him. Personally, he was a kind and generous man with a great laugh and sense of humor. I know I speak for all of us when I say he will be greatly missed.

George was a shining star during what many of us believe was the greatest era of Personality Radio. He now joins several WFIL alumni who have gone before him: Jay Cook, Dr. Don Rose, Jim O'Brien, Jim Nettleton and Jerry Donohue. These were the guys who laid the foundation of WFIL, in my opinion, the greatest radio station in the history of the world. Being a Boss Jock at Famous 56 is a badge of honor I will cherish all my days. I know everyone else who ever worked there feels the same. My prayers and thoughts today are with George's loved ones. They miss him most of all. Please join me in that prayer.
Former WFIL Boss Jock Steve Ross, a member of the Broadcast Pioneers e-mailed:
It arrived - taking Philadelphia by storm - on September 18, 1966. "The Pop Explosion." A dynamic, high energy radio format, that set up shop at 56 on the AM dial - - WFIL. Top air talent from across the country were recruited - names like Jay Cook, Jim Nettleton and George Michael - hired guns to do what had to be done - put a whuppin' on WIBBAGE, the longtime reigning champion - positioned up the dial apiece at 99.
They succeeded, in spades. It took less than a year to topple the great WIBG.

In 1967, smack dab in the middle of the "Summer of Love," WFIL kissed WIBBAGE goodbye and became Philly's new number one. Armed with the Boss Bus, Boss Chicks and Prize Patrol, WFIL created a radio juggernaut the likes of which no one had ever before witnessed. That new "Sound of Philadelphia" was seemingly everywhere; its infectious custom jingles reverberating out of radio speakers all over the Delaware Valley.

WFIL not only displaced WIBBAGE as Philadelphia's top-rated radio station, but was widely acknowledged as the best radio station in America. Over time, top jocks Dr. Don "in the morning time" Rose, Jim "Howdy Pardno" O'Brien and "Your Love Leader" Long John Wade joined "Your little bitty buddy" Jay Cook, "Diamond" Jim Nettleton and "King" George Michael to become the rock-solid foundation on which WFIL was built, for years to come. What did they all have in common? All were great WFIL Boss Jocks. And sadly, all are now gone.

Perusing the list of now-departed radio giants - all young bucks when toiling at Famous 56 - makes the rest of us question our own mortality. Jim Nettleton - who could intro a song better than most anyone else - passed away October 4. Now, barely ten weeks later, we've lost George Michael. Then, just to prove how uncertain life really is, it was George who spoke about his friend and colleague at a Broadcast Pioneers luncheon, shortly after Diamond Jim's passing. He appeared to be the picture of good health. Who would've guessed that he, too, would not live to see Christmas? As a WFIL Boss Jock, George Michael was "King." His court was in session weeknights from 6-10. His subjects were his loyal listeners. And long before others would adopt that regal moniker - a couple of "Howard's" readily come to mind - George Michael was The King. At six o'clock, there was only one place to be - within earshot of your transistor radio - pre-set to 56 on the dial. At the top of that hour, a lively, powerful jingle came blaring out of speakers, "Philadelphia - George Michael (turn it on) Famous 56, WFIL......Another hour of music pow-pow-power!"

Then came that voice - always upbeat and vigorous - "Good evening World, I'm George Michael......" From that moment on - and for the next four hours - riveted Delaware Valley teens would be groovin' to the pound of sound that King George was puttin' down! George Michael was an original. A tireless performer, he perfected his craft and took no shortcuts in order to be the best. And make no mistake, he was the best nighttime disc jockey in America, period.

He had no peers from 6-10 p.m. There was only he - then all the rest. George Michael was radio's Secretariat. In 1974, after ruling Philly's nighttime roost for nearly eight years, the Big Apple came-a-callin'. Specifically, WABC. They wanted George to wave his nocturnal musical wand and cast a spell over New Yawkers - just like he did in Philly. George, who thrived on challenge, decided to accept their offer and The King took off for Gotham, replacing legendary DJ Cousin Bruce Morrow.

After a highly-successful six-year stint at WABC, George - who's passion for sports was always considerable - set his sites on conquering a new medium, television. So, in 1980 he left to become Sports Director for WRC-TV, the NBC station in Washington. There, he pioneered the integration of rapid-fire video action into his sports segments. His was the blueprint used by ESPN's Sports Center and CNN's Sports Late Night. Eventually, "George Michael's Sports Machine" debuted, and was syndicated nationally in more than 200 markets.

During His tenure at WRC-TV - one that would last twenty-eight years - George captured more than 40 Emmy awards, while becoming one of America's most respected and entertaining sports anchors. After being voted Sportscaster of the Year, George appeared as a guest on "The Tonight Show," even swapping quips with Johnny Carson and Ed McMahon. On November 21, 2008, George was inducted into the Broadcast Pioneers Hall of Fame.

Born in St. Louis, George graduated from St. Louis University with a degree in philosophy, political theory and speech. He also played soccer for his high school team. He was a jock all of his life - first a soccer player, then a Boss Jock and finally a sports jock. George Michael died on Christmas Eve from complications of chronic lymphocytic leukemia, at age 70. He is survived by his wife, Pat, and three children. His passing is mourned by scores of fans who will miss him dearly. Kindly count me among them.
From the official archives of the Broadcast Pioneers of Philadelphia
WFIL Photos originally donated by Broadcast Pioneers member Roger Hendler
Sports Machine photo and bio originally donated by Broadcast Pioneers member George Michael
Annual Banquet photos donated by Broadcast Pioneers member Jerry Klein
© 2009, Broadcast Pioneers of Philadelphia
All Rights Reserved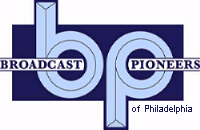 The e-mail address of the Broadcast Pioneers of Philadelphia is pioneers@broadcastpioneers.com