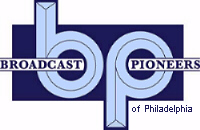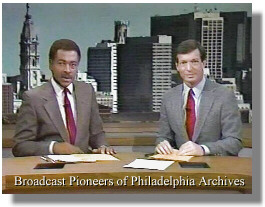 (Left to right) John Blunt & Steve Levy
WCAU-TV, Philadelphia
Thursday, September 29, 1988
Broadcast Pioneers member Steve Levy co-anchored "NBC 10 News Today" on WCAU-TV, a morning news show from 5 to 7 am, daily. He also did the special "On The Menu with Steve Levy" feature, covering the Philadelphia food & restaurant scene.
He was also co-host of the NBC 10 show "10" at 10 a.m., a talk & entertainment show. Steve joined Channel 10 on May 10, 1982, as co-anchor of the 6 p.m. evening news. He also co-anchored the noon news for WCAU in the mid-1980s.
Born and raised in South Philadelphia, he also grew up in the Logan section of the city, where he attended Olney High School. While serving as president of his senior class, he became interested in broadcasting. He attended Temple University, and in 1970 graduated with a degree in journalism, broadcasting and speech.
Levy worked at WFIL Radio for a few years where he became close friends with Broadcast Pioneers' Hall of Famer Jim O'Brien, who was a big influence on his broadcast career. Both started at the station in August of 1970. In 1973, he joined WNYS-TV in Syracuse, N.Y., where he worked as sports anchor.
Steve returned to Philadelphia in 1974, and joined KYW-TV, Channel 3 as a sportscaster. A year later, he moved across town and joined WPVI-TV, Channel 6 on Saturday, March 15, 1975, where he was sports anchor and reporter for the next six years. He left exactly six years later on Sunday, March 15, 1981.
Steve is very devoted to causes that benefit children. He has served on the Board of Directors of the Ronald McDonald House in Philadelphia. He previously served on the boards of the March of Dimes and the Special Olympics. Steve Levy retired in 2005.
Steve lives in suburban Philadelphia, and at his ranch in Colorado and is the father of two grown children, a daughter, Melissa, and a son, Michael.
Levy once said: "The adrenalin flow of live television is unmatched by anything for me. Always loved it. It sure beat working for a living…. Broadcasting has always been my other woman. It's been special, and to do it in your hometown and to be welcomed into people's homes is an honor because that's what they do; they invite you into their home, and to everyone who ever did that I want to say, 'Thank you.'
On Friday evening, November 18, 2011, Steve Levy was inducted into the Broadcast Pioneers of Philadelphia's "Hall of Fame."

From the official archives of the Broadcast Pioneers of Philadelphia
Bio originally donated by Broadcast Pioneers member Steve Levy
Video still originally donated by Broadcast Pioneers member Terry Ruggles
© 2011, Broadcast Pioneers of Philadelphia
All Rights Reserved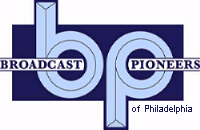 The e-mail address of the Broadcast Pioneers of Philadelphia is pioneers@broadcastpioneers.com