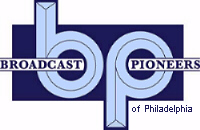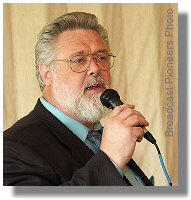 Broadcast Pioneers member Paul Big Bear
The Broadcast Pioneers of Philadelphia Luncheon
Wednesday, September 17, 2008
Broadcast Pioneers member Paul Big Bear has done many different things in his life. He has been a stunt person and an extra in more than a dozen movies and had several speaking roles in the film industry.
In the theater, he has played Oscar Madison in "The Odd Couple," Ice in two different productions of "West Side Story" and Mr. Walsh in "Dawn Yankees." Plus roles in Oliver, Of Men and Mice and The Date.
In radio, he hosted a nationally syndicated broadcast called "The Legends of Wrestling." He was also the Saturday morning host on "Breakfast with the Cowboy" on WCSD, located in Sawnee on the Delaware, Pennsylvania. He was a talk host on WRDV in Warminster and appeared from time to time on the Joey Reynolds Show on WFIL Radio doing impressions.
Besides being a wrestling interviewer and instructor, he was the "Concrete Cowboy" with the WWF. Twice he held the Heavy Weight Championship Belt and three times, he was the co-holder of the tag team belts.
He has been involved with numerous wrestling television broadcasts plus appeared on the "Banana Sandwich Talent" show in Scranton. He was also on the "Uncle Floyd" telecasts presented on the New Jersey Network.
He started singing professionally in 1966 in "The Capps," a local group. Then in 1969, he went solo as Johnny Summers. In 1971, he opened for Buddy Hackett in the Catskills. He has also opened for Patti LaBelle and Eddie Murphy just to name a few.
He was born in Scranton on Wednesday, June 30, 1952 and went to the Narberth Elementary School and then to Abington High. He holds a B.A. degree from Penn State and a doctorate of divinity from Ambassador College in Pasadena, California. The school was founded by radio preacher Herbert Armstrong. Paul's father played trumpet in the Charlie Barnet Big Band.

From the official archives of the Broadcast Pioneers of Philadelphia
Photo originally donated by Broadcast Pioneers member Jerry Klein
© 2008, Broadcast Pioneers of Philadelphia
All Rights Reserved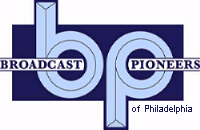 The e-mail address of the Broadcast Pioneers of Philadelphia is pioneers@broadcastpioneers.com