The Broadcast Pioneers of Philadelphia is a federally recognized, state chartered charity. We are a 501(c)(3) non-profit corporation serving Philadelphia since 1962.

Frank Stone
Newsletter Editor

Happy August Everyone! Hard to believe we're halfway through the summer season. Be sure you plan to attend our September 16th luncheon, a " Tribute to Gary Papa." More info in the September newsletter.
The top news for this month is the announcement of our "Person of the Year" for 2009 and the eight living inductees into our "Hall of Fame." Last month, we announced the 12 posthumous inductees.
The Broadcast Pioneers of Philadelphia's "Person of the Year" is (fanfare please):
PERSON OF THE YEAR FOR 2009!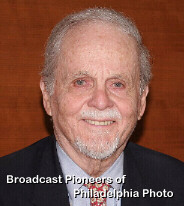 Bill Wright, Sr.
July 21, 2009
Photo by Broadcast Pioneers Board Member Bob Kravitz
Bill (The Rebel) Wright, Sr., former WIBBAGE "Good Guy" and WPEN jock has had a 70-year love affair. This is top secret, so keep it between us and everyone on the Internet worldwide. That love affair is with the business we all know as broadcasting, and Bill is still in love. We're proud to honor such a wonderful gentleman.
The 2009 "Hall of Fame" inductees are:
Elliot Abrams, Accu-Weather Senior VP, mornings on KYW Newsradio
Joanne Calabria, VP of Public Affairs for CBS 3 and the CW Philly 57
Renee Chenault-Fattah, co-anchor of the NBC 10 News at 11 pm
Mort Crim, former Eyewitness News" TV Anchor on KYW-TV, Channel 3
Gene London, former Philadelphia TV Children's Celebrity and Host
Al Meltzer, sports director/anchor and play-by-play on Channels 3, 6, 10 & 17
Irv Ross, Channel 6's very first Director of Engineering, there for 50 years
Lisa Thomas-Laury, 6ABC "Action News" co-Anchor and Reporter
Our 41st annual banquet is a "must attend" for everyone in broadcasting. Not only is the banquet our primary source of funding for our annual scholarship program, it's a time to honor friends and colleagues who are being recognized for their significant contributions to our industry.
This spectacular banquet will be on Friday, November 20th at the beautiful Bala Golf Club, 2200 Belmont Avenue in Philadelphia. Tickets go on sale in September. Be one of the first to buy your tickets. This is going to be BIGGER than Big! You don't want to miss this remarkable and memorable evening.

Visit Our Website Often - http://www.broadcastpioneers.com

A WRAP-UP ON OUR JULY TOUR OF THE NEW 6ABC BUILDING: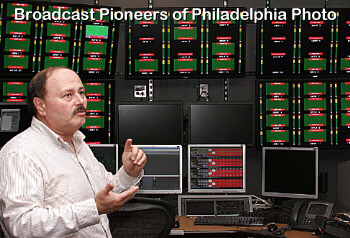 Control Room for the Production Studio
New WPVI, 6ABC Building
Tuesday, July 21, 2009
On Tuesday July 21st, Broadcast Pioneers participated in four tours of the new 6ABC facility. 78 people were there; that's an all-time record for a summer touring event! The building is 110,000 square feet with two state of the art studios, each approximately 4,000 square feet. The current round building is going to become a round parking garage for news vans and other vehicles. Special thanks to 6ABC for their time and hospitality. The station hopes to be in their new facilities sometime next month. We wish them good luck and lots of happiness.
WELCOME NEW MEMBERS:
Hal Sacks: He's a retired audio engineer who had been with Audio Visual Communications in King of Prussia for 34 years. Prior to that, Hal was with WFMZ and the Magnetic Recorder Company. Currently, he is with Business 21 Publications. Hal was taught the business by Broadcast Pioneers board member John Roberts at Temple University.
Daniel DiNardo: He started in the industry in 1974 with WDNR-FM in Chester. He was also affiliated with WDVL-FM in Vineland, WEEZ in Chester and from 1977-1988 owned and operated "Recorded Affairs" Mobile DJ Service. During 1980-1984, WAMS, Wilmington was his home.
Amy Caples: Assistant Professor in Telecommunications & Mass Media at Temple University since 2005. She worked at KYW Newsradio and KYW-TV from 1988 through 2005. Prior to that, she was with WITF-FM and WHP, Harrisburg, WSHA, York, WMTR/WDHA Morristown, NJ, and WIP Radio in Philadelphia.
Benna Lit-Martucci: Her dad was the legendary Hy Lit, a member of the Broadcast Pioneers. Her brother, Sam, is also a member. Benna had a long association with stations WDAS AM & WDAS-FM. Her step-father was Bob Klein, General Manager of the stations for three decades & 'DAS-FM was the home of "Hyski's Underground."
Colin Hanna: He was on WXPN in the sixties and later worked for CBS. He owned Hanna & Wile Advertising and Hanna Enterprises. He served for 8 years as a Chester County Commissioner. He is currently president of "Let Freedom Ring" in West Chester and has made several appearances on the news channels during the last month.
We have three more new members not listed here. The info came too late for this issue so we will have to wait until September to mention them. Welcome everyone and hope to see you at a luncheon real soon.
A ONCE A YEAR OPPORTUNITY:
We invite anyone interested in recognizing his or her business or organization to place an ad in our upcoming Membership Directory. We now publish the highest number of directories in our history, due to the wonderful growth in membership that currently stands at 340 members. Your ad dollars will reach even more people for the same price as last year. Prices range from $125 to $250. Don't miss this excellent opportunity to be a part of a directory that has an outstanding user frequency rate! Advertising dollars also help fund our operation. Contact Frank Stone at pioneers@broadcastpioneers.com. Time is running out. Call or e-mail now!
Did you know...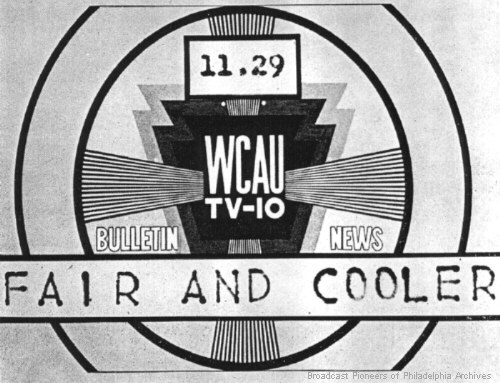 WCAU-TV Test Pattern
1948
WCAU received approval from the Federal Communications Commission for the establishment of an experimental television station before the Second World War. However, that station never went on the air. There are some Internet reports stating that it did, but they are totally incorrect.
Sometimes people have been confused about the operation of a WCAU station called W3XAU. Some believed this to be an experimental television station because of the call letters. However, it was, in reality, WCAU's commercial shortwave station which ceased operations during World War II and never restarted afterwards. Charlie Higgins, a long-time tech at WCAU, said, "I know of no attempt by WCAU to (actually) operate an experimental TV station." Others from the WCAU Radio family echo these feelings.
All experimental television in Philadelphia began with W3X. So somewhere along the line, someone assumed the shortwave station, W3XAU, was an experimental television station. It was not. W3XAU was listed incorrectly as a future television station for Philadelphia in a summer 1941 issue of FM Magazine. There was a CP for an experimental WCAU television station but not with those call letters. That article may have been the original source of the confusion.
WCAU-TV was the last of the "big three" to come on the air in Philadelphia in March of 1948. The Philadelphia Record newspaper agreed to purchase the WCAU stations in November of 1946. However, a couple months later (February 1947), that newspaper ceased operations and its rights to purchase the WCAU stations were sold to the Philadelphia Evening Bulletin newspaper, which at that time owned WPEN AM & FM and the construction permit for WPEN-TV, Channel 10. Remember that all "The Bulletin" really wanted were the rights for the famous syndicated columnists and popular comic strips that were licensed to the Record newspaper. The broadcast deal was only a very minor part of the agreement.
Control Room A
WCAU-TV, 1622 Chestnut Street
1948
You'll remember that last month we talked about how WCAU had a construction permit for Channel 6 (not a typo) and turned the CP back into the government. The station was planning to apply for an UHF frequency but entered into an agreement to sell the station before that could actually take place.

The Bulletin purchased WCAU AM & FM, sold off the less powerful WPEN AM & FM (WCAU-FM and WPEN-FM flipped frequencies) to Sun Ray Drugs and transferred WPEN-TV's construction permit to WCAU becoming WCAU-TV.
Until January of 1948, the station's construction permit still operated under the call letters of WPEN-TV. Only two months before signing on the air did the call letters become WCAU-TV. And that's how Channel 10 became WCAU-TV and how the Evening Bulletin got to own the stations.
WE REMEMBER:
It's been another difficult month for the Broadcast Pioneers and our industry.
Pioneer Member Mel Alpern passed away. He was an announcer and advertising guy working at WRCV Radio (now KYW) before starting his own ad agency. Mel was 85.
Pioneer Member Doug "Bud" Hibbs began in broadcasting in 1934! That's not a typo. His dad Doug Sr. started WTEL Radio in the mid-twenties. Bud worked at the station. At age 89, he continued working as a sales rep for WVLT, Vineland.
Member George Koehler was GM of all Triangle Stations, co-creator of the Action News format and later co-owner of Gateway Communications, which owned all the Triangle stations except Philadelphia.
Member Joe Earley was best known as Mr. Rivets on WPTZ. He worked nationally on the Steve Allen Show and worked with member Gene London on "Flashback" and "Cartoon Corners." He also worked at Channel 48.
Family, friends, the Broadcast Pioneers and our industry will sadly miss each.
IN TOUCH:
Special thanks to Pioneers Member Mike Quinn for his donation of items to our archives, including an old Shure 5B carbon microphone dating from 1933 and used on WCAU Radio. Thanks Mike!
Pioneers member Larry Litwin has updated his popular public relations handbook/textbook. Originally 235 pages, the new THIRD edition of "The Public Relations Practitioner's Playbook" numbers nearly 600 pages. More than a dozen colleges and Universities are using the publication. Larry's career began in 1967 at WKDN (WTMR), Camden and continued at KYW Newsradio. Currently he is an associate professor of communication at Rowan University. Congratulations Larry!
Broadcast Pioneers extends warmest congratulations to member John Brown, as one of the recipients of the March of Dimes 2009 Milestone Award. This award is given to Philly radio professionals with 20 years or more experience in the Philly market and recognizes the years, and contributions a person has given to the advancement of the radio arts in Philadelphia. John has 40 years in the business!
Member Alan Campbell has checked in to say, "thanks for the photo and profile of WCAU Radio." In the late 40's, Alan's Granddad took him to a Saturday morning broadcast to see Bill Campbell's sports show. He won a prize, a Louisville Slugger baseball bat that was bigger than him! He says, "it was a great day for me and I caught the radio bug, which led to my teenage internship at KYW/WRCV and WPEN and a career that took him to Washington, Baltimore and my hometown." Great story Alan. Thanks for sharing!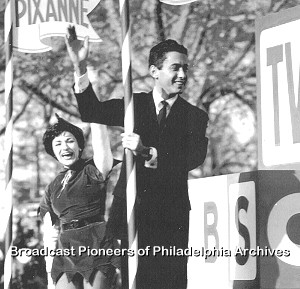 Pixanne and Gene London
Gimbels Thanksgiving Parade
Thursday, November 28, 1963
(previously unreleased photo donated by Jack Phillippe)
In Reading, there's a dazzling new exhibition. "The Magic of Hollywood: The Gene London Costume Collection" opens at the Reading Public Museum on Saturday October 3rd and will continue through May of next year. The exhibition features over 100 costumes created by the film industry's greatest designers. Beloved Philadelphia-area TV personality and fashion designer Gene London (a member of the Broadcast Pioneers) assembled this world-class collection. Gene is a leading collector of vintage clothing and costumes.
ARCHIVAL PROJECT:
Here's an update on our archival project. We have now totally transferred all of the Ed Harvey tapes (about 300) into a digital format for preservation. These digital versions are backed up and backed up again. This is a normal archival procedure. We have also converted over 100 tapes into a digital format of the late, great Ed Sciaky. The project moves ahead.
Why is the Broadcast Pioneers of Philadelphia doing this now? The answer is simple. This past week, Billy Joel and Elton John were in Philly performing at Citizens Bank Park. Broadcast Pioneers member Ed Sciaky interviewed both of them. On December 3, 1974, while working at WMMR Radio, Ed along with Broadcast Pioneers member T. Morgan spoke with Elton John over the telephone. We have that recording in a digital form in our archive.
Listen to the Elton John interview!
These tapes have been stored in the Sciaky basement for decades. The Elton John tape played perfectly. However, a tape containing an interview with Ed's personal buddy, Billy Joel is totally unplayable. It is lost forever (unless someone out there recorded it off the air). This is true even though the Billy Joel interview was recorded a decade AFTER the Elton John tape. We need to preserve these historic recordings before they are completely deteriorated and no longer playable.
You can help! We know that many members have old recordings in their basements or attics. Okay, maybe they are in your garage. We need to borrow these broadcasts so that they can be converted into a digital form. We will then return your original recordings.
Another way you can help! We know that some of our members have technical skills. We have a one inch Ampex VPR-3 video machine, plus a couple of three-quarter inch and Beta SP video tape machines. First, we need to see if they work and if not, we need to get them in working condition. Is there anyone out there willing to donate their technical skills to this project? We do have video recordings on these formats and they need to be preserved.
CHECK OUT THESE OTHER HISTORIC BROADCASTS!
All are from the Archives of the Broadcast Pioneers of Philadelphia!
Ed Harvey & Bernie Lowe on "Block Party" from December 1953 (WCAU Radio)
Anniversary in Sound, narrated by Hal Woodard, produced by Jerry Donohue, November 1964 (WFIL Radio)
John Facenda, July 1940 (WIP Radio)
Coverage of Winston Churchill announcing the death of King George VI (WIP Radio)
Tom Rodger with Sports, January 1952 (KYW Radio)
Video from "last Year's Nest on WPTZ (1942)
Dr. Shock & George Benson, February 1978 (WPHL-TV)
Again, broadcasts aren't all we have!
The WCAU Memo Announcing its sale to CBS, December 1957
Broadcast Correspondence from 1924 (WFI Radio)
This is an important project. If you have material you think should be included in this project or would like to make a cash donation to help this effort, please contact us. Act now before it's too late. History is only what gets saved.
MORE IN TOUCH: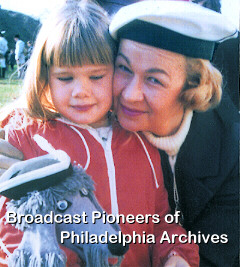 Mrs. Noah and friend
circa 1975
(previously unreleased photo donated by Jean Parks)
Happy Birthday! On July 12th, Pioneers member Patricia (Mrs. Noah) Merbreier celebrated her 85th birthday with husband and pioneer Board member Carter and members of their show and camera crew at the Bala Golf Club. Everyone had a grand time. Many more Pat!
On Friday July 23rd, the Philadelphia Fire Department, Clear Channel Advertising and Broadcast Pioneers Vice-President Kal Rudman participated in a ceremony to unveil the new "Fire prevention" billboard at Columbus Blvd. and Spring Garden, on the northwest corner. Thirty additional billboards are scheduled. The display shows pictures of Fire Commissioner Lloyd Ayers, and Kal. The event was covered on all TV stations in Philly, plus KYW Newsradio. Nice going Kal!
We've heard from Gary Geers, an old hand at Channels 3 and 6. His wife, Roseann tells us that Gary will be 83 on October 4th. She says that, "it's always good to hear from good old Philadelphia." Thanks for keeping in touch!
Broadcast Pioneers' President Gerry Wilkinson ran into Nat Wright and Nat's wife recently. Nat had open heart surgery last November. Gerry reports that Nat is looking good and sharp as a tack. A scary moment for the Wilkinson family on Sunday, August 2nd on their way to the Pennsylvania Shakespeare Festival above Quakertown. They ran into heavy rain and on the upper part of Route 309, almost two feet of water swept across the road shaking up drivers and automobiles. It caused no accidents.
IMPORTANT REMINDER:
By now, everyone should have returned their membership renewal forms. If you didn't, please take a few minutes to complete the form and return it. If you haven't seen your dues in by now, YOU ARE MORE THAN A MONTH LATE! But better late than never, so send 'em in now. If you can afford to do so and wish to help, please feel free to check the extra voluntary contribution box on the renewal form. It will be greatly appreciated. Membership dues and contributions may be deductible for federal income tax purposes. Please check with your tax advisor. Broadcast Pioneers of Philadelphia is a 501(c)(3) charity. Not all 501(c)(3) organizations are charities.
We are working on a new membership directory (scheduled for release in the fall). Make sure you get your dues in so you'll be listed. Remember, only up-to-date members get the directory.
A final thought...
"Courtesy, kindness, justice and love. It ain't easy to do sometimes, but it works."
Bill Wright, Sr.
Broadcast Pioneers' Person of the Year for 2009


© 2009, Broadcast Pioneers of Philadelphia
All Rights Reserved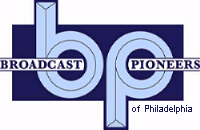 The e-mail address of the Broadcast Pioneers of Philadelphia is pioneers@broadcastpioneers.com