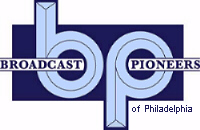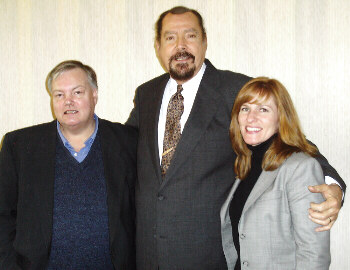 (Left to Right) Jere Sullivan, Director of Traffic Operations, Traffic.com
Bill "Wee Willie" Webber, Broadcast Pioneers' Chairman
Margaret Cronan, VP & Director of Programming
The Bala Golf Club, Philadelphia
Wednesday, December 21, 2005

Broadcast Pioneers member Jere Sullivan was our guest speaker for the Broadcast Pioneers' December luncheon on Wednesday, December 21, 2005 at the Bala Golf Club. He is Director of Traffic Operations for Traffic.com, the company that produces the four hour UPN 57 "Wake Up News."
Jere brought along his Vice-President and Director of Programming, Margaret Cronan, who was previously an Executive Producer for Channel 3.
Jere Sullivan's bio from our website!
Both Jere and Margaret spoke to our organization and we have available complete audio of their remarks.
We also have video clips of their remarks. Jere Sullivan spoke about the people who helped him in the early days of his career.
Margaret Cronan spoke about their UPN 57 "Wake Up News" and some other the other TV programs and services that Traffic.com supplies to Philadelphia stations.

From the official archives of the Broadcast Pioneers of Philadelphia
© 2009, Broadcast Pioneers of Philadelphia
All Rights Reserved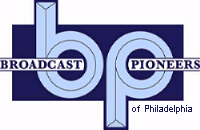 The e-mail address of the Broadcast Pioneers of Philadelphia is pioneers@broadcastpioneers.com