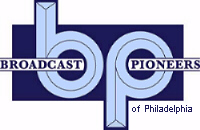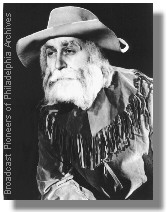 Bob Bradley as "Buckskin Billy"
WRCV-TV
1958

(Click on the above image to see a larger version)

Bob Bradley, who also used to teach communications at Temple University, was an old TV hand at WRCV-TV (and later KYW-TV), Channel 3 in Philadelphia.

In the late fifties, local kiddie shows were all the rage. Channel 3 had several: Pete Boyle, Bertie the Bunyip and Buckskin Billy.

Buckskin Billy was portrayed by Bob Bradley shown above in a Channel 3 publicity photo. Bob would have children as guests on his live Saturday & Sunday shows and he would also ask, "Where are you from?" The kid would answer, for example, Upper Darby. Bob would then ask, "Did you have a rough ride on the stage coming to the TV station?"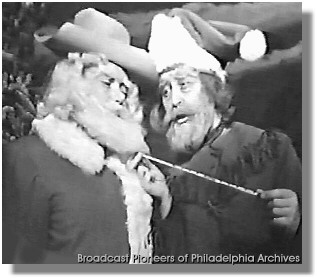 Bob Bradley as "Buckskin Billy" in the Santa Hat
WRCV-TV
December 1959
Note in the above still from the TV series, Buckskin Billy (on right) switched hats with Santa Claus who is wearing Buckskin Billy's cap. Also, Buckskin Billy's beard seems to be thinner and slightly darker than the photo from the year before.
Barbara Van Weelden, a visitor to our website e-mailed:
We met Bob and Rosemary Bouwsma (Bradley's real last name) while on vacation in the Caribbean in 1991, became friends and now that we all live in Florida, we see each other more frequently. He has often talked about his broadcasting career and it was exciting to me to see him in his "Billy" characterization.

From the official archives of the Broadcast Pioneers of Philadelphia
Photo originally donated from the official archives of KYW-TV
© 2008, Broadcast Pioneers of Philadelphia
All Rights Reserved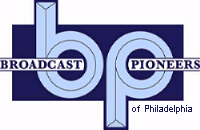 The e-mail address of the Broadcast Pioneers of Philadelphia is pioneers@broadcastpioneers.com