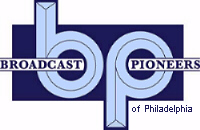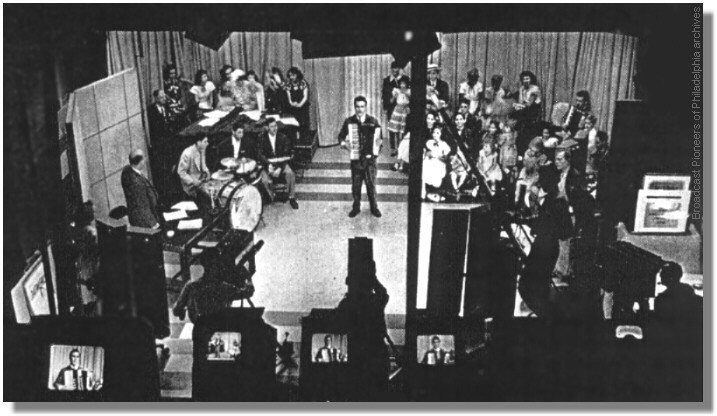 The Children's Hour originating from Studio A in 1948
This picture is looking out of the control room (Control Room A) and into the studio which did not have an audience.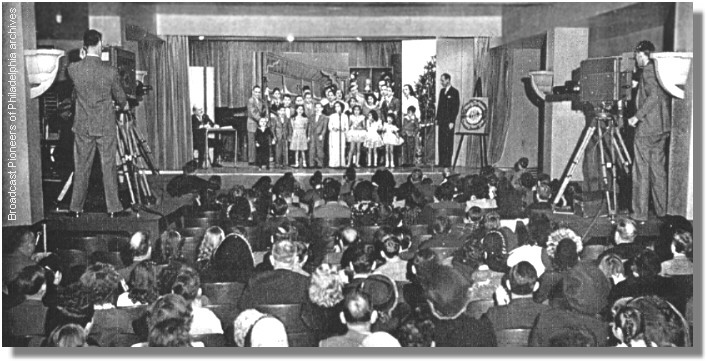 The Children's Hour originating from Studio X in 1948
Studio X was a 250 seat auditorium which was on the second floor of 1622 Chestnut Street in Center City Philadelphia. It was originally designed for audience-type radio shows. It was easily modified for television
Stanley A. Broza (called Stan Lee by everyone) became interested in broadcasting while visiting a friend at WHN Radio in New York City. Broza, who spent his entire life in Philadelphia, returned home and talked to a small (at that time) radio station, WCAU. He asked if he could sell some radio commercial time for the station. Stan Lee made his first sale to a cigar company. The owner's son purchased the time and his name was William Paley (of CBS fame). It was Paley's first introduction to broadcasting.

Broza implemented new ideas in broadcasting, which included a series of live broadcasts from the Curtis Institute. This gave Leopold Stokowski and the Philadelphia Orchestra unprecedented exposure. It was Stan Lee Broza who also found Jan Savitt and his Famous Tophatters and they became his studio orchestra. The station also featured Jan's discovery, BonBon.

In the fall of 1927, Stan Lee Broza, WCAU's long-time Program Director, was asked by the McClatchy real estate organization to journey to their "new" shopping area at 69th Street in Upper Darby, a suburb of Philly. The shopping center was looking for a show to sponsor that brought the message home to women that the new shopping area was children friendly. WCAU had no program but Stan Lee quickly created the format for the show that would last for over three full decades.
How did this come about? Well, during Broza's tour of the shopping facilities, he saw their "toyland nursery" where mothers could drop off their children to play while "mom" shopped without the kids. Broza suggested a "children's program" which would originate live, directly from the nursery. Within 20 minutes, the show's concept was created as a "short term promotional idea." After 13 weeks, the "stores at 69th Street" dropped the program, but it was quickly picked up by Horn & Hardart. They continued to sponsor the broadcast until the show's end during the summer of 1958. However, for a few years at the end of their run, Horn and Hardart shared sponsorship with "your local Plymouth dealer."
On Halloween day, October 31, 1927, Stan Lee Broza started hosting WCAU's very first kid's program on the station (Uncle WIP had been on WIP for six years), "The Children's Hour." Broza tried to find an assistant to work with him on the program, but was never happy with any of the applicants.

Broza brought his wife, Esther on board to "fill-in" for just a few weeks. Esther always had an interest in the theater and "show business," but her family tabooed any thought of her being on the stage.
She produced the show until its end, at a time when women just didn't do such a thing. The program went on television, in addition to radio when WCAU-TV started broadcasting in March of 1948. It was aired on the station's very first day and continued for another decade.
The show would stay on the air for almost a third of a century in total. It disappeared in July of 1958. For the first time in the history of the program, the show was given a "summer vacation." By September, CBS had ownership of the station, and they decided not to bring back the program. It was a "sneaky" way of canceling the broadcast. If the show just disappeared, there would have been a mail and telephone outpour. However, by Broza announcing on the show that they were taking a "much deserved" vacation, who could complain. Two months later when the station didn't return it to the schedule, few remembered.

The Children's Hour introduced Rosemary Clooney, Eddie Fisher, Buddy De Franco, baritone Frank Guerro, Red Benson, Kitty Kallen, Ezra Stone, Buddy DeFranco, Neil Harvey, Charlie Gracie, Hugh Ferguson, Dorie Lenz, Al Alberts, Ann Sheridan, Elliot Lawrence and teen singer Frankie Avalon among many others. Reports say that only one out of every 150 people who auditioned ever made the show in the early days and, still fewer, one out of every 500 by the fifties. Early in 1954, Mrs. Broza said she auditioned four dozen children each week. The talent pool was so strong, few would ever make the grade.

Broadcast Pioneers member Charlie Higgins (who started at WCAU in the fifties) said that "The Children's Hour" was on Sundays from 11:30 am until 12:30 pm even when he was a kid. However, it didn't run in that time period during its entire life because on Sunday, May 1, 1938 we found a listing showing the program being aired from 10:30 to 11:30 am. (The 11:30 am time period was filled by Major Bowes from CBS Radio).
When the program went on television, it became a simulcast being broadcast at the same time on radio and television. Bill Bode who directed Action in the Afternoon on CBS-TV from WCAU-TV mentioned that George Thomas did the H&H commercials. Charlie clarified it. They were always done by Hugh Walton on television whereas on radio they were done by George Thomas. The show on radio and TV was the same but the commercials were different. In the last years, the spots were the same and done by Hugh Walton.

The program originated from Studio A and once in awhile from Studio X when the WCAU-TV Studios were at 1622 Chestnut Street in Center City Philadelphia. However, once the station moved to City Line Avenue in 1952, the program came out of Studio One. A report in 1954 said that the broadcast took a crew of 33 to put the program on the air. Mrs. Broza would hold rehearsals three times every week so that when they "hit air," it would be perfect. However, they would always need new talent because once the kids were graduated from high school, they were off the show and replacements would have to be found.

Stan Lee Broza was the first President of the Broadcast Pioneers of Philadelphia serving from 1962 to 1963. He was also one of our founders. In 1967, he was narrator of the 51 minute color documentary entitled, "The Story of Israel." He passed away on Tuesday, December 15, 1970. His wife, Esther passed away in June of 1990. Both Stan Lee and Esther were inducted into our "Hall of Fame" during 1993.

Broadcast Pioneers member Bill Bransome e-mailed: "The balding man on the left (in both photos) is obviously Stan Lee Broza, who produced the show along with his wife, Esther Broza. I have no idea who the rest of the people are. The Broza's son was bandleader Elliot Lawrence. Eddie Fisher was just one of many who began their careers on the Horn and Hardart Show."

Early in 1955, "The Children's Hour" decided to give out an Young At Heart award. On Sunday, April 3, 1955, they gave out their first award to "Uncle Jack" Towers, at that time, an 83 year old resident of West Philadelphia. In the show's history, Jack had been missing from the program's studio audience only four times, and all because of illness. This "young-at-hearter" founded the Trilby String Band in 1898. For awhile, the show gave this award monthly and viewers were requested to send in nominees.

Broadcast Pioneers member Joe Earley had told us that in May of 1953, Stan Lee Broza left WCAU to become Program Director of WPTZ. During Stan Lee's time at Channel 3, his wife Esther continued to produce the show and Stan Lee continued to host it. This may have had something to do with the show's cancellation when CBS took over owning the station.. Channel 3 at that time was owned by NBC. When CBS received WCAU, they may have thought, "why are we airing a show, hosted by the enemy's Program Director." This may have also been the thinking behind dropping Roland from Shock Theatre. John Zacherle, who played Roland, was scheduled to start a similar program for WABC-TV in New York (on Mondays and Fridays). That station was owned by CBS's other "enemy," ABC. Zacherle had agreed to continue hosting "Shock Theatre" for WCAU-TV on Saturday evenings. However, after CBS took control, they told him, "no thanks." Shock Theater went off the air shortly thereafter.
------------------
Sunday, July 10, 1932 - "Gypsy Love Song" by the Williams Octette of Singers under the direction of "Dad" Williams and "Tom Thumb Drum" by Bobby Dukes and Jimmie Reid were heard that day. The group of 32 kiddies opened the Tribute to Hawaii sketch singing "Sailing, Sailing," "Hello, Hawaii," plus three native numbers "How Are You?" by Sammy Davis (not Sammy Davis, Jr.), "I Like Ukulele Lady" by the Harden Sisters and "Aloha, Oe" a xylophone solo by Sonny Kropp. Other performers included Evelyn Ludwig, George Hoffner, Junior Ackerman, Robert Smith, Eddie Stevens, Marty Zimmerman, Buddy Lawrence, Violet D'Imperto, Ralph Carobi, Jean Carbin and Leah Fleegler.
Edward Williams, a visitor to our website, e-mailed:
My Dad, Henry J. Williams had his children on the Broza show back in the 30's. I am the youngest of his 12 children. I believe, he was on the show with 8 of my siblings. The article under the radio years and the Children's Hour mentions the Williams Octette performing. I never got to hear them and would feel very blessed if I could find an old recording of them singing.
This e-mail refers to the program of July 10, 1932. We know of no known recording in existence of "The Children's Hour" before 1933. If someone has one, we would be delighted to receive a copy.

Sunday, July 17, 1932 - A group of three old favorite love songs were featured. Robert Smith sang "Oh! Promise Me." Sidney Katchurin played a violin solo of "The Wedding March" from Lohengrin. "Kiss Me Again" by Victor Herbert was whistled by Meyer Goldberg. Eleanor Klein and Ezra Stone, dramatic stars, recited the famous "Balcony Scene" between Roxanne and Cyrano from the play "Cyrano de Bergerac." Other performers included Leah Fleigler, George Hoffner, Grace & Sam Conrad, Pearl Fineman, Sonny Boy Loftus, the Williams' Octet and Buddy Lawrence. It is believed that Buddy Lawrence is Elliot Lawrence, the band leader (Broza's son). Stan Lee later hired his son to play Big Band music over WCAU Radio.

Sunday, July 24, 1932 - Bobby Dukes and his group of talented juveniles. under the direction of Stan Lee Broza, presented a program of delighted entertainment. The Kindergarten Class of the kiddie broadcasters had a portion of the program all to themselves. In this group, the following numbers were heard; "Under the Moon, Talking About Love" by Bobby Dukes, "Rain, Rain Go Away" by Jimmie Reid, "Making Hay in the Morning" by Junior Ackerman, and "Is I in Love, I Is" by Roseanne Quigley. Other children performers included George Hoffner, Leah Fleegler, Eddie Stevens, Ralph Carobi and Buddy Lawrence.

Sunday, July 31, 1932 - The broadcast originated live from The Steel Pier in Atlantic City, NJ that week. Twenty of the children headed by Bobby Dukes went to the shore for the program. At the beginning of the broadcast, the entire cast sang "By the Sea." It was followed by a series of popular songs of the era, "Over the Weekend" sung by Evelyn Ludwig and George Hoffner, "When We Parked at the Shore" by John Struthers and "A Great Big Bunch of You" by Roseanne Quigley. Also on the broadcast were "Lord, You Made the Night Too Long" by the Jones Quartet and "There's Oceans of Love by the Beautiful Sea" by Bobby Dukes.

Sunday, November 8, 1953 - Stan Lee Broza commemorates "Armistice Day." Performers include the Maple Shaders doing "the Stars and Stripes Forever." Johnny Richards does "Freedom is Everybody's Job." "Over There" is performed by Billy Gilchrist.

Sunday, November 15, 1953 - The show was called "Thanksgiving Prom." Tricia Dewelley sings "Belle of the Ball." Susan Brookman does "Dancing in the Dark." "It's Me" is performed by Rita Pascal.

Sunday, October 14, 1956 - The youngsters go through the autumn school play and have a hobby show.

Sunday, January 13, 1957 - A salute to the 251st anniversary of Benjamin Franklin's birth.

Sunday, January 20, 1957 - Everyone goes on a musical trip to Sun Valley.

Sunday, July 6, 1958 - The children present an original musical play from a summer theater. Also featured was a "new faces" contest.
The words for the Children's Hour Song (which was sponsored by Horn & Hardart) were:
Less work for mother; let's lend her a hand.
Less work for mother so she'll understand.
She's your greatest treasure; let's make her life a pleasure.
Less work for mother dear.

Visitor to our site, Larry Bosler, believes that there is another version. One that goes something like:
Less work for mother dear, whose gentle hands,
Led us so __?__, thru little folk lands.
Yada, yada, yada...

Visitor to our site, Phyllis Freeman helps out.
Less work for mother dear whose gentle hands,
led us so kindly through little folk lands
She brings us happiness, each kindness, each caress are filled with tenderness
Less work for our mother dear
She also adds: I went to high school with Susan Brookman and never understood why she didnít have a bigger career. Her voice was very mature and so was her styling. I, too, miss H & H baked beans AND lemon meringue pie.

In the 30 plus years the program was on, the song probably had several versions.

The concept originated here in Philadelphia, but Horn and Hardart took this format, created by Stan Lee Broza, and did a similar show, also called "The Horn & Hardart Children's Hour" on WNBC radio and television in New York City hosted by Ed Herlihy. The show was just as popular there as here in Philadelphia.

Visitor to our website, Pete Dechnik, e-mailed:
I'm a 66-year-old geezer, but back about 1950 I was a regular on the Children's Hour. I appeared in hillbilly skits that I wrote. The lights were very bright back then, but I always managed to find the camera with the red light when I delivered a punchline. It was fun, even though some of the kids in my tough Camden school taunted me (I was 15). I especially remember the pianist (Billy?), an older guy who always wore sunglasses. He really enjoyed the kids. During one rehearsal he pretended to faint and slipped from the piano bench to the floor. A mob of screaming, laughing little kids swarmed all over him as he yelled, "Somebody protect me from these monsters." A really nice guy. However, Esther Broza was not amused. Also, Horn & Hardardt's motto was, "Less work for mother." The kids all said, "Less work for mother. More bother for father." I didn't go into show business, but became a medical journalist. I really miss Horn & Hardart's baked beans. By the way, we closed the show singing,

"Childhood, childhood
Sweetest days of all
Children playing hide and seek and ball
Tripping to school so merry
The Golden Rule to study
Oh, how we'll miss, the years of bliss
when our childhood days are gone."
(The above was sung to the old tune of "A Bicycle built for Two.")
Tony Verna, a long-time producer/director at WCAU-TV e-mailed: I directed the last show(s) of Horn and Hardart (The Children's Hour)...for Esther Broza and for Merrill Brockway, a former director of the show and a terrifically talented music director as evidenced on his later days at the networks.

Broadcast Pioneers member Neil Harvey appeared on "The Children's Hour" for years. He e-mailed that the late Jerry Donahue, a member of the Broadcast Pioneers of Philadelphia was one of the show's big stars at the age of five. Neil said: I see clearly a five-year old singer in an adorable woolen suit with short pants.

Alan S. Speaker, a visitor to our website e-mailed: My late wife and her sister were regulars until the show ceased. They were the "Russo Sisters." My wife was Joan Russo and her sister was Lois Russo. The regular piano player was "Billy James." He also directed a children's road show. My brother "David Speaker" was a regular until his sudden death in 1945. My brother also modeled for Conover Model Agency in New York City. They were great times.

Alan Speaker, Jr., a visitor to our website e-mailed: My mother was one of the Russo Sisters on the Horn and Hardarts Children's Hour for many years. ...I heard that my Mom-Mom (Marie Russo) was like the original "Stage Mom." ...My mom seldom talked about those years and I would like to know if she liked them or if her mom just made her do it.

Jolynn Woerner, a visitor to our website e-mailed: My mother, Joan Russo was part of a comedy team, The Russo Sisters, on this show. Does anyone know if audio tapes survived? I heard her and her sister used to sing, "We're a couple of swells." I would love to listen to them again. ...She stopped in 1953 because she was married then and I was born. ...As far as I know, they were on from 1940 to 53. I was on in 1953 once as a baby.

An unidentified visitor to our website e-mailed us saying: I was one of the children on ...the show.... I remember Aunt Alice (one of the producers), Emma Santos, who sang the less work for mother's song, Dylcia Paygan and Jackie Cortney (who) were regulars on the show....
Harold Barber, a visitor to our website e-mailed to tell us:
...in 1955 my singing group, "The Crescents," all students at West Philadelphia High School, appeared on the show. What really makes my story more interesting was the fact that our group was 5 Black guys. I mention this color issue because in 1955 not too many African-American young men appeared on television. Our group became instant hits with the girls in our school and a source of pride within our community.

Years later, after my wife and I had been married over 20 years.... I just happen to mention to her that I was on the Children's Hour show sponsored by Horn and Hardart with Mr. Stan Lee Broza. She did not know me from that time period but she tells me that her whole family saw that show and she remembered that everyone in her family came in the living room because there were "colored guys" on the television.

...I am now retired and am a senior citizen and I cannot remember what I did last week but I remember that my singing group wore black sweaters that day and so I guess our appearance on the Childrens Hour meant a lot to me.


Some More Photos
Still More Pictures

Known Time Periods

WCAU Radio - July 3, 1932 to July 31, 1932 - Sundays from 11 am to 12 noon
WCAU Radio - May 1, 1938 - Sundays from 10:30 am to 11:30 am
WCAU Radio - June 23, 1940 to September 1, 1940 - Sundays from 11:30 am to 12:30 pm
(During World War II, the program ran 45 minutes with H&H bringing you 15 minutes of war news)
WCAU Radio & TV - 1948 to 1958 - Sundays from 11:30 am to 12:30 pm
From the official archives of the Broadcast Pioneers of Philadelphia
Photos originally donated by Broadcast Pioneers member Allen Murphy
Text compiled and researched by Broadcast Pioneers historian Gerry Wilkinson
© 2007 & 2015, Broadcast Pioneers of Philadelphia
All Rights Reserved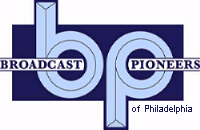 The e-mail address of the Broadcast Pioneers of Philadelphia is pioneers@broadcastpioneers.com