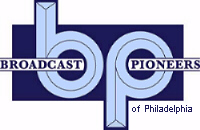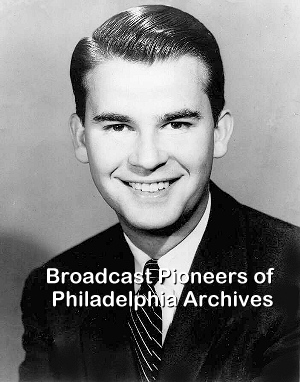 Dick Clark
1954

Broadcast Pioneer legend Richard Wagstaff Clark was born on Saturday, November 30, 1929 in Bronxville, New York. It was near Yonkers and Mount Vernon; just 20 miles north of New York City.

Nicknaming him "Young Dickie, "his parents were Richard Augustus Clark and Julia Barnard Clark. Less than four years later, the family moved to nearby Mount Vernon, New York.

Kathryn Murray, wife of dancer Arthur Murray and a well-known performer in her own right used to baby sit for Dick and his 5 year older brother, Bradley. She thought he was quite sassy and always into things.

Dick entered A. B. Davis High School (now Mount Vernon High) in September 1943 as his brother went off to the Second World War. A year later, Bradley, an Army Air Corp Pilot, was shot down and killed during the Battle of the Bulge over Germany.

In the summer of 1943, Julia took Dick to the "Big Apple" to see a radio program one Thursday evening. Yes, they had live studio audiences to view the audio presentations. It was "The Camel Comedy Caravan" starring Jimmy Durante and Garry Moore with Xavier Cugat's band on NBC Radio. Fascinated by everything, he reportedly told his mom that this is what he wanted to do with his life.

He joined the high school's drama club with thoughts of being a radio actor. He had the lead in his senior high play. Dick's dad tried to persuade the youngster not to pursue the career he had also wanted. In the school's yearbook, Dick Clark was selected as The Man Most Likely to Sell the Brooklyn Bridge.

Dick's uncle (of his mother's side) Bradley Barnard lived in Rome, New York. There, the relative owned and operated the Rome Sentinel daily newspaper.

The publication had applied for and was granted an FCC license for an AM radio station (WRUN) in nearby Utica. Tests were performed and the station officially went on the air on April 24, 1948. WRUN-FM came on the air six months later on October 10th. However, as was the custom in those days, the radio stations could operate with regular programming under the CP (Construction Permit) until the next license period. So, WRUN was actually on the air as an ABC Radio affiliate in 1947.

Barnard knew that the senior Clark was very sales and promotion oriented, so he offered his brother-in-law a job as the radio station's first Promotions Manager. The older Richard accepted and moved the family to Utica, New York, a town in the upper part of the state, located between Syracuse and Albany.

As a recent high-school graduate, Dick Clark got his start in broadcasting working at WRUN during the summer of 1947. Many sources report that he started with the station in 1945, but that is incorrect. He ran the station's mimeograph machine and worked in the mailroom. Shortly thereafter, Dick got his first on air assignment on the FM station reading weather forecasts while someone was on vacation.

Dick was now ready for college. He had applied for Yale but was turned down, so he elected to attend his father's alma mater, Syracuse University. There, he was an advertising major with a minor in broadcasting and joined the staff of the campus radio station, WAER, 88.3 on FM (not WEAR as reported elsewhere) as a newscaster and DJ. He would stay with the station for his entire four years of college.

In January of 1951, Clark landed a weekend gig with WOLF Radio, located in the Onondaga Hotel in downtown Syracuse. The next month, he went full-time. He hosted a program called, The WOLF Buckaroos, a country music show where he was paid a dollar an hour.

In the spring of 1951, Clark received his Bachelor of Science in Business Administration from Syracuse University. He stayed with WOLF Radio until June and returned to Utica and WRUN.

That fall, Dick took on a new name, Dick Clay and went to two-year old television station, WKTV, Channel 2, also in Utica. Michael Fusco, the station's GM knew Dick's dad and was the one who hired him.

An interesting Philadelphia note is that Paul Harron owned WIBG in Philadelphia and Channel 12, in Wilmington in the mid-fifties. When he sold both stations to Storer Broadcasting in 1957, he used the money to purchase other broadcast outlets including WKTV-TV.

A fellow employee at the station, Bob Earle did a 15 minute newscast. However, unlike others of that era, Earle looked right into the camera for the entire cast. How did he do it? He had a wire recorder feeding him the information.

Dick Clark went right out and bought a Webcor wire recorder and practiced doing this himself. Broadcast Pioneers member and our former President Shelly Gross worked with Clark at WFIL and remembered that Dick used the wire recorder "bit" here in Philadelphia.

But we're getting a head of the story. At Channel 2, Dick did many things including hosting his own country-western television program called, "Cactus Dick and the Santa Fe Riders." Clark even sung on it, though he one time confessed that it was "very badly" done. He was getting a little over fifty bucks a week. He got a raise to $75 when he had an offer from Syracuse's WHEN-TV.

Dick told his dad that he felt he was ready for a larger market and Clark's father called Roger Clipp, General Manager of the WFIL stations to get his son an audition. Dick came to Philly and was auditioned by our 4th President and the radio station's Program Director, Jack Steck.

Clark received an offer from Steck, a member of our Hall of Fame, to become a summer replacement announcer on WFIL-FM. He also had an offer from a Schenectady TV station, but elected to come to the larger market as it was a stepping-stone to New York City. Clark accepted the Philly offer and started at WFIL in May of 1952. At the time, Dick Clark came to Philadelphia, WFIL Radio moved from center city's Widener Building to 46th and Market Streets in West Philadelphia where the TV station was already located.

Dick was eventually given "The Caravan of Music" DJ program which was in what would later be called afternoon drive. Dick was the replacement for a guy who went over to the TV side, Bob Horn, the new co-host (with Lee Stewart) of a show called, "Bandstand." Horn's radio broadcasts on WFIL Radio, WPEN and WIP were entitled, "Bandstand."

WFIL-TV had negotiated with Broadcast Pioneers members Joe Grady and Ed Hurst about moving their popular "950 Club" radio show to TV. It was a teenage music program where the kids started hanging around the studio. One thing led to another and soon they were dancing in the studios. WPEN wouldn't let Grady & Hurst out of their contract and refused to let them do any outside broadcasting work. So the format was revamped for a new duo of hosts for Bandstand with students from nearby high schools dancing on the program. A year and a half later, Lee Stewart left the show to have his own TV program on the station.

One of the first spots young Dick Clark did in Philadelphia was for Barr's Jewelers. The commercial ran during an afternoon movie, the same time period that Bandstand would later take over.

Since Dick was doing commercials on the Paul Whiteman Teen Club show (Tootsie Rolls) which originated from WFIL-TV and aired over the ABC-TV network, his radio shift was moved to 11 am to 1 pm with the Caravan of Music (now 3 to 6 pm) going to a newcomer to the station, Broadcast Pioneers member John Carlton.

Look at the lineup of that era on WFIL radio: Broadcast Pioneers' Hall of Famer Phil Sheridan from 6 am to 9 am, then network programming like the Breakfast Club. Dick Clark, 11 am to 1 pm with Howard Jones (Happy the Clown) jocking 1 to 3 pm. Broadcast Pioneers' Hall of Famer John Carlton picked up afternoon drive followed by news hosted by Hall of Famers John Roberts and Francis Davis. At 7:30 pm, it was Bill "Wee Willie" Webber (not only a Hall of Famer but a past president of the Broadcast Pioneers of Philadelphia) and at 11 pm, it was Marge Wieting, one of the first female DJs in the country. She's now married to Broadcast Pioneers' Hall of Famer Ed Harvey (of WCAU). Quite a lineup.

After Teen Club left the airwaves, Nancy Lewis from the show was assigned to do a new TV program with Dick Clark called, "Lewis and Clark." It didn't last long. Then Dick did a local show from 2 pm to 2:15 called "Movie Quick Quiz" where he awarded prizes.

Broadcast Pioneers member Gene Shay said that he was involved with radio and TV production at the WFIL studios as part of class projects for Temple University. Gene mentioned that he had spent much time in the record library at WFIL while Dick Clark was selecting the music for his radio program for that day. Yes, DJ's at one time actually picked the songs they would play. "There wasn't a nicer, friendlier guy at WFIL than Dick Clark," retorted Shay.

In 1956, the host of "Bandstand," Bob Horn ran into some problems. The situation became two fold, he was arrested for drunk driving and there were rampant rumors that he may have been involved with the under-age female dancers on the show. Broadcast Pioneers member Shirley Morris who worked for the WFIL stations at the time said that Horn was "always a gentleman." When she came into his office and promotion men were using foul language, Bob Horn would always remind them that there was a lady present.

Station management felt that WFIL-TV had to make a change in the host for "Bandstand." Dick Clark was selected and he started hosting "Bandstand" on Monday, July 9, 1956. However, not everyone thought that Clark was the perfect choice. A "yon teenager" by the name of Jerry Blavat led a group of Bandstand dancers that picketed Channel 6 for not being loyal to Bob Horn. Broadcast Pioneers member Jerry (The Geator) Blavat was a dancer on the Horn dance vehicle at that time. Blavat who has been a local radio DJ legend in the Philly market for over 40 years said, "you have to be loyal. Loyalty is everything in life." As a sidebar, Blavat lived by this motto. When Horn died penniless years later in Texas, Jerry flew to Texas arranged for the funeral of his friend and mentor and paid all the costs.

Back to Clark. Dick was selected to be the new host of Bandstand. It was 1956 and at this time he formed "Dick Clark Productions" which would go on to be an industry giant. Clark was also loyal. A young director in the early days of Bandstand, Broadcast Pioneers member Lew Klein, would eventually become Executive Producer of "American Bandstand." He would serve as a member of the Board of Directors of "Dick Clark Productions" for more than four decades.

Early in 1957, Dick Clark went to New York with several kinescopes of Bandstand to speak with the big executives of ABC-TV (Channel 6 was an ABC affiliate). He convinced them to give Bandstand a five week trial on the network. It premiered on Monday, August 5, 1957. While it was a network show for 50 minutes to 90 minutes in length during its lifetime in Philadelphia it was always a 2 to 2 and a half hour program locally. What that meant was that only WFIL-TV got the entire program. In 1958 Triangle Publications (owners of WFIL-TV) purchased WLYH-TV, Channel 15 in Lebanon, Pennsylvania. Now Triangle started feeding some of its popular local programming to Channel 15 including all of "Bandstand." Keep in mind that only the ABC-TV portions of the program were called "American Bandstand." Local segments were still called simply, Bandstand." For a short time in the fall of 1957, there was an evening version of "American Bandstand," but it never gathered the rating numbers that ABC expected.

Another interesting point is that Charlie O'Donnell was the announcer on the national show but there was no announcer on the local segments. However, Charlie could be seen overnights jockeying the late night movies which Channel 6 ran.

In late 1957 while Clark was hosting Bandstand on the network, he was also the MC on a local program Saturday evenings called "Talent Trend." It was aired Saturdays from 7 pm to 7:30 and carried over WFIL-TV and sister station WLYH-TV, Channel 15 in Lebanon, Pennsylvania. The show was described as "Dick Clark hosts a local live talent series featuring performers from the Delaware Valley area." A print ad for the first program said: See an array of gifted young performers compete for a host of valuable prizes, including a Hollywood screen test! Dick has full details on how you may appear on the show!
The first airing was on Saturday, October 12, 1957 with the last broadcast on December 21, 1957. A print ad for the broadcast said: Finals Tonight! Bright, young entertainers from the Philadelphia area and Lebanon in the final competition for the Grand Prize. A trip to Hollywood for a screen test at the Hecht-Hill-Lancaster Studios. Dick Clark, host. That show went off the air after that evening and on Saturday, February 15, 1958, "The Dick Clark Beechnut Show" premiered from "The Little Theater" in New York City on ABC-TV. The program was supposed to start on January 18th but some revisions to the format delayed it's start. Just a couple months before, in December of 1957, Dick was talking up the upcoming Dick Clark Show and had mentioned it would be an hour long from 7:30 to 8:30 pm on Saturday evenings. However, when it hit air, it was only 30 minutes in length. It lasted three years with the last airing on September 10, 1960.
FYI... The Dick Clark Show was a Drexel Production. It was Dick's company named after Drexel Hill, Pennsylvania where Dick Clark lived. Ed McMahon was a neighbor.

On August 30, 1963, after 1594 network broadcasts of "American Bandstand," the show became a weekly program on Saturdat, September 7, 1963 but still originated from Philadelphia, still broadcasting from the 46th and Market Streets studios. In January 1964, WFIL-TV moved to new facilities on City Line Avenue, and Dick Clark took American Bandstand to Los Angeles where it would continue for years. Bandstand would never get to originate from the new, huge studio that WFIL-TV built for the show in its new digs.

Clark moved the program westward so that he could pursue other interests. Since that time, he has been Executive Producer for over a dozen made for television movies. He has produced dozens and dozens of TV specials and acted in several motion pictures. He also has produced motion pictures in his own right, had several successful radio syndication programs and hosted game shows. Dick Clark has become a fixture in the TV industry.
In later years, Dick would become associated with New Year's Eve. The forerunner of "Dick Clark's Rockin' New Year's Eve" was on December 31, 1957, live from Philadelphia and WFIL-TV. While some have considered this to be the pilot of the Saturday evening broadcast, the program already had a commitment from ABC-TV. It was more of a vehicle to show local affiliates what the Saturday evening show would be like since they were a little unsure with the cancellation of the evening version of "American Bandstand."

In 1980, the Broadcast Pioneers of Philadelphia honored Dick Clark as its "Person of the Year," and twelve years later, was inducted into the organization's "Hall of Fame."

From the official archives of the Broadcast Pioneers of Philadelphia
Researched and compiled by Broadcast Pioneers member Gerry Wilkinson
Photo originally donated by Scott Alan Murphy
© 2010 & 2015, Broadcast Pioneers of Philadelphia
All Rights Reserved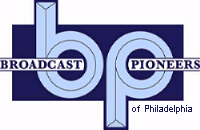 The e-mail address of the Broadcast Pioneers of Philadelphia is pioneers@broadcastpioneers.com