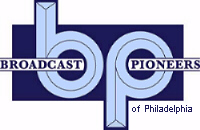 Frank Ford
Born in 1917, Broadcast Pioneers member Frank Ford has had one of the longest runs of any of Philly's air personalities.

While still a student at the University of Pennsylvania (the late Dr. Charles Lee, a member of the Broadcast Pioneers, was one of his professors) in 1937, Frank Ford started working for WHAT as an announcer. However, what really tempted him into radio was $15 and car fare.

WIP Radio needed some actors for a Mutual radio network originating live from their studios. The broadcast was done live at 7 pm. However, it was only 4 pm on the west coast, so Ford and his fellow actors had to hand around the studio and re-do the program (live) at 10 pm for West Coast listeners (it was 7 pm their time). They paid him $15 for his trouble plus a couple of PRT (Philadelphia Rapid Transit) tokens. PRT was a forerunner of today's SEPTA. From that date forward, his voice was a mainstay in Delaware Valley broadcasting.

Known to many as Eddie Felbin (Ford's real name), he is married to Philadelphia's District Attorney, Lynne Abraham. They met in 1956 when Lynne was 16 and Frank was 40. She was the babysitter for Frank's daughter from a previous marriage and they were wed twenty years later. In Ford's official Broadcast Pioneers bio, he refers to his marriage as "a life sentence" from Lynne Abraham. He then added, "It's not a bad way to serve time."

Some years later, Abraham got a part-time job with the Valley Forge Music Fair owned by Ford and Broadcast Pioneers member (and former President of the Broadcast Pioneers) Shelley Gross. Abraham wanted to go to medical school (she stills buys and reads medical books), but Frank Ford talked her out of it. He said, "You got a big mouth. You talk well and you're smart. You ought to be a lawyer."

The Fair started in 1955 with an investment of $100,000 in a tent and later went on to a permanent structure. Their first presentation was "Guys and Dolls." Ford characterized the music fair as "the paperback business" of Broadway shows. "If it wasn't popular on Broadway, we didn't run it," said Ford. "They don't make a paperback out of a book that didn't sell," he mentioned.

Ford, who has been referred to as "The Father of Talk Radio in Philadelphia," said on Pioneers in Broadcasting, our exclusive webcast program, "the first summer, 13 and a half weeks we made a profit of $52,000." The next year, they opened another music fair in Long Island and later one in Cherry Hill, NJ, plus a couple more in Baltimore and the Washington, D.C. area. During the height of the business, they employed 2,000 actors and musicians including Philadelphia's "Playhouse in the Park" which they ran for the City of Philadelphia. Ford and Gross also produced a couple Broadway Shows plus five national tours of musical presentations.

Then Frank owned an automobile company, Auto Sport Importers, Inc. They made reproductions of the classic Jaguar of 1938, called the Squire SS100 (the name Squire came from a golf club Ford was a member of.) While his company made and sold several hundred vehicles, it really didn't make it as a commercial venture.

While running the fair, he was still working for that advertising agency, doing mornings on WPEN and then they asked him to temporarily take over the late night talk show vacated by someone who went to New York City. He did it for a while until a replacement was selected. However, shortly thereafter, Frank Ford was back on late night talk. On Pioneers in Broadcasting, he said, "I was the first one in the country to do two-way talk where the caller could be heard as well as the host." He did it for six years until his schedule with the music fair would no longer allow it. A couple years later, he was back doing two-way talk on WCAU. From there, he moved to WFLN for a few years and then WWDB until his departure in 1983. Six years later, he would return to the station.

When founding Broadcast Pioneers member (our first Vice-President and second President) Ray Green sold WFLN (AM), Frank Ford purchased the AM station (price was just under a million bucks), renaming it "Talk 900" with new call letters WDVT (We're Delaware Valley Talk). He owned the station from 1985 until 1988 and was on the air daily from 12:30 pm until 4:30. Remember, the station was a day-timer. That is, it only operated between sunrise and sundown so it wouldn't interfere with other broadcast outlets.

During his ownership, he broadcast Philadelphia's first gay-oriented program, hosted by Mark Segal, publisher of the Philadelphia Gay News.

He was on WCAU and WPEN in the 50's, 60's and 70's with his famous liberal outlook. Ford went off the air in 2000 when FM talker WWDB switched to a music format. After that, Frank Ford ran an advertising agency (Reinhart Productions) out of his Society Hill house.

After disappearing from the Philadelphia airwaves, wife Abraham said, "Boy, it was better when you were on radio. You could holler at things instead of hollering at me!"

In his spare time, Frank Ford is following in his wife's footsteps by studying law. He also says he does a lot of cooking. On Friday, November 19, 2004, Frank Ford was inducted into our "Hall of Fame."

Ever wonder how he chose the name Frank Ford? Well, he sold some radio time (11 am to 12 noon, six days a week) to Frankford Grocers Association in the spring of 1947, and they wanted a music (Broadway show music, light opera with a little jazz) show. Frank figured that he would host it and pick up the talent fee (as well as the commission). However, the advertiser knew him as Eddie Felbin, so he took an air name of Frank Ford from the grocery store's name. In that way, if they didn't like him, he would "fire" Frank Ford and hire someone else. They liked him and only then did he tell the company that it was he doing the show. The program lasted for ten years and the rest, as Frank says, is history.
On Tuesday morning, March 3, 2009, Frank Ford passed away at the age of 92.
From the official archives of the Broadcast Pioneers of Philadelphia
Photo originally donated by Broadcast Pioneers member Frank Ford
Text written by Broadcast Pioneers member Gerry Wilkinson
© 2009, Broadcast Pioneers of Philadelphia
All Rights Reserved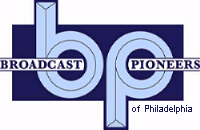 The e-mail address of the Broadcast Pioneers of Philadelphia is pioneers@broadcastpioneers.com