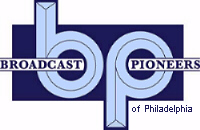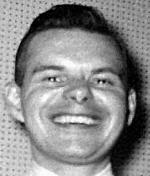 Frank Kastner (using the air name Frank Carter)
circa 1957

Broadcast Pioneers member Frank Kastner passed away on Monday, April 5, 2004. He celebrated his 82nd birthday the month before his death. Frank had worked at many stations in our market. However, his last two were WPEN where he worked the all night shift from 1997 to 2002 and as a fill-in classical music air host for WRTI-FM.

Born in Chicago, Illinois in March of 1922, he was the oldest of two boys. At the age of three, his parents separated. Frank's mom and the two boys then moved to Richmond, Virginia where Frank's grandmother lived.

After a short while, Frank and his brother along with mom and grandmom went to White Plains, New York where an aunt lived. Then they relocated to Wilmington, North Carolina where Frank's mother found a job as an English high school teacher. Another move came when Frank's mother sought her degree as a librarian from Columbia University.

Frank Kastner was introduced to classical music from an old flat disc, played on the old "hill and valley" type Edison phonograph. At age seven, he listened to a classical music radio station in New York City.

Frank's mother passed away when he was nine and his father two years later. Frank, after his mother's death, lived with his grandmother who was already part of the household.

Kastner attended the University of North Carolina as a journalism major. It was at this point, he got his first radio experience as an announcer in Durham and Raleigh.
Hear Frank on WRCV-TV in 1957
Listen to Frank on WFLN in 1961
In 2001, Frank Kastner wrote this about his life in broadcasting:
I went to work at WCAU in early 1945, and I think it was during that summer that George Thomas told me they were auditioning for actors at WPTZ (Channel 3) --- then the only TV (station) in Philadelphia, established by Philco, mostly to give people who bought Philco (television) sets something to look at.

WPTZ's studio was in a penthouse on top of the Architects' Building at 16th and Sansom, right around the corner from 'CAU. So I landed the lead in a "drama" called "Leave it to Henry," which had been written by one of the cameramen. Other members of the cast were Creighton Stewart, an Englishman who did a women's program on 'CAU; the secretary to an exec at 'FIL, and another woman. I don't remember either woman's name; one was my wife, the other my mother-in-law.

The story had something to do with a painting, and ended with a house fire. They built a miniature house and set it afire. The Director, who later moved to Cleveland as PD there and, I believe, eventually became a self-employed artist's agent, offered me a Saturday afternoon shift as booth announcer. (Kastner used the name Frank Carter).

WPTZ's transmitter was in Wyndmoor, the tower is still there, and the announce booth was in a closet in the transmitter building. I had no car. I used to ride from Center City to Chestnut Hill with the Correlator. I can't remember any of these names anymore, but it was at the transmitter site that I met Earle Gill.

He was the only announcer. I was somewhat in awe of him, partly because he was older than I, much more sophisticated and well settled into the TV groove. When NBC took over, they closed the penthouse and set up the announce booth at 1619 Walnut, and for a time my TV career was over.

Gill, for some reason, did not want to do on-camera work, and eventually quit. I think he married a woman who had her own real estate business. After a disastrous attempt to free-lance and the break up of marriage in 1956, I was offered the Saturday night booth shift at what was now WRCV-TV. The shift soon became Thursday through Sunday night, seven 'til signoff (1:00 am unless we had a long movie on Saturday).

At the same time, I was working various shifts at WFLN (Kastner was the first voice heard on the station when they signed on the air in 1949), but earning much more in TV than in radio. It caught up with me in October 1959, when I said %&*## (a bad word) on the air on TV. I did an occasional shift at 3 after that, and about two years in the "news department" at 29, but my TV days were over.

A few months later, Ray Green fired me for being a smart…(guy) off the air.

Almost all of my "scrapbook" was lost when my house burned down in 1993. The only other photos I have was one taken in November, 1944, when I first went to work at WIBG, and another with a couple of guys from Tastykake, taken when I started doing the commercials on Tastykake's sponsorship of the Phillies games in 1951.

I also remember doing a Ford Motor sponsored "science show" on WPTZ with the then Director of the Franklin Institute. That was in 1947. In order to get from Norristown, where I had an on-air shift, to the Architects' Building, I bought a 1947 Chevrolet Aerocoupe. After a couple of shows, the agency decided to let the guy from (the) Franklin Institute do the commercials, and I was out of TV again. Shortly afterward, the show was cancelled.

…It's been an up-and-down 60 years.

From the official archives of the Broadcast Pioneers of Philadelphia
Text written and researched by Broadcast Pioneers member Gerry Wilkinson
Special thanks to Atlanta,Georgia Voice Over Announcer Jerry Immel for supplying some material
© 2009, Broadcast Pioneers of Philadelphia
All Rights Reserved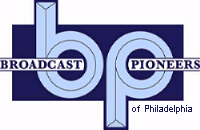 The e-mail address of the Broadcast Pioneers of Philadelphia is pioneers@broadcastpioneers.com