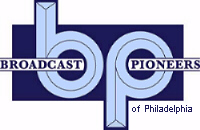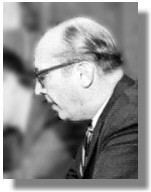 Frank Tooke
Sunday, February 6, 1966
Broadcast Pioneers member Frank Tooke, was a former Vice-President of Westinghouse Broadcasting (now Viacom/CBS/Infinity). He also was General Manager of KYW-TV, both in Cleveland and here in Philadelphia.

Born in 1912 in Fort Wayne, Indiana, Franklin A. Tooke was graduated from DePauw University in Greencastle, Indiana and spent his career in broadcasting.

Starting at WOWO in Fort Wayne in 1935, Frank Tooke became a Westinghouse employee the following year when the radio chain purchased the station. 1946 found Frank Tooke at pioneer Westinghouse station KDKA AM & FM as their Program Director.

Tooke came to Philly in 1950 as Program Director for KYW AM & FM (the FM station was eventually donated to become WHYY-FM). He then became General Manager for KYW Radio and left Philadelphia in January of 1956 (when the Westinghouse broadcast properties in the Quaker City became NBC stations) to become manager of WBZ-TV, the Westinghouse station in Boston.

Transferred to Cleveland and KYW-TV (when it was in Ohio) as area Vice-President for Westinghouse, Group W, he subsequently became area VP here in Philadelphia when the government forced NBC and Westinghouse to swap back stations in 1965.

Tooke retired in 1976 and became director of the Temple Association of Retired Professionals, an organization giving retirees an opportunity to pursue studies without the standard academic requirements.

Frank Tooke was the former chairman of the board of the Pennsylvania Ballet Company and a board member of the Philadelphia Museum of Art. He was a member of the World Affairs Council and did volunteer work for the United Fund. He also taught communications at Temple University.

Franklin Tooke, who never married, passed away on Monday, January 4, 1999 at his center city Philadelphia home from a heart attack. He had no survivors and was not related to Rolland V. Tooke, who also worked at KYW and was also a Vice-President for Westinghouse Broadcasting.

Frank Tooke was an important part of our organization. He served several terms on our Board of Governors (now the Board of Directors) and was our Vice-President during 1979 and 1980.

Named "Person of the Year" in 1973 by the Broadcast Pioneers of Philadelphia, Franklin A. Tooke was inducted into our "Hall of Fame" on Wednesday, June 18, 2003.
From the official archives of the Broadcast Pioneers of Philadelphia
Researched and compiled by Broadcast Pioneers member Gerry Wilkinson
Photo originally donated by Broadcast Pioneers member Bud Galow
© 2005, All Rights Reserved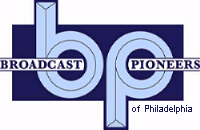 The e-mail address of the Broadcast Pioneers of Philadelphia is pioneers@broadcastpioneers.com