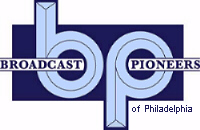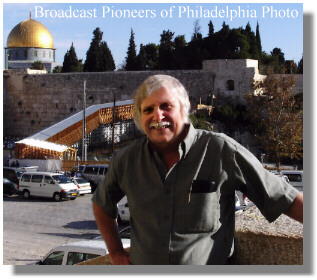 Gerry Wilkinson in Jerusalem, Israel
while working on a TV show for a Philly station
Monday, November 28, 2005

Broadcast Pioneers member Gerry Wilkinson has been described as the "PREEMINENT BROADCAST HISTORIAN" for the Philadelphia radio and television market in Harvey Sheldon's book, "Philadelphia's History of Music." In fact, in that publication, Gerry has seven pages written about him.
Wilkinson's expertise has led him to be hired as a historic broadcast consultant by local and statewide organizations. He also consulted on national programs and for magazines and newspapers.
Gerry was born on a Tuesday morning during September 1946 here in Philadelphia. Gerry was graduated from Overbrook High School in West Philadelphia. Singers Dee Dee Sharp (Mashed Potato Time) and Eddie Holman (Hey There Lonely Girl) were among his classmates.
Gerry's first brush with broadcasting (other than being a viewer or listener) was an appearance on "The Carney the Clown Show" on WCAU-TV. A few members of Wilkinson's sixth grade class at Overbrook Elementary School in West Philly were invited to appear on the Channel 10 telecast. The entire class made Easter Bonnets and several were selected to be on TV. Gerry was one of them wearing an Easter hat made out of an old table centerpiece, complete with a large candle on the top. They wouldn't allow the candle to be lit because of fire regulations or at least that's what the TV station said.
As a teenager, Wilkinson authored several articles for "The Hobby Omnibus," a monthly publication out on the west coast. Gerry's first gig in radio was in 1962 as an unpaid sports writer for WLVR, Lykens, Pennsylvania, a small mountain town where Wilkinson spent his summers. "It was like a forerunner to today's intern program," said Gerry.
Wilkinson started his undergraduate studies in Radio-TV-Film at Temple University in September of 1965 and finished his four-year curriculum in a little over three years. He received his Bachelor of Science degree in December of 1968 along with college buddies, Ed Sciaky and Ed Cunningham (both members of the Broadcast Pioneers of Philadelphia).
He studied broadcasting under such greats as Max Wylie (creator of "The Flying Nun"), Lew Klein (Executive Producer of "American Bandstand") and John Roberts (co-founder of WHYY-TV and Radio and TV newscaster for WFIL-TV). Since graduation, Gerry and long-time friend, Broadcast Pioneers member Jerry Klein have run three WRTI reunions. The last one was held on a Saturday during October 2007 and took place on campus, sponsored by the University's Alumni Association, and both served on the school's reunion committee as part Temple University Homecoming for 2007, technically referred to as "a member of the Board of Directors of the Temple University General Alumni Association and/or one of its constituency organizations."
While still in college, he was accepted into a management trainee program for WIBF-TV, Channel 29 that was broadcasting during that time from the Benson East Building in Jenkintown. While waiting for that opportunity to begin, he was employed by the TV station in their sales department as an audience researcher. Shortly afterwards, Channel 29 was sold to Taft Broadcasting, the management trainee program was disbanded and Gerry ended up at a suburban AM & FM radio station where he became Production Manager and later Program Director. He was partially responsible for a new telephone-talk program that started on the station featuring a local bartender, Irv Homer (unknown at that time).
When an opening appeared at WDAS Radio, Gerry seized the opportunity and started working for them in March of 1970. He stayed for ten years, a lifetime in this business. Within a short time period, he was named Production Manager of WDAS (AM), then the black powerhouse in the Philadelphia market.
He was instrumental in the start of WDAS-FM's oldies format with DJ's Hy Lit, Harvey Holiday and Joe Niagara. While that format was short lived, Gerry's hard work came to the attention of General Manager Bob Klein and Owner Max M. Leon, who was Vice-President of the Broadcast Pioneers of Philadelphia at that time.
In the summer of 1971, the WDAS management team did some brain storming. They were Robert A. Klein, General Manager, Jimmy Bishop, VP of Programming, Joe "Butterball" Tamburro, Program Director, Harvey Holiday, Research Director and W. Cody Anderson, Assistant General Manager. A rising management star at the station, Gerry Wilkinson was also invited to sit in on these important meetings. Within days, the group under Klein's leadership created a battle plan for the new FM format (which is now known as "Urban Contemporary"), the concept went on the air, copied nationally and the rest is, as they say, history.
Then Gerry was given production duties for both AM and the rating-climbing FM and was named Production Manager for both stations in 1972. A year and a half later, Gerry Wilkinson was promoted to Operations Manager for both stations, a position he held for the next seven years. During this time, Gerry ran for political office as a major party candidate in Lower Merion Township where he resided. With a field of three candidates, Wilkinson picked up a local newspaper endorsement (over the incumbent) and came in a respectable second place finish in a three-way contest where he beat out a well-known area physician. His total budget for the campaign; eighty-three dollars. His grandfather, T. Lawrence Rhoades ran for a similar office in Philadelphia during the thirties and in the forties and fifties worked at WIP Radio as a security guard.
The news, engineering, promotions, traffic and production departments were under his supervision and he was third in command (after Bob Klein and Assistant General Manager W. Cody Anderson).
In the early seventies, when The Spinners first non-Motown album came out, Gerry was given a promo copy. It was the group's first album after Motown. Member Joe Tarsia was the recording engineer at Sigma Sound which Joe owned. WDAS forced Atlantic Records to issue a third single from that album, "One of a Kind Love Affair." Wilkinson took a liking to the song and brought it to WDAS' Program Director Jimmy Bishop's attention. The station started playing it off the LP and then Atlantic issued it as a 45 single. The song went to the number one position on the R&B charts.
During the mid-seventies, Gerry became the voice of Dr. FM Positron. Originally conceived as a characterture of Dr. Perri Johnson, the deep-voiced, popular FM disc-jockey on WDAS-FM, Dr. FM Positron evolved into a high-pitched, cartoon-like voice. He became a regular feature on the Joe Tamburro, Butterball program which aired in afternoon drive over WDAS (AM, 1480).
During his reign, the stations won dozens and dozens of awards for its community activities including documentaries that Wilkinson wrote and produced for WDAS News. One news special that Gerry wrote and produced, "The Life of Dr. Martin Luther King," narrated by Broadcast Pioneers' Hall of Famer Bob Perkins, was used by the School District of Philadelphia during its early days of their Black History program.
In the middle seventies, in addition to his duties at WDAS Radio, Gerry Wilkinson was East Coast Coordinator for the first live concert (originating from the Hollywood Bowl) broadcast via satellite. It was carried by over a hundred stations. During this same time, Gerry was writing and producing national commercials for recording companies, Shasta soft drinks, Columbia Records and others.
In the seventies, He was co-owner of "Gerry Wilkinson Productions, Inc." and "Wood Associates, Inc." The two companies were an audio production company and an advertising agency.
In 1978, Bob Klein, General Manager of WDAS AM & FM held an executive meeting. Wilkinson was one of those in attendance. After several more get-togethers, the executives, (after much brain storming), created "Unity Day." Three decades later, the event has grown from 20,000 to over four million people and promotes harmony and family values among all the people in the Delaware Valley. For the last three decades, the get together has been held on the Benjamin Franklin Parkway. Gerry was one of the founders and creators of this popular Philadelphia event. The station just recently stopped running the event.
Later that year, at Gerry's urging, WDAS AM & FM became one of the first stations in the state of Pennsylvania to completely computerize its traffic department and shortly thereafter, billing and sales. Gerry saw computers as the wave of the future when few others did. Remember, back then, computers were big and had less computing power than your smart phone.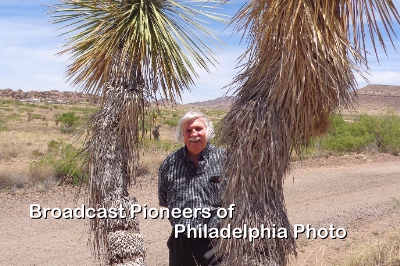 Broadcast Pioneers Chairman of the Board (at that time) Gerry Wilkinson
in the New Mexican Desert (near Silver City)
Tuesday, June 3, 2014
Gerry left WDAS in 1980 and went to WHYY-TV and WHYY-FM. There, he did many things including being part of the production fundraising staff. One time, at the last moment, he was pressed into service as Assistant Director for the last live television broadcast ever to originate from the 46th and Market Streets location (the old WFIL-TV studios). The telecast came out of Studio B, the historic studio where "American Bandstand" originated. He became part of history that day.
He became a producer for Channel 12 and was also pressed into service as a researcher for some of the Ed Cunningham (a member of the Broadcast Pioneers) Emmy winning documentaries that WHYY-TV aired. In the producer capacity, Gerry did "The Legends of Rock and Roll with Jerry Blavat," "Remembering Frank Patterson" (an Irish PBS tenor), "Great Chefs of Philadelphia" and the Jerry Blavat Doo-Wop events (with live performances by Danny and the Juniors, The Revels, Billy and the Essentials, the Crystals, the Tokens, the Elgins, the Tymes, Kenny Vance and many other rock greats).
On Saturday afternoon, December 4, 1999 Gerry was part of a live three-hour coast-to-coast network broadcast aired over both PBS and American Public TV. It's was called, "An American Feast" and the hosts and anchors of the show were Julia Child and Burt Wolf. The program featured five different cooking experts in five different cities. Lidia Bastianich was live at WHYY-TV. "An American Feast" celebrated thirty-five years of great cooking on Public Television. Over a decade later, the program still gets rerun on PBS. The popular Julia Child cook book was based on recipes featured on this telecast.
His edition of "Great Chefs of Philadelphia" which aired in December of 2000 with a budget of $900 was an 80-minute recorded program, shot on location at two of the city's top restaurants at that time, Treetops and Deux Cheminées. It was a two camera shoot, done with a crew of four; 2 camera operators, an audio engineer and a video editor with Wilkinson as Producer and Director (including most of the duties of the Executive Producer). It was shot on DVC Pro (a professional digital format) and it was the very first WHYY-TV telecast to be totally produced digitally and aired over both WHYY-TV and WHYY-DT, the station's digital TV station. "Great Chefs of Philadelphia" was the station's first local digital presentation, start to finish. A truly historic first.
He also produced events originating from the Philadelphia Print Shop (for "Antiques Roadshow"), the Philadelphia Zoo, and other locations. In the summer of 2000, he was put in charge of the December television fundraiser which produced almost one million dollars in revenue for the station during the 14-day drive. That's a figure not touched in recent years.
He served as President of his own corporation for 14 years. It was a company that supplied broadcast outlets with music specialties. In 2002, he started his broadcast consulting service. Among his clients (in the Philly market) were a Philadelphia TV broadcast station, a Delaware Valley oldies station and a South Jersey Hispanic station.
WHYY-TV producer and member of the Broadcast Pioneers of Philadelphia, Ed Cunningham hired Gerry as Historical and Project Consultant for the WHYY-TV production of "Philly's Favorite TV Kids Show Hosts" which aired for the first time in March of 2007. Wilkinson also served in that same position for the state-wide program, "Pennsylvania's Favorite TV Kids Show Hosts," produced for PPTN (The Pennsylvania Public Television Network) and aired in September of 2007 over the public television stations throughout the state. The local version was nominated for an Emmy. In the Spring of 2008, "Philly's Favorite TV Kids Show Hosts" won "Outstanding Documentary Program" in the Pennsylvania Association of Broadcasters awards for "Excellence in Broadcasting."
Of course, by this point, Gerry already had a reputation for accuracy. Stations would call him for historical information about their own operation. Wilkinson knew more about a station's history in Philadelphia than the stations themselves.
When "American Dreams" first came on the NBC television network in 2002, it was Gerry that they called for answers about Philadelphia broadcast history. Unfortunately (for NBC), the relationship didn't continue and the show got a reputation for not being historically accurate. The inaccuracies were show wide with incorrect information about broadcasting, music and general historic facts. Gerry said: "Early in the series, they wanted to use a picture of Captain Noah in the background of one of their sets. The problem is that the rascally ol' captain was still four years away from putting 'the ark" on the TV. I objected but it didn't seem to bother them at all and that was the last time I dealt with anyone from American Dreams."
Gerry joined the Broadcast Pioneers of Philadelphia in January of 1998. Elected initially in the spring of 2000, he served three years on the organization's Board of Directors and another three years as Vice-President. On July 1, 2006, he started serving as the organization's 38th president. He served in the position for 4 one-year terms. On July 1, 2009, Wilkinson became the first president in our history to serve a fourth term. He was the longest serving president in the history of the organization. Since that time, his college classmate, Jerry Klein, has also served as President for 4 years.
On July 1, 2010, Gerry was elevated to the position of the organization's Chairman of the Board. As Chairman, he served 4 one-year terms. During Gerry's tenure running Broadcast Pioneers, membership has gone from 157 to 518. On July 1, 2014, Gerry became the organization's first CEO (Chief Executive Officer). That's a position he still holds today. Broadcast Pioneers is a state-chartered, federally recognized charity with a 501(c)(3) status and it is the largest organization of its type anywhere on the planet.
He is a member of the Mid-Atlantic chapter of NATAS, the National Academy of Television Arts and Sciences, the people who award the Emmys. He is also a member of the Philadelphia Press Association and the Philadelphia Advertising Club.
In November of 2005, Gerry was one of a group of American journalists and broadcasters who met with their counterparts in Jerusalem, Israel sponsored by the Israeli government. During December of 2007, Gerry was included with a handful of Philadelphia broadcasters and journalists who had a discussion with their counterparts from Kazakhstan (a former Soviet republic in Asia) sponsored by the United States Department of State.
Early in 2011, Gerry wrote the preface for two historical books. One is the 813 page volume (written by member Harvey Sheldon) about the History of Philadelphia Music (that includes seven pages about Wilkinson along with a photo). The other is "Philadelphia Radio" by member Alan Boris that came out during the summer of 2011. Besides writing the preface for both, Wilkinson also reviewed the "Philadelphia Radio" manuscript for historical accuracy.
Late in 2011, Gerry was mentioned several times (with some quotes) in author Michael J. Lisicky's book, "Gimbels Has It." Gimbels for decades was also the home of WIP Radio. Early in 2012, Wilkinson wrote another preface. This one was for Harvey Sheldon's latest book, "America's Greatest Jazz and Pop Singers." Gerry has now written the prefaces for over twelve different books including T. Morgan's autobiography.
Over the years, Gerry Wilkinson has worked with such show business legends as Michael Jackson, Rick Nelson, Isaac Hayes, James Darren, Fats Domino, Patti Page, Sarah Brightman, Jerry Butler, Travel expert Rick Steves, TV Chef Jim Coleman, Financial experts Suze Orman and Jonathan Pond, Chubby Checker, Eddie Holman, John Tesh and many others.
Gerry is married and lives in Philadelphia with his wife, Michele, their adult daughter Zara and their cats; Annabel, Ozzie and Harriet. The couple has two adult daughters; Maya and Zara. Maya just received her Ph.d in criminal justice from Temple University. Zara, who holds two master degrees, is on a tenure track as a full-time librarian with Rutgers University (Camden campus).
Editor's note: They got their eldest cat in 2009 when kitten Annabel was tossed onto the lawn of WPEN's radio towers. Gerry saw this happen and brought her home. In February of 2011, Matt Silva, Gerry and Michele's son-in-law was working on one of the tug boats owned his dad's company. He saw two kittens floating down the Delaware River on a log. He rescued the pair, one a male and one a female. A week later, Gerry, Michele and daughter Zara took custody of the young cats and named them, Ozzie and Harriet. Even their cats have ties to broadcasting.

From the official archives of the Broadcast Pioneers of Philadelphia
Photos originally donated by Broadcast Pioneers member Gerry Wilkinson
© 2000 & 2016, Broadcast Pioneers of Philadelphia
All Rights Reserved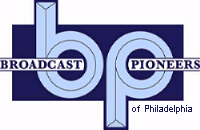 The e-mail address of the Broadcast Pioneers of Philadelphia is pioneers@broadcastpioneers.com