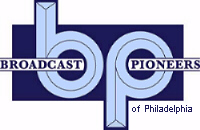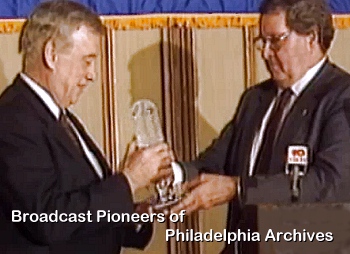 (left to right) Herb Clarke and then Broadcast Pioneers President Harry Haas
Broadcast Pioneers Banquet
The Adam's Mark Hotel, Philadelphia
Thursday, May 23, 1991
Harry J. Haas was born in 1930 and raised right here in Philadelphia. In his teens, he was a member of Roman Catholic High School's boat rowing crew and later became a member of the Fairmount Rowing Association. His wife, Joyce, was also a rower. In fact, they met on Boathouse Row by the river.

In 1958, he started working at WFLN, the city's classical music station. He was a salesman and in 1963, was named Sales Manager. Nine years later, Haas was named vice president and station manager of the broadcast outlet. Harry helped push the stations (WFLN AM & FM) towards intense promotion of cultural institutions and events in our market. He believed that a classical music station should not just play the music but be part of the community.

Broadcast Pioneers member Dave Conant, the station's Program Director (he's now with WRTI) said: He enjoyed the promotional activities, often working on details others found tedious, to ensure that everything ran smoothly. Whether it was a complex radio marathon fundraiser for the Philadelphia Orchestra or a project for the local grange, each event received the same attention, devotion and enthusiasm."

Harry Haas retired from broadcasting in 1988. At that time, he was hired to organize events and promotions for the Computers for the Professional Ltd., in King of Prussia, Pennsylvania. He was also a volunteer publicity chairman for the yearly Keystone Grange Fair in nearby Collegeville.

Broadcast Pioneers member W. Carter Merbreier (Captain Noah) said: He gave so much of his life to helping other people. He was an unbelievably committed person; unselfish, a family man, a good friend of his friends.

Harry also served on the Trappe Historical Society's Board of Directors. He was also on the Muhlenberg Committee, which raised a quarter of a million dollars to buy the historic Muhlenberg Home in Trappe, Pennsylvania where Harry and his wife lived. He and Joyce had two children, Cynthia and Christopher.

Haas was the past president of the Pennsylvania Association of Broadcasters and for many years, he was chairman of the group's Gold Medal Awards. He was an active member of the Broadcast Pioneers of Philadelphia and served as our president from 1990 to 1991. He also was on our Board of Directors for many years. Harry Haas passed away on Saturday, April 17, 1993 at age 63.

From the official archives of the Broadcast Pioneers of Philadelphia
Photo originally donated by Broadcast Pioneers member Herb Clarke
© 2004 & 2012, Broadcast Pioneers of Philadelphia
All Rights Reserved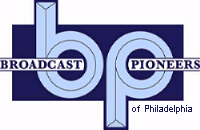 The e-mail address of the Broadcast Pioneers of Philadelphia is pioneers@broadcastpioneers.com