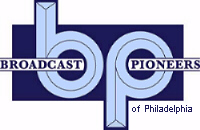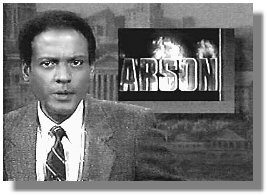 Jack Jones in 1989
on KYW-TV News
Jack Jones was an icon in Philadelphia television. He was taken from us at such an early age, 41. He passed away on Tuesday, March 5, 1991 of pancreatic cancer at his home in Lower Merion, but he stayed with us publicly to the end. His last broadcast was Saturday, February 2nd on the 6 pm newscast when he was receiving intravenous medication while on the air. By 11 pm, he was too weak to go on. Less than four weeks before his death, Jones said, "I'm feeling very good. I'm looking very good, too, thank you, although I'm a little skinny. People shouldn't worry about me." He had loss another 35 pounds and was down to only 130 pounds.

He was often called a protégé of Philadelphia legend, John Facenda, the best known anchor in the city's history. He started at WCAU-TV as a copy person just weeks after his graduation from West Philadelphia Catholic High School as an honors student. Jack was awarded a full scholarship to LaSalle University and was graduated summa cum laude with a bachelor's degree in English in 1970. While in college, Channel 10 gave him a weekend booth announcer position in June of 1967. In May of 1971, he started full-time at Channel 10 as a reporter and later anchor. First, mornings, then weekends and finally the daily 11 pm newscast. However, he continued his education and in 1973 received his Master's Degree in Education from the University of Pennsylvania.
Jones never really brought WCAU-TV the ratings they were looking for and in September of 1976, he and Mike Tuck were replaced by Joan Dinerstein and Ralph Penza. A couple months later, Jones joined KYW-TV on December 1st of 1976. There, he anchored the noon report. But in the summer of 1977, with Mort Crim and Jessica Savitch gone, Jack was teamed up with Vince Leonard for the 60 minute version of "Eyewitness News" from 6 to 7 pm. Two years later, he was pushed to weekends and replaced on the daily program by Beverly Williams.
He then left Channel 3 in 1979 and went to WLS-TV in Chicago. Late in 1983, he left WLS. In an early 1984 newspaper article, the report was that it was a mutual decision for Jones to leave the station. A source at WLS-TV said that Jones' contract wasn't renewed as part of housecleaning by new management. The official reason was a breakdown in contract negotiations. Jones returned to KYW-TV for a reported $60,000 a year for the first year and $70,000 for the second with lots of incentives. He co-anchored the daily noon news and then was assigned weekend anchoring duties, which he kept until he died. Jack seemed to like the idea that the Channel 3 studio which were then at 5th and Market Streets was only three blocks from where he was born.
Upon his return to Channel 3, Jack Jones said:
I always intended to come back here. In my heart, I never left this town. I figure if I do well and the ratings go up, I'm a hero. I figure it's a win-win situation, because people know me and I think they'll watch us out of curiosity, if nothing else.

So I won't make a billion dollars. So what? I'm not driven that way. I'm also not obsessed with going to the network. This is where I want to be. I've come to the realization that I want to live where I feel comfortable and do what I want to do.

This station needs more help than the others in this market, and I think I can help them. It makes me look better. I'm the kind of guy who plays the dollar slot machines for the big payoffs. Why waste all those quarters? I can be a bigger hero here.

Look, if ABC came to me tomorrow and said, "Peter Jennings is ill. Can you do World News Tonight?" Yes, I'd do it. Are you kidding? I'd be a fool not to. But I'm not going to go out and seek it. I hope to hell I never have to leave home again. I'd be tickled pink to end my career right here. After many years, of course.

Look at Channel 6. They're all my friends over there, but the Action News concept is a tired concept. The only thing that keeps them going is "the guys," and it obviously keeps them going in a big way. Just ask Mr. Nielsen. What keeps viewers watching them is consistency. They know who they're going to see every day.

We have consistency, but not enough. The public perception is that we have "an anchor du jour." People say, "I wonder what Channel 3 is doing this week?" They stop me on the street and say, "We're so glad you're back. At least we know who you are." The public has seen this station as a revolving door, and it has been. People ain't dumb. They didn't just fall off the turnip truck.
He was the first African-American anchor in the city. But what made Jones unique was that he was the first Philadelphia TV anchor to be born, raised and educated here in our city. Even when he was working in Chicago, he kept his center city apartment and returned to Philly twice a month.

In the late seventies, Jones owned a men's store in Society Hill, and a luncheonette in Camden. He was a licensed Real Estate Broker and had extensive real estate holdings.

Friend Acel Moore, Associate Editor of the Philadelphia Inquirer said, "He was one of the true gentlemen of television news. I have never heard him say a bad word about anyone. I never heard him use profanity, even under the pressure of a television deadline." His friend at KYW, Tom Lamaine (a member of the Broadcast Pioneers of Philadelphia) who did Jack's weather on the weekend newscasts said, "He was a profile in courage and encouragement to those who may be afflicted. He was willing to go on until the breath was gone."

Associates at KYW-TV said on some of the last nights, the pain was so bad, that he had to be helped out of the anchor chair. But news was something he loved. It was his last wish that he could go on presenting the news to a city he loved so much. Jones should be admired for his fortitude and station management should be credited with allowing him to continue to serve as long as he could. Most evenings, he had to use a heating pad over his stomach to help relieve the pain. But he went on. He was a broadcast pioneer and he belonged to Philadelphia. On Friday, November 19, 2004, News Anchor Jack Jones was inducted into our "Hall of Fame."
Mike Jawer, a visitor to our website, is the son of Broadcast Pioneers member Bob Jawer. Mike e-mailed:
I wish I'd gotten a chance to meet Jack Jones. I interned at Channel 3 one summer (1982) when he was doing news there. Did not realize what a great person he was. Nor, for that matter, how young he was! Sadly taken from his public much too early, but what an example of grace under pressure.
Bryhen, a visitor to our website, e-mailed:
I'm from Chicago, and was just thinking about an old friend I hadn't seen since the early/mid 80's, Jack Jones. I knew he continued anchoring when he went back east and many of us in Chicago lost touch with him. ...It was so terribly sad to find out he'd passed on, still so young. ...I'm so happy he did so well with his life, and was appreciated for the terrific guy he was. ...I met him and knew him from a legendary Chicago piano bar, called "JoAnn's." He LOVED to sing, as most of us did there.
Elaine Neafsey, a visitor to our website, e-mailed:
I attended a performance of "Guys and Dolls" tonight at Bucks County Playhouse, and it made me think of Jack Jones. He attended West Catholic High School with my brother, John Borecky. They presented "Guys and Dolls" when they were in school together; my brother conducting the orchestra as the first student conductor of the show band, Jack performing as Nicely Nicely Johnson. The two young men were very good friends....

A few years after Jack started working as an anchor, I ran into him enjoying a meal on South Street. I was in high school at the time (I was 6 years younger than Jack and my brother). He recognized me as "John's little
sister," got up from his table where he was eating with several people from the station, and gave me a hug and kiss. He inquired about my family and made it quite clear that he was the same Jack that we had always known. Jack was a wonderful person. Hopefully, he and my brother are in heaven together, as my brother passed away a few years prior to Jack's death.
Follow colleague at both KYW-TV and WLS-TV, Diane Allen said:
I was a little novice and he was a seasoned pro then. He helped me over some rough spots, sort of like a Dutch uncle. He told me how to relax and be myself more on the air, which sounds easy but it's not. I'll never forget that.
In November of 1989, Lech Walesa, President of Poland visited Philadelphia. Jack Jones had the story on KYW-TV's "Eyewitness News."
From the official archives of the Broadcast Pioneers of Philadelphia
Clip originally donated by Broadcast Pioneers member Gerry Wilkinson
Bio written, research and compiled by Broadcast Pioneers historian Gerry Wilkinson
© 2010, Broadcast Pioneers of Philadelphia
All Rights Reserved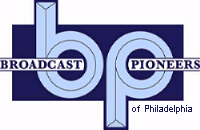 The e-mail address of the Broadcast Pioneers of Philadelphia is pioneers@broadcastpioneers.com