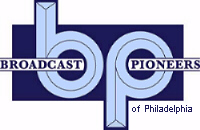 Ben Krass was one of the owners of Krass Brothers, a clothing store on South Street. Ben became a celebrity in Philadelphia because of his short and bizarre commercials. Here's four photos from those spots.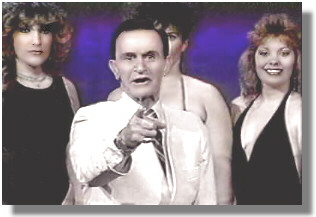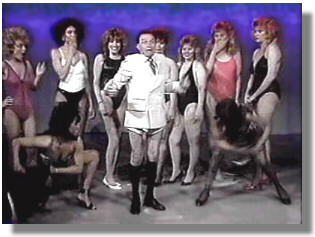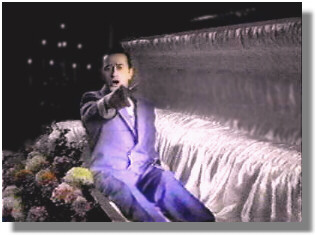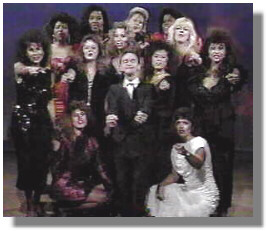 A half century ago, South Street was one of the city's leading shopping areas. It was a place where men could go for stylish and reasonably priced clothing. No store better exemplified those days than Krass Brothers (Ben, Jack and Harry), the "Store of the Stars." It was at 937 South Street and started in 1947. No one is the business was better known than Ben Krass. His TV commercials featured himself. The earliest that Broadcast Pioneers member Gerry Wilkinson can remember was the one featured Ben (and one of his relatives or employees playing a mugger) shouting "If you didn't buy your suit at Krass Brothers Mens Store, YOU WUZ ROBBED." There were others like Krass in a coffin saying "IF YOU GOTTA GO, GO IN A KRASS BROTHER SUIT." In the late eighties, a wrecking ball visited the store. The business was moved nearby and remained open until 2002.

Robert Reif, a visitor to our website e-mailed: Missing is Jack Krass, my uncle, who was married to my father's sister, Mary Reif. I think Jack died in the 60's. I was pretty young at the time.

Benjamin Krass was born in 1919 and passed away on June 7, 2004 at the age of 85 from complications of Alzheimer's disease. All the commercials were recorded in the store and, yes, Ben kept the coffin there for all to see (no, he wasn't buried in that casket, but he was laid to rest in a Krass Brothers suit). Krass and his brothers had learned the trade in their father's store on South Street (across the street from Krass Brothers) when the area was better known as "hick street than hip street," said Broadcast Pioneers member Sam Bushman.

He was graduated from Central High School in 1936, and lived in Atlantic City for a while before being drafted into the United States Army during 1944. The military sent him to Calcutta, India, but not before he married Naomi Wagor. She was a secretary he had met during training in Texas. When he returned to Philly in 1947, the couple settled in Overbrook and later Bala Cynwyd. They had three children; daughters Becki Leof, Susan Margaris and a son, Michael. The Krasses divorced and then Ben had a common law marriage with Annette which Annette says began on March 4, 1964 and lasted over ten years. Their daughter, Jacqueline Krass-Feldman was born in May of 1965. Annette Krass e-mailed: Ben was the most wonderful, intelligent, comical, sincere, uncomplicated, dazzling and honest individual one could ever meet. He was an extraordinary husband and father and he will be very missed. I was with him and shared in all his funny commercials and just had the pleasure of watching him have the best time of his life.

His last wish was to have a plaque inscribed, "He went in a Krass Brothers suit." He did!

Watch a 1988 Krass Brothers spot!
From the official archives of the Broadcast Pioneers of Philadelphia
First three pictures from the 50th Anniversary Broadcast of Channel 6, WPVI
Tape supplied by WPVI
4th photo & video originally donated by Broadcast Pioneers member Gerry Wilkinson
© 2009, Broadcast Pioneers of Philadelphia
All Rights Reserved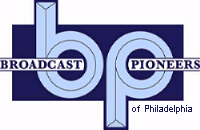 The e-mail address of the Broadcast Pioneers of Philadelphia is [email protected]