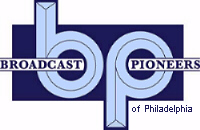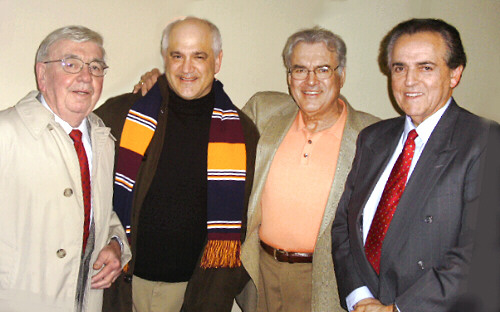 (Left to right) Bill Campbell, Glen Macnow, Tom Brookshier & Joe Pellegrino
All are members of the Broadcast Pioneers of Philadelphia
at the Holiday Inn City Line, Philadelphia
Wednesday, January 18, 2006

On Wednesday, January 18, 2006, Ray Didinger was scheduled to be the speaker at our Broadcast Pioneers luncheon. However, a serious illness in the family required Ray to catch a flight to Florida the day before the event. Ray Didinger arranged for his WIP Saturday talk show co-host Glen Macnow to take his place. So Glen Macnow was our speaker on January 18th. Didinger has asked us to please reschedule him for a later date and we plan to do so.
Glen Macnow is a former reporter for The Philadelphia Inquirer and was recognized in 1993 as "The Best Sportswriter in Philadelphia" by Philadelphia Magazine. He also wrote for the Detroit Free Press.
Glen brings his vast knowledge to listeners on Sports Radio 610, WIP including Saturdays as Ray Didinger's talk show partner! For years, Glen Macnow was co-host of the daily lunchtime radio show on WIP Radio. Glen can also be heard currently during the evenings at 7 pm when WIP isn't airing sporting events. He's been with the station since 1993.
Glen is co-author of "The Great Philadelphia Fan Book." In part a Philadelphia sports memoir, "The Great Philadelphia Fan Book" is also a historical and anecdotal account of the nation's passionate sports fans centering on Philadelphia's four major league teams. It mounts a sturdy apologia that will be sure to delight Philadelphia sports fans and remind them of their unique and unabashed dedication to their hometown teams.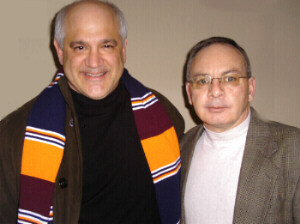 (Left to right) Glen Macnow & Broadcast Pioneers' President Frank Hogan
at the Holiday Inn City Line, Philadelphia
Wednesday, January 18, 2006
Macnow is also author of the book, Allen Iverson and has co-authored "The Great Philadelphia Sports Debate" with Angelo Cataldi, WIP's morning man. Glen also hosted a cable television show on PRISM called, The Great Sports Debate."
Glen is originally from Buffalo, NY and is a transplant to the Philadelphia region. He lives in the suburbs and sometimes has the nickname "The Professor" for his approach to sports and that he taught journalism classes at St. Joe's.
Glen Macnow's bio from our website
Listen to Glen's complete remarks in Real Audio
Listen to Glen's complete remarks in Windows Media
Watch a video clip where Glen Macnow explains one theory why Philadelphia sports fans are the way they are.
Watch in Real Video
Watch in Windows Media

From the official archives of the Broadcast Pioneers of Philadelphia
Written and researched by Broadcast Pioneers member Gerry Wilkinson
© 2006 & 2010, Broadcast Pioneers of Philadelphia
All Rights Reserved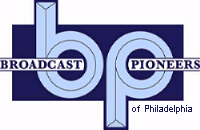 The e-mail address of the Broadcast Pioneers of Philadelphia is pioneers@broadcastpioneers.com