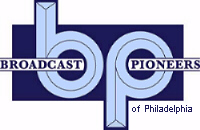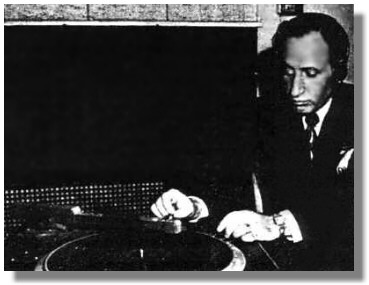 Max M. Leon
Studio A of WRTI-FM
Thomas Hall (Park & Norris Avenues)
Temple University
1951

One of the leaders in the Philadelphia broadcast community was Broadcast Pioneers member Dr. Max M. Leon. He served as our Vice-President and as a member of our board for many years. He earned his doctorate degree in musicology and had two other honorary doctorate degrees. He passed away on Friday, November 2, 1984 at the age of 80.

Leon came to the United States from Eastern Europe at the age of sixteen. Max once said: I arrived in this country from Poland (Swierze), where I was born with a violin, four dimes and a suitcase full of hope.... In a few years, I had my own company. I was conducting my own orchestra; running my own radio station. There are opportunities all around you. You just have to take advantage of them.

For twenty-nine years, Max M. Leon owned WDAS-AM which he purchased for a half million dollars on October 19, 1950 from William Goldman. WDAS-AM came on the air in 1922 (one of the area's first stations) and was licensed to Ocean City, NJ. Shortly thereafter, the first owner moved the station to Philly where it has remained ever since. Leon applied for and was granted a construction permit for a FM station and in 1959, WDAS-FM came on the air.

A lifelong resident of the Overbrook section of Philadelphia, Max M. Leon lived on the 6000 block of Drexel Road. Broadcast Pioneers member Gerry Wilkinson (who was Operations Manager of the station from 1970 to 1980) said, "when my oldest child, Maya, was born in 1978, Max called me into his office. I was wondering what I did wrong. Turns out that Leon gave me a raise (not asked for) to help feed the extra mouth. It was that kind of operation."

"I remember one day Lil Troop, the General Manager's (Robert A. Klein, Max's son-in-law) secretary called me to the front desk. Turned out that one of the newspapers got wind that the station had arranged to distribute 3000 free Thanksgiving dinners to needy families. Since publicity was one of my areas of responsibilities, the paper was put in touch with me. They wanted an interview with Max. I tried to talk Leon into meeting with the reporter, but he wanted no part of it. He had me present Georgie Woods to the press as the force behind the giveaway. That's because Max thought you did good deeds because they were right, not because you would get something out of it," said Wilkinson.

In the later years of Leon's ownership of WDAS, his granddaughter (Bob Klein's daughter) Wynne Alexander joined the prestigious news department of the stations.

It was the idea Bob Klein, Max's 26 year old son-in-law to turn WDAS into the voice of the Black community. Klein hired some of the best air talent in the country including Jocko Henderson, Georgie Woods, Ed Bradley (later of CBS News), Louise Williams, Jimmy Bishop, Hy Lit, Lord Fauntleroy (John Bandy), Dr. Perri Johnson and Harvey Holiday, among others. Much to Leon's credit, he went along with the plan. In 1971, Klein created a radio format that was given no chance of success. It was the current Urban Contemporary Format used today by WDAS-FM. However, it was revolutionary at the time. Klein conceived the idea and instructed his managers to figure out exactly how to implement the new concept. In October of 1979, Max M. Leon, Inc. sold the stations to Unity Broadcasting, owners of the National Black Network. The sale price was 6 million dollars.

Max entered broadcasting like everything else. He once said, "learn all you can about what you're getting into, and once you know what's what, don't hesitate, plunge." Max lived by what he preached. Upon purchasing WDAS, Leon went to night school at Temple University enrolling in communications courses. He also volunteered his time to work at WRTI, Temple's student broadcast outlet. During this era, WRTI was only an AM station and heard on campus through the electrical system. Leon joined on campus, one of his daughters, Ruth, a college co-ed.

Max Leon told the Temple University News a half century ago, "It's a shame more owners don't take a few radio courses." He approached music in the same fashion. Self taught, Max made his first violin at the age of nine and played at social events. He said, "I remember the first time I drew the bow across the strings. The result was like the quavering wail of a cat on a back fence. But to my young ears, it sounded like music. From that moment my fate was sealed. Music became a part of my life; the most important part." Max Leon told many including Broadcast Pioneers member Gerry Wilkinson that he would rather be known as a musician "in my obituary than any other title I could ever dream up for myself."

Max M. Leon practiced his violin and a year or so later, he was playing in a band that played at Polish weddings and other celebrations. Just out of his teens, Max had mastered the violin, saxophone and clarinet. He was then studying the piano.

In this country, for a half dozen years, he fronted "Max Leon and his Musical Eagles," a local dance band. While simultaneously becoming the general manager of the candy factory at which he began work as a candy breaker. He then became the owner of that same company, the Whole-Sum Products in 1934. They made different types of sweets and also invented marshmallow ice cream for Breyers Ice Cream Company. He kept the candy factory all during the WDAS days. In fact, the candy company was a sponsor on the radio stations. Max was also an accomplished horseman. He rode in the polo matches as a referee and the 103rd calvary troop farm.

However, Max still wanted to be involved with music so he joined the Police and Fireman's Band where he began as a saxophone soloist and eventually became director. He was also the Music Director of the Hegeman String Band. He studied conducting with Paul Breisach, the conductor of the Metropolitan Opera Company, the famed Eugene Ormandy, director of the Philadelphia Orchestra and Martin Rich of the Curtis Institute of Music.

In 1943, he founded, financed and conducted "the Philadelphia Pops Orchestra" which included most of the members of the Philadelphia Orchestra.

Saturday afternoons saw Max and his members of the Philadelphia Pops Orchestra practicing on the 4th floor of his candy factory and at the Lorraine Hotel on Broad Street. Max "broadcast" the rehearsal throughout the plant through a loud speaker system in the production area. During the Second World War, the orchestra played concerts at Army and Navy hospitals, service centers, camps, stations and raised over $6,000,000 in war bond sales. Leon organized it, led it, paid all the bills and was their conductor. It was his "baby." Throughout the years, he continued to conduct the eighty piece Philly Pops with performances at the Academy of Music. He worked with people like Risa Stevens, Robert Merrill, Todd Duncan, Jan Peerce and Percy Grainger.

Next Max Leon turned his efforts to opera. He served as president of the Philadelphia Grand Opera Company for a dozen years. He presided over their merger with the Lyric Opera Company. For the next three years, he served as General Manager of the Opera Company of Philadelphia. He was decorated by the Italian government as a cavaliere for raising money to build houses in Florence for people who have been flooded out. He spoke Italian fluently. On December 14, 1959, there was a resolution that was adopted by the Senate of Pennsylvania giving Max M. Leon the title, Mr. Music of Philadelphia."
Many people are unaware that Max Leon was also an air personality. "Up until 1975, the Max M. Leon Concert was a WDAS-FM fixture," said Gerry Wilkinson, WDAS' Operations Manager (at that time) and the producer of Leon's classical music show. "The program ran for a quarter of a century. That's more than a lifetime in this business," Gerry added.

Leon served as chairman of the Philadelphia Mayor's Scholarship Committee. He was a vice-president of the Board of City Trusts, which administers 150 trusts most noteably Wills Eye Hospital and Girard College He was also a member of the Child Welfare Advisory Board. He was a 32nd degree Mason and was active in the Golden Slipper and the 32-Carat Club. He was a member of Har Zion Temple. Max was the Vice-Consul to Guatemala.

Leon's wife, the former Minna Troop, an educator and businesswoman passed away in 1972. The couple had three children; Sonia, Ruth and Stephen.
On Friday, November 16, 2007, Broadcast Pioneers member Max M. Leon was inducted into the Broadcast Pioneers of Philadelphia's "Hall of Fame."

In the summer of 1971, Leon's management team met. There was Robert A. Klein, General Manager, Jimmy Bishop, VP of Programming, Joe "Butterball" Tamburro, Program Director, Harvey Holiday, Research Director, Gerry Wilkinson, Operations Manager and W. Cody Anderson, Assistant General Manager. Within days, the group created a battle plan for the new FM format (which is now known as "Urban Contemporary"), the concept went on the air and the rest is history. Thanks to the vision and courage of Broadcast Pioneers member Dr. Max M. Leon and General Manager Bob Klein, WDAS became a national powerhouse in the industry.

From the official archives of the Broadcast Pioneers of Philadelphia
Photo originally donated by Broadcast Pioneers historian Gerry Wilkinson
Researched and compiled by Broadcast Pioneers historian Gerry Wilkinson
© 2010, Broadcast Pioneers of Philadelphia
All Rights Reserved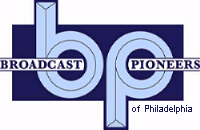 The e-mail address of the Broadcast Pioneers of Philadelphia is pioneers@broadcastpioneers.com