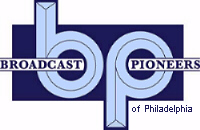 Ed McMahon with Broadcast Pioneers member Bill Webber
Thursday, May 21, 1964
Arthur's Steak House
Center City Philadelphia
(Click on the photo for more details)

Recording artist "Weird Al" Yankovic once wrote a tune entitled, "Here's Johnny." That's how much the phrase has become part of Americana. Those were the words uttered by Ed McMahon nightly on the intro to NBC-TV's "The Tonight Show Starring Johnny Carson."

For three decades (1962 to 1992), Ed was Johnny's Sidekick on that program. "High-OOOOOOOO," "You are correct, sir," "How cold was it" and "I hold in my hand the final envelope" became synonymous with Ed McMahon.

We know him as the commercial pitchman saying, "You may have already won ten million dollars," "You cannot be turned down" and "Budweiser, the only beer that's beechwood aged."

As a kid, McMahon's favorite radio personality was Jack Benny. Ed says that he learned timing and how to set up a joke from those radio programs. McMahon also stated that Johnny Carson did the same thing and "if you ever watched the Tonight Show, you'd know it." Ed was a big fan of the talented movie comedian, W.C. Fields.

Born at nine pounds, ten ounces, as Edward Leo Peter McMahon, Jr. in Detroit, Michigan on Tuesday, March 6, 1923, his laugh and jolly nature became his trademark. He is probably the best known second banana or sidekick in the history of broadcasting. By the way, the reason Ed was born in "the Motor City" was that his parents stopped there on the way to a fundraising job.

While growing up in New York City, New Jersey and Massachusetts (and other places including Philadelphia for a very short time), Ed McMahon attended 15 different schools. His Irish Catholic father was a part-time entertainer and full-time promoter. The family was constantly on the move. Ed's dad was a promoter, an entrepreneur, a traveling salesman, and a fundraiser for charities and hospitals and clubs by selling punch boards and running bingo games. That's how Ed got his first gig.

While many sources report that McMahon's first appearance before a microphone was as a 15-year old caller at a New England bingo game, Ed tells a slightly different story. He says he landed his first broadcasting (or microphone) job at 15 for a small circus located on the Lowell Common. He was a soundtruck driver. Later, he pitched passersby, items on the boardwalk in Atlantic City. Some area residents may remember the tall guy hawking a vegetable chopper or free fountain pens (where you had to buy the pen point). That was Ed McMahon.

His mother's name was Eleanor Russell and was Pennsylvania Dutch. That doesn't mean that they dressed like their "Amish" cousins did. Most Pennsylvania Dutch lived and dressed just like everyone else. His mom was raised in her grandmother's theatrical boardinghouse and was a local actress.

Ed used to spend some of his summers with his dad's parents, Joseph F. and Katherine Fitzgerald McMahon of Lowell, Massachusetts. His grandfather was the founder of the J. F. McMahon Plumbing Company and he was a master plumber. His grandmother was a cousin of Rose Kennedy, whose maiden name was Fitzgerald (like John Fitzgerald Kennedy). In his grandmom's parlor, he would practice being an announcer (starting about the age of ten) and disc jockey. He would play records (Let's Dance by Benny Goodman was his theme) and do commercials, pitching directly from a magazine. One of his broadcast idols was WCAU and CBS radio announcer Paul Douglas, who would later become a movie actor. Paul was at WCAU in the thirties and early forties (less than ten years before Ed would show up at the same station).

Ed also played the cornet. McMahon once described his instrument as "a trumpet that never grew up." For awhile, he considered becoming a musician. He joined the Sons of the American Legion Drum and Bugle Corps. However, he says that he was so bad that they tossed him out. That ended his musical career.

Ed came to Philadelphia to work at WCAU-TV and radio on September 12, 1949 for $75 a week. He was the announcer for "The Ol' Night Owl, Powers Gouraud" broadcast over WCAU Radio. He co-hosted "Home Highlights" with Jean Corbett of "Action in the Afternoon" fame. He was also the clown that opened the nationally televised "Big Top" show on CBS-TV. That program originated from WCAU-TV. He also hosted "Two for the Money" on Channel 10.

Former WCAU-TV Director/Producer Bill Bode says: Another Home Highlights highlight was (Ed) McMahon calling the crackers (Krispy Krackers) Krispy Krappers, with the agency people in the control room. Ahh, Live TV...

In 1949, McMahon married Alyce Ferrill. That marriage would last until 1976 and the couple had four children. While in Philly, McMahon and his family lived in Drexel Hill, Pennsylvania, a suburb of Philadelphia. For awhile he lived in a complex called "The Drexelbrook." One of his neighbors was a local Channel 6 announcer by the name of Dick Clark.

The Korean War and the Marine Corps took Ed away from WCAU in 1951. He was, during World War II, a fighter pilot. Upon his return from the service, he was back on Channel 10 hosting a morning program called "Get Happy." However, we do know that while on leave, Ed McMahon came back to Channel 10. We have photos in our picture archive of him in his Marine uniform getting ready to play a clown on "The Big Top."
When Ed left to go back into the service, there was a big "going away" party for him. Broadcast Pioneers member Gene Crane, an old hand at Channel 10 e-mailed:
I suddenly remember. The party was at the Black Horse Tavern, probably across from what is now the Bala Cynwyd Center.
Ed McMahon also pioneered local late night TV as the host of "McMahon and Company," a nightly television program aired over the NBC owned and operated station, WRCV-TV (now KYW-TV and a CBS O&O), Channel 3 in Philadelphia. The show started at 1 am and was live.

In February of 1954, a news report said: Ed McMahon, emcee of WCAU-TV shows, "Here's That McMahon Again" and "Fun and Fortune" recently received three gold stars, in lieu of his third, fourth and fifth Air Medals, for meritorious action in small, unarmed planes and courageous devotion to duty while serving as a Marine Air Corps Captain in Korea. McMahon also served in the Leatherneck Air Group during World War II.

From Philadelphia, McMahon went to NYC to work on an ABC-TV game show called, "Who Do You Trust" which was hosted by an up and coming comic named Johnny Carson. They have been friends ever since.

By the way, in the early sixties, still wanting to showcase his musical talents, Ed McMahon recorded an album for Philadelphia's Cameo-Parkway label as a singer. His buddy, Johnny Carson wrote the liner notes on the back of the album. The record was called, "And now, here's Ed McMahon" and had a big, orange cover. By the way, somewhere through the thirty year run of The Tonight Show, the opening changed. It went from "and me, I'm Ed McMahon" at the end of the announcement opening the program to "This is Ed McMahon inviting you to join Johnny and his guests."

Ed also hosted many game shows for NBC-TV in the sixties and seventies. Shows like Concentration, Missing Links, Snap Judgment, and Whodunit. He was also part of "The Monitor Family" on NBC Radio hosting weekend segments of the radio network's "Monitor" broadcasts.

In 1976, Ed and his first wife were divorced and the next year, McMahon married Victoria Valentine. That marriage would last until 1989 and the couple has one adopted daughter.

In 1992, Ed married his third and present wife, Pam Hurn. Ed is one of the few people in Hollywood to have often played himself on other TV shows. He has appeared as himself in dozens of broadcasts including: That 80's Show; ALF; Just Shoot Me; Sabrina, the Teenage Witch; Suddenly Susan; The Simpsons; Malcolm and Eddie; The Larry Sanders Show; Who's the Boss; CHIPs; Sonny & Cher; Here's Lucy and What's My Line.

From 1983 to 1995, he hosted "Star Search" which spotlighted many, up and coming stars of the future. He was also co-host with former Drexel Hill neighbor Dick Clark, on "TV's Bloopers and Practical Jokes."

Ed McMahon, a major broadcast talent, spent his developing years here in the Philadelphia area. His contributions to the industry and to our city are well known. Even when "The Tonight Show" originated from New York City, McMahon kept his Drexel Hill home. Only when the program moved to the West Coast, did Ed finally break his ties to our area.

Freddy de Cordova, producer of The Tonight Show" once told Ed, I've been producing this show for twenty years and I still don't know exactly what it is that you do, but whatever it is, you're the very best at it.
Maxine DeLong, a visitor to our website e-mailed:
Ed McMahon was a salesman-entreprenur back in the 50's. He hit the county fair circuit and sold knives at the Schaghticoke Fair (NY). As he departed town, he had an auto accident and my father, who ran one of the local garage/gas stations was the tow truck guy to pick up the car. I believe it was a rented car. It sat in the drive several days, so Dad removed some of the personal stuff (I think the cops took the real personal items like suitcases etc) so the owner could pick it up later. Well it is much later ---- yep those knives are the greatest! The biggest is the greatest watermelon wacker I ever found.
On Friday, Novmber 19, 2010, Ed McMahon was posthumously inducted into the Broadcast Pioneers Hall of Fame.

From the official archives of the Broadcast Pioneers of Philadelphia
Photo originally donated by Broadcast Pioneers President Bill Webber
Written and researched by Broadcast Pioneers historian Gerry Wilkinson
© 2007, 2010 & 2011, Broadcast Pioneers of Philadelphia
All Rights Reserved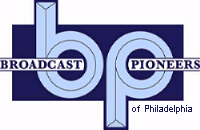 The e-mail address of the Broadcast Pioneers of Philadelphia is pioneers@broadcastpioneers.com