January luncheon
Bala Golf Club
January 16, 2008

Reception at 12 noon
Lunch at 12:30 pm
Ratecard: $25 per person

January 2008
Issue #5
2007-2008
Reserve today by calling (856) 365-5600 or e-mailing us at: rsvp@broadcastpioneers.com
Happy New Year! The turn of the year Newsletter finds us up to our annual sports meeting where this year we will again have a panel discussing 'who's going to the Super Bowl', and what the New Year will bring sportswise.
Joe Pellegrino - Moderator

Panelists:

Bill Campbell
John Clark
Howard Eskin
Scott Franzke
Larry Mendte
Vince Papale

We Wanna See Your Face in That Place!
Our distinguished panel will include luminaries: Joe Pellegrino as Moderator, Bill Campbell, dean of the city sports establishment, Howard Eskin, never shy about giving his opinion, Scott Franzke, play by play for the Phillies, John Clark, NBC 10 Sports Anchor, Vince Papale, former Eagles player whose life was the basis for the 2006 movie, "Invincible" and CBS3 news anchor Larry Mendte, who spent a good bit of time in sports, will give his informed perspective. Larry is also celebrating his birthday that day (don't know how many), and, coincidentally January is the 46th birthday of Broadcast Pioneers.
Before the sports discussion, we will celebrate another birthday, that of WRTI, founded by Broadcast Pioneers member John Roberts in 1948. Making the presentation of the plaque will be Broadcast Pioneers Vice-President Jerry Klein, WRTI's last student station manager. Tobias Poole, the station's Operations Manager will be accepting the award and making a few remarks.
We also need, of course, you, who must be there to see friends and collect the shared wisdom of the panel. We will meet the third Wednesday of the month, January 16, at 12N reception, and at 12:30 lunch will be served at the Bala Golf Club with a tab of $25. You must make reservations so we will be able to accommodate what is sure to be a big crowd. To do that call 856-365-5600 or e-mail rsvp@broadcastpioneers.com. This meeting is always a great way to start off the New Year and we want you there.

Another record for attendance at a meeting was set with December's get together celebrating the life of Hy Lit. Hy would have been proud to see the number of people who wanted to come out and see the wonderful panel of people he worked with over the years in Philadelphia. You always miss a lot when you miss these meetings. The bonus, as ever, was Dave Custis giving his gift of Christmas music on a CD to all.

Four members of Broadcast Pioneers along with two print journalists met in December with broadcasters from Kazakhstan in center city Philly. It was sponsored in part by the U.S. State Department. Representing us were Gerry Wilkinson, Pat Delsi, Bill Webber and Terry Ruggles. Two print people were Tom Bergbauer of the Camden Courier Post and Stu Bykofsky of the Daily News. Participants got Kazakh hats for their efforts.

If you have material that would be appropriate for inclusion in the Broadcast Pioneers Collection at the Temple University Urban Archives please email: pioneers@broadcastpioneers.com or call (856) 365-5600. Some wonderful material is being included and your contribution could top it all off.
We understand from Ed Harvey that he and "Big Al" Meltzer both have shingles. Ed suggests that if anyone knows of a gifted roofer with a beside manner they sure could use help.

Member Bucky Clark, Ph.D, says he is thrilled with his appointment to be a trustee of Abington Memorial Hospital, and is also serving on the Montgomery County Industrial Development Authority. The former Mayor of Hatboro, and Principal of Log College Middle School still found time recently to have lunch with Captain Noah, aka W. Carter Merbreier, of the BP Board.

BP Board member Dick Kearney says that former Chief Engineer of WCAU, Ralph Green, and later CBS Radio/Chief Engineer, who is now retired and living in Hilton Head, South Carolina, is recovering from colon surgery. The operation was successful. Lydia DeGuio says that member Jean Goman is having both knees replaced in January. Whew!

Irv Homer, the erstwhile Evil Irving, now has his own website, www.irvhomer.com and has commentary there in his e-r-r-r ah-h-h confrontational manner that makes people think, and sometimes gets them mad, and lots of other stuff too. He says he gets plenty of response to his commentary. Irv has a new companion whom you may have seen with him at meetings, and who he enjoys dating and traveling with.

We try to include items in a timely fashion but, not infrequently, they come too late. In such a circumstance Andy Kortman informed us that he had 'the old gang from WIP' on his standards/nostalgia radio show on 1360am WNJC, 1180am WFYL, and on the web at www.wnjc.1360.com, in early December. The group included in-studio Tom Moran, Tom Lamaine and Dean Tyler. Call in guests were Nat Wright, Merrill Reese, Walt McDonald, John Carlton and Carol Ann Kelly. Ken Garland and Dick Clayton "snippets" were played, along with some of the IP songs that were favorites of the guests.

Sad to note that member John Butterworth has died at age 80. John was in his favorite chair, at home, watching the Eagles game, his son John III informed us, when he died with wife Anna May nearby. Ray Reher, engineer at WFIL AM and Channel 10 also has died of stroke related problems. Member Roger Hendler says Lowell Fishman, aka Lowell Howard of WPWA and elsewhere has passed away. He was a BP member. They will be missed.

New member Bill Melody has a self published book that many of our members may be interested in. It includes Country - Western performers from the Delaware Valley, and has information on that aspect of member Sally Starr's career, along with tales of a many, many other area C/W stars. Bill, a WBCB-AM DJ, who is also an entertainment writer, cartoonist, and dining and show reviewer, titled the book "When Country was Gold In the Delaware Valley." It is available at limited locations in Bucks County and on the internet at : www.billmelody.com.

Henry and member Bobbie Shaffner, a husband and wife songwriting team from Philadelphia, were among a group of 50 Christmas carolers celebrating the holiday by singing at the former home of composer Irving Berlin, which is currently the Luxembourg House on Beekman Place in New York City. Berlin's beloved song, "White Christmas," was the opening song on the program. The Shaffner's sang their own song "Garlands of Holly," during the program. They've also written songs for the Phillies and Hillary Clinton's campaigns.
Meet new member Bob Backman, a native Philadelphian, and former GM of Channel 61 here in the late nineties. He has been in broadcasting since 1966. Currently in Cincinnati, OH. he does a program called "Cool Bobby B's Doo Wop Stop" on XM Radio Channel 5 and syndicated radio stations.

If you have items for the Broadcast Pioneer's Newsletter please send them to Paul Norton, 205 Ocean View Blvd., Lewes DE 19958, phone (302) 645-8910, or e-mail nanort@comcast.net. We need you to keep it going.

© 2008, Broadcast Pioneers of Philadelphia
All Rights Reserved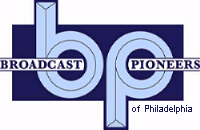 The e-mail address of the Broadcast Pioneers of Philadelphia is pioneers@broadcastpioneers.com
For luncheon reservations call (856) 365-5600 or e-mail us at: rsvp@broadcastpioneers.com