Visit Our Website Often - http://www.broadcastpioneers.com

A WRAP-UP ON OUR DECEMBER LUNCHEON:
Our holiday themed December luncheon presented a wonderful panel talking about Christmas time in Television. Our moderator was our very own Chairman of the Board, Bill "Wee Willie" Webber.
Our panelists were:
Donald Barnhouse, commentator from the John Facenda Big News
Trudy Haynes, former Channel 3 news reporter & TV Personality
Bill Henley, co-star of NBC 10's daytime show, "10"
Pretty Perky Peggy King, of "The George Gobel Network Show"
W. Carter Merbreier, our very own Captain Noah
Jane Norman, Channel 10's fairy star studded fairy, Pixanne.
Plus live on the telephone from their home in Florida, TV's favorite "teeny-bopper," Al Alberts and his charming wife Stella. Carter hosted the conversation.

We were also very pleased to present "The Broadcast Pioneers Service Award" to Ray Fiedler, a half –century veteran Director at Channel 10 and Walt Beaulieu, long-time tech from Channel 6. Walt's grandson reports that Beaulieu's plaque is hanging on their living room wall. Congratulations to both!

WELCOME NEW MEMBERS !

SUE SERIO of WTFX-TV. Sue joined the "Good Day Philadelphia" WTFX –TV team as weather anchor in December of 1997. Before joining the Fox team, Sue was the co-anchor of "Wake-Up," the top-rated morning show on WIVB-TV; the CBS affiliate in Buffalo, N.Y. Serio also previously worked at Channel 12.

DAVE SCHRATWIESER of Fox 29 News. For six years, Dave worked as WCAU-TV's New Jersey correspondent, logging thousands of miles reporting from a "live" truck and breaking the biggest stories in the Garden State. He left broadcasting and was appointed director of communications and public affairs for the New Jersey Attorney General's Office and press secretary to Governor Jim Florio.

We're delighted to have you with us! Hope to see you at a luncheon real soon!

ON THE HEALTH FRONT :

In October, member Nat Wright was so anemic he was hospitalized, then in rehab for a couple of weeks. On November 5th he had open-heart surgery. He was recuperating well for few days when everything but then his heart shut down. He was hospitalized for 21 days and then in rehab returning home for Christmas. His wonderful wife, Sue will see him back to better health in the coming weeks with the help of Abington Hospital's Home Health Care professionals. Welcome home Nat!

Broadcast Pioneers member George Finkel underwent a "standard" heart cath trying to locate the cause of some breathing problems. They found 85% blockage everywhere, plus a defective aortic valve, which was replaced with a pig valve. Officially, it was triple bypass and valve replacement surgery. After five days in the hospital George went home and is going through five weeks of rehab, when he is looking forward to returning to work. Keep going George!

We have learned Pioneers member Bill Marshall has recently been diagnosed with cancer. Bill worked at quite a few stations in New Jersey including WVLT where he was Program Director. We wish you well, Bill!

Broadcast Pioneers Board Member Mike Nise, President of Omni 2000 Inc. will undergo rotator cuff surgery on January 12th. Good luck Mike!

IN TOUCH:

At our December luncheon was Tom McDonald, former production manager of the Mike Douglas Show sitting with Broadcast Pioneers member Neil Harrison. Tom tells us he's enjoying St. Pete Beach until next spring. He usually meets Neil (of Weightman Advertising) for a few brews at Woody's. Cheers!

On Christmas morning, Board of Directors' member Bill Wright Sr., also known as Uncle Billy, hosted his famous program "Uncle Bill's Christmas" on WBCB, 1490 AM through the courtesy of co-owner and Broadcast Pioneers member Merrill Reese.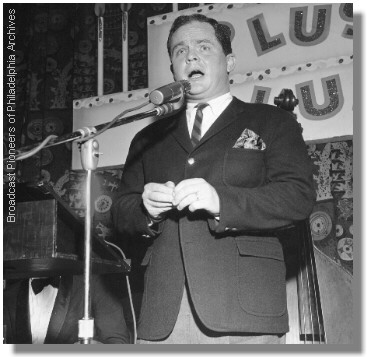 Bill Wright, Sr.
Raymond Rosen Auditorium
1960
The program was produced by his daughter Kate and was streamed on the Internet and over the station's, resulting in calls from San Diego, Rochester and Rome!
Bill tells us, "the experience was wonderful and scintillating. Uncle Billy is looking forward to doing it again!" Bill Wright, Sr. was one of the original WIBBAGE Good Guys. Nice going Bill!
More In Touch:
Special thanks goes out to Board member Dave Custis for once again making our holidays special by producing and giving a free CD to everyone who attended our December luncheon. Tuscan Mills Christmas 2008 featured a delightful assortment of 25 Christmas classics. Thanks Dave! We appreciate your efforts and thoughtfulness.
We're happy to pass along that Sally Starr is going strong. When we spoke with her she was preparing for more personal appearances.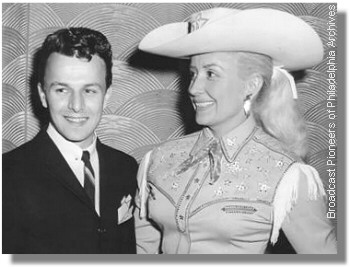 Rock & Roll Legend Charlie Gracie with TV Legend Sally Starr
(Both of members of the Broadcast Pioneers)
1960
Sally shared with us that she is 85 years young, still enjoying "a wonderful career" and expects to have many more years ahead. Sally has completed two chapters of her new book and hopes to have it released in the not too distant future. That's our gal Sal!
A final thought...
"Jackasses are hard to recognize when there's so many of them"
Joe Pellegrino
Wednesday, October 15, 2008
Broadcast Pioneers Luncheon

© 2009, Broadcast Pioneers of Philadelphia
All Rights Reserved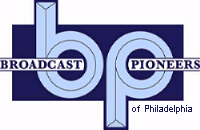 The e-mail address of the Broadcast Pioneers of Philadelphia is pioneers@broadcastpioneers.com
For luncheon reservations call (856) 365-5600 or e-mail us at: rsvp@broadcastpioneers.com