Visit Our Website Often - http://www.broadcastpioneers.com

BOARD MEETING:
There will be three meetings of our Board of Directors in 2010; February. June and October with the next one being on Wednesday, February 17, 2010 at Bala. Mark your calendars.
DECEMBER LUNCHEON REVIEW :
Another memorable event with two great Broadcast Pioneer members; the ever-popular John Zacherle and the legendary Charlie Gracie. John Zacherle had many interesting remarks, not the least of which was he is now in his 92nd year and drove himself down the New Jersey Turnpike to the luncheon! We won't tell you his speed in case the Jersey Police are monitoring this newsletter. Charlie Gracie proceeded to rock the room with many of his famous songs including his number one record in 1957 called "Butterfly."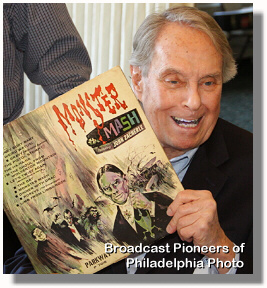 Broadcast Pioneers member John Zacherle
holding member Dave Shayer's copy of Zach's 1962 LP
Wednesday, December 16, 2009
Photo taken by Broadcast Pioneers Vice-President Jerry Klein
(See story below about this album)
Starting the program was Broadcast Pioneers member Jane Norman, better known as TV's "Pixanne" who sang some wonderful Christmas songs. John Zacherle was introduced by Broadcast Pioneers member Jimmy Hirschfeld who was producer and director of Zach's "Shock Theater." Later Jim went on to be Executive Producer for "Captain Kangaroo" for on CBS-TV.
There was also a short tribute to WHHS-FM, Havertown. America's First over the air High School FM Radio Station. Speaking on behalf of the station was Ed Weiss, faculty advisor and Aaron Muderick (son of member Michael Muderick), an alum of the station. They came on the air in 1949. 60 Years of Success and we wish them at least 60 more.
NOTE: There is HD quality video of some of that luncheon on our website. It was donated and shot by member Brad Seecof and his company, MetraMedia Studios. Brad said, "It's my way of giving back for all my blessings." Thanks, Brad.
HEARD AFTER THE LUNCHEON: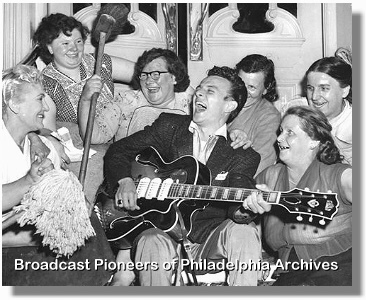 Broadcast Pioneers member Charlie Gracie
surrounded by the charwomen (cleaning staff) at the London Hippodrome
circa 1958
"It's a pleasure to be asked to come here. This is such a treat. I'm happy to be a part of it." Charlie Gracie
"The reception was just wonderful. The people are so enthusiastic. I didn't know what to expect. Very enjoyable!" John Zacherle
"The music was outstanding and Zacherle was fantastic. His creativity is amazing!" Les Waas
"This was a trip back in time. This was wonderful. John Zacherle was a part of my growing up." Michael Nise
"I'm so pleased to be a part of this. I've never been to a luncheon that I haven't really loved." Jackie Strauss
"This is a class act…Pixanne sang so well and Charlie Gracie is still so remarkably agile on the guitar and Zacherle at 91 was spectacular." Bill "Wee Willie" Webber, our Chairman of the Board
"I appreciate Broadcast Pioneers recognizing our years of commitment to our students and our radio station." Dr. Nick Rotoli, Haverford High School Director of Curriculum
"Having Charlie Gracie perform made the day and Zacherle was a cool ghoul. This has been great!" Tom Moran
"Today's luncheon was outstanding, the entertainment exceptional." Johnny Lerro
"This luncheon was special. The performers are legends, they're superstars!" Diego Castellanos
MORE IN TOUCH:
"Remember When" on The Big Talker 1210-AM with hosts and our members Jim Murray and Steve Ross has a new time slot, Saturday nights from 11 pm to 1 am. Former Philadelphia Flyers Hall-of-Famer Brian Propp will be their first in-studio guest of 2010 on Saturday, January 9th. Neighborhood Correspondent Jackie Strauss will be doing her "Times of Your Life" report on each show. Gaze into life's rear view mirror and admire the reflection with "Remember When." We'll be sure to tune in!
Special thanks to Harris T. Bock, Esq. Director of The Dispute Resolution Institute for his generous donation to the Broadcast Pioneers of Philadelphia in honor of Joanne Calabria, Vice-President of CBS Television Stations Group for being named to our Hall of Fame. Thank you. We appreciate your generosity!
A little sidebar about the Zacherle's Monster Mash LP from Broadcast Pioneers historian and current president Gerry Wilkinson. There are two variations of this LP. One side has sound effects between songs. On the variant, the effects are on the flip side. Plus the one variant contains 7 alternate takes from the other. The story goes that the LP was pressed here in Philadelphia. A second pressing was needed (some versions of the story say that the second pressing was pressed on the west coast) and they pressed it with alternate takes by mistake. Wilkinson has both versions in his collection.
Broadcast Pioneers member Mike Brooks played the role of a chef in the film "Julie & Julia" starring Meryl Streep. Mike says; "it was a once in a lifetime experience." Three questions, Mike. Can we get your autograph? Did Meryl have to eat your cooking? Is she still among the living?
A final thought...
"Philadelphia is a series of neighborhoods like no where else in the world. All these neighborhoods make up a city that we love. By making me a member of the Broadcast Pioneers' Hall of Fame, I can now tell people that the city that I love from the bottom of my heart, has now made me a part of its history."
George Michael
Broadcast Pioneers Banquet
November 21, 2008

© 2010, Broadcast Pioneers of Philadelphia
All Rights Reserved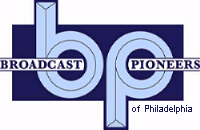 The e-mail address of the Broadcast Pioneers of Philadelphia is pioneers@broadcastpioneers.com
For luncheon reservations call (856) 365-5600 or e-mail us at: rsvp@broadcastpioneers.com