The Broadcast Pioneers of Philadelphia is a federally recognized, state chartered charity. We are a 501(c)(3) non-profit corporation serving Philadelphia since 1962.

Frank Stone
Newsletter Editor

January Luncheon
The Bala Golf Club
Wednesday, January 19, 2011

Reception at 12 noon
Lunch at 12:30 pm
Ratecard: $25 per person

RESERVATIONS REQUIRED!
(856) 365-5600
rsvp@broadcastpioneers.com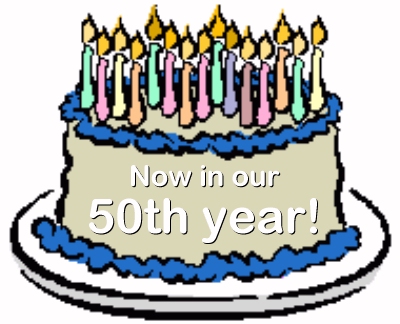 January 2011 begins the start of the 50th year for the Broadcast Pioneers of Philadelphia. Our membership is stronger than ever before. Our membership has doubled in size in less than five years, and we now have over 400 members..
What a wonderful year we have planned for you. Each of this year's events is bigger and better than the last. Come out on January 19th for the first of many celebrations all year long.
JANUARY 19th LUNCHEON: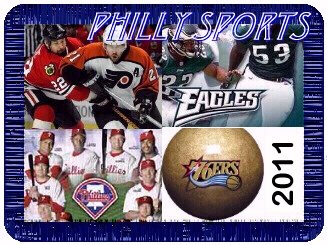 Kick off the New Year with our JANUARY SPORTS SPECTACULAR. The topic is ALL THINGS SPORTS! This is sure to be a blockbuster event because we have the Super Sizzling Seven of Sports with us! Don't miss this one! Everyone who's anyone is going to be there! It all happens at the beautiful Bala Golf Club, 2200 Belmont Avenue in Philadelphia! Just minutes away from Channels 6, 10 and 17, plus the radio stations in Bala Cynwyd. Meet and greet (networking) starts at noon and lunch will be served at 12:30 pm. Be sure you have your place by making your reservation(s) NOW. Call (856) 365-5600. Our MC for the afternoon will be Joe Pellegrino, former sports anchor for WPVI and WCAU-TV!!
Our panel (in alphabetical order) will include these Super Sizzling Sports Experts:
Kevin Callahan, columnist for the Camden Courier-Post
Big Daddy Graham, comedian and over-night guy at WIP Sports Radio
Stan Hochman, sports columnist for the Philadelphia Daily News
Joe Juliano, columnist for the Philadelphia Inquirer
Merrill Reese, the voice of Philadelphia Eagles football
Glenn "Hurricane" Schwartz, avid Philadelphia sports fan
Bill Vargus, former Sports Director for WTX-TV, Channel 29
Plus there will be introductory remarks by Uschi Keszler, former Olympic Ice Skater and German Gold Medal Winner. She was also the coach for Ice Skating Champions Brian Orser, Shae-Lynn Bourne, Victor Kraatz and Elvis Stojko.
We will also have 12 photos from our paper and photo archives on display. We need you to help us identify some of the people in these snapshots and to tell us anything else you know about the photographs.
And in honor of the beginning of the 50th year for Broadcast Pioneers of Philadelphia, we thought it would be nice to have a few words from a former officer. We checked and the earliest serving person who's still on this side of the grass is Les Waas. Our 11th president, Les served during 1972 and 1973 and was also our 11th chairman of the board between 1973 and 1975. However, we also know that Les is strictly for the birds and that's why he's planning to do some bird calls. They're like station calls except for the birds (as is Les). His sidekick will be Pretty Perky Peggy King. If Les gets out of line, Peggy will kick him in the side. We think you get the picture that this is strictly for laughs (and to Les, there better be plenty).
The cost is still only $25 per person. This is our 6th year without a price increase! Included is a full-course lunch including salad, entrée, coffee or tea and dessert served at 12:30 pm. There's also a crudite and cheese table. The luncheon is open to all our members and any person in the industry or associated fields, whether active or retired. You do not have to be a member to attend. Call NOW with your reservation(s), (856) 365-5600!

Visit Our Website Often - http://www.broadcastpioneers.com

DECEMBER LUNCHEON REVIEW :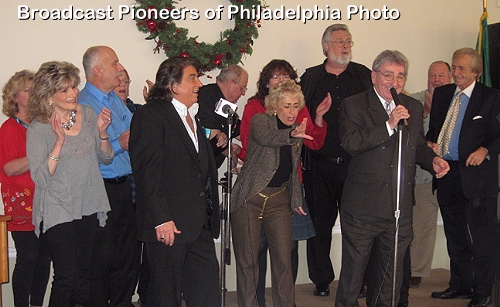 The December "HOLIDAY SONGFEST" luncheon was another special and memorable event. A star-studded lineup was on hand to entertain, share stories and celebrate the holiday season. It all happened at the beautiful Bala Golf Club, Meet and greet (networking) started at noon and lunch was served at 12:30 pm. It was a rockin' afternoon and a full house! Our MC's for the afternoon were Dom Giordano of WPHT Radio and Robin Mackintosh, formerly of KYW-TV.
Plus, Jane Norman sang a very special Chanukah song, which she wrote a couple days after Thanksgiving especially for this luncheon!

HEARD AFTER THE LUNCHEON:
"Every year this holiday party gets better and better. Everyone had a great time!" Bobby Kravitz
"Very interesting…really got me into the holiday spirit." Mike Anderson, Reading Public Museum
"Fantastic! Really done well. The final song with everyone on stage really got my emotions going…it was one big, happy family." Peter DeFeo
"So proud to be a part of this. Everyone had a great time…Merry Christmas to all." John Primerano
"A delightful afternoon. Everyone got into the spirit of Christmas." Robin Mackintosh
"The program was fantastic. It was spirit, love, drama. A wonderful time!" Father Jim Drucker
WELCOME NEW MEMBERS:
John Kinka started in broadcasting in 1993. He was the Promotions and Public Service Director for Geator Gold Radio, WPGR, 1540 on AM. He also worked at WPAZ in Pottstown, WBCB in Levittown, PA and WSSJ, 1310 in Camden, NJ. Since August of 2009, Kinka has been an Account Executive for Cruisin' 92.1, WVLT in Vineland.
Debbie Lynn Elias is the daughter of the late Ed Elias, longtime Engineering Supervisor for WPVI. Debbie lives in California and is a film critic whose column runs in 136 newspapers across the country. She's a graduate of the School of Communications and Theater at Temple and currently works as a research attorney on the west coast.
Tom Stanwood's career began in 1955 at WRTI and at WIBG. Tom returned to WIBG News in 1965. He also worked for two years with John Carlton & the Atlantic Go Patrol. He then joined WFIL doing news on radio and TV. Tom was there for the launch of Famous 56. Tom recently retired as VP/COO at Georgia-Carolina Radiocasting, a 14-station Group.
Jeff Duperon started in the business in 1985. For almost a dozen years, he was at WWOZ in New Orleans, Louisiana. He then moved to Philly and began his association with WRTI-FM. Currently he can be heard on the station on Friday evenings from 6 to 10 pm and Saturdays from 6 to 9 pm. The programs feature both music and interviews.
Uschi Keszler was a German ice skater. For 3 years in a row ('64 to '66) she won either the Gold or Silver in German Championships. For decades she has coached professional skaters, including Elvis Stojko (who has won many gold medals). She was in the Ice Follies & choreographed TV for a quarter of a century. She's also the founder of the Pennies in Action Foundation.
Jim Cotter started in the business in 1981 in Dublin, Ireland. Later, he worked for the BBC World Service, did some freelance work and then came to WRTI-FM in 2002. He is currently the station's Arts Editor and can be heard on the award winning weekly show "Creatively Speaking," Saturdays at 11 am. Listen to his Year in Review broadcast!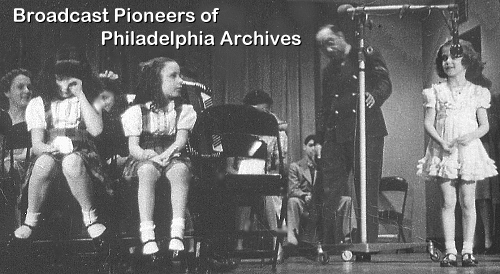 Far left in front - The Russo Sisters - Joan and Lois
Robbie adjusting the microphone and at the far right is 4 year-old Rita Pascal
The Horn & Hardart's Children's Hour
WCAU Radio
1942
Rita Pascal Pagliei started in broadcasting in 1941. She was on the Horn and Hardart's Children's Hour from 1941 to 1955. She also worked on Channel 10's "Carny the Clown" telecasts from 1955 to 1958 and with Gene London the following year. In 1962, she was part of the "Think Young" broadcasts that featured former Eagles player Pete Retzlaff.
We are thrilled to have these new members. They've helped to bring our total membership up to 405 (an all-time record). We hope to see as many of you as possible at the January luncheon.
IN TOUCH:
Special congratulations to Broadcast Pioneers member (and former President, Chairman and Person of the Year) Jerry Lee, owner of WBEB 101 FM (B-101), for the establishment of the "Jerry Lee Lifetime Achievement Award" at the American Society of Criminology's Division of Experimental Criminology. He has long been recognized for his visionary leadership in the broadcast world. The award is a testament to Jerry's commitment to criminology and the impact his efforts have had on research in the field. The first year's winner is David Farrington, a professor of psychological criminology at the Institute of Criminology, Cambridge University, and former President of the American and British Societies of Criminology, as well as of the Academy of Experimental Criminology.
EDITOR'S NOTE: Jerry Lee, our 16th president, was this organization's first president with the name Jerry. Our 38th president was Gerry Wilkinson (now our Chairman of the Board) and our 39th and current president is Jerry Klein. For about an eighth of all the years the Broadcast Pioneers has been in existence, we have had presidents with the name Jerry/Gerry. We have also had three presidents with the first name Jack. Can you name them? However, all the Jacks together make up only a sixteenth of our years.
For the second year in a row, Anne Klein Communications Group has won five awards at the Philadelphia chapter of the Public Relations Society of America's December event. These awards honor excellence in public relations. We are very familiar with the company as they have done all our public relations for the past five years and they do it for FREE. Why? Well, the company's Executive Vice-President, Jerry Klein, is the current President of the Broadcast Pioneers of Philadelphia.
Over the holidays, we heard a couple of commercials we thought you might enjoy learning about.
Spot number one was a live radio commercial for a dozen roses in a glass vase for just $19.99. For just ten dollars more, you could get a box of FREE chocolates.

Spot number two was a TV announcement for a men's store where you bought one item and got two free. "No exceptions," said the announcer. Later on he said, "Yes, buy one and get two free EXCEPT for shoes."
Broadcast Pioneers member Glenn "Hurricane" Schwartz (who is a huge sports fan and will be on this month's panel at our January luncheon) tells us that we will have less snow this year than last. Of course, last year we had seven and a half feet of of the white stuff! We asked Glenn to give us more details, especially in the aftermath of the storm that hit on December 26th. He told us:
My forecast of a relatively mild winter with much less snow than last winter isn't turning out too well. It's the Atlantic vs. the Pacific. The Pacific pattern favors the milder side, but the Atlantic pattern says the opposite. So far, the Atlantic is winning. If this trend continues, it will be a winter that is colder and snowier than average (but still nowhere near as much snow as last winter).
Broadcast Pioneers member Maura McKinney Mastro (daughter of Jack McKinney) wanted us to know about her latest CD, "Shamrocks To Stripes." The CD is dedicated to our troops, their families, veterans and everyday heroes in our world. Maura's CDs are available on Amazon.com and elsewhere. Good luck, Maura!
Member Kenny Jeremiah did a live Christmas Concert on WIBG, 1020 AM at the shore just before Christmas. It was on the Harry Hurley show, which airs daily from 7 to 11 am. Later in the day, the station repeated the performance and it was also streamed on the Internet twice. You can see and hear Kenny and Bittersweet on January 8th, 15th and 29th at the Steak House Restaurant and Lounge (8:30) in the Centerton Country Club.
Danny and the Juniors (including members Joe Terry and Frank Maffei) are headed south to Florida. Not for rest, but to work. They'll be singing up a storm wherever they go.
On New Year's Eve, member Charlie Gracie performed to a full house at the Springfield Country Club.
"Philly Carol," Broadcast Pioneers member Carol Chrzanowski, can be heard on 92.1 fm WVLT, on Monday evenings between 9 and 10 pm. She's been busy singing and acting in "The Titanic Musical" (during October) and performing in "Scrooge: The Stingiest Man In Town" at the Landis Theater Performing Arts Center in Vineland. Sounds like you're having fun, Carol!
Broadcast Pioneers member John Hall and his wife Ginny recently returned from Ludhiana, India, where they spent two whole days. While there, Ginny met with the staff of the Christian Medical College in preparation for her return in February. Ginny is a physician, board-certified in both internal medicine and Ob-Gyn. John, sounds like quite a trip for TWO days!
Movie and TV actor Ernest Borgnine lives here in the Delaware Valley area (Malvern) for part of the year. His wife Tova is is often seen on QVC based in West Chester. She has a line of beauty products such as fragrances to skin care products. Her line is called "Beauty by Tova!"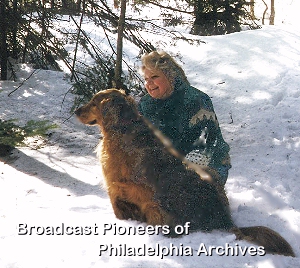 Diane Allen with one of her Golden Retrievers
circa 1999
ANOTHER RECORD BREAKING YEAR FOR BROADCAST PIONEERS:
More Scholarships for College Students than ever! In April of this year, we will award sixteen $1,000 scholarship--that's three more than last year! That sets a new record for the Broadcast Pioneers.
Thanks to the Adelman family for their donation of $2,000 for two scholarships to be awarded in 2011. The Adelmans are Robin and Ira and their daughters, Marlene and Belle, plus Robin's dad, Broadcast Pioneers member Leon Love. The Adelmans had previously donated $1,000 to underwrite a scholarship (that was awarded at our April 2010 luncheon). And we just received another $2,000 from them to underwrite two scholarships to be awarded in 2012, one from the Adelmans and the other from Leon Love.

Member Esther Kurtz (in memory of her late husband, David Kurtz, founder of B-101), as we told you before, has underwritten a scholarship for this year (fourth year in a row). The forever generous Kal Rudman, current Vice-President of the Broadcast Pioneers, is also funding two scholarships. (That's 16 in the last five years from Kal - that's a record number of scholarships from any one donator). Member Sylvia Kauders donated some appreciated stock (a tax benefit for her and a great gift for us). With that money, we can award five $1,000 scholarships. The first we gave away this past April. They will continue with the last one being awarded in April of 2014. We have such wonderful members, don't we?

We also received enough donations in the memory of Bill Webber, our former Chairman of the Board, that we can award two scholarships this April. We also received a check for $1,000 from the Phillies Charities. This April, we will name one of our scholarships in the memory of member Harry Kalas. Our people are really a generous bunch, especially in these hard economic times. We appreciate your support! It is YOU, our membership, that makes this group what it is.
Just recently, we have surpassed 400 members in our organization. This is twice as many as we had in 2006. To all of you who have joined us recently, we say WELCOME and we're delighted to have you in membership. For those of you who have been with us for some time, we say THANKS for staying with us. In either case, we will try to continue to earn your support.
At our monthly luncheons, we have had more people in attendance in the calendar year of 2010 than ever before. Our annual banquet (Person of the Year & Hall of Fame) was the largest event in the history of our organization. We had almost 400 people there.
Just a reminder! We are currently accepting applications for our scholarships online. To qualify, students must currently be sophomores or juniors and live or attend coollege in the Delaware Valley. This year, Broadcast Pioneers will be awarding sixteen $1,000 scholarships (8 of them funded from our record breaking banquet). That's the most scholarships and the highest dollar figure in the history of the Broadcast Pioneers of Philadelphia. This is just one reason why Broadcast Pioneers is such a wonderful organization. That's why we have over 400 members, more than ever in our history. That's why we are constantly setting records in attendance at our luncheons (records were broken several times in 2010).
2010 saw the first full year of our DAP, Digital Archival Project. We have gathered hundreds more TV broadcasts, a thousand more radio programs and an additional couple thousand of photos (including 450 photos dating from 1952 and 1953 of WCAU-TV, courtesy of the Lower Merion Historical Society).
While we're bragging, we wanted to tell you that this month our website, broadcastpioneers.com is celebrating its 11th birthday. We have now been online for over a decade. We are constantly adding material to the site. This is all part of our DAP, Digital Archival Project in which we have digitized at least 7,000 radio programs, over 15,000 photos and 1,000 television telecasts.
Thanks to all our members for making 2010 the best year in our history. Broadcast Pioneers would be nothing without our members. Give yourselves a well-deserved round of applause.
WE REMEMBER :
Phil Jasner, 68, died about a month ago after a two-year battle with cancer. He covered the Philadelphia 76ers for 29 of his 38 years with the Philadelphia Daily News. He was a graduate of Temple University. Phil was a regular on Comcast SportsNet's Daily News Live and also made regular appearances on WIP Radio. Jasner's son, Andy, is also a sports writer.
Fred Foy, known as the announcer on the Lone Ranger on both radio and television, died last month at the age of 89. Foy joined the staff of WXYZ in Detroit during 1942 for a princely sum of $25 a week.He also worked on "The Green Hornet" and "Sgt. Preston," both also originated from Detroit. In 1957, he moved to ABC Radio and the Big Apple. He was one in a million because he went from XYZ to ABC.
Member Stella Alberts, 80, died the day after Christmas from a stroke. Stella was the producer for a third of a century of the "Al Alberts Showcase" on both Channels 48 and 6. Her husband, Al, also a member, passed away the day after Thanksgiving in 2009. The couple moved to Florida about 10 years ago. Al and Stella produced a radio show called, "Harmony" for about a half-dozen years. Al Alberts, Jr. summed it up well for us by saying that Stella was everything: "Mom, wife and producer."
Lisa Klein, 85, the mother of Broadcast Pioneers President Jerry Klein, passed away last month. She was born in Vienna, Austria, and earned her bachelor's degree there. During the Second World War, she was a translator for the U.S. and Allied Forces. That's where she met and married Joseph Klein, who was in Europe with the Army. After the war, the couple came to the United States and settled here in the Delaware Valley.
EDITOR'S NOTE: At the funeral Mass, Jerry's sister, Deanna Swarbrick sang several songs. It was very fitting because she has the voice of an angel.
ON THE HEALTH FRONT:
It was great to see long-time TV aerial photographer Bobby Kravitz back on his feet (and dancing) at the December luncheon, while recovering from major surgery.
Did you know...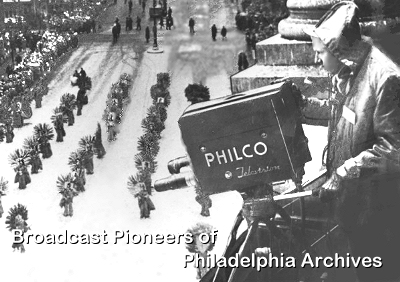 Broadcast Pioneers member Harold J. Pannepacker
WPTZ Television, Channel 3, Philadelphia
Wednesday, January 1, 1947
Now, you may think the photo above of Broadcast Pioneers member and former Person of the Year, Harold Pannepacker, fondly called "Penny," shows the first televising of Philadelphia's famed Mummers Parade. However, you would be wrong. It was, however, the first time a commercial TV station carried it. Confused? Read on.
Penny's first day at WPTZ was March 1, 1946. Hired as a cameraman, he had no television or photography experience at all. Free-lance Pete Boyle (before his kid show days) loved the Mummers. In fact, he was one of the announcers on many of the early Mummers Parade telecasts. He did art work for the different clubs and some of his sketches were used on the 1947 telecast.
Penny told us in 1991 that John Franklin was the commentator for the parade, much like member Steve Highsmith was a couple of days ago. Pannepacker said, referring to that 1947 parade:
It was a long, long day. New Year's Eve never meant much in those days because I would have to be at work at 3 in the morning to set up for doing these things. ...In those days, we had two cameras (for the parade) so we would have one up high. I was using the one up in City Hall facing south and someone was down on top of the truck catching close-up shots. It was a full day. You would work from 3 am to 7, 8, 9 o'clock in the evening.
You can listen to the entire interview with Harold Pannepacker. It was recorded on August 19, 1991 at his home in Oreland, PA and was conducted by Marguerite Farley (who was President of our organization in 1982 and 1983).
The Pannepacker photo was taken by Broadcast Pioneers member Preston Stover. Preston was on staff at WPTZ but moonlighted taking pictures of Channel 3 shows and selling them. Mrs. Stover told us that Preston would a the snapshot and then develop it that night in their bathtub. They were saving up to purchase a home and his photography work gave them the money for a down payment. Stover started at WPTZ as a cameraman and quickly rose through the ranks to become a Director and Producer.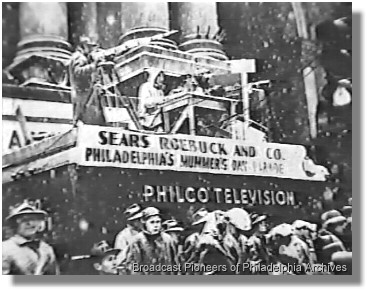 W3XE Cameras
at Philadelphia's City Hall
January 1, 1941
However, the first televising of the parade would have been six years earlier on January 1, 1941 when Channel 3 was still W3XE, an experimental station. Shortly thereafter, the station's program manager, E.N. Alexander wrote:
For years, the world-renowned Philadelphia Mummers Parade has been a "must" on the entertainment menu of hundreds of thousands on the Eastern seaboard. Heretofore, it was traditional to literally freeze while witnessing this event. This was, of course, before the advent of Philco television. On January 1, 1941, for the first time in history, Philco televised in its entirety this northern counterpart of the New Orleans Mardi Gras. Those fortunate Philadelphians who possessed television receivers relaxed in the comfort of their own homes while the magic of the television camera gave them, in effect, grandstand seats at the parade, complete with shooters, comics, fancy capes and costumes and string bands.

Tower of W3XE
On top of the Philco Plant
C & Tioga Streets in Philadelphia
circa 1940 or early 1941
Philco's television broadcast experience might well be considered a record since, from 1932 to date (1941), it has operated W3XE and its associated relay transmitter W3XP, a total of almost 6,000 hours.

Philco equipment at present includes a total of 8 television cameras and associated equipment used as follows:

3 Studio cameras
2 Movie cameras
3 Remote cameras

Six of these cameras are of the Iconoscope type. Two of the three used on portable work are Orthicons.
OK. So to keep you straight, 1941 saw the first televising of the parade but by an experimental station. However, because of the Second World War, Philadelphia wouldn't see another Mummers Parade televised until 1947. By then, Channel 3 was a commercial station and that year's telecast saw the first time it was broadcast by a commercial TV station.
This regular monthly column is written and researched by Gerry Wilkinson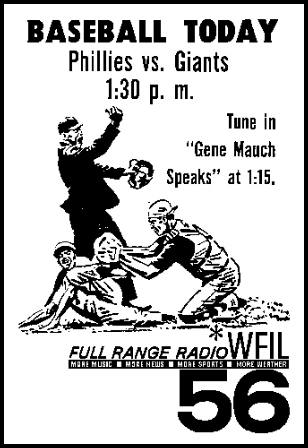 Print Ad for WFIL Radio
1964
THANK YOU:
We wish to thank Royal Bank America in Narberth for donating a gross and a half of pens to the organization. At our luncheons and banquets, we put these pens out alongside our membership applications. We thank Royal Bank America. We would gladly write them a thank you letter... if we could only find a pen to write with!
Special thanks to member Bill Roswell for recording the first episode "Live with Regis and Kelly" after the banquet honoring Kelly as our Person of the Year. They spent the first 8 minutes of the program talking about the Broadcast Pioneers and the banquet. Roswell donated a DVD of the telecast to our DAP, Digital Archival Project.
Member Vince Leonard, top rated news anchor in Philadelphia for decades, sent us some more photos and other information. Thanks, Vince. We appreciate everything.
Music historian Maxim W. Furek sent us some articles that he had written some time ago about members Jerry Blavat and Billy Carlucci. He also included a copy of his book"The Jordan Brothers: A Musical Biography of Rock's Fortunate Sons." In the book, he talks about Al Alberts, Ed Hurst, Hy Lit and new members Eddie Collins and Jim Drucker. Thanks for the material.
Thanks to Debbie Lynn Elias for her cash contribution to our DAP, Digital Archival Project. Debbie is the daughter of Ed Elias, former Engineering Supervisor for WPVI-TV for decades. By the way, the envelope containing her check was received in terrible condition. It was ripped, torn, folded and most everything else that the Post Office could do to it. (Debbie: The check was in one piece). The whole thing showed up in our PO box in a plastic bag sealed by the USPS. Printed on it was a notice saying "We care about your mail. Sincerely, your postmaster."
Debbie, who is a new member, said:

It is unthinkable that even for a short time there wasn't an Elias in the membership! The Pioneers meant so much to my father and I, too, firmly believe in what the organization stands for and wants to achieve and preserve.... I may live in LA, but my heart is and always will be in Philadelphia.
Rita Pascal Pagliei, a brand new member of our organization, included a couple of photos with her application. One of them (the Children's Hour) is shown above. The other was of the "Block Party" show that featured member Hy Lit on the back lot of Channel 10 in the late fifties. Rita, if you have any more, we would be delighted to receive them.
Just at press time, we received a packet of seven DVDs from Walt MacDonald who has been living down in Florida. These are for our video archive and include Go Patrol Copter Video of the 1983 76ers Championship Parade, the 1981 WIP Leukemia radiothon, the 1991 WPEN Leukemia radiothon, Inside Delaware Country, a local cable show with Walt and member Vince Papale, Joe Grady's retirement dinner, AM Philadelphia from 1979, and a WKBS-TV March of Dimes Telethon. We are planning to run a clip of the AM Philadelphia show in next month's newsletter. Thanks, Walt. Keep sending the stuff.
If you forgot to make an extra contribution and would like to do so now, it's never too late. We would be thrilled to hear from you at: PO Box 2886, Bala Cynwyd, PA 19004.
WE NEED VOLUNTEERS:
We always need volunteers to assist in all kinds of activities. From helping at our luncheons and banquet to scanning and writing stories for the website, WE NEED YOUR HELP! We are looking for volunteers to assist us with our DAP, Digital Archival Project. We're looking for people with a digital camera with at least 10 megapixels of quality to take pictures of scrapbooks and members with scanners to help scan photos and other items. Also, we'd love to hear from people interested in writing bios and other stories for our website. Also, we need people who have the proper software to convert VHS tape or DVDs into computer files. Plus other volunteers. If you're interested, please call us at (856) 365-5600 or e-mail at pioneers@broadcastpioneers.com
MORE IN TOUCH:
Broadcast Pioneers Hall of Famer Sid Mark has ended his "Friday with Frank" program on WPHT, Fridays 6 to 9 pm. Part of the reason is that the 6 to 7 hour will now be filled by the last hour of the syndicated Michael Smerconish radio program which starts shortly on WPHT. The first hour is local (3 to 4 pm) and the last three hours (4 to 7 pm) are syndicated across the country. WPHT still has not announced what will fill the 7 pm strip, Monday through Friday. Sid's program started on WHAT-FM (later renamed WWDB) on November 11, 1955. The last show was New Year's Eve when Mark had an extra 90 minutes. The Sunday with Sinatra program isn't going anywhere. It can still be heard from 8 am to 1 pm on WPHT. Yesterday, we heard member Dom Giordano refer on air to the station as "New Talk Radio, 1210." The phrase"The Big Talker" seems to be gone from the station's website.
Erin O'Hearn of Action News is off the television. She is pregnant with her second child. Sienna, her first, was born in July of 2009, about a year after she married Sal Paone, Jr. She is expected to return to 6ABC after the baby is born.
Some news from Fox 29. Karen Hepp, who spent some time at NBC 10 before heading to the Big Apple is back in Philadelphia. She pops up from time to time on Fox 29 as a reporter. Morning anchor Kerry Barrett had a baby girl in the early part of last month. Congratulations to both.
We heard from Rachel Jakubowitcz of Muhlenberg College. She was a scholarship winner is last year's competition. Jakubowitcz just wanted us to be aware that she will be interning at CBS News in Washington DC during her Spring semester this year. Way to go, Rachel.
Anyone see that nice article about Board Member Diego Castellanos in the Philadelphia Daily News last month? It was written by Ashley Huber. It talked about the fact that Diego's Channel 6 show"Puerto Rican Panorama" makes him the longest continuous air personality at WPVI-TV with over 2,000 broadcasts. Castellanos served four years as Vice-President of this organization and is currently on our Board of Directors. He also heads our Scholarship Committee. Congrats, Diego!
The grapevine has told us that Don Tollefson, former Sports Director at Channels 6 and 29, is the co-host of the Eagles program at half-time. He shares the microphone with former Eagles football player Hugh Douglas. The live broadcast originates from Lincoln Field.
Tango Traffic, which is on Channel 17's sub-channel 4, started broadcasting a few days ago. Jason Lee, a former radio air personality and former NBC 10 traffic person, andKristen Celins handle morning drive. Stephanie Humphrey, formerly of CBS 3 and QVC, and Vittoria Woodill, former Eagles cheerleader and CW Philly 57 host, do the chores in the afternoon. Our first peek at Tango was New Year's Day. In the early part of the afternoon, the reports and video told us about re-routing because of the Mummers Parade. It seemed to be live, but around 6:30 pm, we checked it again, and this time is was just an animation of the roads and an automated voice saying "There is nothing to report." After ten minutes of "There is nothing to report," we turned it off. Today (Tuesday, January 4th), we spot checked them again and now they seem to be live with people pointing to maps and telling you where the problems are. We spot checked for several hours and saw no commercials. On Comcast, Tango Traffic is available on Channel 253.
Channel 17's other vacant sub-channel started News Year's Day with a 3 Stooges marathon (AMC was also doing a 3 Stooges marathon at the same time). Antenna TV is on Channel 17.2. We were disappointed to see that several of the shows we mentioned in the last newsletter (Burns & Allen, Rin Tin Tin, Circus Boy, All-Star Theater and Wild Bill Hickok) were replaced with Sanford & Son, Three's Company and Maude, which are allavailable on other cable channels. However, we contacted the network and found out why They told us that all those shows are on film. There wasn't enough time to get them from the original format into one that the network can use on an everyday basis. They told Broadcast Pioneers that once they have enough of each series in house, those programs will return to the schedule. We did spot check "Father Knows Best" and "Dennis the Menace" yesterday and they were bright, sharp and clear. Antenna TV says on their website that it's available on Comcast Channel 252, but when we checked this afternoon at 1:30 pm, it wasn't there (at least not yet). It was available only over the air.
Member Harvey Sheldon was a comedian-emcee in a Jersey night club owned by Angelo Bruno and buddies. (He also worked in broadcasting). He sent us some old jokes from his routine from over a half-century ago:
"Doctor, my leg hurts. What can I do?" The doctor says "Limp!"

The Doctor says "You'll live to be 60!" "I AM 60!" "See, what did I tell you?"

You have a ready wit. Tell me when it's ready.

A car hit a man. The paramedic says, "Are you comfortable?" The man says, "I make a good living."

A woman had 2 chickens. One got sick, so the woman made chicken soup out of the other one to help the sick one get well.
eMarketer reported some interesting statistics last week . Media usage is up slightly per day from 10.6 to 11 hours. TV and video had a 40% share. Video from the Internet was not included. As could be expected, Internet usage went up from 21.5% to a 23.5 share. Magazine readership dropped a little over 10% as did newspapers. Radio has dropped from 16% in 2008 to 15% in 2009 and 14.5% in 2010. This accounts for 1.36 hours of radio listening per day and 4 and a quarter hours for television.
"Uncle Billy" has struck again. Yes, Broadcast Pioneers, Vice-President Bill Wright, Sr. had another successful program on member Merrill Reese's radio station, WBCB in Levittown. For the past several years, Wright has hosted "Uncle Bill's Christmas." He told us that it was the most exhilarating and tiring day he had in a long time. It started with his wake up call at 3:30 am and being picked up an hour later. At 6 am, the show started and went non-stop for three and a half hours. He heard from many of our members, including Les Waas. Bill was hoping for more and got Les. In the 9 o'clock slot, Wright played a recording of his son Paul reading the well known newspaper editorial, "Yes Virginia, There is a Santa Claus." It was recorded live at our December luncheon. Bill said they received several calls on where listeners can buy a copy. Well, no need to do so. It's right here.
Listen with Real Audio!
Listen with Windows Media!
We heard from member Bobbie Shaffner and husband Henry (also a member) that they plan to donate to our audio archive a copy of CNN's Larry King reciting the lyrics to their tune, "Philadelphia Song (Philly, I Love You)." This will happen on the 40th anniversary of the song, which is coming up shortly. The tune was sung at Wilson Goode's inauguration in 1988. We especially like the lyrics about soft pretzels with mustard. We've heard from member Harvey Sheldon, who lives in California, that on the West Coast you can get your pretzels with mustard and even an occasional Tastykake. How about a Frank's Soda? Is it Frank's, Thanks! (According to member Larry Mendte, Frank's Black Cherry Wishniak soda is still around for $70 a case. Read his July 2009 article about Frank's Soda!)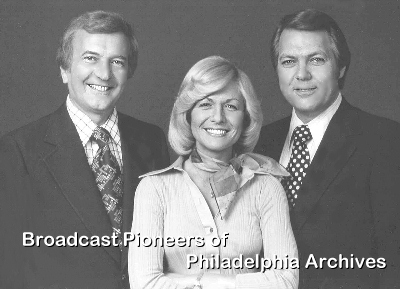 (Left to right) Vince Leonard, Jessica Savitch and Mort Crim
The Eyewitness News Team
KYW-TV
circa 1975
Member Vince Leonard, long-time anchor for Channel 3 sent us some more material (the above photo came from Vince) for our archives. Some of the items included TV ratings. For example in January 1963, Vince and Channel 3 had a 58 metro share. Six years later, Channel 3, now Eyewitness News was the 7th highest ratings news program in the country. Only New York and Chicago (both larger markets) delivered more homes. Channel 10 and John Facenda was 11th delivering 50,000 homes less. Leonard told us:
It had taken me 19 months to overcome John Facenda's longtime lead in Philadelphia television news. From the November 1959 rating books, I held the top position for the next 11 years until 1971 when Larry Kane and his Action News team took over. They had come up with a great format and certainly deserved first place.

Vince Leonard also sent us a May 1965 column by Rex Polier, the Evening Bulletin Television Critic. Polier for awhile also wrote the Broadcast Pioneers newsletter (although none are known to have survived). In the paper, Polier said:

Judged by the all-important ratings, Vince Leonard is far and away the one that most viewers tune in on the big 11 pm newscast.

Thanks, Vince for sharing and we really appreciate the additional photos that were sent with the ratings information.
By the way, we have found some new audio of Vince Leonard on Channel 3. Sorry, we don't have video. Donated by our Chairman of the Board, Gerry Wilkinson, the clip dates from Wednesday, July 20, 1966.
Listen in Real Audio!
Listen in Windows Media!
We heard from longtime member Marie Pantarelli. She tells us:
In 1947, facilities for WFIL-TV were located on the 18th floor of the Widener Building - the studio (which was formerly a dentist's office), Master Control Room and the transmitter. The TV tower was atop the adjacent Lincoln Liberty Building (now PNB).

One of the first remotes originating from those facilities was the televising of Christmas Eve Mass held at Christ the King parish in Haddonfield, New Jersey. This was not the first Mass televised but it was the first televised Christmas Eve Mass ever!

Not yet out of my teens, my first full-time job was secretary to the first Chief Engineer in charge of television, David J. Miller. I started two months before WFIL-TV went on the air.

To get the signal from Haddonfield to Philadelphia, a (microwave) dish was set atop the Grandstand at the old Garden State Park Race Track. The signal was then transmitted from the church to the Track and relayed to the 18th floor of the Widener Building.

I never dreamed that I'd be a parishioner of Christ the King Church, but I am, as is Bill Campbell.
YOU HEARD IT HERE!
As we go into the New Year, we caught up with some of our long-time members/broadcasters to "check-in" and see how they're doing. This is what they had to say:
"Pat and I are doing well. We've settled into our new address and looking forward to a happy new year. We are pleasantly surprised with being here. It's a wonderful place to be in this stage of our lives." W. Carter Merbreier (aka Captain Noah)
"I feel quite well and doing well. Going to North Carolina and Richmond to visit the family and grandchildren. I love the folks in Broadcast Pioneers. They've always been there." Herb Clarke
"Doing fine. The program is going well. I just need more time! In the new year, I'm going to take it easy and get my health back on track and keep on going." Sally Starr
EDITOR'S NOTE: Sally can be heard on WVLT 92.1 FM on Saturday's from 5-6pm hosting "Suppertime Jamboree," top country music.
DIGITAL ARCHIVAL PROJECT NEWS: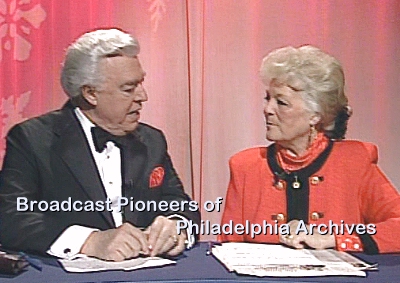 (Left to right) Al Alberts and his wife, Stella
The Al Alberts Showcase
6ABC, WPVI-TV
January 3, 1998
As many of you know, the Broadcast Pioneers of Philadelphia Video Archive is the home of 125 Al Alberts Showcase shows. These are the original tapes that Channel 6 recorded the program on and the same ones used to air the broadcast. On December 26, 1987, WPVI-TV aired an Al Alberts Showcase telecast that was recorded on December 9th of that year on WPVI tape number 711. These tapes were donated to us by WPVI-TV. We have digitized most of the shows. None are available to the public at the present time. On this show, Al and Stella talk about the song "On the Way to Cape May."
Watch in Real Video!
Watch in Windows Media!
We have some 16mm home movies of the wedding of Al and Stella Alberts from 1954. On the audio, we hear Stella reading a letter she wrote to Al.
Watch in Real Video!
Watch in Windows Media!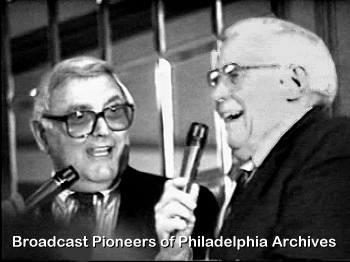 (Left to right) Ed Hurst and Joe Grady
Broadcast Pioneers' Persons of the Year Dinner
May 7, 1990
Our Persons of the Year for 1990 were Joe Grady and Ed Hurst. Walt MacDonald of the Go Patrol fame videotaped the event and has delighted us by donating a copy. Thanks, Walt. You can watch their entire remarks right here.
Watch in Real Video!
Watch in Windows Media!
We have a WIP Radio newscast anchored by Broadcast Pioneers member Nat Wright. WIP DJ Chuck Dougherty can be heard at the beginning of the cut. It dates from a couple days after the November 1964 victory of President Lyndon Johnson for another term as president.
Listen in Real Audio!
Listen in Windows Media!
Just a couple weeks before that newscast, on October 19, 1964, actress Julie Andrews appeared on "The Talk of Philadelphia" program on WCAU Radio. The show was hosted by Broadcast Pioneers member Ed Harvey and the interview told place during the 1 to 2 pm hour of the broadcast. This is from a reel to reel tape recorded at WCAU Radio. Ed always asked the engineer to stop the tape during the commercials. Because of this, we have prepared this priceless show as one complete interview with no stopping for spots (since they're not there anyhow). This program hasn't been heard anywhere for more than 45 years (unless you lived in Ed Harvey's house). Julie was in town for the opening of the Walt Disney movie "Mary Poppins." Within a few months of this interview, "The Sound of Music" was also released. That movie just ran on network TV at the end of last month. During the interview, you'll hear Ed Harvey talk about his producer, Ronnie. She is none other than Broadcast Pioneers member Mary A. Snowden, known to most everyone as Ronnie.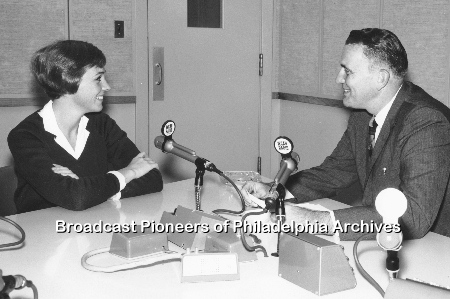 Julie Andrews with Broadcast Pioneers member Ed Harvey
WCAU Radio Studios
Wednesday, October 19, 1964
Long-time WCAU tech Charlie Higgins e-mailed:
Because of the placement of the door into the sound lock and the window frame that looks out into the hallway you can just see behind Ed plus the type of soundproofing on the wall I'd would say this is the new Studio "A."

While originally radio studios "A," "B" and "C" were at the rear of the building and Master Control, Studio "D," the Recording Room and Announce Booth were at the front of the building in the interim period while I worked for WFIL (1960-1965) the MCR, Studio "D," Recording Room and Announce Booth were relocated to the rear of the building. I think about 1963 this occurred. In the new setup there was no Announce Booth.
Listen in Real Audio!
Listen in Windows Media!
Remember, History is ONLY What Gets Saved!
(If there were no portraits of George Washington, how would we know what he looked like?)
ON THE SCENE: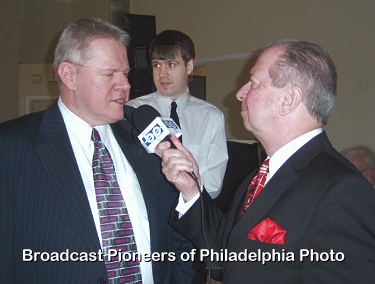 (Left to right) member Johnny B. Hall, John's son Jonathan and Vice-President Frank Stone
Broadcast Pioneers Luncheon, Bala Golf Club
Wednesday, December 15, 2010
"On The Scene" caught up with member Johnny B. Hall and his son at the December luncheon. Special thanks goes out to Johnny for his personal donation to Broadcast Pioneers this month for our DAP, Digital Archival Project. In fact, every month for over a year now, John has helped further the goals of our DAP by providing some of the needed funds necessary to keep the project going. At the luncheon, John shared the wonderful news with Chairman Gerry Wilkinson that he intended to increase the donation on the new year to double what it was a year ago! Thanks so much for your ongoing support, John!
A FINAL THOUGHT....
"Every moment we are together, I am learning something and that becomes a permanent part of me.... I do not worry about our future together since we have affected each other's lives on so many levels.... A part of me will always be you and a part of you will always be me, that much is certain no matter what else happens."
Stella Alberts
in a letter to her husband Al Alberts
on their first wedding anniversary
1955
We welcome your input regarding content, future stories, suggestions, etc. Please contact us by e-mail at newsletter@broadcastpioneers.com. Your stories are important, to you, to us, and your colleagues. Contact us today and we'll include your story in the next newsletter!

Photo Editor & Archival Historian - Gerry Wilkinson
© 2011, Broadcast Pioneers of Philadelphia
All Rights Reserved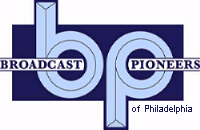 The e-mail address of the Broadcast Pioneers of Philadelphia is pioneers@broadcastpioneers.com
For luncheon reservations call (856) 365-5600 or e-mail us at: rsvp@broadcastpioneers.com