The Broadcast Pioneers of Philadelphia is a federally recognized, state chartered 501(c)(3) non-profit corporation serving Philadelphia since 1962.

Ed Eisen
News Editor

January Luncheon
The Bala Golf Club
Wednesday, January 16, 2013

Meet & Greet at 12 noon!
Lunch at 12:30 pm
Ratecard: $28 per person!

PLEASE RESERVE NOW!
CALL (856) 365-5600!
rsvp@broadcastpioneers.com
Another "Third Wednesday" Luncheon
Wednesday, January 16, 2013
Broadcasting and
The Presidency!
Plus a Tribute to Patti Page!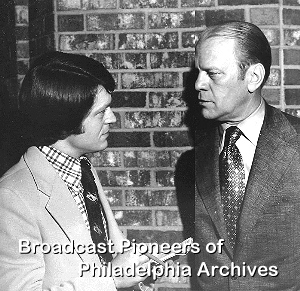 (Left to right) Terry Ruggles & Gerald Ford
The Holiday Inn, Grand Rapids, Michigan
1973
NAHPPY NEW YEAR! Our next Broadcast Pioneers luncheon (and our first for 2013) is "Broadcasting and the Presidency." It will be held at the Bala Golf Club, 2200 Belmont Avenue in Philadelphia on Wednesday, January 16th (that's the third Wednesday of the month). Meet and Greet at 12 noon with lunch at 12:30 pm. Cost is just $28 per person. Our MC will be Broadcast Pioneers member Dom Giordano of WPHT Radio. Hear from broadcast journalists who have interviewed Presidents of the United States.
Scheduled to speak are: (in alphabetical order):
Bill Baldini, former NBC 10, WCAU-TV news reporter
Cherie Bank, former NBC 10, WCAU-TV news reporter
Jay Lloyd, former KYW Newsradio news reporter
Chris May, current CBS 3, KYW-TV News Anchor
Terry Ruggles, former NBC 10, WCAU-TV news reporter
Dick Sheeran, former CBS 3, KYW-TV news reporter
Plus, we'll have a special tribute to Patti Page done by Broadcast Pioneers member Peggy King, a singing star in her own right on "The George Gobel Show."

At the January luncheon, we'll have our new golden Broadcast Pioneers Lapel Pins. They are brand new and can be obtained with a donation of $7 or two pins for a donation of $10 or more.
It all takes place at the beautiful and historic Bala Golf Club, 2200 Belmont Avenue (across the street from the State Police) in the Wynnefield section of Philadelphia. Only minutes away from Channels 6, 10 and 17 and the radio stations in Bala Cynwyd. Call now for reservations. (856) 365-5600! Don't miss this one!
Meet and greet (networking) starts at 12 noon, and a full course lunch including salad, coffee or tea and dessert will be served at 12:30 pm. There will also be a crudité and cheese table. Cash bar available all afternoon!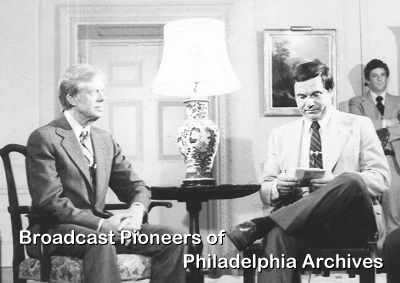 (Left to right) Jimmy Carter & Dick Sheeran
at the White House, Washington, DC
circa 1980
Plenty of FREE parking. The luncheon is open to all our members, their guests and any person in the industry or associated fields, whether active or retired. You do NOT have to be a member to attend. Call NOW with your reservation(s), (856) 365-5600!
In order to speed up check-in at the luncheon, it would help if you had the $28 in exact change or your $28 check already written. Make it payable to the Broadcast Pioneers of Philadelphia.
WE WANNA SEE YOUR FACE IN THAT PLACE!

Visit Our Website Often - http://www.broadcastpioneers.com

WELCOME NEW MEMBERS:
FULL MEMBERS:
Ray Smith started in the business in 1967. Actually, he was on TV before that. He was a dancer on American Bandstand. Ray is now a producer for NBC-TV News and his work is seen on the network's "The Today Show." He worked for the program for 40 years and still produces one day a week. Ray was also the caption writer for the book published 15 years ago called "Dick Clark's American Bandstand."
Stephen Caldwell has been in the business since 1957. He the solo male singer in the otherwise all female group, "The Orlons." The group signed with Cameo-Parkway and The Orlons had their first big hit called "The Wah-Watusi." They had many other smashes including "South Street," "Crossfire" and "Don't Hang Up." After singing, Stephen worked in the Philadelphia Public School System. The group was recently seen on PBS.
Pearl Giordano is the president of Limpert Brothers, Inc. in Vineland, New Jersey. The company makes fine fruit flavoring and Marshmallow Fluff. However, she has been involved in radio since 1997. She started at WMVB (AM), Millville, NJ (1440). In 2001, she moved her radio broadcast to WVLT, Cruisin' 92.1, in Vineland. There she joined others on the station including Charlie Gracie, Ken Jeremiah, RJ (on Joseph) and Jerry Blavat.
Ken Schaffer is an on air evening personality and account executive for WIBG Radio in Ocean City, NJ. He's been there since 2009. Before that, he was a classic hits evening host on Kool 98.3 in Linwood, NJ. Prior to that, he was the Sunday Night Supper Club host for WVLT, Cruisin' 92.1, in Vineland, NJ. The latter was a show featuring local artists and standards from the world of Jump, Blues, Big Band, Jazz, and Swing.
We are thrilled to have these new members. 481 Members. More than ever. We hope to see as many of our members as possible at our January Luncheon.
FROM OUR DIGITAL ARCHIVAL PROJECT (DAP):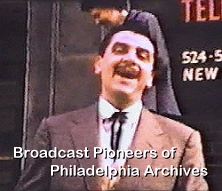 Ernie Kovacs outside CBS Television
West 57th Street, New York, NY
circa 1953

Here's a brief clip from 8 mm color home movies shot in 1953. You'll see the McGuire Sisters and Julius La Rosa from the Arthur Godfrey TV and radio show following by footage of Ernie Kovacs and Andy McKay (the genius behind the genius) outside of the CBS Television studios in New York City. The movie was sent to us by Lynne Gill. Her ex-husband's uncle was Channel 3 booth announcer Earle Gill. Lynne e-mailed:
Looking at the film and the type of clothing, I would guess it was taken in the late spring (or) early summer. I have correspondence from Ernie to my mom dated 1953. The movie was taken by my Mother and/or my Dad. It was our home movies. I think she lost contact with him (Kovacs) after he moved to California.

The ladies in the film with Ernie were my mother and her lady friends. My mom was Evelyn Gondolf. Since it was our camera, I assume my Dad, Gus, took the movie.
We can tell you that the film dates before October 19, 1953. It was on that date that Julius La Rosa was fired by Arthur Godfrey live on the air. Since we see "Little Godfreys" (that's the nickname of members of the Godfrey show) leaving the building, we can assume that both the McGuire Sisters and Julius La Rosa were on the Godfrey program. So that would have to be before the October date. This would have been about a year or so after Ernie left Channel 3 here in Philly to head to the Big Apple.
While the Godfrey show was on the network (with both radio and TV segments), Ernie Kovacs was doing an early afternoon program on WCBS-TV, New York, out of the same building. Because of the broadcast periods of the two broadcasts, we estimate the time to be around 11:30 to 11:45 am. We have color corrected (the best we could) the film. In our opinion, the Real Video version is better.
Watch in Real Video!
Watch in Windows Media!
Here's an ID for WCAU AM & FM in Philadelphia when they were owned by the Evening and Sunday Bulletin newspapers. The ID includes a commercial for the newspaper featuring one of their contests. It dates from 1951.
Listen in Real Audio!
Listen in Windows Media!
While we are talking about station identifications, here's from Sunday, June 25, 1967. The station is WHYY-TV, Channel 12, Public Television for the Delaware Valley.
Listen in Real Audio!
Listen in Windows Media!
Next we have Paul Parker on WIP Radio with "The Quaker Question Mike." It aired four times a day (each show was different) and this one was the noontime broadcast. We believe it dates from September of 1958. The topic for the day is "The Phillies May Move to New Jersey." After the Quaker program, you'll hear Jack Pyle briefly talking about the subject. Quaker was the "Quaker Food Stores, where you'll find the kinds of foods you want in quality, taste and price." This excerpt was donated to us by Broadcast Pioneers member Michael Muderick. The original source material was on a 8 and 3/4" flexible green disc. Sort of an inexpensive version of a 16" transcription disc.
Listen in Real Audio!
Listen in Windows Media!
A LITTLE BIT OF HISTORY!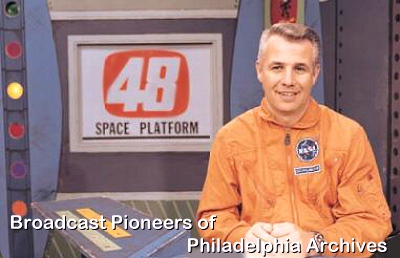 Stu Nahan as "Captain Philadelphia"
WKBS-TV, Channel 48, Burlington-Philadelphia
circa 1967
IN TOUCH WITH OUR MEMBERS:
Broadcast Pioneers member Jim Murray, co-founder of the Ronald McDonald House, will receive the Lifetime Achievement Award at the 3rd Annual Shining Star Awards benefiting the March of Dimes this month. It is presented by the Wanamaker Entertainment Group. The event will honor Murray for his extraordinary service to the Philadelphia community. Started in 1974, while Murray was the General Manager of the Philadelphia Eagles, there are now over 300 Ronald McDonald Houses worldwide.

Broadcast Pioneers member John DeBella was honored last month by the top brass at WMGK and Greater Media with a 'golden microphone award' for his 30 years of excellence at the station. Also, John's most celebrated events, The DeBella DeBall was recreated. Among the hallmarks of John's radio career in Philadelphia has been his dedication to charity. Over the past five years, DeBella's charitable efforts included the John DeBella Veterans Radiothon. Alone, this event raised over $500,000 to help local veterans. Then there was the John DeBella Turkey Drop. It put 35,000 holiday meals on the tables of needy families in the tri-state area. And the John DeBella Masquerade Bash placed thousands of holiday toys into homes
of needy children.

Broadcast Pioneers member NBC 10 reporter and anchor Terry Ruggles was honored in City Council last month by Councilman Jim Kenney. The Emmy-award winning journalist retired from broadcasting following more than 38 years at NBC 10, WCAU-TV. Several of Ruggles' friends were on hand including these Broadcast Pioneers members: Cherie Bank, Bill Baldini and Richard Maloney. We wish Terry the best. Come out and see him at this month's luncheon. Terry is one of our speakers.
NBC10 has launched a search to replace talented veteran anchor Tim Lake, a member of the Broadcast Pioneers. Tim's contract was not renewed by the station last month. He co-anchored the 6 and 11 p.m. news with Renee Chenault-Fattah for 11 years. Tim worked at the station since 1992. Prior to that he was the weekend anchor at KPRC-TV in Houston and the 11 pm weeknight anchor at South Carolina's highest rated TV station, CBS affiliate WCSC-TV in Charleston.
Lake began working for daily and weekly newspapers while attending State University of New York at Fredonia. He concurrently worked for commercial radio stations in Buffalo and Dunkirk, New York, in addition to the campus station. Sources say they expect management to do more housecleaning of on-air talent, in addition to recent firings of writers, producers and other off-air staffers.
A week later, Member Dawn Timmeney was also gone from WCAU-TV. She had been with the station for a dozen years. When she first came to NBC 10, she anchored mornings. She also showcased her talent by anchoring weekend nights, and the 4 pm and 5 pm daily newscasts. Dawn also hosted "Dawn's Pet Project" mainly carried over WCAU-TV's sub-channel 2. She is on the board of directors of the Community Partnership School. We grabbed a couple of the Pet show off air a few days (for our archives) before NBC pulled the plug on NBC Non-Stop, their service on 10.2. See the story in our "Industry" section.
Broadcast Pioneers member Kenny Jeremiah and his troop have been crazily busy over the holidays, singing and strumn' all over South Jersey. You can continue to hear him Tuesday nights at 10 on Cruisin' 92.1, WVLT in Vineland on his radio show with Pepper Paul.
Jack Whitaker, the legendary broadcaster, was inducted into the Sports Broadcasting Hall of Fame last month. Whitaker, now 88, established himself as one of the nation's most recognizable television voices in over five decades behind the microphone. He was the Broadcast Pioneers Person of the Year in 1981 and made it into our Hall of Fame in 2003. He made his mark locally in radio and television as both a news and sportscaster at WCAU in the 1950s.
Whitaker was an Emmy Award winner (1977, 1991). He spent over two decades with CBS Sports (1961-82), before joining ABC Sports (1982-95). He covered such signature events as the Super Bowl, the Summer and Winter Olympics, U.S. Open Tennis, all three legs of horse racing's Triple Crown and all four of golf's majors. He was inducted into the National Broadcasters Hall of Fame in 1995 and the American Sportscasters Association Hall of Fame in 1997 He is a native of Philadelphia and a graduate of Northeast Catholic High School.

Earlier this year, he received the Sports Emmy Lifetime Achievement Award. Now with his latest accolade, Whitaker, joins an even more elitist class. Other honorees this year were ESPN executive chairman George Bodenheimer, audio pioneer Ray Dolby, famed NFL commentator Frank Gifford, sports production visionary executive Ed Goren, legendary NBC cameraman Cory Leible, former NFL commissioner Paul Tagliabue, and NBC operations and engineering guru Jack Weir.
WE REMEMBER:
Jefferson Kaye, the voice of WPVI-TV for awhile, passed away in November. We didn't get word about him until after the December newsletter went to press. Kaye was also known for his work with NFL Films. Jefferson is also remembered for his air work in Buffalo and as PD for WKBW. On Halloween night 1968, WKBW Radio did a recreation of the 1938 radio play, "War of the Worlds." It used modern techniques. More info in our "Thanks for the Memories" section.
Bill Dalton, 80, has passed away. His professional career began with Metromedia in Cleveland at WHK, then to WIP in Philadelphia. His career took off and flourished when he launched and managed the new FM station in Washington, DC; WASH-FM in 1968 for Metromedia. In 1981, Dalton purchased WXTR in the DC area. Bill and his wife, Susan expanded their ownership to WGRR, Cincinnati and WWMG & WEND in Charlotte.
Member Stan Elkman, 90, passed away in mid-December. Stan was the founder of Elkman Advertising which started in 1954. Thirty years later, the company had 100 employees. One of their accounts was the McDonald's fast-food chain of restaurants. They also represented Herr's Potato Chips, Disney Films, the Flyers, Friendly's Restaurants and many more. Stan and his wife, Lois were married for 70 years.
Charles Franklin Milner, 85, was born on Tuesday, June 26, 1928. Known as Cal, Milner passed away last year (2012). He worked at WPEN Radio here in Philadelphia, WGBS Radio in Miami, KHL, KGFJ, KACE and KKGO; all located in Southern California. He also served as Commissioner of the local Little League baseball league. He passed away in California from unannounced reasons.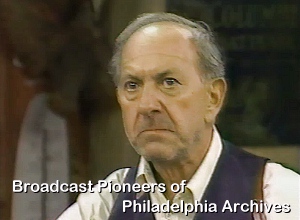 Actor Jack Klugman
in the WCAU-TV Production of "The Petrified Forest"
Wednesday, September 7, 1988
(for more information on this broadcast, look in the "Thanks for the Memories" Section, below)
Actor Jack Klugman has passed away at age 90 in his California home. He was the star of "Quincy, ME" and also "The Odd Couple." He was born here in Philadelphia on Thursday, April 27, 1922. He suffered from the effects of throat cancer for a third of a century. Hall of Famer Jack Lamar and actor Charles Bronson were his classmates and he grew up around the corner from member Charlie Gracie.

Did you know...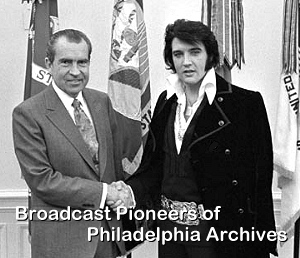 President Richard M. Nixon & Elvis Presley
The White House, Washington, DC
Monday, December 21, 1970
On Friday, April 5 and Saturday, April 6, 1957, the legendary rock and roller Elvis Presley appeared at the Arena on Market between 45th and 46th Streets in Philadelphia. There were two shows each day.
At 6 pm on the 5th, Elvis held a press conference in the Arena's interview room. The story has it that Elvis sat on the table and then later in a chair set out for him. He wore a black suit, dark velvet shirt with white shoes and matching socks. The conference was filmed on 16mm black & white stock and at least parts of it exist today.
There were two concerts on Friday. They were at 7 pm and 9 pm. On Saturday, they were at 2:30 pm and 8 pm. Tickets were a real deal: $2, $2.75 and $3.50. In today's money, they were be $16, $21,75 and $27.50 .
Elvis came to Philly from Ottawa, Canada where he had previously performed two concerts. On the day of the first concert, the Philadelphia Daily News ran a story that a bunch of University of Pennsylvania students were planning on attacking Presley and shaving off his sideburns (and possibly his hair). They never reached their target.
There were reports that an egg (one report said a tomato) was tossed on stage from the balcony. It missed Elvis and hit the instrument of one of the back-up musicians. The Philadelphia Inquirer reported that there were 4 arrests of Villanova University students over the egg situation.
The Daily News quoted a local minister who was there as saying that he was not happy with his seat. He was surrounded by a bunch a giggly girls. His name was Carter Merbreier, the pastor of St. Matthew's Lutheran Church. Merbreier is today better known as Captain Noah who wrote the following for us:
In 1957, the old Sports Arena at 46th and Market Streets in Philadelphia was the place to be. It not only hosted local basketball, but the legendary Evangelist Billy Sunday, Charles Lindbergh, and the Roy Rogers annual western rodeo and show.

It was right beside the WFIL-TV station and studios. Here in 1957, I was the summer host for the public service show "Stories Retold," directed by Broadcast Pioneers member Lew Klein. Interestingly, my "Captain Noah" show would replace this program a decade later as another public-service program.

In that same year (1957), as a Chaplain of the Philadelphia Police Department, I accompanied the plain-clothes personnel of the Juvenile Aid Division, under the command of Captain Harry J. Fox, to a rock-concert of a young country singer making his first appearance in Philadelphia and whom I met backstage before said performance: Elvis Presley.

He was dressed all in black, as was I. While I had a small pectoral cross dangling on a red rope against my black rabbat, he had a large gold coin on a gold chain dangling against his black shirt.

"I guess we both prefer black, preacher man," he noted. " 'cept, you've got that funny white collar." "When your concert show starts, I'll take it off, so that it won't be a distraction for you or your audience."

"No need to worry about that!" he laughed. "I'll put on my black coat, so at least we'll match – Presley and the preacher." He was a nice, polite young man. Soft spoken and clean-cut looking.

As I was leaving, he asked if I needed anything. "How about an autograph for my daughter, Pam?" I handed him one of my clergy cards. "Could you sign it 'to Pam', please?"

"To Pam?" he chuckled, signed and handed me back the autographed card, which is today framed and hangs on a wall in my daughter's home, signed as I requested: "2 Pam – Elvis Presley."

I have never seen, heard nor experienced anything in my lifetime to match the electricity and excitement that that young man, Elvis Presley, generated that day at the old Arena.

I have been asked many times if Elvis asked for and did I have prayer with him. As a Pastor, I believed and believe that to be a confidential matter between God, Elvis and me.
These columns are usually planned months in advance as is the case with this one. Just a couple weeks ago, we again heard from Carter Merbreier, Captain Noah. He said:
I am writing this to pay the long overdue homage to my fellow local daily children's show hosts, who touched millions upon millions of young lives for the better.

They rode into kids' lives on skates, bicycles, tricycles, trains and horse-back (the galloping horse was only heard, never seen). They worked their wonders in front of studio curtains with props of sails and saddles, tepees and store-fronts, sometimes with painted canvas back-drops of ocean waves, western plains, snowy mountains and spooky forests.

The tragic part of the demise of the local children's show is the disappearance of their celebrity: the many telethons for special-needs kids, store openings, special-Olympic events, birthday parties, countless community parades riding on a fire-truck's wobbly stack of hose, playground award programs, hospital wards, school assemblies, exciting visits to the TV station to see and be a part of a show, or to simply stand in line for an autographed picture and a quick, but real, caring conversation with Skipper Chuck, Cowgirl Sally Starr, Uncle Al or Mother Moose (Alaska) or, yours truly, Captain Noah. I was truly lucky to be one of these wonderful people.

In our place are TV shows and movies of unspeakable terror and horrible weaponry, known by name and caliber by our sons' (and daughters?), video games in which our children are allowed to be "first person shooters."

Networks have replaced children's television shows with what are called "talking heads" shows for adults, while their frightened children climb aboard their yellow school buses, bullied and afraid, unfortified by the positive messages of yesteryears children's shows. What about these children growing up in homes where both parents are off to work, leaving the child with unlimited access to these violent images, without even a choice of tuning in to a Children's Show, whose host provides the parental comfort they lack? No matter how "corny!"

Now they (the Children's hosts) are all gone. Most stations have not a shred, not a prop, not a grateful plaque, not even an old tape, as evidence they were ever on-the-air. How sad.
Please note that we are working to correct the situation stated in the last paragraph. Our archives contains hundreds and hundreds of photos of these hosts of childrens' programs. We have four dozen air quality recordings of "Captain Noah and his Magical Ark." We have video recordings (some in HD) of Bill Webber, Captain and Mrs. Noah, Jane (Pixanne) Norman, Gene London, Joe Earley (Mr. Rivets) and other kids hosts speaking at our luncheons. All luncheons and banquets have been recorded and preserved for the last dozen years. REMEMBER, HISTORY IS ONLY WHAT GETS SAVED!

MORE FROM OUR DIGITAL ARCHIVAL PROJECT (DAP):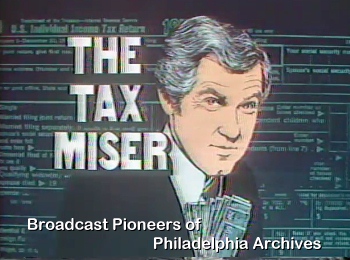 During the first part of 1979, WPVI-TV aired on "Action News," a series of ten reports on how to save money on your federal income taxes. Here's the first report. The date is Monday, March 26, 1979. Member Marc Howard is the reporter. Eric Schoenfeld produced the series and it was edited by Beverly Gilbert.
This is a historical document and is presented as such. Please be advised that this report is a third of a century old and tax laws have changed. Please check with your tax advisor before making any investment that may or may not be available for a tax credit or deduction.
Watch in Real Video!
Watch in Windows Media!
Next is some audio from KYW Newsradio. The date is Wednesday, August 4, 1971 and it's early evening. The report starts with a bulletin that the Apollo 15 astronauts are now on their way back home from the moon.
Listen in Real Audio!
Listen in Windows Media!
Harvey Holiday's Sunday evening broadcast as been a mainstay of Philadelphia radio for decades. By this time, WDAS-FM had a console in the FM studio with the jocks running their own board. Only a year or two before, the jocks had switches only and an engineer was needed to ride level. An engineer was still needed to be on duty because WDAS (AM) was a directional station with two different patterns (one for daytime operation and the other for broadcasting at night). This meant that a first-class FCC licensed engineer was required at all times. This rule have since been relaxed and the first-class license is now called a "general radio-telephone license."
We have in our archive, some audio from a Sunday, January 30, 1972 program on WDAS-FM. There are two segments put together as one cut (with a second of dead air separating the two). This includes a commercial for the old "Record Museum" local chain of record stores.
Listen with Real Audio!
Listen with Windows Media!
Our current Chairman of the Board Gerry Wilkinson was Operations Manager of WDAS AM & FM from 1970 to 1980. Part of his duties included overseeing the production department. Well, one day, the stations' sales manager asked Gerry to create a series of 30 second and 60 seconds for the Consolidated Foods Corporation, makers of Shasta soft drinks.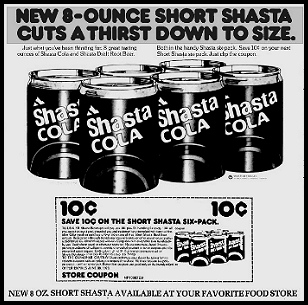 The company thought they could market smaller sized cans of soft drinks. Their regular Shasta drinks were in 12 oz. cans but the new product was called "Short Shasta." It's the summer of 1977 and just before his wedding, his created the spots for the Philadelphia market (aired on several stations including WDAS, WHAT, WFIL and WIOQ.) Here's one of those commercials.
Gerry created a character called "Colonel Short Shasta." They "called him that because he was only two feet high." The voice of the Colonel was WDAS newsman Steve Schorr. Also heard in the spot is Cody Anderson, the stations' Assistant General Manager.
The series of spots contained lots of really "awful" jokes, but it made the product stand out. The drinks were tested in 15 major markets around the United States. Only in Philadelphia were the sales considered to be acceptable. The spots were going to be used nationally but then there was a change in management with Consolidated and the campaign was cancelled. Here's a 60 second commercial from that campaign. It was created, written, produced and put together by Gerry in the days before electronic audio editors.
Listen in Real Audio!
Listen in Windows Media!
Remember, History is ONLY What Gets Saved!
(If there were no portraits of George Washington, how would we know what he looked like?)
A LITTLE BIT OF HISTORY!
Broadcast Pioneers Hall of Famer Pete Boyle
doing a commercial for Sylvan Seal Milk
WPTZ, Channel 3, Philadelphia
circa 1954

Broadcast Pioneers Hall of Famer Pete Boyle
doing a commercial for Sylvan Seal Milk
WRCV-TV, Channel 3, Philadelphia
circa 1956
THANK YOU:
As we do every month, we want to thank Broadcast Pioneers member Johnny B. Hall for his monthly cash donation to our DAP, Digital Archival Project. Johnny donates $250 every month. The amount totals $3,000 yearly and really helps us to underwrite this much needed but expensive project. By the way, that's a $600 a year increase over his contribution from 2012.
And again, we wish to thank member Jerry Del Colliano for his $1,000 contribution to our DAP fund. We also received a $1,000 contribution to our archives from long-time Broadcast Pioneers member Len Stevens. At our December luncheon Robin Adelman (on behalf of the entire Adelman family and Leon Love) presented us with a $1,000 contribution to be split between of our DAP project and our general fund.We welcome other gifts for these and other projects in the form of money and/or donated items like video tapes, audio transcriptions and photos.
We currently have fifteen $1,000 scholarships being underwritten for 2013. The scholarship competition is now underway. We have six from Johnny Hall, one from the Adelman family and one from Leon Love (Robin Adelman's dad), one from Esther Kurtz, Roy Shapiro, Sylvia Kauders and one from the Harry Hurley Golf Tournament. Broadcast Pioneers board member Kal Rudman announced that he would underwrite two scholarships and new member Marlin Taylor donated a thousand dollars to underwrite a scholarship in the memory of his former boss David Kurtz. Those scholarships will be awarded in April of 2013.
We already have a good start for the April 2014 scholarships. We already have pledges and/or funding for eleven $1,000 scholarships to be awarded in April of 2014. We received $1,000 for a scholarship in the memory of Broadcast Pioneers Hall of Famer Mac McGuire. The contribution came from member R. Alan Campbell. Also, the final $1,000 scholarship (part of a five year package) from Broadcast Pioneers Hall of Famer Sylvia Kauders. We also have pledges for seven $1,000 scholarships from member Johnny B. Hall and his wife, Ginny. That's one more than last year. Also, a pledge from the Adelman family for a $1,000 scholarship and also one from Robin Adelman's dad, member Leon Love. The Halls are also pledging an extra $200 to help pay for the lunches of our scholarship winners and families when they come to receive their scholarships. Last year, that cost alone was almost $1,300.
Other contributions this past month came from Mike Bove, Gerry Wilkinson and Robin Mackintosh. Will the person who donated a DVD Player to us at December's luncheon, please let us know so we can give you a thank you in the newsletter.
Our special thanks go to TUTV and The Kal & Lucille Rudman Media Production Center.

They have underwritten a grant to be used to fund an entire year of all our newsletters for calendar year 2013. We thank them so much for their support!
If you forgot to make an extra contribution (cash or memorabilia) and would like to do so now, it's never too late. We would be thrilled to hear from you at: PO Box 2886, Bala Cynwyd, PA 19004 or call us at (856) 365-5600!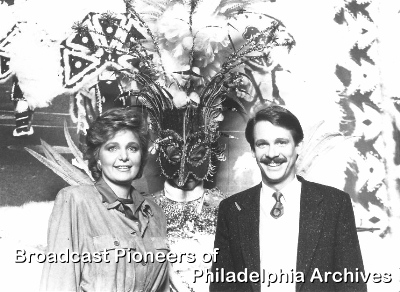 (left to right) Diane Allen and Ray Murray
1987 Mummer's Parade Publicity Photo
KYW-TV, Channel 3, Philadelphia
(released to the press in late 1986)
IN TOUCH WITH THE INDUSTRY:
NBC10 has made two major hires who begin their on-air shifts this month. Brittney Shipp will join the station as a meteorologist. She had been a weekend weather forecaster at KTVK-TV in Phoenix, Arizona, working as a special assignment reporter since 2007. Nefertiti Jáquez joins the lineup as a reporter coming from NBC affiliate KPRC in Houston. She worked there as a reporter and fill-in anchor. She worked here in Philadelphia previously for a few years as a general assignment reporter for WTXF-TV, Channel 29. Welcome back.
Shipp joins Philadelphia's veteran meteorology team, led by Chief Meteorologist and Broadcast Pioneers member Glenn "Hurricane" Schwartz. Collectively, the team represents over 50 years of weather forecasting experience. She started her television career in 2006 at NBC affiliate KYMA in Yuma, Arizona. Brittney is a member of the National Association of Black Journalists and has been active in community efforts supporting The Muscular Dystrophy Association and the Arizona Humane Society. She is originally from Los Angeles.

Jáquez is an Emmy-nominated reporter with a reputation for landing exclusive interviews. During her time in Houston, she had the only interview of Uriel Landeros, the man charged with the notorious 2012 vandalizing of a Picasso painting. She also interviewed the sister of the Navy Seal Commander who led the mission to kill Osama Bin Laden. She was the only reporter allowed to train with both FBI and Homeland Security Special Response Teams.
On Thursday, December 13th, WPVI (owned by Disney who also owns ABC-TV) dumped out the ABC-TV lineup to carry the Philadelphia Eagles football game. This made tons of "Birds" fans in the Delaware Valley very happy. The football telecast (on NFL Network) pre-empted three prime-time ABC broadcasts, all of which were new. They were Last Resort, Grey's Anatomy and Scandal. On Philadelphia Comcast, Last Resort and Grey's Anatomy were available on their free On Demand service. WPVI also ran the soap-opera type series "Last Resort" later that evening at 2:41 am. The next early morning (Saturday), Grey's Anatomy aired at 1:35 am followed by Scandal. By the way, Broadcast Pioneers member Ray Didinger was part of the football telecast.
Member Frank Stone sent us this story about Pleasantville's WOND (1400 AM). It was knocked off the air for nearly three weeks, another casualty of Hurricane Sandy. Longport Media President Dave Coskey (a member of the Broadcast Pioneers) authorized FM station 102.7 to broadcast WOND's talk shows. The AM station went back on the air on November 28th with the purchase of a new transmitter. Dave Coskey told us:
We lost three transmitters (WOND, WMGM-FM and WBSS which simulcasts WIP) to Hurricane Sandy. Our transmitters had been located in Pleasantville for 60+ years. It took Sandy to put them under six feet of water. Given forecasts before the storm we anticipated problems and immediately began simulcasting on our WWAC 102.7 FM and alerting listeners that if they lost us on 1400 AM they should switch to 102.7 FM.

Also, we were concerned that Comcast would lose service we put in a backup transmission line to the AC102.7 transmitter which was located on the 49th floor of a high rise. It worked – we never went off the air. More importantly, we remained on the air 24-hours a day with the only live and local produced programming in South Jersey providing emergency information and an outlet for public officials to reach residents without power, television and Internet.

Two weeks ago we re-launched WOND on 1400 with a brand new transmitter. Transmitters are ordered and being built right now for WMGM and WBSS. We hope to have a new transmitter facility and three new transmitters all set in the near future. Our listeners were very thankful that we were there for them during the storm.
A week before Christmas, NBC yanked their Non-Stop service from their O&O stations. It was replaced by COZI. According to their website, "Cozi TV is a national network bringing viewers America's most beloved and iconic television series, hit movies and original programming brought to you by the NBC Owned Television Stations."
COZI started before New Year's running Lassie, Ozzie and Harriet, Burns and Allen, The Ruggles, Robin Hood and other fifties TV shows. According to their website, however, the shows you can expect include: Magnum PI, Roy Rogers, The Lone Ranger, Charlie's Angels (the original series), The Virginian, the Bionic Woman, The Six Million Dollar Man, Highway to Heaven, Marcus Welby and Lassie.
WPEN (AM)'s sale to Family Radio is completed and the Christian broadcaster took over the station just before Christmas. WPEN sports programming is now heard exclusively on on WPEN-FM, 97.5. Greater Media signed the station off the air and the new owners signed back on using the WKDN call letters. Family Radio formerly owned 106.9, WWIQ. At the time of their ownership, they used the WKDN call letters.
As of tomorrow (January 2nd), WIP's sports programming will be heard on WIP-FM, 94.1, while WIP (AM) 610 will carry the new CBS Sports Radio network. The network, which has 100 affiliates, has been operating since September but goes 24/7 beginning tomorrow. CBS Radio owns both WIP and WIP-FM.
WPSG-TV, The CW Philly 57 (sister station of KYW-TV, CBS 3) starts airing the New Jersey lottery drawings live tonight at 7:57 pm. The daily live broadcast will feature the winning number drawings for Pick-3, Pick-4, Jersey Cash 5 and Pick-6 Lotto. In New York City, the NJ lottery will air live on WLNY-TV, Channel 55, licensed to Melville on Long Island.
A LITTLE BIT OF HISTORY!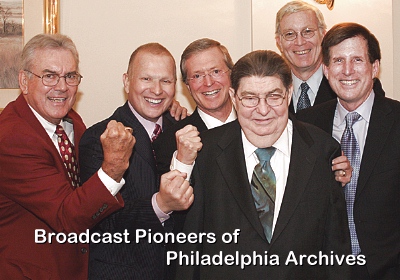 (left to right) Tom Brookshier, Gary Papa, Terry Ruggles
Kal Rudman, Ed Cunningham and Walt Hunter
Our 2007 Annual Banquet
Bala Golf Club, Philadelphia
Friday, November 16, 2007
Photo taken by Broadcast Pioneers Board Member Bob Kravitz
THANKS FOR THE MEMORIES:
JAY MEYERS & DICK CLARK!
We heard from Broadcast Pioneers member Jay Meyers who e-mailed:
Great newsletter. Brought back a lot of memories reading about Dick Clark. I have a picture of Dick and I, framed, taken at the NAB convention in Washington, D.C. in 1988 at a private dinner hosted by United Stations (which he co-owned at the time). 40 guests and the speaker was Mario Cuomo....electric evening!

Couple other interesting tidbits on Dick. When we flipped WFIL to oldies from Country in '83 as The Boss Is Back, I contacted Dick and he did a ten second TV spot teaser for the format switch from the American Bandstand set behind his signature podium. The text "Hi this is Dick Clark, be sure to listen to WFIL at 560 on your AM dial this Friday night at 6pm for the most important announcement in Philadelphia Radio History!"

And one last personal one, in 1988 I was working for a company called Atlantic Ventures as General Manager of their Rochester operations when we acquired the old WOLF 1490 in Syracuse. We went over to look through what we acquired and in a box at the transmitter, we found a one pot studio board that was circa the forties, and it had a gold plate, faded on it that said "used by Dick Clark in 1949."

WKBW's "WAR OF THE WORLDS"
At 11 pm on Halloween night, 1968, WKBW Radio out of Buffalo did a "new version" of the H.G. Wells story of "War of the Worlds" made popular by Orson Welles thirty years before. It was a modern spin of the old story, Martians invading the Earth. They used their news department and made it sound real. Don Lancer was a newsman at WKBW at the time and was part of that program. It sounded so real (even though the station made several announcements that it was only a Halloween drama) that the Canadian government dispatched troops to a nearby bridge to prevent the Martians from crossing the border into our "Neighbor to the North."
WKBW Program Director Jefferson Kaye, a huge admirer of Orson Welles conceived the idea. It was later re-broadcast (and re-edited to include current air people) in 1971, 1973 and 1975. We have the 1971 version in our audio archive. We are seeking the other versions, especially the 1968 edition that includes Don Lancer. Lancer later came to Philadelphia where he became a mainstay at KYW Newsradio for decades. On November 18, 2011, he was inducted into our Hall of Fame.
WCAU-TV's BILL HART!
Visitor to our website, Michael Long e-mailed us:
I was featured on 'The Bill Hart Show' on Channel 10, WCAU-TV as a young boy. The program was featuring "mothers of twins" of which I am one. My parents could not have children for 10 years then had 7 with in 4.5 years. Two girls at first then myself and twin sister then my two twin brothers, back-to-back, then another girl; the 8th was a miscarriage. My parents made, from what I can remember, a state record in Pennsylvania, Delaware County.
By the way, the Bill Hart TV vehicle at that time was a daily, live afternoon show called "TV 10 Around Town" and featured Bill Hart as the host. The name "Ten Around Town" was re-used in the eighties with hosts Steve Levy and Cherie Bank, both members of this organization.
THE CHILDREN'S HOUR!
Visitor to our website, Lenny Cooney e-mailed us about The Children's Hour:
What a thrill to read (on your website) some of the names of the kids that were on the show when I and my two sisters were on. We were the "Cooney Trio." My younger sister, Rosemary went on first as a single, but when Mrs. Broza saw Pat and I she suggested we form a group. Of course, Rosemary sang alone or once in awhile with Dean Stolber, Billy Gilchrist. I was with the older kids in the chorale group ran by Kay Risatto, aka Kay Karren.

Billy James was the piano player, but eventually Kay took over towards the end of the show. We did go on for awhile performing in New York on a professional children's show "Startime." Connie Francis was on that show before she made it big. It was a wonderful, exciting time in our lives. One we will never forget.

My sisters are both married with children. We are alive and kicking. Wish we could have a reunion. Would be so nice to see: Rita/Dolly Pascal, Ronnie Hall, Johnny Richards, Susan Brookman, aka Susan Barrett, Trish Dwelley, Nicky DeMatteo. I'm sorry if I forgot anyone. I'm much older now and the mind has a tendency to go...LOL!
THE PETRIFIED FOREST ON WCAU-TV
The Petrified Forest was Humphrey Bogart's first big break, both on Broadway and in motion pictures. Twenty years later on May 30, 1955, Bogart starred on the CBS-TV network in "The Petrified Forest" live as part of "Producer's Showcase." We have that broadcast in our video archive. One of the featured actors was Philadelphia born Jack Klugman. He played the role of "Jackie," one of Duke Mantee's henchmen.
Thirty-three years later, Jack Klugman starred as Duke Mantee (the Humphrey Bogart role) on the WCAU-TV broadcast of "Stage 10 Live." The date was Wednesday, September 7, 1988. WCAU-TV was celebrating being on the air for 40 years. The program was aired live but included tape interviews. One difference, however. The latter only featured excerpts of the "Petrified Forest." Both the 1955 version and the 1988 edition were written by Tad Mosel. We also have the 1988 show in our video archive and it includes the original WCAU-TV bars and tone. This presentation was the last major program in a year-long WCAU celebration of their 40th birthday.
A FINAL THOUGHT....
"Don't let the truth get in the way of a good story."
Bill "Wee Willie" Webber
former Chairman of the Board
Broadcast Pioneers of Philadelphia

Please contact us by e-mail at newsletter@broadcastpioneers.com or by mail to: Ed Eisen, 1110 Longshore Avenue, Philadelphia, PA 19111. (215) 725-7253. Your stories are important, to you, to us, and your colleagues. Contact us today and we'll include your story in the next newsletter!

Photo Editor & Archival Historian - Gerry Wilkinson
© 2013, Broadcast Pioneers of Philadelphia
All Rights Reserved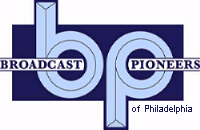 The e-mail address of the Broadcast Pioneers of Philadelphia is pioneers@broadcastpioneers.com
For luncheon reservations call (856) 365-5600 or e-mail us at: rsvp@broadcastpioneers.com