| | |
| --- | --- |
| | Broadcast Pioneers of Philadelphia is a federally recognized, state chartered 501(c)(3) non-profit organization serving the Philadelphia Broadcast Community since January of 1962. |
January Luncheon
Hilton City Avenue - IMPORTANT!
Wednesday, January 15, 2014

Meet & Greet at 12 noon!
Lunch at 12:30 pm
Ratecard: $28 per person!

PLEASE RESERVE NOW!
CALL (856) 365-5600!
rsvp@broadcastpioneers.com
Another "Third Wednesday" Luncheon!
Wednesday, January 15th!
"How Local Stations
Cover National Stories"
NOTE: THIS LUNCHEON WILL BE
AT THE HILTON CITY AVENUE!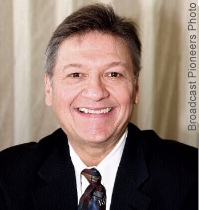 Broadcast Pioneers member Dom Giordano
Our next luncheon is on Wednesday, January 15th, 2014. Our topic will be how local stations cover national stories. Our MC will be Broadcast Pioneers member Dom Giordano of WPHT Radio.
For your enjoyment, we have many marvelous panelists. Scheduled to appear are (in alphabetical order):
Karen Curry, former NBC London Bureau Chief/former CNN Vice-President
Jessica Dean, main primetime CBS 3 Co-Anchor of Eyewitness News
Mike Jerrick, co-host of "Good Day" seen mornings on Fox 29, WTXF-TV
Chris May, main primetime CBS 3 Co-Anchor of Eyewitness News
Dick Morris, afternoon drive (3 pm to 6 pm) talk show host, WPHT Radio
and more!
NOTE: THIS LUNCHEON WILL BE
AT THE HILTON CITY AVENUE!
Our first luncheon for the calendar year 2014 is on Wednesday, January 15, 2014. The topic is "How Local Stations Cover National Stories!"
This luncheon will be at the Hilton City Avenue, 4200 City Avenue, Philadelphia. Valet parking is $10. Event lot parking is $5. Attendees are responsible for their own parking.
(856) 365-5600! RSVP TODAY!
Meet and greet (networking) starts at 12 noon, and a full course lunch including salad, coffee or tea and dessert will be served at 12:30 pm. There will also be a crudité table. Cash bar available all afternoon!
NOTE: THIS LUNCHEON WILL BE
AT THE HILTON CITY AVENUE!
The luncheon is open to all our members, their guests and any person in the industry or associated fields, whether active or retired. You do NOT have to be a member to attend. Call NOW with your reservation(s), (856) 365-5600!
In order to speed up check-in at the luncheon, it would help if you had the $28 in exact change or your $28 check already written. Make it payable to the Broadcast Pioneers of Philadelphia.
WE WANNA SEE YOUR FACE IN THAT PLACE!

Visit Our Website Often - http://www.broadcastpioneers.com
Check out of Facebook Page - http://www.broadcastpioneers.com/facebook
Tune in to our YouTube Channel - http://www.broadcastpioneers.com/youtube

WARNING ABOUT FORWARDING E-MAILS FROM BROADCAST PIONEERS:
If you forward an e-mail from Broadcast Pioneers to another person and they mark it as SPAM or click on the "Unsubscribe" link, they are not unsubscribing for themselves but for you. You, not them, will be removed from our e-mailing list.
For example, if member Jane forwards her e-mail to her friend Bob and Bob marks it as SPAM or unsubscribes, he is unsubscribing for Jane (not Bob) and Jane (not Bob) is dropped from our mailing list. If this happens, you CANNOT just contact us and ask us to reinstate you. We can't do that because it violates Federal law.
Getting back on our mailing list is NOT an easy process and (in accordance with Federal Law) you must contact our e-mail provider and do whatever they require to get back on the list. We cannot do it for you because it violates the law.
We suggest that you do not forward e-mails from us to other people. At least every two weeks, a member is dropped from our newsletter list because one of their forwarders marked it as SPAM. Our e-mail provider will not (and cannot under Federal Law) tell us who marked it as SPAM so you simply will not get our newsletters anymore.
This also applies to e-mails about luncheons. If you forward that to someone who marks it as SPAM or unsubscribes, you won't get your newsletter any more. They have unsubscribed for you. If you want to let someone know about our luncheons or other events, copy and then paste it into a new e-mail and send that.
If you have any questions, please feel free to call us or send us an e-mail. We'll be happy to explain all this in as much detail as you wish.
WELCOME NEW MEMBERS:
FULL MEMBERS:
Kaitlyn M. O'Neill, Esq. is an attorney in the law office of Lloyd Z. Remick, who founded Zane Management, Inc., specializing in marketing and management notable performers and personalities in entertainment, sports, media and the arts. It's a full service company providing career planning, including appearances and endorsements; movie and television product placement; video and merchandising production and extensive legal services.
Ken O'Neill has been in the business since 1978. He's the Vice-President of Laser Video Corporation based in Lafayette Hill. In his early days in the business, he worked at WGR-TV in Buffalo, New York. Then in 1979, he came to WCAU-TV and then quickly jumped ship to WPHL-TV where he stayed for the next quarter of a century. He started his work with Laser Video in 1985 and is currently their VP.
William O'Neill started in our industry a little over ten year ago. Today, he is the General Manager for Laser Video Corporation on Germantown Pike in Lafayette Hill. The company is one of the premiere Post Production facilities in the United States. He says that meeting the complex, ever-changing needs of their customers is paramount. They promise their customers low prices and fast turn-around.
Joe Morinelli started in Baltimore in 1971 at WFMM. He was a member of President Gerald Ford's advance team for the Tri-State area. He provided programming services for WWDL in Scranton and engineered and produced a series of radio broadcasts for Lola Falana. From 1977, he ran Joe Morinelli Entertainment and today owns Sputnik Sound Productions designing remote satellite radio studios.
ASSOCIATE MEMBERS:
Cindy Keiter is a new member. She is the daughter of legendary sports director and commentator Les Keiter who worked here at WFIL-TV during the sixties. Cindy is an actress. She was in the motion picture "I Was a Teenage Zombie" released in 1987. Cindy is the star of "Recreating Keiter: I Saw Dad Make the Whole Thing Up." She's a 1991 graduate of the drama department of New York University.
Al Snyder is a disc jockey on Cruisin' 92.1, WVLT, Vineland. He's been in the business for over 40 years in the Southern Jersey, Southeastern Pennsylvania and Philly regions. Al has a huge personal collection of music and when not on the air, he can be seen cruisin' around in his Corvette. He's the head of the Cross Country Corvette Club in Deptford. His radio broadcasts highlight fifties music.
We are thrilled to have these new members. 501 Members. More than ever. We hope to see as many of our members as possible at our January Luncheon.
DIGITAL ARCHIVAL PROJECT NEWS:
VIDEO:
THE 1975 MUMMERS PARADE
Phil Sheridan, Connie Roussin Spann & Frank Conforti
at the WPVI booth at City Hall
January 1, 1975

South Philadelphia Comic Brigade
at Philadelphia's City Hall
(where the judging took place)
January 1, 1975
The Mummers Parade has been on television since 1947 and has been carried throughout the years by several different stations starting with WPTZ, Channel 3 (today known as CBS 3 or KYW-TV). Today it is shown on WPHL-TV, Channel 17. Member Connie Roussin Spann hosted that parade for decades when it was carried by Channel 6 (WFIL-TV and then WPVI-TV). She was joined by Broadcast Pioneers' Hall of Famer Phil Sheridan and Mummers expert Frank Conforti.
Several years ago, Broadcast Pioneers was given loads of professional video tape from Channel 6. One was an original 2" video tape roll that ran slightly over 90 minutes in length. This was not off-air, but off-line. We have about 30 seconds of the co-hosts talking BEFORE they hit air. The transfer of this original 2" reel to a digital format is just beautiful. We are delighted to have it in our video archive.
What we have for you today is 7 and a half minutes of the comic division of the parade. This includes a live Campbell Soup commercial done by Connie Roussin Spann. Connie told us that all except the last year (1978), she broadcast the parade that she and her co-hosts were stationed outside in the cold. You can see in this live commercial that all three of the co-hosts are outside. Remember, the Mummers Parade goes on for hours and hours, so you can get cold. Our transfer is from the original WPVI-TV tape. The Real Video version is much clearer than the Windows Media edition.
Watch with Real Video Format!
Watch with Windows Media Format!
AUDIO:
We have next three different clips, all from the same time range, August and September of 1958. The audio was originally recorded on an eight and three-quarter inch flex green disc, the kind used for dictation machines. Obviously, the quality is never the best under these circumstances. It took us hours of work to put the audio in the form available on this site. Because of the reconstructive nature of the audio, it does NOT fall under "fair use" and the audio from these three cuts are protected under United States Copyright. These three pieces of audio were donated by Broadcast Pioneers member Michael Muderick. First up is a Quaker Answer Man broadcast. These were broadcast live 4 times a day on WIP Radio. The announcer was Paul Parker.
Listen in Real Audio!
Listen in Windows Media!
Next up is another one of these Quaker Answer Man broadcasts, also done by Paul Parker. What makes this an interesting piece is that they talk about Ed McMahon. Ed was a staff announcer for WCAU-TV and radio from 1949 until 1957. After that, Ed did a late night show (starting at 1 am) called "McMahon and Company" on WRCV-TV, Channel 3. He also did fill in work at WIP Radio.
Listen in Real Audio!
Listen in Windows Media!
One of these green discs had a rather rare radio program on it. Charles Shaw was one of Ed Murrow's "Boys" during the Second World War. When the conflict ended, the network had no need for war correspondents and let Charles go. He ended up shortly thereafter here in Philadelphia as News Director for WCAU-TV and WCAU Radio. In August of 1958, Shaw went to Cuba to visit rebel leaders Raul and Fidel Castro. This recording is part of that series of broadcasts.
Raul Castro was interviewed by Shaw for both WCAU-TV and Radio. The TV station shot over 900 feet of film while they were in the mountain stronghold of the rebels. Parts of it were aired on "Prospect for Cuba," one of Channel 10's community interest programs. Shaw also gave nightly reports of his trip over WCAU Radio. This is one of those broadcasts. Shaw was later honored in October of 1958 by the Quaker City Lodge of B'nai B'rith for "brilliant news reporting while facing personal danger."
A LITTLE BIT OF BROADCAST HISTORY!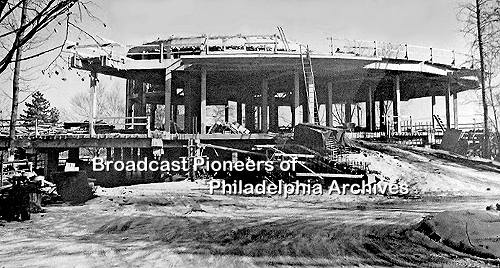 WFIL-TV and Radio Round Building under construction
February 1963
Photo originally donated by Member Marv Brooks
IN TOUCH WITH OUR MEMBERS:
In mid-December Broadcast Pioneers Chairman of the Board Gerry Wilkinson ran into member Charlie Gracie. Literally. They were both shoppers at the ShopRite supermarket in Drexel Hill when when Gerry bumped his cart into Charlie. Gracie is a local celebrity figure at that grocery store. Every aisle he went up, there was someone there shaking his hand and greeting him. Now we know why it takes Charlie two hours to buy a head of lettuce.
Our Broadcast Pioneers member Jane Norman (Pixanne) is the toast of Broadway! Her performance at 54 Below in New York was a smash! She played to an ecstatic sold-out house and the evening was pure magic!. One of the powers at 54 Below told Jane's producer that her show was the classiest act the venue had ever booked. Quite a few Broadcast Pioneers were in attendance, and they wholeheartedly agreed that Jane's lovely voice, unique presentation, rapport with the audience and her contagious energy made the event "a night to remember."
We received a letter from Mary and member Charles Gindhart who have moved from the Delaware Valley to Bellefonte, PA (near State College). They say: "As you see from the address, we've had some major changes in our lives. This is very different from Wallingford or Springfield, but we know from past moves that, in time, it will feel like home. We live with family (son John and family) and have son David and family nearby. In fact, we have a new grand baby since our arrival. All the cousins are really enjoying each other and the mountain scenery is beautiful."

Did you know...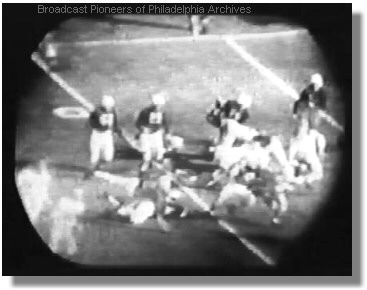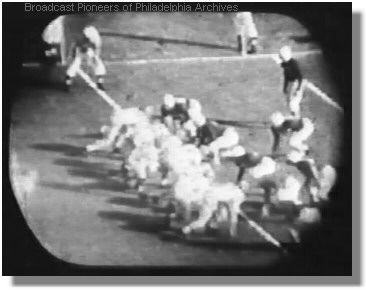 Actual night broadcast taken from a TV monitor
Temple University Football
W3XE, Channel 3
Saturday, November 11, 1939
On Saturday, November 11, 1939, W3XE broadcast a nighttime football game. Originally, it was believed to have been Temple vs. Kansas. Unfortunately, during the entire 1939 season, these two teams didn't play each other. Looking at the college schedule for that year, there was only one day where both teams were playing and that was Saturday, November 11, 1939.
The problem is that these two teams were NOT playing against each other. Since it would be more likely that a Philadelphia TV station in 1939 would be broadcasting a home game, we have gone with the belief that Temple was the home team. On that date, they playing Holy Cross College. That is the game we now believe to be shown in the above photos.
During 1940, for the first time in broadcasting, W3XE (later WPTZ, then WRCV-TV and now KYW-TV) telecast a complete season of college football.
In 1941, E. N. Alexander, Program Manager for Philco Radio & Television Corporation, owners of Channel 3 said:
During the Fall of 1940, we undertook the project of televising for the first time in history, a complete schedule of major college football games. This effort took place at historic Franklin Field of the University of Pennsylvania, from October 5 to November 23, 1940. The schedule of home games was unusually heavy, due to the University of Pennsylvania Bicentennial Celebration, which was running currently. The schedule of the total of the seven games is as follows:

October 5 - Penn vs. Maryland
October 12 - Penn vs. Yale
October 19 - Penn vs. Princeton
November 2 - Penn vs. Navy
November 9 - Penn vs. Harvard
November 16 - Penn vs. Army
November 23 - Penn vs. Cornell

Concurrent with the technical discoveries and developments made possible by the experimental broadcast of these games, and program staff conducted extensive research to develop a commercially desirable program technique. The research naturally included the attack of such fundamental problems as camera placement, angles, and lens complements. In addition, we sought the solutions to the problems of developing an absorbing program continuity, the relief of the many slow and inactive visual portions of the game, circumvented in radio by "color" commentating, and the conception of a production technique to enable the welding of the many elements into a complete, unified, entertainment program.

To fulfill the above, many production devices were originated, including a pre-game visual analysis and comparisons of teams, a camera-announcer "color" technique, a unique and all-inclusive television scoreboard and gridiron chart for recapitulation of the plays, as well as a complete, graphic, check chart to make all necessary information available to the television announcer at a glance.

In order to produce maximum enjoyment of these programs, 3 television cameras were used, 2 for the variety of shots originating at Franklin Field, and the balance at the Philco Live and Projection Studios for the origination of the various devices and effects discussed.
On June 6, 1951, Harold "Penny" Pannepacker, who was inducted into our "Hall of Fame" in 1995, said:
WPTZ began televising the Penn home games in ...1940, when it presented the Penn-Maryland game, the opening clash of that season. It has presented every Penn game played at home since that time, the oldest continuous sports event in television....

WPTZ, through its parent company, the Philco Corporation, arranged to have television sets installed in places where the public and the advertising fraternity could see the telecasts of the Penn games. Receivers were placed in such Philadelphia locations as country clubs, popular restaurants and taverns, store windows and advertising clubs. There, each Saturday afternoon during the fall, the public could see the Penn game and become acquainted with television as an entertainment vehicle, while potential clients could learn about it as an advertising medium. WPTZ, despite the limited television audience, televised the Penn games right through the war years.
MORE DIGITAL ARCHIVAL PROJECT NEWS:
VIDEO: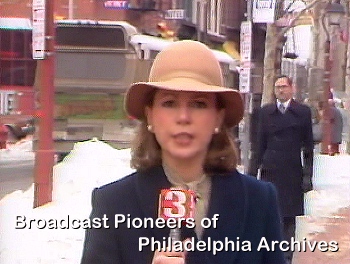 KYW-TV Eyewitness News Reporter Marge Pala
Friday, January 29, 1982
On the Friday, January 29, 1982, there was a major death in our region. The Evening Bulletin newspaper passed away. It was first published in 1847 and for three-quarters of a century, it was the largest circulated newspaper in the city and one of the biggest in the entire United States. At one time, the Bulletin owned WCAU-TV and its radio stations, WCAU (AM) and WCAU-FM. Today, those radio stations are WPHT (1210 on AM) and WOGL (98.1 on FM).
We have, from our video archive, a report done by Marge Pala on KYW-TV, Channel 3. It was about the history and the death of the paper. For much of its time in business, "Nearly Everyone in Philadelphia DID Read the Bulletin." Our video comes from the original 3/4" video tape donated by Marge Pala.
Watch in Real Video Format!
Watch in Windows Media Format!
AUDIO:
It's now Sunday, July 16, 1972. WCAU-TV had already dumped John Facenda because of low ratings. The Sunday 7 pm evening local news team had Jack Jones and Herb Clarke as anchors with Gene Crane doing the weather. Here's how that newscast started. While this was a TV broadcast, we only have audio. No video from this newscast is known to exist today.
Listen in Real Audio!
Listen in Windows Media!
Next, here's an audio sales presentation prepared by WCAU Radio to interest sponsors in advertising on Ed Harvey's "Talk of Philadelphia" broadcast. It dates from the mid-sixties.
Listen in Real Audio!
Listen in Windows Media!
Finally, the date is Wednesday, June 4, 1969. This is the 4:30 pm news read by Bill Broadwick on WXUR AM & FM in Media, Pennsylvania. The station at that time was owned by Dr. Carl McIntire's "Brandywine-Main Line Broadcasting Company." This is a straight ahead newscast that came from the wire service for radio stations from the AP, the Associated Press. The station had no real news staff other than announcers reading wire copy.
Listen in Real Audio!
Listen in Windows Media!
Remember, History is ONLY What Gets Saved!
(If there were no portraits of George Washington, how would we know what he looked like?)
A LITTLE BIT OF BROADCAST HISTORY!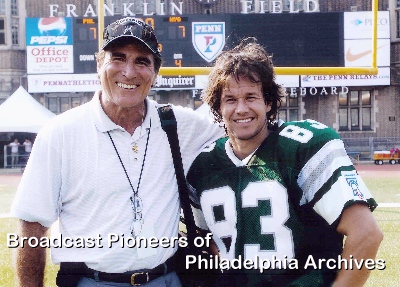 (Left to right) Member Vince Papale and Mark Wahlberg
(Wahlberg played Papale in the movie "Invincible"
2006
IN TOUCH WITH THE INDUSTRY:
Greater Media has announced that Charley Lake, their award winning PD, is retiring from WMGK. Lake has served as Program Director for the last seven years. Before that, he was PD in Phoenix and worked in Chicago, New Orleans and COlumbus, Ohio. Charley said: ""I'm extraordinarily grateful to Greater Media, John Fullam, Peter Smyth and Buzz Knight for letting me hang my hat here for the past 7 years," said Lake. "It's an honor to wrap up my career, which has involved both the radio and music industries, in Philadelphia, a city as famous for its legendary radio stations and air talent as it is for its legacy of wonderful music and musicians. I look forward to my retirement, but for now I'm just looking forward to spending a few more weeks in the company of the nicest and most talented group of radio professionals I've ever had the privilege of working with."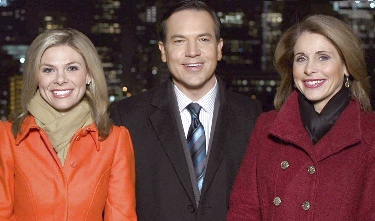 (Left to right) Jessica Dean, Chris May and Kathy Orr
The CBS 3 (KYW-TV) Eyewitness News Primetime Team
Jessica Dean and Chris May will be panelists at our January 15th luncheon
CBS 3 will once again ring in the New Year with a live broadcast of Penn's Landing's New Year's Eve fireworks spectacular. Celebrate 2014 will air tonight. That's Tuesday, December 31st, 11:30 pm to 12:30 am on CBS 3.
Anchors Chris May and Jessica Dean will host the program along with Meteorologist Kathy Orr reporting live on the ice at Blue Cross RiverRink. The CBS 3 team will be joining area families as they watch fireworks choreographed to music simulcast by KYW Newsradio 1060.
New things are going on over at 94WIP Sports Radio. Afternoons (1 pm to 6 pm) with Anthony Gargano becomes Afternoons with Anthony Gargano and Rob Ellis. Ellis, who moves to afternoon from evenings is replaced by Josh Innes who comes to Philly from Houston (KILT, 610) where he's been doing afternoon drive for the past three years. These changes start on January 3rd.
Elsewhere at 94WIP, Glen Macnow continues his Saturday morning program with Broadcast Pioneers member Ray Didinger and adds new responsibilities. Beginning this month, Glen will be heard afternoons on "Reporters Roundup" on KYW Newsradio and during football season, he'll also be spotted joining Harry Donahue, the station's top rated morning drive program. Plus, Macnow will be featured and pre and post Phillies game shows on WPHT Radio.
WE REMEMBER:
Member Bunny Gibson tells us fellow "American Bandstand" dancer Carole Ann Scaldeferri Spada died last month. Carole danced on the network show that originated out of WFIL-TV from 1957 to 1961. She was 70. She had suffered from a minor stroke and took ill at church. Gibson said of Scaldeferri: " Carole was a beautiful soul, inside and out. She was full of 'love' and full of 'God.' Carole made a difference in this world all her life and when she danced in Philly's "Studio B" she had fans and fan clubs across America, so many of them still remembering her."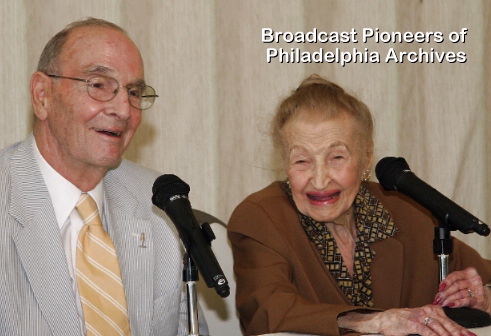 (Left to right) Members Bob Jawer and Florence Hanford
Broadcast Pioneers Luncheon
Wednesday, June 20, 2007
Member Bob Jawer (a former Board Member of this organization) passed away at the age of 91 in mid-December. Bob's 43 year career started and ended with one television station in town, Channel 3. Jawer was there during the Philco years (when it was WPTZ), during the NBC era (when it was WRCV-TV) and during the Westinghouse time when it was KYW-TV. It was a producer and time salesman. Bob Jawer was the producer of the long-running "Television Kitchen" which featured Florence Hanford.
ON THE HEALTH FRONT:
Ron Turner, webmaster of Famous 56.com (the website all about WFIL, Famous 56) was involved in a terrible automobile accident in mid-December. While on I-95. a tractor trailer hit the back part of Ron's car, spinning it in front of the truck. The truck continued down the Interstate with Ron in a "T" style path down the road. Finally, Turner's car got free but the truck hit him again. Ron drifted off to the side of the road and the truck driver left the scene of the accident. No one who witnessed this even stopped to provide assistance. The good news is that Ron Turner is ok with just a few cuts and bruises.
VISIT OUR YouTube CHANNEL: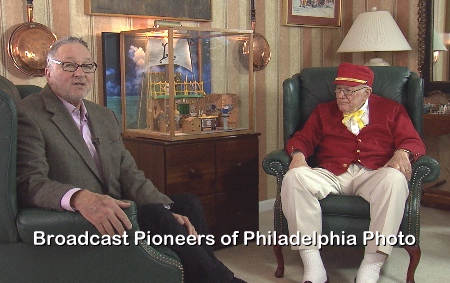 (Left to right) Members Mike Strug and Carter Merbreier
Carter Merbreier's home
Friday, December 20, 2013
Newly posted is our half-hour interview with Broadcast Pioneers' Board Member W. Carter Merbeier (aka Captain Noah). It was shot just a couple of weeks ago. You can check it out here! In 2000, we spoke with Bill "Wee Willie" Webber. You can watch that interview here! Check out dozens of great videos (we're always adding more) on our YouTube Channel at: http://www.broadcastpioneers.com/youtube!
THANKS FOR THE MEMORIES:
Robin Hood and Sir Lancelot!
After the December 2013 newsletter ran a story about Harry Harris and a photo of Harry with Richard Greene who portrayed Robin Hood in the fifties adventure show, we received this e-mail from Broadcast Pioneers member Herman Rush.
I read with interest in your recent newsletter featuring a picture dated 1958 - "Broadcast Pioneers member Harry Harris and Richard Green wwere then on "Robin Hood".

There is more of a "Philadelphia" story in regards to the "Robin Hood" series starring Richard Greene. This series was produced by Official Films, Inc., a pioneer in early TV Production and Distribution. Official Films, Inc was owned by Philadelphians Ike and Leon Levy (two of Broadcast Pioneers' Founding Members). Herb Siegel and Herman Rush, also Philadelphians, started their career with Official Films, Inc in the early 1950s.

In 1951 after graduating from Temple University, I went to Ike and Leon Levy looking for a job. The Levy Brothers were the co-founders of CBS, owners of WCAU radio and television station, and members of the Broadcast Pioneers. Ike and Leon hired me to be the Official Films salesman covering Philadelphia, Baltimore and Washington. This crossroad was the beginning of my television career. I soon moved to New York, became Sales Manager for the company, eventually Vice President in charge of Sales.

During the early 1940s, over 1500 musical shorts of approximately 3 minutes in length were produced for visual jukeboxes. These jukeboxes utilized 16 mm film that ran in a continuous loop, and like the record jukeboxes, you would insert a quarter, instead of a nickel, select the song you wanted to hear and see as well. These jukeboxes were aptly named "panoramas." and these musical films were called "Soundies".

Panoramas were featured in bars, cafes, restaurants, social clubs and in the defense plants at the time. When WWII ended and television came of age, television sets replaced these jukeboxes and the "Soundie" company faced some tough financial problems. The company eventually went into bankruptcy and a home movie company, Official Films, acquired the Soundie library and all of its rights, including television usage.

In 1950, Ike and Leon Levy had the vision to see the future potential and value that "content" including these type of musical films would have in television. They acquired control of Official Films, transferring it from a small, independent home movie company to a pioneer in the newly growing and expanding world of television.

This investor group consisted of the Levy family, Manie Sacks, also a Philadelphian and former executive with CBS, NBC and RCA, Henry and Saul Jaffe, leading entertainment attorneys and other close friends and associates. New management was also attracted that included William R. Goodheart, Jr., co-founder of Music Corporation of America (MCA).

Official Films major assets were these Soundies. This library featured such stars of the 1940s and 50s as Rudy Valley, Mel Torme, Nat King Cole, Spike Jones, Cliff Edwards, Dorothy Danderidge, Fats Waller, Count Basie, Louis Armstrong, Louis Jordan, Lawrence Welk, Bill "Bojangles" Robinson, Cyd Charisse, Doris Day, Allan Ladd and the Mills Brothers.

These films were the forbearers of today's musical videos and the library became a multimillion dollar asset for official films.

For the first several years as a salesman for Official Films, I sold the Soundies as a library, suggesting to the TV station that they should use a local personality to serve as a disc jockey introducing each 3 minute musical film as they would a record if this were radio.

Many of the stations, especially the smaller markets did not have facilities, man power or ingenuity to produce live shows in this fashion. I had to figure other ways to present them to the stations. Perhaps this was my first touch of packaging which became an important technique to me in the ensuing years.

In Philadelphia for example, we produced an hour program hosted by local radio and television personality Stan Lee Broza. This weekly one-hour program was entitled "The Yellow Cab Revue" sponsored by the Philadelphia Yellow Cab company, which interestingly, ID Levy and Leon Levy controlled.

The show actually created television history in that it alternated weeks on WCAU TV and WFIL TV. The Yellow Cab Company did not want to favor one station over the other. I believe this was the only time in history a show alternated on two competing stations within a market.

Herb Siegel joined Official Films at the same time as I did. Both of us just out of college, embarking on our lives' adventure. Herb Siegel went on to become Chairman and CEO of Chris Craft Industries, owner of television stations; WOR-TV New York, KCOP Los Angeles, and stations in Portland, Minneapolis, Phoenix. Christ Craft wwere eventually acquired by News Corp (Fox).

(Left to right) Broadcast Pioneers member Herman Rush with William Russell (Sir Lancelot)
circa 1956

Under the supervision of the Official Films management team, we went on to produce and/or distribute such other original television programming as the "Jimmy Dean Country Music Show," "The Buccaneers" with Robert Shaw, "Sir Lancelot" with William Russell, "My Hero" with Robert Cummings, "Colonel North of Scotland Yard" with Boris Karloff, "Four Star Theatre" with Charles Boyer, David Nivin, Dick Powell and Ida Lupino and secured the distribution rights to the existing 126 episodes of "My Little Margie" starring Gale Storm and 130 episodes of the Stu Irwin Show.

Within several years, Ike and Leon Levy felt that their interest in Official Films had become a potential conflict of interest in their positions on the Board of Directors of CBS, since CBS established a film distribution division. The Levys decided to sell their interest in Official Films to Official's management team that included Herb Siegel and me. Through their generosity, we were able to acquire a substantial position in Official Films with minimal investment. I will always be grateful to the Levys for that.

Official Films was my training ground. I proceeded to acquire a television distribution company, "Flamingo Films," subsequently became president of the Television Division of the General Artist Corporation, now International Creative Management, one of the world's largest talent agencies, CEO of the Columbia Pictures Television Group (now Sony Pictures), and executive producer of the Montel Williams syndicated talk show for 17 years.

I owe much of my success to Ike and Leon Levy with whom I developed a life long relationship and owe them a great deal of gratitude.
Action in the Afternoon!
As many of you may know, "Action in the Afternoon" was a 30 minute live western that originated from the back lot of WCAU-TV in the early fifties. The show ran for about a year and was carried live over the CBS Television Network. We have 70 original scripts in our paper archive. To our knowledge, these are the only original scripts to have survived into the 21st century. Here's part of the script from Friday, February 13, 1953. Here's scene five from that script.
Scene 5 - Exterior of Mitchell's Store, medium shot

Ozzie is tending store by sitting outside, whittling. Sonny runs up, out of breath.

SONNY:

Jack Valentine wants your Maw to
come over to the jail.

OZZIE:

She already went. Saw Sam over
there. You know Maw. She likes to
be in on things.

SONNY:

Miss Kate went over, too.

OZZIE:

Jest keep it to yourself, see?

SONNY:

I'm not tellin' anybody anything.
I'm workin' for Sam. We're gonna
have an election parade. Red fire
and banners and everything.

OZZIE (eagerly):

I'll carry a banner.

SONNY:

Okay. I'm carryin'a big
torch, right in the front line.

OZZIE:

Gee. That sounds like fun. It's
about time we had some kinda fun.

SONNY:

I gotta go now. See you later, Ozzie.

He darts away. CAMERA PANS to right of Mitchell Store. We see HATTON AND CROWE
lurking, listening.
A LITTLE BIT OF BROADCAST HISTORY!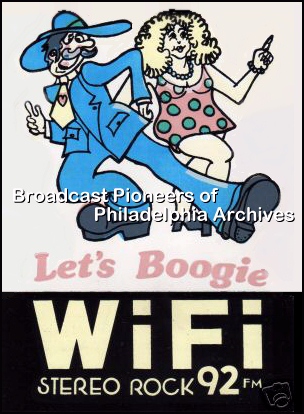 WIFI Promotional Card
circa 1978
Today, the station is known as WXTU
WFIL Radio Press Release!
A WFIL Radio Press Release dated April 19, 1950 said in part:
For Immediate Release:

WFIL TO AIR COLLEGE REGATTA FROM BLIMP

Philadelphia, April 19th

Sports broadcasting takes to the air lanes on Saturday (April 22) when WFIL commentator Tom Moorehead goes aloft in a blimp to give an exclusive description of the college regatta featuring the crews of Penn, Princeton and Columbia. This unprecedented broadcast of the varsity race is scheduled for 5 pm.

From his airborne studio above the Schuylkill River, scene of many historic rowing events, Moorehead will narrate the progress of the intercollegiate regatta not only for WFIL Radio listeners but also for spectators along the river banks within hearing distance of the public address system.

A WFIL mobile unit at the finish line, about 100 yards north of the Columbia Avenue bridge, will furnish the ground contact for the blimp and will offer an outlet for the public address system. Further amplification of Moorehead's commentary will be provided by a Fairmount Park sound truck, which will be located about a quarter mile from the finish line.
Ed McMahon, the Clown on "The Big Top"!
The TV Show, "The Big Top" originated out of WCAU-TV for the CBS Television Network. At the time, one of the station's employees was a very young Ed McMahon. We have in our paper archive, a typed document written by McMahon about why he loves being a clown. Since we only have a typed version, we cannot say if this article was ever published. We can't even say with a 100% certainty that Ed even wrote the piece, but we believe he did. Here's that the paper said:
Most American Boys, when they desire to run away with the circus infects them, want to be the ringmaster, but I always wanted to be a clown. It seemed to me that the clown had the most fun in the circus. They can ride in the floats with the pretty girls and play tricks on each other and were every bit as popular as the ringmaster.

And so, when "The Big Top" was first conceived and I had a chance to become part of it, my request for a role was that of a clown. And since then, I've really had all the fun that I imagined circus clowns must have.

Each clown must be original in makeup and costume; no two clowns, you know, ever look alike. Each clown must have his own kind of character. He must make up his own original gags, or bits, as they are called.

Being partial to the American school of tramp clowns, that's what I decided to be. For a partner in my bits, I chose Chris Keegan, a young man from the West Coast with a wonderful gift for mimicry and pantomime. Once we got our characters and make-up set, the next problem was creating new bits, which I write myself.

The whole idea of being funny as a clown is based on exaggeration. If Chris and I are baseball players, to be funny we must exaggerate. Therefore, the baseball bat may be ten feet long, but the baseball, the size of a marble. That's the basis of the whole bit, slapstick. Good slapstick will never die and that's why we are always getting laughs just by falling down, hitting each other with pies and cakes, squirting seltzer water in each other's faces, and so on.

All in all, clowning is great fun and a great art. Look at us at "The Big Top" (Saturdays at 12 noon on Channel 10) and join the fun. And maybe you'll get some ideas for your own "clown act" too.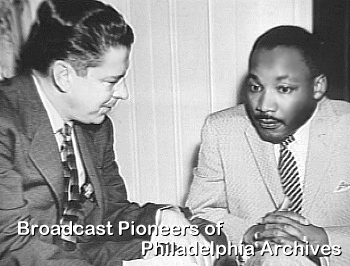 (Left to right) Broadcast Pioneers member Taylor Grant with Dr. Martin Luther King
circa 1966
Ed Eisen meets Dr. Martin Luther King!
Broadcast Pioneers member Ed Eisen has spent his whole life in the communications business. (OK, so there was some time when he was three years old when he wasn't working alot.) He was a reporter for the Philadelphia Inquirer from 1966 to 1971 and was an eyewitness to events that made national headlines. This month is the 85th anniversary of the birth of Dr. Martin Luther King. Ed tells us about Dr. King, Mother Teresa (both Nobel Peace Prize winners) and Ed's own bias. Here's what Ed wrote:
I had been at The Philadelphia Inquirer only two months when I was told by City Editor Phil Schaefer to get my butt down to Emmanuel Baptist Church. He handed me a scrap of paper announcing that the Rev. Martin Luther King, Jr. was to make two appearances that day in Philadelphia. I was to cover a 2:30 p.m. news conference in North Philadelphia. That evening Dr. King would speak at Convention Hall.

Who attended that news conference and the media who covered the event is but a blur in my memory. What I do remember is that it was a steamy Monday afternoon, September 26, 1966, two years before the civil rights leader was assassinated.

When I arrived in the dimly lit rec room of the church, Dr. King was already seated at a conference table. Two of his lieutenants sat nearby. I draw a blank on their names. The lead of the story – as I recall – was Dr. King's denial that fear in Congress of "black power" was the contributing factor that aborted the 1966 Civil Right bill.

"They were not prepared to act in the first place," the head of the Southern Leadership Conference told the small group of print and broadcast news journalists gathered in the room. Dr. King went on to say that the death of the open housing rights package spelled the end of "justice, the death of democracy" in America.

He conceded there had been a loss of "liberal contributors" to all civil rights movements. But he said he could not spell out specific reasons. "There has been a plurality of causes … many liberals have turned their interest to Vietnam, there's some confusion over Black Power …"

I was impressed by the passion at which Dr. King spoke again and again, a passion that was with him at the nation's capital with his "I Have a Dream" speech. And finally to the balcony of the Lorraine Motel in Memphis, Tenn. when a sniper ended his life at 39. As a reporter I had a front row seat to history in the making in this country. Yet my brief encounter with the great civil rights leader will go down as among the most significant.
Read Ed Eisen's memoir, "Soul for Sale," available at no charge on the Internet. Download the entire book as a free .pdf computer file.
A LITTLE BIT OF BROADCAST HISTORY!
Uncle WIP as portrayed by Wayne Cody
circa 1944
THANK YOU:
As we do every month, we want to thank Broadcast Pioneers member Johnny B. Hall for his monthly donation to our DAP, Digital Archival Project. Johnny donates $250 every month. The amount totals $3,000 yearly and really helps us to underwrite this much needed but expensive project.
We already have a good start for the April 2014 scholarships. We already have pledges and/or funding for sixteen $1,000 scholarships to be awarded in April of 2014. We received $1,000 for a scholarship in the memory of Broadcast Pioneers Hall of Famer Mac McGuire. The contribution came from member R. Alan Campbell. Also, the final $1,000 scholarship (part of a five year package) from Broadcast Pioneers Hall of Famer Sylvia Kauders. We also have pledges for seven $1,000 scholarships from member Johnny B. Hall and his wife, Ginny. Also, a scholarship from the Adelman family for a $1,000 scholarship and also one from Robin Adelman's dad, member Leon Love. Member Harry Hurley has pledged a $1,000 scholarship from the proceeds of this year's Hurley in the Morning Golf Tournament.
Broadcast Pioneers Vice-President Kal Rudman started underwriting scholarships for our organization several years ago. He was the person that underwrote our first scholarship way back when. Now, there are many following in his footsteps. Kal has just said that he'll be underwriting two more scholarships for the coming 2014 year. Thanks, Kal. Another contribution came from Esther Kurtz. Included in her membership renewal was a $1,000 for a scholarship in memory of David Kurtz (founder of B101).She has been doing this now for 8 years.
Plus, we have added two more $1,000 scholarships for April 2014. One is from Bette Lavine of Center City and the other is from Len Stevens, long-time member of the Broadcast Pioneers.
And again, we wish to thank member Jerry Del Colliano for his $1,000 contribution to our DAP fund. This is the second year in a row that Jerry has done this. We thank him so much for his gift to this most important project.
Last month, Robin Adelman (on behalf of the entire Adelman family and Leon Love) presented us with a $600 contribution to be split between of our DAP project and our general fund. We welcome other gifts for these and other projects in the form of money and/or donated items like video tapes, audio transcriptions and photos.
We also received a $1,000 check from member R. Alan Campbell. It is for a scholarship to be given in April of 2015 in the memory of Fred Ruggieri, who used the air name Fred Randall. Thanks, Alan. We also have a pledge for 2015 from member Harry Hurley with a $1,000 scholarship (limited to students either residing in or attending college in South Jersey). The proceeds for this scholarship will come from Harry's Charity Golf Tournament next year. Also, a pledge from Harry for a $1,000 gift to our DAP project. Thanks, Harry. We also just received two checks for two scholarships for April of 2015. They come from the Adelman Family and Robin's dad, Leon Love. Thanks. We also heard from Patty Ann & David Long. They attended our annual banquet in November. They sent along a check for $100 for our scholarship fund in honor of their good friend, Jimmy Hirschfeld, who was inducted into our Hall of Fame in 2013.
Now, it is membership renewal time and we would like to thank those of you who included an extra contribution with your membership renewal. Those members include: Bill Kelley, Mike Bove and Gerry Wilkinson. Thanks so much for your support.
Our special thanks go to TUTV and The Kal & Lucille Rudman Media Production Center.

They have underwritten a grant to be used to fund an entire year of all our newsletters for calendar year 2014. We thank them so much for their support!
If you forgot to make an extra contribution (cash or memorabilia) and would like to do so now, it's never too late. We would be thrilled to hear from you at: PO Box 2886, Bala Cynwyd, PA 19004 or call us at (856) 365-5600.
A FINAL THOUGHT....
"Trends may come and go, but fans have always been there. My success comes from my audience."
Member Jerry Blavat
from his book, "You Only Rock Once"
2012
Please contact us by e-mail at newsletter@broadcastpioneers.com or by mail to: Broadcast Pioneers of Philadelphia, PO Box 2886, Bala Cynwyd, PA 19004. Your stories are important, to you, to us, and your colleagues. Contact us today and we'll include your story in the next newsletter!

© 2013, 2014, Broadcast Pioneers of Philadelphia
All Rights Reserved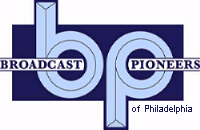 The e-mail address of the Broadcast Pioneers of Philadelphia is pioneers@broadcastpioneers.com
For luncheon reservations call (856) 365-5600 or e-mail us at: rsvp@broadcastpioneers.com