| | |
| --- | --- |
| | Broadcast Pioneers of Philadelphia is a federally recognized, state chartered 501(c)(3) non-profit organization serving the Philadelphia Broadcast Community since January of 1962. |
January Luncheon
The Bala Golf Club
Wednesday, January 20, 2016

Meet & Greet at 12 noon!
Lunch at 12:30 pm
Ratecard: $28 per person

PLEASE RESERVE NOW!
CALL (856) 365-5600!
rsvp@broadcastpioneers.com
Another Third Wednesday Luncheon!
Wednesday, January 20, 2016!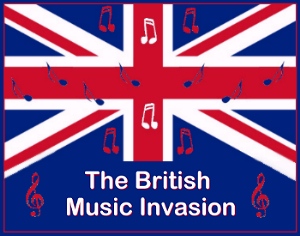 This is our first luncheon of the new year, 2016! It all takes place on Wednesday, January 20th at the Bala Golf Club. Make plans to be there.
Our topic is "The British Music Invasion" and how it affected American broadcasting. It all started back in October of 1963, when the Washington Post ran the first article in this country about the Beatles. By April of the following year, the Beatles held the top five positions in Billboard's Hot 100. To date, this has never been achieved again. In fact, no one artist has ever even held the top three positions. The British invasion would go on for years. Our MC for the afternoon is Tom Lamaine, former WIP Air Personality, former KYW-TV Meteorologist and current host of Memory Lane on WTKU-FM at the Jersey Shore.
Here's our panelists scheduled to appear, subject to change (in alphabetical order):
Gary Hendler, radio host on WWDB and former record promotion person
Don Hurley, radio personality/host/classic rock expert at the shore
Ed Hurst, radio & television personality for three quarters of a century
Tommy McCarthy, current music director for 98.1, WOGL, Philadelphia
Michael Tearson, well-known Philadelphia FM Radio air personality
Bill Wright, Sr., famed WIBG (Radio 99) and WPEN Radio air personality
It all takes place on Wednesday, January 20th at the beautiful Bala Golf Club, 2200 Belmont Avenue in Philadelphia! Just minutes away from Channels 6, 10 and 17 plus the radio stations in Bala Cynwyd. Tons of free parking.
Meet and greet (networking) starts at 12 noon with a full-course lunch including salad, coffee or tea and dessert being served at 12:30 pm. There's also a snack table. Cash bar available! The cost is only $28 per person and is open to all our members, any person in the industry or associated fields; both people now active and retirees. You do NOT have to be a member to attend.
Make your reservations early by calling (856) 365-5600 by e-mailing us at: pioneers@broadcastpioneers.com.. It's going to be a really huge crowd. Attending this luncheon is the biggest "no-brainer" on the planet! Be there and say hi to old friends (and make some new ones).
If you miss this one, you will have missed an extraordinary experience and a good time! But don't worry. Your friends and colleagues will tell you about it. RESERVATIONS ARE CRUCIAL! Don't wait until the last minute, reserve now! This is sure to be another blockbuster turn out. Make your reservation now by calling (856) 365-5600. This is THE place to be on Wednesday, January 20th!
Plenty of FREE parking. The cost is only a donation of $28 (or more) per person! In order to speed up check-in at the luncheon, it would help if you had exact change or your check already written. Checks can be made payable to the Broadcast Pioneers of Philadelphia.
If you would like to add a few dollars extra, we would appreciate it. It would help us with all the important work we are doing. Thanks!
WE'LL BE PROUD TO SEE YOU IN THE CROWD!

Visit Our Website Often - http://www.broadcastpioneers.com
You should check our website often on the front page (above) for important information!
Check out our Facebook Page - http://www.broadcastpioneers.com/facebook
There are things on our Facebook Page that are NOT on our website (like our vintage photo of the week)
Tune in to our YouTube Channel - http://www.broadcastpioneers.com/youtube
Our YouTube Channel has all our luncheons, exclusive interviews and archival material

WELCOME NEW MEMBERS (There's Eleven of Them This Month):
FULL MEMBERS:
We welcome Tony Harris into our membership. Tony has been in our industry since 1976. He is currently the Production and Operations Director for WMGK Radio (102.9 FM). Harris also programs WMGK HD2 which plays great AM Radio Pop, Rock, Motown & Philly classics. You can listen to Tony Harris every Saturday morning on WMGK. You may also know Tony as Broadcast Pioneers member Bob Pantano's sidekick on the Saturday Night Dance Party on WOGL. Harris previously worked for WIOQ and WKXW.
Since 1968, new member Kenneth Selinger has been employed in the business. Right now, he's the president and owner of CCI Communications based out in West Chester, PA. The company was founded during 1982 and pioneered in the development of local cable programming including cooking, travel, special events and other shows. In the nineties, CCI Communications produced "The Great Sports Decade" in their studios. Kenneth worked previously for WCAU Radio and Triangle Broadcasting, WFIL.
Gary De Carlo has been performing since the sixties. You should remember a group called, "Steam." They had the number one hit across the country in December of 1969. It was called, Na Na, Hey, Hey, Kiss Him Goodbye." Gary was the lead singer and now he's back singing up a storm. We was with us for our December Holiday SongFest and we hope to have hi with us again real soon. Over the years, that song by Steam has sold seven million records. Quite often the tune will be heard coming from the crowd at sporting events.
Carol Broussard Tinari started in the industry in the late sixties. She's currently the Manager and Director of NVT and Associates in Center City Philadelphia. Previously, Carol worked for JD Records and did a lot of promotional record work for both Universal Record Distributors and Marnel Music Distributors. She also worked for Nat Segal. Nat, as we all know, for decades has been the manager of Broadcast Pioneers member Jerry Blavat, the Geator with the Heater (the Boss with the Hot Sauce).
Shawn Swords started in the business 18 years ago. He attended The New York Film Academy and has written, directed and/or produced 4 feature-length film and documentary projects and two additional feature-length products currently in production. All 4 films have been aired on television regionally and nationally with three of them (Charlie Gracie: Fabulous, Wages of Spin 1 & 2) being distributed nationally by PBS. International distribution by Sky TV. He also directed & produced of "Out and About USA-Philadelphia" for Sky TV.
Bill Henley started in our wonderful business in 1980. Since 1994, he has been with WCAU-TV, NBC 10. He's a meteorologist for the station. Previously, he worked at KPAY, Chico, California in 1980 and 1981 then he moved cross town to KHSL-TV. In 1983 and 1984, he was a KRAK in Sacramento and then again moved across the town to KXTV. In 1987, Bill Henley went to KNTV is San Jose and then to WJXT in Jacksonville, Florida. He was inducted into the Broadcast Pioneers' Hall of Fame in 2014.
Glenn Kalina has been around the block more than once, as they say. He does a lot of voice over work You probably heard him on the air at one of the stations where he worked. They included doing morning drive for Now 97.5 (Greater Media) and being Assistant PD and specialty show host on WMZC-FM. He's also done extensive air work at WCAU-TV, Wizzard 100, Q 102, Alice 104.5, Sirius XM and others. He's also done staff announcing for Channel 29 for a few years in the early eighties. He has a number awards to his credit.
Starting in the business during 1982, Member Tracy Davidson started in the industry working in radio at WDNY, WXXI, WHAM and WSYR. Then she moved into television as a news reporter and anchor for Syracuse's WTVH-TV. She came to Philly and WCAU-TV twenty years ago and has become a mainstay in our market. Tracy Davidson currently co-anchors NBC10 News Today, seen weekdays from 4:30 am to 7 am on NBC 10, WCAU-TV. Last November, the Broadcast Pioneers inducted her into our Hall of Fame.
Doug Backman is one of our younger members being in the business for the only last decade. Many of us know him as the Assistant of member Michael Stairs, organist of the famed Philadelphia Orchestra. Doug is currently the Managing Director for the Stentor Music Services located at 21st and Market Streets in Center City Philadelphia. . He received his Masters Degree and Bachelors Degree from Drexel University and is currently working on his Doctorate (Ed .d) at Northeastern University.
Member Chuck Knight has served our industry since 1977. He is currently the Program Director for WBEB Radio here in Philadelphia, More FM. He started his work at KKRC in Sioux Falls then moving to WLXR in La Crosse, Wisconsin. From there he went to Des Moines and KRNQ. Next was Indianapolis (WENS) and then he came to Philadelphia and WXXR. He went back to the mid-west for a little while at WSNY in Columbus, Ohio before returning to the Big Scrapple and WBEB-FM (More FM).
ASSOCIATE MEMBER:
John Ricciutti is a television producer and interviewer. He is an Emmy winning documentary maker with 3 Telly Awards to his credit. Currently, he's a producer for Radnor Studio 21 in Wayne. He says that his interviewing skills were developed over his 42 years of interacting with employees, managers, administrators, lawyers, arbitrators and judges. Ricciutti is a retired Director of Transportation for SEPTA. His college days were spent at Cabrini College and Villanova University. Welcome to the organization, John.
We are thrilled to have these new members. Over 500 Members. More than ever. We hope to see as many of our members as possible at our January luncheon.
DIGITAL ARCHIVAL PROJECT NEWS:
VIDEO: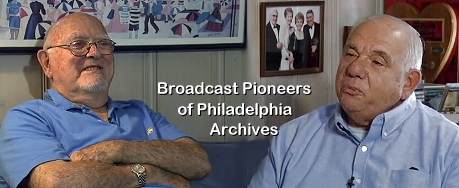 (Left to right) Members Ed Hurst and Dick Sheeran
at Ed's home at the Jersey Shore
October 2013
About 15 months ago, we recorded one of our first modern-day "Oral History" interviews in a series "Pioneers of Philadelphia Broadcasting." The programs are directed by Vice-President Brad Seecof, produced by board member Steve Sacks with our CEO Gerry Wilkinson serving as Executive Producer. The conversation with the legendary Ed Hurst was conducted by former KYW-TV News Anchor/Reporter Dick Sheeran. The location was Hurst' home in Margate City, New Jersey. Watch Ed talk about his career.
(video courtesy of Broadcast Pioneers VP Brad Seecof and Metramedia Broadcasting & Studios)
AUDIO: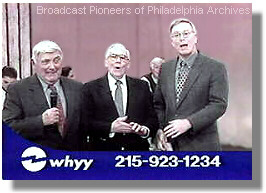 March 6, 1999 on WHYY-TV
(Left to right) Ed Hurst, Joe Grady and WHYY Producer & Broadcast Member Ed Cunningham
The station was airing "Miss Patti Page - the Singing Rage"
Joe and Ed were on as guests
(It would be the duo's last television appearance)
In the early nineties, the Broadcast Pioneers of Philadelphia started an audio project which is now known as "The Oral History Project." Basically, Marguerite Farley (who was President of our organization in 1982 and 1983) sat down with an audio cassette recorder with some of our members who were, indeed, Pioneers of Philadelphia Broadcasting. It was sort of a forerunner of our current series known by that name.

On December 26, 1991 in Bala Cynwyd, Pa, Marguerite spoke with Joe Grady and Ed Hurst of the 950 Club. In 1990, they were honored by the Broadcast Pioneers of Philadelphia as "Persons of the Year." Six years later, our organization inducted this dynamic duo into our Hall of Fame. This interview was recorded at the studios of WPEN Radio. We have uploaded the entire interview, unedited, exactly as recorded on that date.
Listen in Real Audio!
Listen in Windows Media!
Some of our readers may not be familiar with the name Don Hurley. Yes, he's the twin brother of member Harry Hurley, the legendary talk show host in Atlantic City. However, Don Hurley deserves recognition in his own right. He's a walking, talking encyclopedia about classic rock and the earlier days of music. Don is the producer of the Ed Hurst Steel Pier radio program on WPG radio at the Jersey Shore. WPG (formerly WFPG) was where Ed started his radio career three quarters of a century ago.
The program is crammed with music and interviews. Well, we have in our audio archive, a couple of interviews that Don did with Chad Stuart of "Chad and Jeremy" fame. The first is from Tuesday, October 20, 2009 with the second one done a year later on Monday, October 18, 2010. At the time, the program aired over WIBG in Avalon, New Jersey. Don P. Hurley did the interviews for both of these broadcasts.
October 20, 2009
Listen in Real Audio!
Listen in Windows Media!
October 18, 2010
Listen in Real Audio!
Listen in Windows Media!
Today's News Becomes Tomorrow's History!
(This is what our Digital Archival Project, DAP, is all about!)
IN TOUCH WITH OUR MEMBERS:
Broadcast Pioneers member Yannick Nézet-Séguin, the music director for the Philadelphia Orchestra, was named artist of the year at the 55th annual Musical America Awards in the Big Apple's Carnegie Hall last month. Not long ago, Yannick was awarded the Medal of Honor from the Québec government, their highest honor. Nézet-Séguin told the crowd, "I hope to stay in Philadelphia for a very long time."
Broadcast Pioneers member Sid Mark has signed a contract extension with Talk Radio 1210 WPHT. Often imitated, but never equaled, Sid Mark is a Philadelphia tradition. Mark has been with WPHT for 16 years and been playing Sinatra on the radio for 59 years.
Broadcast Pioneers member David Yadgaroff, Senior Vice President/Market Manager for CBS Radio Philadelphia said "What Frank Sinatra is to music, Sid Mark is to radio. We are so happy to continue the tradition that Sid started 59 years ago." Sid Mark commented "My thanks to the management of WPHT, our sponsors and, of course, my listeners for making this possible." Sid was inducted into our Hall of Fame in 2001.
Member Carol Erickson has recently been elected to the Board of Directors of the Pennsylvania SPCA (Society for the Prevention of Cruelty to Animals). Others elected include: Mary Carroll, Jennifer Crawford and Roland Kassis. Carol has worked until recently at KYW-TV, Eyewitness News. Erickson first came to CBS 3 in 1978 as a weathercaster, serving as weekend news anchor and New Jersey beat reporter before leaving the station at the end of 1984. Erickson rejoined CBS 3's news team in August, 1991.
Broadcast Pioneers member Steve Highsmith was at his usual post on New Year's Day as the WPHL anchor of the 2016 Mummers' Day Parade. Joining him for part of the coverage was Pierre Robert of WMMR. Robert was inducted into our Hall of Fame in November (and Highsmith made mention of it on the air during the parade). Steve was inducted in 2011.
Member Jim Glogowski has been appointed to the position of General Manager and Vice-President of the Salem Radio Group in Miami, Florida. Previously, Jim has held top positions with Children's Radio Broadcasting, Multicultural Radio and the Catholic Radio Network.
A LITTLE BIT OF BROADCAST HISTORY!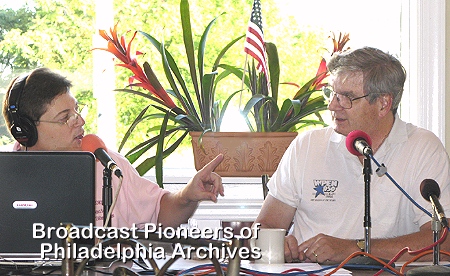 (left to right) Member Andy Kortman and Andy Hopkins
Penrose Diner, Philadelphia
September 1, 2009
Broadcast Pioneers member Andy Kortman tells us:
This photo was taken during the "950 WPEN Reunion Show," which I hosted as my, then, daily morning show on 1360, WNJC. The show was presented as a live remote broadcast from the Penrose Diner in Philadelphia. It took place 5 years to the day from the last broadcast of WPEN as "The Station of the Stars" before they flipped to their short-lived "Oldies" format. I assembled numerous former WPEN hosts/news anchors/traffic reporters who joined us at the Penrose either in-person or over the phone.

Did you know...
...that Broadcast Pioneers receives e-mails all the time about the old Philadelphia TV shows? It's true. First up is an e-mail from Tracy Schou. Her parents worked on "Action in the Afternoon," a live television western that originated daily from the back lot of WCAU-TV and was broadcast live over the CBS Television Network. This was at a time before CBS owned the station. Tracy Schou, whose mother, Patricia Hale and father, William Skyler (real last name Schou) were on the show. Tracy e-mailed:
My father died in January, 1959. My mother is alive and well, recently retired from the Reading Area Community College, where she was a career counselor, and was employed for more than 20 years. She was a founder of Green Hills Theater in the late '50s and early '60s and appeared in performances at the Bucks County Playhouse where she received rave reviews for her performances.

Action in the Afternoon Publicity Still
WCAU-TV
1953
(Photo originally donated by Tracy Schou)

Tracy added: "Both parents were Equity actors & appeared in off Broadway productions. Mom tells me that as a result of "Action," she received a movie offer and per her words, 'it was a dreadful western.' ...Even now, she talks about the buckboards and horses "doing their thing" live. Mom was the traveling hat lady, and, so she relates, laughed so much during takes that she almost got fired. Not sure about dad, but he was certainly good looking!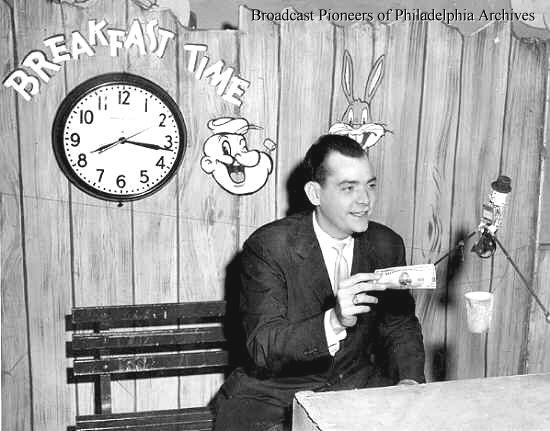 Bill Webber
Breakfast Time
WFIL-TV
1957
Stuart Kravitz, a visitor to our website e-mailed:
For me, some of the highlights of your web site included seeing Mr. Rivets, Willie the Worm and especially Bill Webber with Elmo Wiffleweather! Every time I hear Leroy Anderson's "Bugler's Holiday," I'm back in front of my TV watching Bill with Elmo bringing in the weather on a high wire just before having to walk to Carnell Elementary School (I'm from the Oxford Circle). Incredible. To this day, without question, because of its exposure on Breakfast Time, "Bugler's Holiday" still remains my all time favorite trumpet score. Always wanted to be able to play it myself, but found the 5-string banjo (and bluegrass music) just as challenging.
Mike Rossi, a visitor to our website e-mailed:
I was born and raised in Philly and watched "Breakfast Time" religiously. They had a thing going called "Alarm" or "Alarm Clock" or something, where a kid would write in about something that was going on in his/her life, and Bill would call them on air. I sent in a postcard telling Bill that I was about to get my tonsils out. The day I got home from the hospital, I got a call. Well, all I could do was grunt and groan and nothing I said was understandable. Bill talked to my mom, was very gracious and got me feeling pretty good. He called me a brave kid, for all the Delaware Valley to hear. I was a celebrity for a day or so, in my Somerton neighborhood. Beautiful memories of beautiful times and people.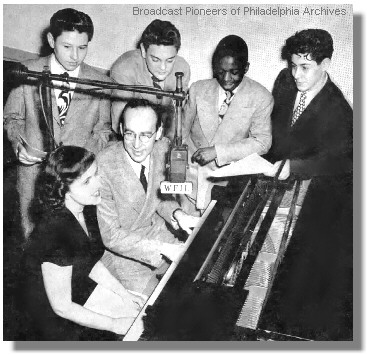 (Left to right - standing) Bernie Rich, Joey Forman, Fred Bonaparte and Eddie Fisher
Sitting at the piano are Skipper Dawes and an unidentified girl
WFIL Radio, Philadelphia
circa 1946 or 1947
Dr. Allen Joel Harris of Burlington, Massachusetts, a visitor to our website, sent us the above photo, which has been dated as 1946 or 47. He e-mailed us:
I just saw your website and it brought back a lot of memories, as I grew up in Philadelphia. Attached is a publicity picture from the Magic Lady Supper Club. Also attached is the reverse side with autographs of Magic Lady, Eddie Fisher, Joey Foreman, Napoleon, and Coughdrop. I went to a show with my sister who was more of a fan than I was. I also went to Ed McMahon's morning show in the WCAU studio in Center City. I went to a radio quiz show "Dollars or Donuts" at the Clic Club, "Bill Campbell's Sports Clinic," and Red Benson's late night talk show in the WPEN studio. Before Red Benson, I listened to Frank Ford.

In 1950 I saw demonstrations of CBS non-compatible semi-mechanical color television with the color wheel. The color fidelity was very good - much better than the RCA color which came out (later).... These demos were on a building on either Chestnut or Walnut Street on the east of Broad Street.

My father, Manuel Harris, was a telegraph operator in the 1920's and 1930's and worked for Postal Telegram and the Philadelphia Evening Ledger. He did play by play on the telegraph of all of the Philadelphia Athletics home games which were then sent to other cities so that the game could be recreated. When the crowd was making a lot of noise, my father would transmit the Morse Code for GXP which was Phillips Code for Great Excitement Prevailed. The person in the other city recreating the game would then turn on the crowd record. He also did Army-Navy games and political conventions.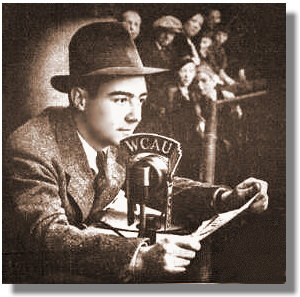 Bill Dyer
WCAU Radio
1936
Bill Dyer was a sportscaster in the 1930's and 1940's and also did play-by-play on both the Phillies and A's baseball games.

On the Phils broadcasts, he was teamed up with Dolly Stark in 1936 and Taylor Grant in 1937. He had a strange habit of walking around his chair before broadcasting a game. He told people that it was for Good Luck!

In the forties, Dyer managed the Baltimore Bullets basketball team. At that time, he was also doing Orioles games on WITH Radio. He's was what fans might call a "homer." That is, he rooted for the Orioles (a Triple A team at the time) with phrases like, "We could really use a home run now." CBS Newsman Charles Osgood said that as a nine-year-old child, he would walk down the street and all the houses had their windows open. Many houses had the Orioles game on and you could walk from place to place and continue to listen to the game. At that time, Osgood said that broadcasting is what he wanted to do with his life.
Robert Himmer, a visitor to our website e-mailed:
I recently went through some letters sent to my father (a sailor in the Pacific) during the Second World War. One sent in late October 1944 by one of my aunts (who happened to work at WITH radio in Baltimore) said, "We sure had an exciting time here last week. They [the triple A Orioles] carried huge crowds and must say a lot of credit is due Bill Dyer, the announcer for he sure built that club up with his enthusiasm." I don't have any personal memories of Bill Dyer. By the time I was old enough to follow the Orioles (still the Triple A version) on the radio, he was gone, and the Chuck Thompson-Bailey Goss era had begun.
Joe D'Adamo, a visitor to our website e-mailed:
I worked with Bill Dyer as statistician on Orioles games from 1942-1946 and later refereed preliminary basketball games prior to the Bullet games. I was in high school when I worked on the baseball games....

The bio on Bill says he was manager of the Bullets. Actually, he was general manager. He signed Paul Hoffman, who was an All-American from Purdue. On day, I visited W-I-T-H during the off-season and Dyer was interviewing Hoffman for his afternoon sports broadcast, He told me that he and Hoffman were going to Atlantic City for a Bullet exhibition game against the Philadelphia Warriors and asked if I would like to go along.

Before the game, he introduced me to a tall young man. "Joe, shake hands with Chuck Thompson," he said, "He's going to come to Baltimore next year to do the Oriole games." Dyer was a real "homer." He rooted on the air, walking around the red chair, etc. I think he was responsible for Baltimore getting back into the big-leagues. He was responsible for 50,000 fans going to Memorial Stadium for a Little World Series game when that same day, the Cards and Browns played before 30,000 on the "big" World Series. ...He was responsible for my getting into the sports business. I worked for The Baltimore Evening Sun for 42 years and was Baltimore Correspondent for Sports Illustrated for 25 years.
Stanley Slome, a visitor to our website e-mailed:
I can tell you exactly what Bill Dyer was doing circa 1962-63. Here's the story: I was on unemployment in Los Angeles, having been laid off in PR by Dan Lundberg, the oil marketing survey guru who had decided to stick wholly to that instead of other projects. I answered a help wanted ad in the LA Times for someone who could write job resumes. The interviewer identified himself as Bill Dyer. Although I hadn't heard that voice in more than 20 years, I recognized it instantly. I asked him politely if he wasn't the Bill Dyer who used to broadcast the Phillies and A's games on the first base side at Shibe Park, opposite Byrum Saam on the third base side, for Mobil Oil and describe a double play as "Mobil Gas to Mobil Oil to Bugaboo" and a home run as a "Flying Red Horse?" He was startled, that's certain, saying in effect, " How in the world can you remember that?"
This regular monthly column is researched by Gerry Wilkinson!


Our special thanks go to TUTV - Temple University Television and The Kal & Lucille Rudman Media Production Center.

They have underwritten a grant to be used to fund an entire year of all our newsletters for calendar year 2016. We thank them so much for their support!
MORE DIGITAL ARCHIVAL PROJECT NEWS:
VIDEO: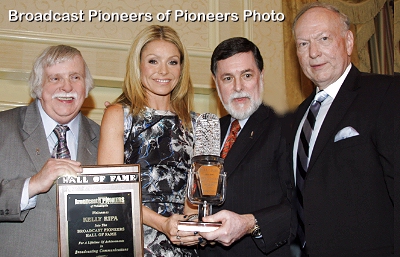 (Left to right) Chairman Gerry Wilkinson, Kelly Ripa, President Jerry Klein and Art Moore
at our Person of the Year Banquet
The Hilton City Avenue Hotel, Philadelphia
Friday Evening, November 19, 2010
2010 was our first banquet at the Hilton Hotel City Avenue. Our "Person of the Year" was Kelly Ripa. Kelly grew up in our area and was one of the dancers on "Dancin' On Air" (produced by Mike Nise) and aired on WPHL-TV, Channel 17. Art Moore was our "Person of the Year" in 1998. Art was a former president and chairman of the board of this organization during his days here in Philadelphia while working at WPVI-TV. Art is now Kelly Ripa's TV producer and is Vice-President of Programming for WABC-TV in NYC.
VIDEO IS IN WINDOWS MEDIA FORMAT!
Watch Art Moore introduce Kelly
(video courtesy of Broadcast Pioneers VP Brad Seecof and Metramedia Broadcasting & Studios)

AUDIO:
Broadcast Pioneers member Ed Sciaky had a long career here in Philadelphia. In 1976, Ed was at WMMR Radio. On February 13th of that year, Ed interviewed live on the air the British radio band Sweet. Here's that interview dubbed off the original audio tape air check that Sciaky recorded at the station. Thanks to member Judy Sciaky for allowing us to crawl around in her basement where we found hundreds of airchecks including this one.
Listen in Real Audio!
Listen in Windows Media!
It's a couple days into 1961. It's Friday morning, January 6th to be exact. The station is the number one radio broadcaster in our market. WIBG, Radio 99, was owned at that time by Storer. Our very own board member, Bill Wright, Sr. was doing morning drive at that time and was half way through his shift.
Listen in Real Audio!
Listen in Windows Media!
Remember, History is ONLY What Gets Saved!
(If there were no portraits of George Washington, how would we know what he looked like?)
IN TOUCH WITH THE INDUSTRY:
The Telemundo Station Group announced the launch of its newly redesigned digital platforms, which include an updated and streamlined look for 15 Telemundo-owned station online properties, including desktop, mobile and station apps. One of those is Channel 62 here in our market. The enhancements deliver Spanish-speaking viewers best-in-class digital features, including an enhanced weather experience, up-to-the-minute severe weather push alerts and a new and easy-to-access "Breaking News" bar on its desktop, mobile and app platforms, to help viewers stay ahead of the news when they're on-the-go.
The 15 Telemundo-owned stations' apps will also launch a new app update in early this year to provide users with even more interactive mobile features to help them stay ahead of the news happening in their local communities. The roll-out of the new redesigned digital platforms are part of a series of enhancements made at all Telemundo-owned local stations to better serve Spanish-speaking viewers all across the United States and in Puerto Rico.

Other enhancements that the Telemundo Station Group has made in its local stations, thanks to an significant investment made by NBCUniversal include the addition of more than 75 hours of live, local news a week by launching new newscasts all across the United States and Puerto Rico; the hiring of more than 160 new employees, including news reporters, producers and photographers to support the boost in news.
Kudos to Peter Smyth, Greater Media's CEO and President. He's this year's recipient of the Salvation Army's "Others Award." This is the organization's highest honor. Greater Media has 4 stations in our market, all on FM. They are 97.5, the Fanatic, WMGK, WMMR and 95.7, BEN-FM
WGYM, a South Jersey AM radio station, has been sold. Domestic Church Media purchased the station that broadcasts with 1,000 watts daytime but only a half-dozen watts at night. The new owners already hold the licenses for two other stations, WFJS, 1260 (Trenton) and WFJS-FM at 89.3. The station flipped format on New Year's Day from Spanish programming to religious.
The St. Anthony of Padua School located at 2824 River Road in Camden, NJ received last month, ten brand new Dell Laptops for their school courtesy of KYW Newsradio and Comcast.
"By partnering with a community minded organization like Comcast for sixteen years, it is gratifying to assist schools like the St. Anthony of Padua School who make a difference in the lives of local children in Camden, NJ with new laptops," says Broadcast Pioneers member David Yadgaroff, CBS Radio Philadelphia SVP and Market Manager.
In case you haven't noticed, the Mummers Parade sub-channel (17.4) is gone (effective New Year's Day) and it has been replaced by Comet TV, a new Science Fiction, Supernatural and Fantasy programming, mainly from the MGM library. Current TV series include: Johnny Sokko and His Flying Robot, Men into Space, The Outer Limits and Stargate SG-1 with more to come.
For those interested in a midnight local newscast, you can pick up the rebroadcast of the 10 pm Action News (carried on WPHL) at the bewitching hour on WPHL's sub-channel, 17.2. It's available over the air and on cable and Fios. And you might be interested to know that Johnny Carson is back on late night. Antenna TV (carried on WPHLs 17.2) is running the 60 minutes show daily across the board at 11 pm (with a repeat at 2 am). On Saturdays and Sundays, from 10 pm to 11:30 pm are the earlier shows that are 90 minutes in duration.
One of WTXF's sub-channel's, Buzzr, is carrying the old Black & White Game Shows like "To Tell the Truth," "What's My Line" and others. They run 40 minutes instead of a half-hour because they carry the original commercials.
Decades, a sub-channel on CBS 3 is also running an old black and white series, "Westinghouse's Studio One" complete with the original spots done by Betty Furness and John Daly. Again, the show runs longer than an hour because of it containing the original commercial announcements. Lots of well known stars appear in these broadcasts that were originally telecast live.
WIP Radio has renewed the contract of John Innes who joined the station last year at this time. Josh started doing evenings and quickly was elevated to afternoon drive.
A LITTLE BIT OF BROADCAST HISTORY!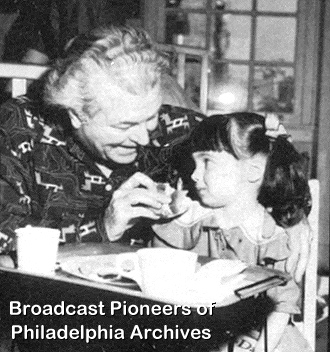 (left to right) Pete Boyle with an unidentified child
1953
THIS AND THAT! Little Bits of Information....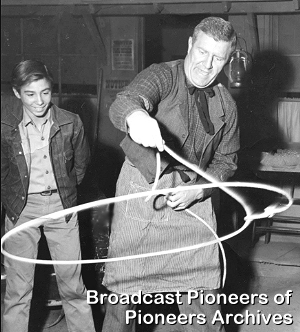 (left to right) Johnny Crawford and Broadcast Pioneers Hall of Famer Rex Morgan
WFIL-TV, Channel 6 (now WPVI-TV), Philadelphia
circa 1962
Around 1964, while hosting kids programs on WFIL, Rex Morgan played one of the imposters on the daytime version of "To Tell the Truth." Around 2005, the Game Show Network re-ran the program so, as of that year at least, the show still existed. So many of these broadcasts have been lost over the years.
Someone once said that the LeRoy Miller story could have been easily called "From Milk to Mike." It's probably a good title. The story goes that he used to walk 9 miles after milking the cows on the family farm to nearby Lancaster, Pennsylvania to be an announcer on a local program there. Since the average person can walk about 3 miles an hour, that would make it a three hour walk to the station and three hours back (in good weather). However, back in the day, it was quite common for travelers to pick up hitchhikers. So he could have made the trek much faster. Anyhow, that announcing gig in mid-state was his first taste of broadcasting. LeRoy worked at WPEN, KYW and WFIL back in the thirties, forties and early fifties.
During December of 2007, a handful of Philadelphia broadcasters and journalists had a discussion with their counterparts from Kazakhstan (a former Soviet republic in Asia). The event was sponsored by the United States Department of State. Included were our President at the time, Gerry Wilkinson, former President and Chairman of the Board Pat Delsi and NBC 10 news reporter Terry Ruggles.
On the Top 99 (WIBBAGE) list for February 22, 1960, the top ten songs were:
1. Theme from a Summer Place - Percy Faith
2. What in the World - Jack Scott
3. He'll Have to Go - Jim Reeves
4. Beyond the Sea - Bobby Darin
5. Wild One - Bobby Rydell
6. Handyman - Jimmy Jones
7. Tracy's Theme - Spencer Ross
8. Baby - Brook Benton & Dinah Washington
9. Forever - The Little Dippers
10. Harbor Lights - The Platters
During the thirties, Broadcast Pioneers Hall of Famer John Leitch (Chief Engineer for WCAU) worked with Leopold Stokowski, conductor of the Philadelphia Orchestra. Stokowski was provided a workshop by WCAU in their "new" building on Chestnut. Part of the things they did included amplification experiments that concluded with the development of an electronic beam instrument for visually showing the sound intensity of the musicians. It was later used by the Philadelphia Orchestra on their broadcasts over CBS Radio.
Although his real name is Jarrett Spotswood Lickle, the children called him "Patches." His friends called him "Spotty," and there were rumors that as a child, he was teased with the name "Spot." He hosted children's programming on WCAU-TV in the fifties. Surprise! Surprise! We opened our e-mail one January 2002 morning and there was an e-mail from "Patches." He wrote:
I am Jarrett Spotswood Lickle and "PATCHES." My oldest daughter just sent me an e-mail with your website and asked if I knew about it or not. Well now it was such a wonderful surprise when I hit your site. As you can imagine it is a great feeling be remembered and it took me back many years to WCAU-TV. I am 76 now and feeling hail and hearty, thank the Good Lord. I am now living in Sparks, Maryland close to where I was born really....

I thought I would bring you up to date.... First, after leaving WCAU-TV, I worked for a few months on WTNJ radio, 220 watts in Trenton, N.J. I was negotiating with WBAL-TV back here in my home of Baltimore. They took me and I was Patches here with a different format. I had found that the pioneer character WCAU-TV gave me, limited the subject matter to pioneers, indians and animals. However Patches has been with me through it all. After WBAL-TV I went over to WJZ-TV where I ended up with 11 children's shows a week.

It was here that I did my last shows for TV. I married a girl from Cumberland, Maryland who was here on a scholarship to the Peabody Conservatory. We married and in between TV shows, we were a singing duet with my guitar. We sang in many wonderful lounges and hotels here and in southern Spain for three years. All in all, we did lounges for 26 years. After leaving WJZ-TV, my wife, Elizabeth and I opened a most successful Coffee House in the roaring 60's. You may find it interesting to know that the likes of John Denver, Don McLean, and Emmy Lou Harris were among the many wonderful performers we were able to present to our clientele.

That lasted as long as folk music did, which was about ten years. I am now retired and Liz, my wife is still an RN here in a fine hospital. And yes we still sing and play at some various occasions. My voice has not failed me yet so as long as it holds good, I will always sing and play that good old guitar. It has been and is still a wonderful trip for me....
The coffeehouse Jarrett was talking about was called, "Patches 15 Below." It was so named because you had to walk down 15 steps from the sidewalk to enter. Jarrett passed away in 2012.

THANKS FOR THE MEMORIES:
"How I Sailed to Hawaii and
landed on a nuclear bomb test site by mistake"
(The Dr. Don Rose Story)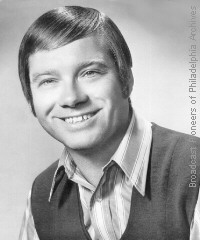 Famous 56 Air Personality Dr. Don Rose was named disc jockey of the year when he was here in Philly at WFIL Radio. He won again at KFRC-AM in San Francisco.
He was a master of wild sound effects and one-liners. Born in 1934 in North Platte, Nebraska, Don Rosenberg got his first taste of broadcasting at age 15. Seemed he needed $200 to go to a Boy Scout National Jamboree in Valley Forge, right near us Philadelphians. The area newspaper ran a contest which Don won. He would report for the paper on the details of the Jamboree.
The local radio station KODY (Don lived in Buffalo Bill Cody's hometown) offered him a chance to report for the station instead for the same amount of money. Don said, "I was a terrible speller, so I decided to go for radio. I swear, that's the only reason." He even got to record an interview with Dwight Eisenhower before the former general became President.
Dr. Don majored in accounting at the University of Nebraska and worked at the campus radio station KNUS. Don always said that no one but him noticed that the call letters spelled backwards were SUNK.
His first real broadcasting gig was at KWBE in Beatrice, Nebraska. Then he went to KLMN in Lincoln. In 1955, while in his senior year at college, he had an offer from KOIL in Omaha. He quit school and took the job. The station's owner, Don Burden, fired Rose after only four weeks. College was gone and so was his radio job. But it wasn't a complete loss. Chick Crabtree, the Program Director said upon hiring Don that the last name was too long. They changed Rosenberg to Rose. His initials were DR, and Crabtree had a thought. He called the kid, Dr. Don... Dr. Don Rose.
Next he went to KTSA in San Antonio. He lasted a month there also. He headed back to Nebraska and KRNY in Kearney. A year and a quarter later, he was fired again. Unable to find broadcast work, he found employment with the Union Pacific line pounding railroad spikes into the road bed.
Finally, he landed back in radio at KTUL in Tulsa, Oklahoma. Then it was on to KMT (AM) in Iowa (Fort Dodge), where he met his wife Kae. They were married for 45 years. In Iowa, he landed morning drive where his one-liners punctuated with cowbells and moos started to draw a fan base. Then he went to WEBC in Duluth, Minnesota in 1959. He was there for 5 years and got to be Program Director. He tried to find a good morning man but couldn't so he decided to do it himself.
Dr. Don told corny jokes, got a cowbell or two and generally went crazy. His WEBC program would eventually evolve into what he'd do in at WFIL. Next came Atlanta and WQXI. While he was hired to do 9 am to noon, he was quickly moved to morning drive. Atlanta was his. He was number one.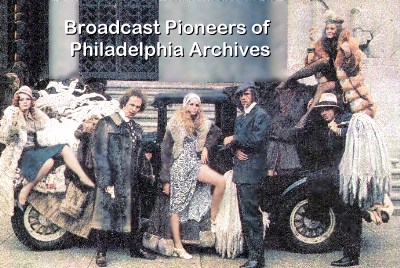 The WFIL Great Fur Caper
(left to right) Tom Dooley, George Michael, Dr. Don Rose and the WFIL Boss Chicks
1971
In 1968, Famous 56's Program Director Jay Cook hired Don for Philly's wake-up guy. Four years later, he suffered a heart attack and was off air from October 3, 1972 until the following June. However, his top-rated morning show went into good hands when in a stroke of genius, WFIL hired former WIBG legend (and Broadcast Pioneers member) Joe Niagara. The Rockin' Bird was light, tight and bright and the ratings stayed high. Dr. Don Rose was here at WFIL Radio from 1968 to 1973. While here in Philly, he also hosted a kids show on local TV, Channel 48, WKBS-TV.
In 1973, Dr. Don Rose was named Disc Jockey of the Year by Billboard Magazine. While in Los Angeles to accept the award, he ran into rock radio guru Paul Drew. One thing led to another and Drew offered Rose mornings at KFRC in San Francisco. He went on to San Francisco and the Bay area where his morning program lasted for ten top-rated years.
In 1980, Dr. Don Rose purchased a boat and decided he was going to sail all the way to Hawaii, a 3 week trip. Well, to make a long story short, months later they (Don and his crew of five) sailed off into the sunset. Twenty days later, Don yelled out that there was land. They had made it.
They jumped out of the boat and congratulated themselves and took a stroll along the beach. About a half-mile later, they came across a sign that said:
STAY OFF ISLAND
NUCLEAR TESTING SITE
They ran like crazy to the boat and pushed it back into the ocean and jumped in. Only after they were in the craft did they notice the entire vessel was encircled by sharks. The next day, Don's daughter Kelly spotted land and a more friendly sign, "Port of Honolulu."
After leaving KFRC, he joined his son Jay at KKIS-FM and then drifted over to KIOI-FM where two months into his gig, he suffered a heart attack and had to quit. He spent 33 years in the business.
Dr. Donald D. Rose was a deeply religious person. After his heart surgery in 2001, he said: "I wouldn't be here today without the grace of God, and without the prayers of the faithful. You are my brothers and sisters. You are my friends." And, "Friends are angels who lift us to our feet when our wings have trouble remembering how to fly." His favorite Bible verse was Psalm 34:1, "I will always praise the Lord, no matter what happens." He was active in his church, enjoyed Bible Study, and loved playing Scrabble and Cribbage with wife Kae. Don and his wife had five children and nine grandchildren.
Don Rose was a true broadcast pioneer. He had many accomplishments. He was top-rated. He was handsome and smart. But what really brought Dr. Don into our hearts was himself. He woke us up. He played all the hits, but the most important thing he ever did was to make us smile.
On his last day on WFIL, Friday, October 5, 1973, he read something that a listener had sent in. The message was: Once in awhile, we meet someone who stands out from the rest of the flock. Someone who flies higher and faster and further than we ever thought possible. It helps us to do the same. That someone was you, Dr. Don Rose. In 2008, Don Rose was inducted into the Broadcast Pioneers of Philadelphia's "Hall of Fame."
Bertie the Bunyip & Lee Dexter!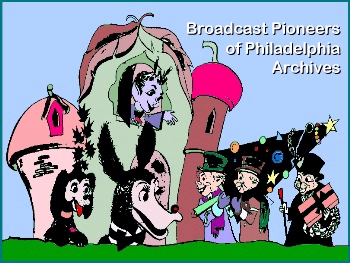 Colorized version of a drawing in "The Bunyip News"
December 1953
The following is basically an article written for our website 16 years ago by our current CEO Gerry Wilkinson. It's all about Lee Dexter and his character of "Bertie, the Bunyip."
In 1950, local artist and cartoonist, Pete Boyle started to put together a kid's program on Channel 3, then WPTZ. He decided to bring his old Australian buddy Herbert Dexter into the fold. Dexter created the puppet used on Pete's show, Snoopy (sometimes called Snooper) the Squirrel. Herbert is better known to Philadelphians by his middle name, Lee.

Lee Dexter is best known for his character of Bertie, the Bunyip. What's a bunyip? Well, Lee Dexter, who was born in 1905, said it is "really an Aborigine good spirit." According to Dexter, bunyips look strange because they were at the end of the line when God created animals. They got all the leftovers - the bill of a platypus, upright ears of a kangaroo, a bubble nose and the scraggly fur of a puppy. Woolly Bertie had a red nose and wore a red-and-white polka-dot tie and was loved by children everywhere. Dexter made Bertie out of spare animal parts left over from other creations. Little did he realize that Bertie would be the most famous of all.

We, of course, also remember the busybody, Nixie the Pixie, Humphrey the white rabbit (he wore a black cape), Winnie the Witch, Poochie the Pup and those terrible twos, Fussy and Gussy who were always outwitting the top-hated villain, a fox named Sir Guy de Guy. Dexter in all seriousness once told a reporter that the character was named after the TV Guide (an early sponsor), Sir Guy de Guide. They all lived in a mythical village called "Bunyipville." For a decade and a half, it was a staple of Sunday morning television airing on Channel 3 from 11 am until noon (it premiered on Sunday, July 26, 1953). It was a good programming move as Bertie was on for an hour. The second part of the show was opposite WCAU-TV's hot property, "The Children's Hour" with Stan Lee Broza (first President of the Broadcast Pioneers of Philadelphia).

Channel 3 was hoping that the kids audience would keep the TV set tuned to Channel 3 and not have the audience leave half way through the program. It was a good counter programming move. Channel 3's audience increased during the entire hour. Little did Dexter know that his show would be the source of changed Sunday School times.

During some of this era, Bertie was also on Saturdays too. There was also a daily program. In August & September of 1954, the Monday thru Friday show was from 4:30 to 4:45 pm. They showed cartoons in between the sketches. Many times, children appeared as guests on the broadcasts. For awhile, the Sunday show was moved a half-hour earlier and ran from 10:30 am to 11:30 am. Then it was moved by Channel 3's Program Director (who was still host of The Children's Hour on WCAU TV & Radio) Stan Lee Broza dead smack against the Children's Hour in the 11:30 am to 12:30 pm time slot.

On December 24, 1956, some interesting things were happening at Channel 3. Stan Lee Broza, had come over some time before from a lifetime career at WCAU to be Program Director of Channel 3. He continued to host the Children's Hour on WCAU Radio and TV. (Sounds like there might have been a conflict of interest there). The long running "Let Scott Do It" with Alan Scott, Broadcast Pioneers member Jane King and Mr. Rivets, portrayed by Broadcast Pioneers member Joe Earley, was dumped and replaced by a weird 35 minute disc jockey show entitled "Let Scott Play It." Fun House was moved from 6 pm (then against "Starr Theater" since October of 1955) to 5:30 pm. Fun House would then be finished before Sally Starr's program hit the air.

About a month later, Pete Boyle announced he was leaving the show because of the earlier time period. (It's likely that Pete was forced out). On Monday, February 4, 1957, Alan Scott took over a "permanent" host. He was still doing "Let Scott Play It" in the mornings. Five days later, both shows were gone and he resurfaced shortly afterwards doing the station's weathercasting on the weekends. Lee Dexter and his Bertie the Bunyip gang took over the show on February 11, 1957. Boyle said he was going west to appear in the movies, but a couple months later, he was back in Philadelphia.

Owners came and went, Philco, Westinghouse, NBC-TV and again Westinghouse, but Bertie was still there. Suddenly, the station made the decision (for economic reasons) to cancel the program, despite continued high ratings and viewership. Bertie's production costs had become too expensive. KYW-TV believed that children would still watch the TV for cartoons, but which would be much cheaper. Dexter was reported to have been bitter about his firing from Channel 3. He said that by then corporate types had taken over the reins of local TV from the technicians, artists and managers. He stated that no longer would kids television be instructive or entertaining. Its sole purpose would be as a profit center.

In 1966, the program moved to WPHL-TV, Channel 17, on the air at that time for just a year. It lasted only a few months and was cancelled. It was just too expensive to produce. But that couldn't kill Bertie the Bunyip for two more decades, Lee and his wife, nicknamed Sunny, performed at malls and kids shows. While most of us will remember Lee as the creator of Bertie the Bunyip, it's interesting to note that he was also a local DJ on WPEN during the fifties, the same time era when Bertie was in its prime.

Born and raised in Melbourne, Australia, Dexter had intended to become a teacher. That is, until he saw a ventriloquist at a performance in Sydney in 1928. So long teaching, hello vaudeville. Quickly, he discovered his talent for ventriloquism matched his fervor. His nephew, Edward Hudson of Cape May, NJ said that Lee stole his brother's dummies and stowed away on a ship for Great Britain. In England, he hooked up with a dance company and toured the United States.

During the 1930s, with a life-size puppet named Jerry McGinney, he traveled the vaudeville circuit with Bob Hope, George Burns, Eddie Cantor and others. Tall and thin, he had a fragile build. He was also a heavy smoker. The combination ultimately affected his vocal cords. His voice became hoarse, and he could no longer control the lip muscles needed for ventriloquism. He quit vaudeville towards the end of the forties and settled in Philadelphia with Marie Therese "Sunny" Scullin, one of the tap-dancing Scullin Sisters. He met and married here while he was in the Navy and she was entertaining troops with the USO in San Diego.

Dexter was also a master of mechanics. He had a workshop in the back of his Bala Cynwyd home where he made heads for puppet and rebuilt and restored puppets for Edgar Bergen and Paul Winchell among others. Lee Dexter developed his own system of molding rubber and plaster of Paris together to create heads that allowed puppet masters to get a greater facial expression from their dummies.

At the time of his death in 1991, a quarter of a century after leaving television, Channel 3 would still get a hundred requests a year for photos of Bertie, Lee and the gang. Bertie would always say, "Remember kiddie-kiddies, Bertie always loves you." Well, remember Lee, Philadelphia will always love you. After all, we are the city "that loves you back."

An ad for "The Big Rascals" in January of 1960 said:

Bertie the Bunyip, Nixie and Pixie, Hugh Carrot Foot and all their puppet friends add a wonderful world of entertainment to a magical hour of fun and films! Kids will laugh out loud and you'll smile and even chuckle a little yourself! Enjoy Lee Dexter and all his friends every morning. It's one of Philadelphia's most charming and wholesome shows. WRCV-TV, Monday thru Friday 9 to 10 am.

Though the ad said 9 to 10 am, it actually ended at 9:55. At that time, there was five minutes of news delivered by Bob Bradley. Bob followed Bertie and the gang on Sundays, too. However, Bob portrayed "Buckskin Billy" in that time period.

Evelyn Carlson, a visitor to our website e-mailed:

I was commenting to our kids that sometimes our Australian Cattle dog (a Blue Heeler) named Swirley, reminds me of Bertie the Bunyip. It took awhile, but I found your site with pictures. Thanks for the memories. I used to watch "Bertie the Bunyip" as a child (I'm 48 now) in Wilmington, Delaware where we received Channel 3 from Philadelphia. I can remember loving Sunday mornings because that's when Bertie the Bunyip came on. Thanks for having the pictures.

Mike Jawer, a visitor to our website is the son of Bob Jawer, one of our members. He e-mailed:

I just want to say that I've enjoyed your website and learned a few things rummaging around.... You've done quite a job researching and ...some have triggered recollections. For example, I didn't really know who or what Bertie the Bunyip was. From hearing my dad mention him once or twice when I was young, I just figured he must have been a figment of my dad's imagination!
Phil Farnsworth, Part One!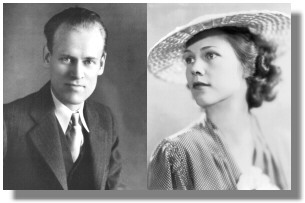 Philo & Edna Farnsworth
Philadelphia
circa 1934
(Photos courtesy of Professor Donald G. Godfrey)
It was 2002 when author Tom Keels wrote the following article about Broadcast Pioneers Hall of Famer Philo Farnsworth. It is electronically reprinted here with the author's permission. It will be presented in three parts. This is the first installment with parts two and three coming in February and March. Here is the first part.
It was the first TV set on the block, so the Wyndmoor home was filled with neighbors anxious to witness the wonder of the age. As the hostess served refreshments, the host adjusted the knobs of the tall wooden cabinet, similar to a radio except for the small glass tube at its top.

Suddenly, the screen flickered into life. The room fell silent as a blurry, black-and-white image took shape, like a spirit emerging from a crystal ball. People huddled around the nine-inch screen, watching a little girl dance and sing.

For the next half-hour, the crowd sat transfixed by a string of live entertainers. When the show ended, the adults excitedly discussed the new marvel while their children sat on the floor, mesmerized by a Mickey Mouse cartoon. A typical baby-boomer memory? Not quite. This scene took place not in 1957 or 1947, but in 1937.

Before World War II, Wyndmoor was home to one of the first experimental TV stations in the country: W3XPF, founded by television pioneer Philo T. Farnsworth. From 1937 to 1939, a stream of cartoons, sports, and live entertainment poured from the station transmitter at 1230 Mermaid Lane. Meanwhile, Farnsworth's research team perfected the technology of electronic television at a nearby laboratory in Chestnut Hill. At both sites, local residents worked before and behind the camera to create this modern miracle.

Today, a growing body of experts considers Philo T. Farnsworth (1906-1971) the true inventor of television. As a Utah farmboy, Farnsworth was inspired by the linear pattern of a freshly plowed field to envision an electronic television system. This system used an "image dissector" to scan an object line by line, convert it into an electrical signal using an electronic beam, and then transmit it to a receiver that reassembled the image. On September 7, 1927, Farnsworth conducted his first successful experiments in a laboratory on Green Street in San Francisco, transmitting the postage stamp-sized image of a single line to a screen a few feet away. In 1930, Farnsworth received a patent from the U.S. Patent Office for his system.

Unfortunately, Farnsworth became an unwitting David to the Goliath of David Sarnoff, powerful president of the Radio Corporation of America (RCA). Sarnoff was determined to make RCA as dominant in the new medium of television as it already was in radio. When Farnsworth rebuffed his offer to purchase his technology, Sarnoff challenged Farnsworth's patents in court. Sarnoff claimed that RCA engineer Vladimir Zworykin had filed an earlier patent application for an electronic television system. (While Zworykin's application was filed in 1923, Farnsworth's patent was granted first). Farnsworth counter-claimed that Zworykin's original design was non-functional, and that Zworykin had copied elements from Farnsworth's system during a 1930 visit to the Green Street lab. The legal battle would last until 1939, delaying the introduction of television to the American public by nearly a decade.

Financially paralyzed by the patent dispute, Farnsworth moved to Philadelphia in 1931 with his wife Elma (or "Pem") and his two young sons. The Philco Radio Company hired him to run their fledgling television division and to set up an experimental television station, W3XE, at their factory at C and Tioga Streets. The uneasy relationship was marked by personal and professional tensions. In September 1933, Farnsworth left Philco and formed his own company, Farnsworth Television, Inc.

At the time, Farnsworth and his family lived in Chestnut Hill. Before he left Philco, Farnsworth rented space at 127 East Mermaid Lane, the garage and offices of the O'Neill Construction Company. Andrew O'Neill, a contractor who had worked on the Ben Franklin Bridge in the 1920s, went out of business during the Depression when the city of Philadelphia defaulted on the bonds with which he had been paid for the project. Farnsworth brought most of his Philco staff with him to Mermaid Lane, including engineers Romely and Tobe Rutherford, brothers who had worked with him in San Francisco.

Robert Rutherford, son of chief engineer Tobe Rutherford, recalled how he got caught up in the feverish intensity of the laboratory: "The group was working hard to get something they could demonstrate to get investor support but also to get licensees. They did a lot of overtime. If we wanted to see Father we went down to the plant. I was pretty young when it started, about 6 or 7. In those days before OSHA, I learned how to use a lathe. We did a lot of things you would frown on today. We handled mercury fairly casually to make vacuum pumps. Sometimes you got a little mercury in your mouth when you were siphoning it up. It was okay unless you had metal fillings. Accidents were few – sometimes people put a screwdriver through their hand, but it wasn't particularly hazardous."

Robert and his friend, Philo Farnsworth Jr., watched their fathers create all the television equipment from scratch. "The (cathode-ray) tubes in those days were Erlenmeyer flasks (flat-bottomed conical lab flasks). You made a tube out of that by coating the end with willemite (zinc silicate), which had a greenish color. So all the television pictures were green, and 5 or 7 inches wide. A continuous test loop was made of a cartoon of Ignatz the Mouse hitting Krazy Kat with a brick. You could see the line structure on the picture – about 144 lines – a much cruder picture than today. The assembled apparatus was built in relay racks, the standard industrial construction of the day. Everything was made with vacuum tubes. It took a fair amount of them because the signals were quite weak."

Farnsworth also hired several local workers, including Italian-born carpenter and cabinetmaker Joseph Spallone, who lived at 55 East Mermaid Lane. Impressed by Spallone's abilities, Farnsworth had him make prototype cabinets for experimental televisions, as well as lab equipment and furniture. In her 1989 autobiography, Distant Vision, Pem Farnsworth described Spallone as "an old-world Italian…Joe could fashion almost anything out of anything. His carpentry was flawless, and his molds and metal castings were a delight to Phil."

Spallone and Farnsworth formed a close bond after Farnsworth helped his employee during a family crisis. According to Spallone's grandson, Wyndmoor native Gerry M. Serianni, "My grandfather had a daughter who was severely mentally retarded – Beatrice or 'Bebe', who was born in 1931. My grandparents couldn't handle her. Farnsworth found a special school that could take care of her, the Rose Hill School in Chester Heights. Bebe is still there today. My grandfather was eternally grateful to Farnsworth. My family said he would have followed Farnsworth to the end of the universe."

Another Spallone daughter, Lucy Rose, became one of the first Americans to be televised. One day, Spallone was helping Farnsworth test the transmission and reception of television signals, while his teenage daughter practiced tap dancing in another room with two friends, Mary Cupo and Josephine Viola. Farnsworth asked Spallone if the three girls would dance in front of the camera. According to Serianni, "The girls continued to dance and a signal was successfully broadcast to a nearby receiver, much to the delight of a brilliant scientist, his assistants, and one carpenter. A family star was born!" (To be continued next month!)
A WORD ABOUT OUR NEW 2016 MEMBERSHIP DIRECTORY:
Most of you should have received our brand new 2016 Membership Directory by now. Those who haven't should receive it in the next couple of days. Let us take a couple minutes of your time to explain how we safeguard your personal information. We have thought about doing an electronic only version. However, something like that can easily be forwarded to non-members and people who shouldn't have the information it contains.
Printing a hard copy and mailing it to members is quite costly (about $3,000.00 an issue). Revenue from advertisers just about pays for the cost of printing and mailing. It doesn't really generate extra revenue for our various projects.
One reason is that we do NOT accept advertising in our membership directory from non-members. Why? If we sold an ad to a car dealership, they would get a copy for their files. That would include every member's contact information. It would, in effect, be like selling our membership list. We do not and will not do that. We are very careful with your personal information. We will continue to do so. We take our responsibility very seriously.
OUR HATS OFF TO YOU FOR GIVING:
We are a federally recognized, state chartered charity with a 501(c)(3) status. Contact us at (856) 365-5600 or e-mail pioneers@broadcastpioneers.com for more details. Your gift to Broadcast Pioneers will help us and may lower your federal income tax. That's win-win, isn't it?
Special Thanks for the gift of Appreciated Stock: (a federal tax advantage for the giver)
Member Dan Lerner - used for the scholarships listed below
Member Sylvia Kauders - used for the scholarships listed below
Member Marc Howard - added into our general fund to be used where needed
Special Thanks for contribution of $1,000 or more to our DAP, Digital Archival Project:
Member Johnny B. Hall and wife Ginny - $3,000
Member Marlin Taylor - $1,000
Member Harry Hurley's Golf Tournament - $1,000
Member Glenn "Hurricane" Schwartz - $1,000
Member Elliot Abrams - $1,000
Special Thanks for April 2016 Scholarships:
Member Dan Lerner - 5 scholarships
Member Sylvia Kauders - 1 scholarship (from a grant for 5 yearly scholarships running until 2019)
Member Harry Hurley's Golf Tournament - 1 scholarship (for a South Jersey resident or student)
Member Johnny B. Hall and his wife, Ginny - 7 scholarships
Member Kal Rudman - 5 scholarships (for Temple University students)
Members Robin and Ira Adelman and Robin's Dad, Leon Love - 1 scholarship
Special Thanks for a contribution of $500 or more to our DAP, Digital Archival Project:
Member Esther Kurtz - $500
Member Art Moore - $500
Member Rod "Storm" Phillips - $500
Member Marian Lockett-Egan - $500
Underwrite a complete scholarship and we'll give you credit in the electronic newsletter until the scholarship is awarded in April of 2016 or 2017. Give us a donation of appreciated stock of $2,000 or more) and we'll list you in our "Thank You" column for two years. Give us a donation of $1,000 or more and we'll list you in our "Thank You" column for a year. Give us a donation of $500 or more and we'll list you in our "Thank You" column for six months. You can select how we use the money: for our archival project, for scholarships or for our general fund to be used as needed.
More Thanks:
Special thanks go to the following members who sent in a contribution: Mike Strug, Bill Henley, Dave Roberts and Stephan Rosenfeld. We appreciate it. It helps us underwrite all the things we do. Thanks.
We would love to give kudos to those of you who gave an extra contribution to Broadcast Pioneers when you paid for your December luncheon. Those people included: Bill Kelley, Bob Backman, Daniel Fleishman, Kenny Jeremiah, Bob Kravitz, Carol Leebron, Mike Nise, Steve Tatz, Richard Troyan, Gerry Wilkinson, Glenn Kalina, Donna Conte, Leonard Friedman and Bill Wright Sr. Thank You!
A growing portion of the revenues that fund the different activities of the Broadcast Pioneers comes from donations. This includes our archival project and our scholarship program. Now, we are making it even more beneficial for our donors. Broadcast Pioneers is now able to accept gifts of appreciated stock, which provides a significant tax benefit to you. By giving appreciated stock (stock which is worth more now than what it cost when it was purchased), you can get a charitable contribution tax deduction based on the current market value of your stock. At the same time, you avoid the capital gains
tax that would arise if you simply sell the stock. So if you'd like to support our educational mission or our archival project and save money on taxes too, please consider making a gift of appreciated stock. We are a federally recognized, state chartered charity with a 501(c)(3) status.
Don't be left out. You too can make a pledge. It's never too late. You can earmark it for scholarships, our Digital Archival Project or our general fund. Thanks so much for your support. If you forgot to make an extra contribution (cash or memorabilia) and would like to do so now, you can do so. We would be thrilled to hear from you at: PO Box 2886, Bala Cynwyd, PA 19004, call us at (856) 365-5600 or e-mail us at: pioneers@broadcastpioneers.com.

A FINAL THOUGHT....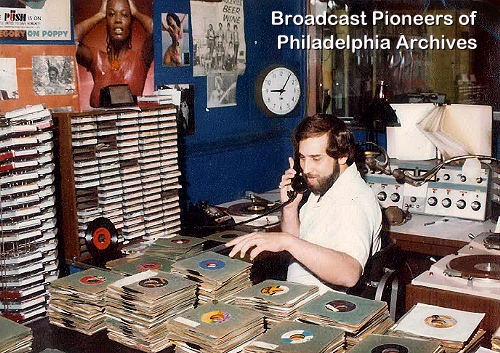 Broadcast Pioneers Hall of Famer Harvey Holiday
WDAS-FM Air Studio
circa 1975
(Photo taken during one of his Sunday night oldies broadcasts)
"One thing hasn't changed. The power of radio to effect people's lives. I don't care what kind of music you play. I don't care what your ratings are. Every time you turn that microphone on, you can talk to somebody who's having a bad day, and YOU can make it better."
Harvey Holiday
being inducted into our Hall of Fame
Broadcast Pioneers Banquet
Friday, November 20, 2015
The Hilton Hotel City Avenue

Please contact us by e-mail at newsletter@broadcastpioneers.com or by mail to: Broadcast Pioneers of Philadelphia, PO Box 2886, Bala Cynwyd, PA 19004. Your stories are important, to you, to us, and your colleagues. Contact us today and we'll include your story in the next newsletter!

© 2016, Broadcast Pioneers of Philadelphia
All Rights Reserved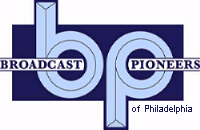 The e-mail address of the Broadcast Pioneers of Philadelphia is pioneers@broadcastpioneers.com
For luncheon reservations call (856) 365-5600 or e-mail us at: rsvp@broadcastpioneers.com