| | |
| --- | --- |
| | Broadcast Pioneers of Philadelphia is a federally recognized, state chartered 501(c)(3) non-profit organization serving the Philadelphia Broadcast Community since January of 1962. |
January Luncheon
The Bala Golf Club, Philadelphia
Wednesday, January 18, 2017

Meet and Greet at 12 noon!
Lunch served at 12:30 pm!
Ratecard: $28 per person

Please reserve now!
CALL (856) 365-5600!
rsvp@broadcastpioneers.com
Another Third Wednesday Luncheon!
Wednesday, January 18, 2017!
ALL THINGS SPORTS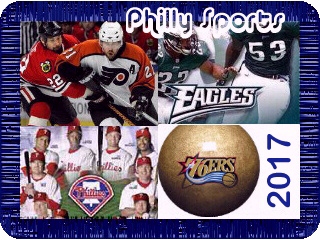 IT'LL BE A GREAT TIME!
Kick off the New Year with our JANUARY SPORTS SPECTACULAR. The topic is ALL THINGS SPORTS! This is sure to be a blockbuster event because we have the Super Sizzling Seven of Sports with us! Don't miss this one! Everyone who's anyone is going to be there!.Save the date! It's Wednesday, January 18th. That's the third Wednesday of the month.
Meet and greet (networking) starts at noon and lunch will be served at 12:30 pm. Be sure you have your place by making your reservation(s) NOW. Call (856) 365-5600. Our MC for the afternoon will be Joe Pellegrino, former sports anchor for WPVI and WCAU-TV!!
Our panel of six will include (in alphabetical order):
Ray Didinger, broadcast sports guy for Comcast SportsNet & WIP
Jimmy Murray, former General Manager for the Philadelphia Eagles
Beasley Reece, the former Sports Director for CBS 3, KYW-TV
Merrill Reese, the Broadcast Voice of Philadelphia Eagles Football
Bill Vargus, the former Sports Director for Fox 29, WTXF-TV
Bill Werndl, well-known sports broadcaster and sports author
It all takes place at the beautiful and historic Bala Golf Club, 2200 Belmont Avenue (across the street from the state police) in the Wynnefield section of Philadelphia. Only minutes away from Channels 6, 10 and 17 and the radio stations in Bala Cynwyd. Call now for reservations. (856) 365-5600! E-mail: rsvp@broadcastpioneers.com. Don't miss this one! THIS EVENT IS OPEN TO THE PUBLIC! Make plans to be there. Bring a friend (or three)!
Plenty of FREE parking. Our luncheons are open to all our members, their guests and any person in the industry or associated fields, whether active or retired. You do NOT have to be a member to attend. There is no reserved seating at our luncheons. Feel free to sit anywhere. Well, okay--the three people on the camera crew sit near the cameras, but that's in the back of the room.
In order to speed up check-in at the luncheon, it would help if you had exact change or your check written in advance. Checks should be made payable to the Broadcast Pioneers of Philadelphia.
If you would like to add a few dollars extra, we would appreciate it. It would help us with all the important work we are doing. Thanks!

WE'LL BE PROUD TO SEE YOU IN THE CROWD!

Visit Our Website Often - http://www.broadcastpioneers.com
You should check the front page of our website often (link above) for important information!
Tune in to our YouTube Channel - http://www.broadcastpioneers.com/youtube
Our YouTube Channel has all our luncheons, exclusive interviews and archival material!
Check out our Facebook Page - http://www.broadcastpioneers.com/facebook
There are things on our Facebook Page that are NOT on our website (like our vintage photo of the week)
Go to our Twitter Account - http://www.broadcastpioneers.com/twitter
The Broadcast Pioneers Twitter Account has info and stuff not available elsewhere!
Go to our Instragram Section - http://www.broadcastpioneers.com/instagram
Here's another one of our social media sections. Visit it as often as you wish!

NEW MEMBERS TO BROADCAST PIONEERS:
We have three new members for you to welcome. They are Donna-Lee Conte, Glenn Romano and Josh Willgruber. Donna-Lee is the Director of DLC Productions and her company represents Kenny Jeremiah, local well-known performer. Glenn Romano, president of Glenn C. Romano PC, a firm of personal and Professional Legal Representation, is involved with the Philadelphia Music Hall of Fame. Josh Willgruber is a photo and video editor for Robust Images, Inc.and was part of the staff of the Lincoln Financial Field Game Day Event recently.
We are thrilled to have over 500 Members. More than ever. We hope to see as many of our members as possible at our January 18th luncheon. Make your reservations now!
DIGITAL ARCHIVAL PROJECT NEWS:
VIDEO: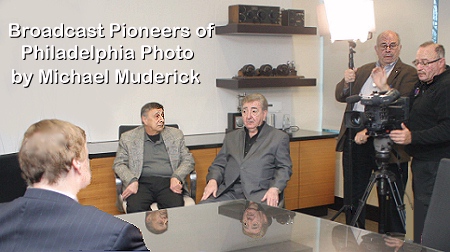 (Left to right) Members Bob Charger, Frank Maffei, Joe Terry, Steve Sacks and Brad Seecof
at the studios of More FM, Bala Cynwyd, PA
Wednesday afternoon, December 21, 2016
Watch our latest "Pioneers of Philadelphia Broadcasting" episode shot at the studios of More FM in Bala Cynwyd, Pennsylvania. While you may know the names Joe Terry and Frank Maffei, you most likely would know them better as "Danny and the Juniors." One of the other original members couldn't be with us for this interview as David White lives in Las Vegas. All three of the original living performers in the group are members of Broadcast Pioneers.
Watch the Video from our YouTube Channel!
(Video courtesy of Broadcast Pioneers VP Brad Seecof and Metramedia Broadcasting and Studios)
AUDIO:
According to the late Broadcast Pioneers member John Roberts, WFIL Radio had a daily evening news broadcast, TONIGHT. It featured John with the national and international news, the late Jim Felix (a Broadcast Pioneers member) with the local news, and Dr. Francis Davis (also a Broadcast Pioneers member) with the weather.

On this particular broadcast dating from September 10, 1958, Tom Rodgers filled in for John Roberts. Tom talked about the problem in Formosa and that President Dwight Eisenhower would address the nation the next evening on both WFIL Radio and WFIL-TV.

John Roberts said that everyone at WFIL Radio kidded him that he was the original host of the Tonight Show as this broadcast predates the NBC-TV program that was originally called by the same title, TONIGHT.

The broadcast, Robert quipped, started as a 15 minute program and kept expanding, incorporating ABC Radio features into it. At its peak, it ran 90 minutes long from 6 pm until 7:30. Regardless of its length, its starting time was always 6 o'clock. Some nights the broadcast went until 8 pm if there was something special at eight like a Presidential address. The program started in 1952, according to Roberts and went into the very beginning of the Famous 56 format.

Here's part of an e-mail from Thomas Wesley Rodgers, son of Tom Rodgers. We received this quite some time ago:
If I recall, he may have been the first TV sportscaster in Philadelphia history back at KYW (when it was WPTZ). He was there before 1950. Back in the days when he worked with among others Ernie Kovacs, the great comedian who died prematurely in a car crash in California . I have some recordings of my Father who after going to WFIL-TV and Radio, then went to ABC-TV Network News for about 13 and a half years and then died suddenly of a heart attack on his birthday, May 21st, 1973. He was only 58!
What we have for you today is the first four minutes of the broadcast for September 10, 1958. The audio was originally recorded on an eight and three-quarter inch flex green disc, the kind used for dictation machines. Obviously, the quality is never the best under these circumstances. It took us hours of work to put the audio in the form available on this site. The audio was donated by Broadcast Pioneers member Michael Muderick. While this audio has been in our audio archive for several years, it is the first time presented here (or anywhere) since its original broadcast almost 60 years ago.
Listen in Real Audio!
Listen in Windows Media Format!
(Left to right) Debbie Reynolds, Member Max E. Solomon and Eddie Fisher
local Philadelphia dinner
late 1955
Last month we lost Carrie Fisher, known for her role of as Princess Leia in the Star Wars films. Her parents were Debbie Reynolds and Eddie Fisher, shown above with founding Broadcast Pioneers member, Max E. Solomon, a time salesman for WFIL Radio and Television. A day after Carrie passed away, we lost her mother Debbie Reynolds. Eddie was from Philadelphia and appeared daily on WFIL Radio's "Magic Lady's Supper Club." Skipper Dawes was the Educational Director for the WFIL stations and when he found out that Fisher (who played the character of Boney) was walking several miles to get to the WFIL Studios, he gave him two PTC (now SEPTA) tokens.
Well, we dug around in our audio archive and found an eleven minute interview on WMMR Radio from Tuesday, June 21, 1977. On this historic recording, we have Harrison Ford, Carrie Fisher and Mark Hamill. One of our questions was "Who is doing the interview?" We assumed that it would be member Ed Sciaky as we found it in the basement of his house. But we were wrong. It wasn't Ed.
We believe the interviewer to be Paul Fuhr and on the phone, he had Al Santos from the WMMR staff. Ed Sciaky was in the studio during the live broadcast but didn't conduct the interview. However, you can hear Ed at the very end saying that he wished he had "The Force Franchise". Being an historian is really like being a detective. You are given a mystery to solve with several pieces of information and then you have to figure everything out. Well, we think we did. We contacted several of our members and asked for help. Bill Webber, Jr. was an intern at WIOQ (a competitor to WMMR). He thought he heard Ed at the end. He was right. Ed's wife, Judy said: "You can hear Ed at the end of the interview saying 'Al will never forgive himself for not being here today. We want to talk with you about getting the local force franchise.'"
Members Judy Sciaky, T. Morgan and Michael Tearson all agree that the person on the phone is Alfredo "Al" Santos. We believe that it's Paul Fuhr doing the actual in-studio interview.
Here's some of the comments made by our WMMR experts:
T. Morgan said:

I have listened to the entire interview. The person on the phone I know for sure is Alfredo Santos. I hired him. He was the production director and part-time air person back then. Believe he is on the air in DC right now. I haven't spoken to him in a couple of years. The person doing the interview is a best guess. My belief is that it is Paul Fuhr. I am fairly certain it is him, but not positive. I hired Paul, but it has been so many years since I have heard his voice. He was the MD and wasn't on the air that much at the time. When Ed left, Paul took his place on the air and later took my place as PD.

Michael Tearson said in several e-mails:

It would appear to be Tom Robinson a/k/a Tom Semper (real name under which he has worked since). Voice on phone is Al Santos. Fuhr is a possibility. All said upon further listening it is Fuhr, not Tom.

Judy Sciaky said:

I believe that's Paul Fuhr but I wouldn't swear to it and the guy he's talking to on the phone is Al Santos. There's a reference that Harrison Ford makes about being with the writing press and your cohort said we had to come here and talk to you. That cohort was Ed (who interviewed them at the hotel - don't ask me where that interview is). Ed brought the three of them to the station and he's there in the studio. You can hear Ed at the end of the interview saying "Al will never forgive himself for not being here today. We want to talk with you about getting the local force franchise." Later that day Ed and I and Mark Hamill and Carrie Fisher went to dinner and then went to the Bijou, but I can't remember who was performing at the Bijou. The affair that Carrie Fisher had with Harrison Ford must have been over by then, because Harrison Ford stayed in his hotel room.
Listen in Real Audio!
Listen in Windows Media Format!
Today's News Becomes Tomorrow's History!
(This is what our Digital Archival Project, DAP, is all about!)
A LITTLE BIT OF BROADCAST HISTORY!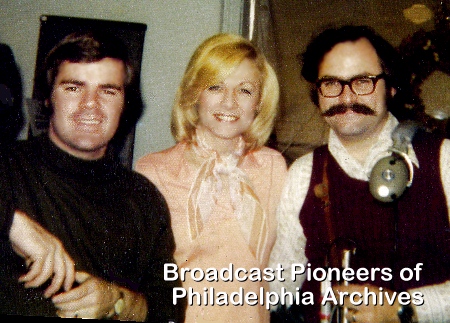 (Left to right) Joe Vandergast, Jessica Savitch and Paul Dowie
KYW-TV, Philadelphia
Christmas 1973
This photo is a snapshot taken during the Christmas holidays at KYW-TV during the end of 1973. Joe was Jess' camera operator and Paul was her sound guy. They worked on many different projects together.
IN TOUCH WITH OUR MEMBERS:
Last month, In New York, Broadcast Pioneers member Al Primo became a new inductee into NATAS' 50-plus years Gold Circle. Nationally known journalist Geraldo Rivera did the induction. Rivera worked for Primo when Al was in charge of WABC-TV's news and Rivera was one of the news people. Primo created the long running "Eyewitness News" format here in Philadelphia on KYW-TV. Al Primo was inducted into our Hall of Fame 15 months ago in November of 2015.
Gerry Wilkinson, our CEO and a nationally known broadcast historian for the Philadelphia market, quite often works late on Broadcast Pioneers stuff. One night after everyone else was sleeping, he had the TV on to relax when he came across the Buzzr TV Channel. They were running an old episode of "I've Got a Secret" with Garry Moore. One pair of contestants were "Mr. and Mrs. Armstrong."
Their secret was that their son, Neil, was selected earlier that day as one of America's second group (of 9) astronauts. After Betsy Palmer guessed their secret, Garry asked Mrs. Armstrong, "how would you feel, Mrs. Armstrong, if it turned out, of course nobody knows, but if it turns out that your son is the first man to land on the moon? She replied, "I would wish him the best of all good luck." The CBS program dates from September 17, 1962 and was run in its entirety.

Since BUZZR runs the telecast complete with the old commercials (this one has a Dream Whip live spot done by Moore), the running time of the show is 40 minutes to include today's spots. Was it a coincidence that the network ran it on the day of John Glenn's funeral? To quote Jethro Leroy Gibbs (NCIS), "Rule 39 - This is no such thing as a coincidence." By the way, it's not a coincidence that BUZZR airs in Philadelphia on sub-channel 3 on WTXF's Fox 29.
Member Eddie Collins tells us:
I've been becoming highly active in the North Myrtle Beach (South Carolina) beach music community. On November 13th I was on stage at the Alabama Theater announcing at the Carolina Beach Music Awards (2,500 people in audience!!). I'm now a contributing writer for the publication "Beach Music Scene," my first two articles appear in the (just out) fall issue, great stepping stones, plus I've been sitting in with some of the bands too.
We heard from West Coast member Bunny Gibson, who was a well-known dancer on American Bandstand during its Philly days. She was back in the City of Brotherly Love as the invited guest of NBC 10 in association with the Live Hairspray Broadcast that took place last month. She and her old dance partner, Steve Colanero were there, along with Bobby Rydell, when young dancers auditioned for the show. She brought her granddaughter Nicole with her to see how things were back east. Rosemary Connors of NBC 10 interviewed her on air.
Member Mel Klawansky retired last Friday (even though his last day of work was last Wednesday). Mel was a board op for WFIL, Famous 56 during their heyday. That's where he met his wife, Joyce. Then, he went to WPVI as a sound man, then to WCAU-AM running all the home Phils games at Vet Stadium. He had master control and video tape positions at WPHL-TV, WHYY-TV, WCAU-TV and WPPX-TV.
Member John Primerano and his new company, JPM Productions, will host a Dinner and Show on February 12th at 5 pm. It's a solo performance by John entitled, "A Romantic Evening of Music" just in time for Valentine's Day. It's your favorite love songs of the 40s through the 80s at the Tiffany Diner Restaurant, 9010 Roosevelt Blvd., Philadelphia. Cost is $30 including tax and tip. Cash bar. Call 215-677, 1843 for more info.
Today's News Becomes Tomorrow's History!
(This is what our Digital Archival Project, DAP, is all about!)
A LITTLE BIT OF BROADCAST HISTORY!
(Left to right) Member Al Meltzer and Buddy Ryan
WCAU-TV, Philadelphia
circa 1989
Member "Big Al" Meltzer spoke many times on the air with James Ryan, better known to everyone as Buddy. He was the head coach of the Philadelphia Eagles from 1986 to 1990. Ryan passed away last year from cancer.
Did you know...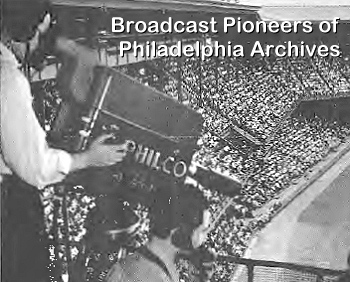 Camera Two
located in the press box
Shibe Park (later called Connie Mack Stadium)
WPTZ, Channel 3
1947
During the summer of 1947, WPTZ, Channel 3 (now KYW-TV) was the only television station in town. Ernest Walling, manager of WPTZ, said that Philadelphia had 4,000 sets (most with 7" black and white screens) by fall of 1947.
However, the viewing audience was much larger with several people watching in homes and dozens at neighborhood bars and taverns. During that year, Channel 3 carried both the Philadelphia Phillies and Athletics home games. The station had been televising sporting events including baseball for eight years in 1947.
At least 120 games of the "nation's national pastime" were televised in Philadelphia during that year. One reason that baseball telecasting was so widespread was cost. It was cheap to televise a game (usually 3 hours) in comparison to presenting 180 minutes of live studio presentations.
During 1947, there were two minor league teams and nine of the major league teams on the tube. All but two of the stations in operation in the USA were televising baseball.
In the Big Apple, baseball fans watched the Yankees on WABD-TV (now WNYW), Channel 5. Legendary announcer Mel Allen did the play-by-play. The Giants were also on TV and carried over WNBT (now WNBC-TV), Channel 4.
The Dodgers could be seen on Channel 2 (sponsored by Ford Motor Company and General Foods), WCBS-TV. Red Barber did the announcing. By the way, Barber was baseball's first ever television announcer.
In St. Louis, KSD-TV (now KSDK-TV), Channel 5 came on the air earlier that year. They carried both the Cardinals and the St. Louis Browns (today known as the Baltimore Orioles). Both teams were sponsored by Purity Bakeries and on the Browns broadcasts, Dizzy Dean did the play-by-play.
In the Windy City, Chicago, WBKB-TV, Channel 4 (now WBBM-TV, Channel 2) carried the Cubs games, sponsored by Ford and Commonwealth Edison Light Company. Note that Wrigley Field (home of the Cubs) didn't have lights until 1988 so all Cubs games that year were played in daylight hours.
WWJ-TV (which started using these call letters in May of 1947), Channel 4 in Detroit, carried a few games of the Tigers each week (most sponsored by Goebel Beer). Today, the station uses WDIV-TV call letters. Today's WWJ-TV, Channel 62, only dates back to 1975 and has no relationship to the original WWJ-TV.
On the West Coast, KTLA-TV, Channel 5 was in Los Angeles. They signed on earlier in 1947 and they carried games from the Pacific Coast League (including the league-leading Los Angeles Angels), which was a minor baseball league that had been in existence since 1903 and still is going strong.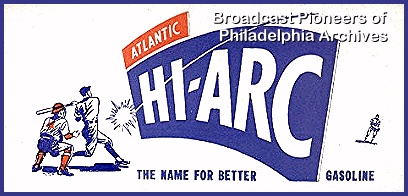 In 1947 Atlantic Hi-Arc Gasoline and Philco Distributors
sponsored WPTZ games
1947
Here in Philly, Broadcast Pioneers member Preston Stover and Cal Jones were the producers-directors for the WPTZ baseball telecasts. John Roth was the engineering supervisor for most of the games.
There were really only three good locations where stations could position cameras. Behind home plate, at first base, and at third base. A third of the stations placed their two cameras behind home plate like WPTZ. Three placed them at home plate and first base.
One station positioned both cameras at first base and one positioned both at third base. We do not know where the remaining station placed their equipment. Directors at that time seemed to like having both cameras behind home plate.
This is the first installment of this article. Part two will run in our newsletter next month and the final portion can be read in March.
This regular monthly column is written and researched by Gerry Wilkinson
Our special thanks go to TUTV - Temple University Television and The Kal & Lucille Rudman Media Production Center.

They have underwritten a grant to be used to fund an entire year of all our newsletters for calendar year 2017. We thank them so much for their support!

You Can Help Us!



When you log into Amazon via http://smile.amazon.com, all eligible purchases earn Broadcast Pioneers a donation of 0.5% from Amazon. However, you must log in to Amazon through http://smile.amazon.com. We have made it simple. You can also log into them using http://www.broadcastpioneers.com/amazon. It's easy to remember and takes you to the same place.
AmazonSmile is the same Amazon you know. Same products, same prices and the same service. The only difference is that they donate 0.5% of your eligible purchases to Broadcast Pioneers. IT DOESN'T COST YOU ANY MORE TO DO THIS! Same price to you and we get a donation to help us continue with all our great educational projects! IT'S WIN - WIN!
MORE DIGITAL ARCHIVAL PROJECT NEWS:
VIDEO: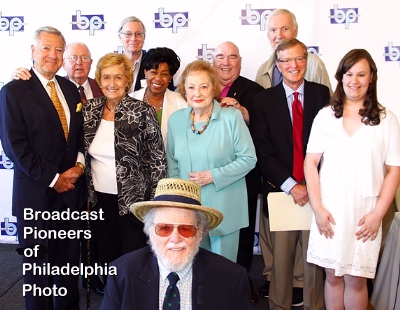 (left to right - back row: Ed Cunningham and Al Meltzer)
(left to right - middle row: Dick Kearney, Orien Reid Nix, Jim Murray and Terry Ruggles)
(left to right - front row: Bill Baldini, Marian Lockett-Egan, Barbara Clarke and Marlene Adelman)
(lower center is Bill Wright, Dr.)
The Broadcast Pioneers of Philadelphia Luncheon
"Tribute to Herb Clarke"
Bala Golf Club, Philadelphia
Wednesday, June 19, 2013
(Photo by Broadcast Pioneers member Jerry Klein)
Our June 2013 Broadcast Pioneers luncheon was "A Tribute to Herb Clarke." Herb was a former president and former chairman of the board of this organization. Most of us will remember him as the weather guy on Channel 10 for 40 years. Some of knew him for his love of gardening. He was the garden reporter at KYW Newsradio after his retirement from WCAU-TV.
The luncheon was held at the Bala Golf Club, 2200 Belmont Avenue in Philadelphia on Wednesday, June 19th, 2013. Our MC for the afternoon was Broadcast Pioneers member and former WCAU-TV reporter & anchor Terry Ruggles.
Our speakers were:
Bill Baldini, former WCAU-TV. Channel 10 News Journalist/Reporter
Ed Cunningham, long-time producer and air talent at WHYY-TV and Radio
Dick Kearney, former WCAU cameraman/Broadcast Pioneers Board Member
Big Al Meltzer, former Channel 10 sports director and sports anchor
Jim Murray, former Eagles GM and co-host of "Remember When" on WPHT
Orien Reid Nix, former KYW-TV & WCAU-TV consumer reporter
Glenn "Hurricane" Schwartz, current WCAU-TV Chief Meteorologist
Herb's widow, Barbara was with us. Also speaking that day was Marian Lockett-Egan, former President and former Chairman of the Board of Broadcast Pioneers and Alan Tripp, board member emeritus of Broadcast Pioneers. Both were good friends of the Clarkes. Marlene Adelman, daughter of Robin and Ira and granddaughter of member Leon Love presented an original poem about Herb and weathercasting that afternoon. Listen to Marlene's poem! You can watch the complete video of that luncheon right here.
Watch in HD from YouTube
Watch in SD from our own server!
(video courtesy of Broadcast Pioneers VP Brad Seecof and Metramedia Broadcasting & Studios)

AUDIO:
Charlie O'Donnell was from Philadelphia. He was program director at WHAT Radio, news director at WIBG, Radio 99 and hosted all-night movies on Channel 6.
However, he was also the announcer on "American Bandstand." Then, he began a career (for decades) as a game show announcer. Charlie O'Donnell is truly one of the greats of our business.
On Sunday, May 17, 2009, Sam Lit, son of the legendary Hyski, spoke with Charlie in conjunction with our WIBBAGE Reunion luncheon that was held a few days later. While Sam had Charlie on the phone, he recorded an interview with O'Donnell. Charlie passed away about a year and a half after this interview (on November 1, 2010).
It s presented here in two segments, each about 10 minutes long. Be advised that some of the material appears in both segments. This is done to give continuity to what Charlie is saying. We recommend you listen to both parts.
NEXT AUDIO:
In January of 1955, Broadcast Pioneers member Ed Harvey did a ten minute interview with Magda Gabor, who was Zsa Zsa's older sister. This was a recorded interview and not live on the air. You can tell because Ed is taking a level and slating it. At this time, Ed Harvey was the morning guy on WCAU Radio. It was mainly a music and conversation program. There were features, songs and stories. One of the things Ed asked Gabor was "how to pronounce her first name."
This audio came off the original WCAU Radio tape. This is the first time this interview has been heard in two-thirds of a century. The original recording was donated to Broadcast Pioneers (along with hundreds of other Ed Harvey interviews) by his estate. All those tapes have been digitized and the original recording preserved.
Listen in Real Audio!
Listen in Windows Media Format!
Remember, History is ONLY What Gets Saved!
(If there were no portraits of George Washington, how would we know what he looked like?)
IN TOUCH WITH THE INDUSTRY:
Salem Broadcasting, owners of WFIL and WNTP (the old WIBBAGE) has appointed a new GM for its Delaware Valley cluster. He's Gregg Stiansen with a third of a century of broadcasting experience. He previously worked for Keystone Broadcasting, Nassau Media and Connoisseur Media. Gregg replaces Russ Whitnah who served with Salem for the last 23 years.
The Beasley Media Group gets a new market manager here in Philadelphia. He's Joe Bell who worked for the group for 16 years leaving in 2014. He previously worked at the group's stations in Ft. Myers and Miami.
Next month, February 3th to be exact, Sportsradio 94, WIP will present Wing Bowl 25, Philadelphia's Biggest Eating Competition at the Wells Fargo Center. Tickets now on sale. Wing Bowl 25 will feature an appearance by special guests, professional wrestler Ric Flair and Grammy Award winning artist Coolio. Partial proceeds from WIP's Wing Bowl 25 will benefit the Philadelphia Fraternal Order of Police Survivor's Fund.
Over the New Years Weekend, members had a good time watching a "binge" weekend on "Decades." That's CBS 3's subchannel. They ran a black and white marathon of "Our Miss Brooks" starring Eye Arden as a single, but marriage minded, high-school English teacher. It ran from 1952 to 1956 with 130 episodes. It originally began as a radio program in 1948. For those of us, with hearing problems, it was good to see them running closed captioning on these broadcasts. In case you were wondering, Writer, Producer, Director Al Lewis of Our Miss Brooks fame is NOT the actor Al Lewis who played Grandpa on The Munsters. By the way, yesterday we noticed that Decades was running old episodes of "Highway Patrol." Today, they are running, "Have Gun, Will Travel" and tomorrow will be "The Millionaire."
And speaking of binges, another binge weekend was on Antenna TV, which is a subchannel of WPHL-TV, Channel 17. They ran a marathon of "The Joey Bishop Show." This was a sitcom that ran on NBC for three years and a final one on CBS. Some of the programs were in color and some in black and white. There were 123 episodes of the series.
Of course we can't mention Channel 17 without mentioning the wonderful job everyone did on their coverage of the 2017 Mummer's Parade. Member Steve Highsmith was fabulous as always. Steve came back home to WPHL to join them for their telecast. Normally you can find Highsmith at his alma mater Cabrini College which he serves as Vice-President of Institutional Advancement.
WE REMEMBER: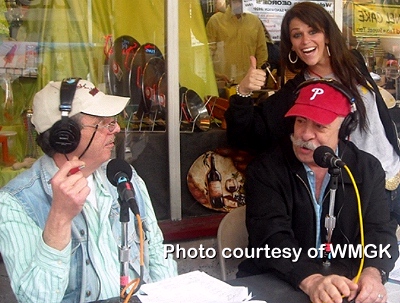 (Left to right) Bubba John Stevens and John DeBella
John Laboranti, 66, better known to radio listeners as Bubba John Stevens, passed away last month. He had worked in broadcasting for 4 and a half decades including long tours at WMMR and WMGK. He started in the business in the south (Virginia and the Carolinas) even though he hailed from Deptford, New Jersey. He came to our market 40 years ago. He was at WMMR in the 80s and stayed until 1998. Laboranti joined WMGK in 2005 and remained with them until 2013. Broadcast Pioneers member John DeBella claims that he gave Stevens his "Bubba John" handle when WMMR management thought two Italian names at one station was just too much. Laboranti had been suffering from cancer. Broadcast Pioneers member Tony Harris said: "He followed me every Saturday morning and he'd greet me with 'you're on fire Daddio.' Rock on in heaven my friend"
Milton Becker was an award-winning cameraman for KYW-TV (Eyewitness News) for 30 years. Before that, he worked for Channels 17 and 29. Becker went to the White House with Diane Allen to interview President Ronald Reagan. He was also the camera operator on duty during the MOVE crisis in 1985. He passed away last month at the age of 69 from cancer at his South Carolina home.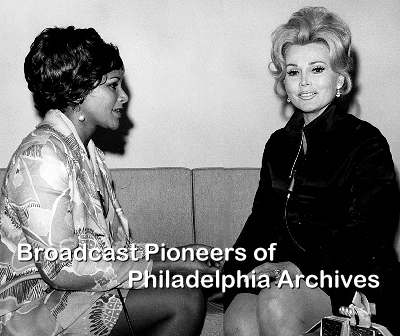 (Left to right) Member Edie Huggins and Zsa Zsa Gabor
WCAU-TV, Philadelphia
circa 1975
(photo not available for 40 years)
Legendary actress Zsa Zsa Gabor passed away last month at the age of 99 at her home in Bel Air. Next month, she would have turned 100. In 1936, she was crowned Miss Hungary and got her stage start that year in Vienna. She moved to the United States in 1941 and married hotel magnate Conrad Hilton. She had 9 husbands. Her younger sister Eva came to the US in 1939 and was best known for her role as Lisa Douglas on the long-running Green Acres TV Show. Her older sister Magda was an aide to the Portuguese ambassador to Hungary who helped her escape the Germans and come to America in 1944. Their mom, Jolie, came to the US after the Second World War and landed in Philadelphia. The Gabor family were successful Jewish jewelers in Hungary who were persecuted by the Nazis.

THIS AND THAT! Little Bits of Information....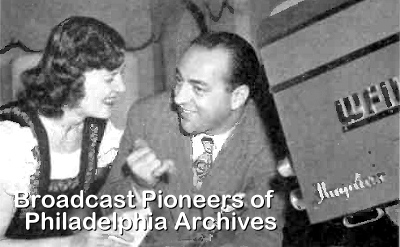 (Left to right) Jane Reed and LeRoy Miller
WFIL-TV, Channel 6 (Now WPVI)
"Features for Women"
1949
Just a few months after coming on the air, WIBF-TV (now WTXF-TV), Channel 29 started a new dance show. It featured the legendary Joe Niagara. It premiered on the station on Sunday evening, September 12, 1965. The program aired from 7 to 8 pm and originated from the station's facilities in the Benson East in Jenkintown, PA. The program lasted for a couple of years.
Joseph Conway headed back to Philadelphia and WIBG, Radio 99 (owned by Storer at that time). He was named General Manager of WIBBAGE at the end of 1961. He was previously National Radio Sales Manager for Storer in New York City. He returned to the station where he was a local time sales person and later National Sales Manager.
Here's a coupleof interesting television programs on the air locally here in the Delaware Valley in 1948. WPTZ, Channel 3 (now KYW-TV) had a weekly show entitled, "Write Your Way." It was sponsored by the Esterbrook Pen Company and featured a graphologist who analyzed viewers' handwriting sent to the station via mail. Another interesting program was on Channel 10, WCAU-TV called, "Stump the Artist." It was one of the station's first sponsored shows and was sponsored by John Daly Ford.
In 1961, the WMID jock lineup was Jack Sterling, Bob McClay, Bob Connell and Tom Lamaine. At the same time, WCAU Radio, not yet set with their talk format, was still playing music. Their air talent included Bob Menefee, Ed Harvey, Doug Arthur, John Trent, George Thomas and Russ Hall.
During 1938, WCAU Radio had this policy. "Neither hard liquor advertising or foreign language accounts are accepted by our station. Does accept advertising for light alcoholic beverages such as beer and wines. Active publicity department that is in constant contact with all newspapers in our coverage area. Sales promotion department develops dealer co-operation through tie-ins and supplies special premium and merchandising ideas."
On April 12, 1924, on WFI Radio (owned by Strawbridge and Clothier and a forerunner of WFIL) carried these programs: 1 pm, Philadelphia's Mayor Davis addressed the city live from the Bellevue Stratford Hotel. At 6 pm, it was "Sunny Jim's Bedtime Stories" followed by Meyer Davis' Orchestra. Later on, there was a medical talk, a church lesson and the Kings of Harmony Dance Orchestra
Bon Bon was a big band singer with Jan Savitt's orchestra that was featured locally on both WCAU and later KYW. In the late 40s, Bon Bon was a disc jockey on WDAS Radio. His program featured a segment where a woman was nominated by audience mail as "The Mother of the Day." The prize was a big box of, you guessed it, Bon Bons.
In 1979, WIP Newsman Gordon Thomas wrote a nearly 70 page booklet for the station on how to do a newscast. Here's a paragraph from document. (We have the entire report.) He said:
Don't write in police jargon. Would you say the criminal was apprehended? No. Say the criminal was caught. By the same token, a homicide can more easily be a death or killing. Don't be overly wordy. You don't have time to waste.
Here's the Jock lineup for WIOQ in 1978:
6 am to 10 am - John Harvey
10 am to 2 pm - Alex Demers
2 pm to 6 pm - Jim Harlan
6 pm to 10 pm - Ed Sciaky
10 pm to 2 am - Phil Brady
2 am to 6 am - Michael Tozzi

THANKS FOR THE MEMORIES:
UHF in Philadelphia during early sixties!
Most people in 1960 in the "City of Brotherly Love" were watching Channels 3, 6 or 10. They were the ones on VHF and the stations most television sets could pick up. However, Philly did have two UHF outlets at that time, Channels 17 and 35.
WPCA-TV was operating on Channel 17. In 1960, the station was broadcasting only in the evenings. They were on Monday through Saturday from 6:15 pm until 11 pm or so. Within another year or two, they would increase their air time to include afternoons, broadcasting from 2 pm until 11 pm. The station operated for only two years and went off the air in 1962.
The following was written in 2010 by David Stanislaw, a visitor to our website. He worked at WPCA-TV and was the step-grandson of Wayne Cody, who portrayed "Uncle WIP" on WIP Radio.
Up until the late 1950s, all that Evangelical organizations could afford is radio stations to spread the Gospel. Evangelist Percy Crawford was encouraged by Billy Graham and others to find investors to fund a Christian Television station. At that time, one of the largest TV markets would have been the East coast and the FCC was offering UHF Television licenses. Philadelphia was chosen for the site; WPCA was chosen meaning "People's Christian Association." (Another possible meaning was "People's Church of the Air.")

Percy Crawford died in 1960, but his five children; Don, Dick, Dan, Dean and daughter Donna-Lee took over running the station. Don Crawford was President, the station engineer with the FCC radio license was the only permanent employee. Everybody else was working for minimum wages with promises of the future; the budget was tight. There were so many leaders that some times it was difficult deciding who's direction to follow. Actually, there was little religious programming.
WHYY-TV was then on Channel 35 and operated five days a week from 9:30 am to 4 pm. On Mondays, Wednesdays and Fridays, they also operated from 6 pm to 10 pm.
Here's a little about what aired during one week on WHYY-TV. We date it taking place around 1962. For example, a nature study program called, "Discovery" was aired evenings at 6 pm. That was followed at 6:30 pm with a show called "Cowboys West," a half hour show about the history of the old west. At 7 pm, there was the 30 minute "Survival at Sea." Other Channel 12 programming included "David Copperfield," "Television International," "UN Review," and Taylor Grant's Viewpoint, a 15 minute programming with this Broadcast Pioneers member's commentary on current events.
WHYY-TV also had a program called "The Red Myth," a show about the history of communism; from Marx to Khrushchev. The show was produced by KQED-TV in San Francisco in association with the Hoover Institution on War, Revolution and Peace. They also featured interviews with people like Marcel Marceau, Bruce Catton and Eugene Ormandy. On Friday evenings, they broadcast Shakespeare plays.
A typical night on WPCA might include a 15 minute newscast that included news, sports and weather. This was followed by a half-hour of children's programming called, "The Kiddie Kottage." It included games, stories and quizzes for the young folk. At 7 pm, there was "Evening Editorial" with 15 minutes of news analysis.
At 7:30, there was "The Family Show." It was a strange sort of mix the featured interviews with local political leaders, homemaking advice and exercise activities. 8 pm was "Telecasters Quartet." This was a half hour of religious and non-religious music performed by quartets. Then there was a program called "This is the Life." This was a religious program featuring the fictitious Fisher Family and featured dramas about current day problems and how they were resolved with a Christian prospective. The series ran for 36 years. At 10:30 pm, the station ended the evening with 15 minutes of news, weather and sports.
A couple of historical points that need clarification. WPCA-TV was not Philadelphia's first UHF television station, it was the city's first commercial UHF outlet. In 1957, WHYY-TV started broadcasting on Channel 35, and that was UHF. Channel 35 during the first few years mainly broadcast during the day, telecasting educational programs and courses to the children attending Philadelphia's Public School System. The school TV sets had UHF converters (so that they could receive Channel 35). Of course, when the school day was over, the buildings were locked with the converters inside. So, it is also a true statement that hardly anyone in the general population had UHF converters on their sets or even knew what they were.
On Monday, September 16, 1957, WHYY-TV signed on the air in Philadelphia. That station became the city's first UHF television station operating on Channel 35 and licensed to Philadelphia. Many people think of WHYY-TV as Channel 12 and licensed to Wilmington, Delaware. However, when they first signed on, the station operated on Channel 35. The next year, the commercial TV station, WVUE-TV, Channel 12 in Wilmington went off the air. Owners of the outlet, Storer Broadcasting (also owners of WIBG) turned the license back into the FCC. When they did they said, "No one can make a profit with a TV station unless affiliated with NBC, CBS or ABC."
Broadcast Pioneers member John B. Roberts told us that he was a co-founder of WHYY-TV. When he attended the very first meeting, and he was the only one there with broadcast experience. All the rest were educators. Of course, at that time, WHYY-TV (channel 35) was carrying only instructional television programs and operated exclusively during school hours. When school closed for the summer, so did the station. This was a little bit about the beginning of UHF broadcasting in our market.
Frank Ford in 1959!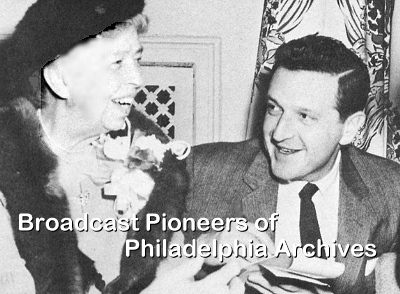 (Left to right) Eleanor Roosevelt and member Frank Ford
WPEN Radio
1956
(photo previously not available for 70 years)
In our December 2016 newsletter, we ran an audio clip from a late night WPEN Radio broadcast from June 23, 1959. The host didn't identify himself other than calling himself, Frank. He didn't give his last name. Well, we asked anyone out there to help us identify the host. We heard from member Michael Muderick saying that he was sure it was Frank Ford. We also heard from member Doug Fearn. Here's what he said:
I did not work at WPEN in 1959 (I started in 1965), but I did spend many hours engineering the late night talk show, hosted by several people over the years, including Frank Ford.

I would give that audio clip about a 70% chance of being Frank Ford. His voice quality sounds different from what I remember, but the accent, inflections, and type of questions all seem consistent with Frank.

That program started after the 11PM newscast, which (at least when I was there) consisted of 5 minutes of NBC network news followed by 5 minutes of local news.

The lack of the :30 ID does not surprise me, since that ID was often missed on the program, despite the engineer's waving from the control room.

When I was there, we did not have a newscast on the half hour during that program. As I recall, the midnight newscast at the top of the hour was with the station's newsman, and that was the last news of the night. Most of the commercials on that show were read live by the host.

Some of the hosts of that program during the period I was there (65-72) included Red Benson, Murray Burnett, Thatcher Longstreth, Michal Von Mischisker, Alan Klein (these three rotated through the week) and Frank Ford. There were probably others I cannot recall.

The show originated in Studio A, which was called "The William Penn Room" on the air. It occupied most of the first floor of the building at 2212 Walnut Street and was open to the public for the broadcast.

For some of the time when I was there, they served food in a restaurant-style arrangement for the audience. The room held over 100 people in that configuration, and it looked vaguely like a Sun Ray Drug Store, especially a lunch counter area.
If anyone else would like to join the conversation on this, we would be glad to hear from you.
Marian Kemp Recipes!
Marian Kemp had a television program on WCAU-TV. It was sort of like Florence Hanford's Television Kitchen sponsored by the Philadelphia Electric Company. Florence used electric ranges and thus pushed electric use. Well, "Marian Kemp's Kitchen" was fully sponsored by the American Stores. Today, we know this company as Acme Supermarkets. Marian used products (including house brands) that were available at ACME. These are her recipes for March 24, 1953.
GLAZED HAM SLICE
1 slice of Lancaster brand Ham (2 inches thick)
Ideal Whole Cloves
3/4 cup of brown sugar, firmly packed
1/2 cup of Ideal Home Style Pickles, spiced peaches or apple juice
Cut slits in fat around edge of ham to prevent curling while cooking. Stud the fat with cloves. Heat a heavy skillet, sear the ham well on both sides. Boil the sugar and liquid until slightly thick. Pour over ham and simmer for about 30 minutes, until the syrup glazes the ham.
SCALLIONS ON TOAST
3 bunches of scallions
3 slices of toast
Louella Butter
Wash, peel and remove the roots from the scallions. Tie them with string into six bunches. Cook in boiling salted water for two minutes. Lift the bunches out with a strainer spoon. Simmer in Louella Butter for about one minute. Remove the strings and serve on triangles of toast.
CREAMED NEW POTATOES AND PEAS
2 lbs. of new potatoes
1 package of Ideal Frozen Green Peas
1 cup of medium white sauce
Scrape potatoes and place in a saucepan. Add a half cup of water and a half teaspoon of salt. Cover and cook over low heat until nearly tender. Add peas and continue cooking until both vegetables are done. Drain and use liquid in making the white sauce. Combine seasoned sauce with vegetables.
PINEAPPLE-CRANBERRY SALAD
Ideal Pineapple slices
Ideal Cranberry sauce
Hom-de-lite Mayonnaise
Lettuce
Green Pepper
Arrange lettuce on individual salad plates. Place a slice of pineapple on each and a teaspoonful of mayonnaise in the center. Cut cranberry sauce in 1/2 inch slices, from each slice cut a tulip with a cutter. Arrange one on each of the pineapple slices and make leaves out of green pepper.
And those are the reciptes for that day. If you decide to try any of these recipes, please let us know what you thought of them. By the way, Hom-de-lite, Ideal, Louella and Lancaster were/are brand names of Acme.
A LITTLE BIT OF BROADCAST HISTORY!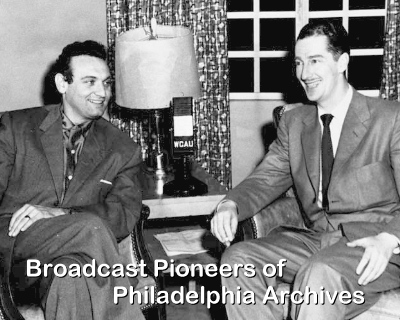 (Left to right) Singer Frankie Laine and Alan Scott
WCAU Radio
circa 1949
This photo shows Alan Scott with singer Frankie Laine, whose real name was Francesco Paolo LoVecchio. We believe this picture was taken just after Laine's success with his Mercury Records' hit, "Mule Train," with guidance from Mitch Miller, the label's A & R guy. When Miller went to Columbia, he brought Laine with him shortly after Frankie's contract was up with Mercury. By the way, the pix is courtesy of Alan's son, Jonathan.
OUR HATS OFF TO YOU FOR GIVING:
We would like to thank those people who included a donation when the showed up at our December luncheon. These people include: Al Snyder, Donna Lee Conte, Dorie Lenz, Steve Tatz, Johnny Hall, Rich Troyan and Gerry Wilkinson.

We are a federally recognized, state chartered charity with a 501(c)(3) status. Contact us at (856) 365-5600 or e-mail
pioneers@broadcastpioneers.com
for more details. Your gift to Broadcast Pioneers will help us and may lower your federal income tax. That's win-win, isn't it?
Special Thanks (in alphabetical order) for the gift of Appreciated Stock: (a federal tax advantage for the giver)
Member Marc Howard - $3,600 (put into our general fund to be used where needed)
Member Sylvia Kauders - $5,159.45 (used for the scholarships listed below)
Member Dan Lerner - $5,217.80 (used for the scholarships listed below)
Special Thanks (in alphabetical order) for contribution of $1,000 or more to our DAP, Digital Archival Project:
Member Elliot Abrams - $1,000
Member Jerry Del Colliano - $1,000
Member Johnny B. Hall and wife Ginny - $3,000
Member Harry Hurley's Golf Tournament - $1,000
Member Marlin Taylor - $1,000
Special Thanks (in alphabetical order) for April 2017 Scholarships:
Member Johnny B. Hall and his wife, Ginny - 7 scholarships
Member Harry Hurley's Golf Tournament - 1 scholarship (for a Stockton University student)
Member Sylvia Kauders - 1 scholarship (from a grant for 5 yearly scholarships running until 2019)
Member Kal Rudman - 5 scholarships (for Temple University students)
Member Marlin Taylor - 1 scholarship
Members Robin & Ira Adelman in memory of member Leon Love - 1 scholarship
Special Thanks (in alphabetical order) for a contribution of $500 or more to our DAP, Digital Archival Project:
Member Esther Kurtz - $500
Member Art Moore - $500
Member Lauren Lipton - $500
Members Robin & Ira Adelman in memory of member Leon Love
Bequests in their Will:
Member Sylvia Kauders passed away earlier this year. In her will, she bequest to the Broadcast Pioneers of Philadelphia, the amount of $5,000. This funding is to be used to underwrite one scholarship per year until gone. These scholarships will start in the year 2020 and continue until 2024. From a previous gift, Sylvia has underwritten one scholarship a year starting in 2015 and continuing until 2019.

Member W. Carter Merbreier passed away a couple of months ago. In his will, he bequest to the Broadcast Pioneers of Philadelphia, the amount of $1,000. This funding is to be used to underwrite one scholarship which will be awarded in April of 2017.
W. Carter Merbreier Scholarship Fund:
The family of Captain Noah had asked (in the Philadelphia Inquirer) that donations for scholarships in the memory of W. Carter Merbreier can been made to The Broadcast Pioneers of Philadelphia Scholarship Fund. We would like to thank those you have donated: Joyce Haas (Mrs. Harry Haas), Karen Strauss, Art Moore, Elaine Skypala, Marc Howard and Mushinski family, Steve, Hank and member Liz Matt.
Underwrite a complete scholarship and we'll give you credit in the electronic newsletter until the scholarship is awarded in April of 2017. Give us a donation of appreciated stock of $2,000 or more) and we'll list you in our "Thank You" column for two years. Give us a donation of $1,000 or more and we'll list you in our "Thank You" column for a year. Give us a donation of $500 or more and we'll list you in our "Thank You" column for six months. You can select how we use the money: for our archival project, for scholarships or for our general fund to be used as needed.
More Thanks:
A growing portion of the revenues that fund the different activities of the Broadcast Pioneers comes from donations. This includes our archival project and our scholarship program. Now, we are making it even more beneficial for our donors. Broadcast Pioneers is now able to accept gifts of appreciated stock or mutual funds, which provides a significant tax benefit to you. By giving appreciated stock (stock which is worth more now than what it cost when it was purchased), you can get a charitable contribution tax deduction based on the current market value of your stock or mutual fund.
Yes, you can deduct the stock or mutual funds fair market value and you may avoid incomes tax on your capital gains. Broadcast Pioneers then sells the stock and uses the funds as you direct. For scholarships. For our Archival Project. For student mentoring. However, you see fit. Most every broker can handle this for you. Let us give you an example on how this can work for your advantage. You purchased $1,000 dollars of stock several years ago. Today, it's valued at $5,000.
If you sold your stock, you would have to pay capital gains tax on your $4,000 profit. If you donated the shares to Broadcast Pioneers, you don't pay ANY capital gains tax. The complete value goes to Broadcast Pioneers and you can deduct the full $5,000 as a charitable contribution. That's a winning situation for you and a winning one for us. Broadcast Pioneers is a 501(c)(3) organization and any gift to us (or any other charity) may be tax deductible to the fullest extent allowed by law.
There are some limits and restrictions. Your tax advisor knows all the information. Broadcast Pioneers doesn't offer legal or tax advice. Consult with your own advisors for complete details to see if this may be advantageous for you. Contact us at (856) 365-5600 or e-mail pioneers@broadcastpioneers.com to make contributions.
Don't be left out. You too can make a pledge. It's never too late. You can earmark it for scholarships, our Digital Archival Project or our general fund. Thanks so much for your support. If you forgot to make an extra contribution (cash or memorabilia) and would like to do so now, you can do so. We would be thrilled to hear from you at: PO Box 2886, Bala Cynwyd, PA 19004, call us at (856) 365-5600 or e-mail us at: pioneers@broadcastpioneers.com.

A FINAL THOUGHT....
"Straight weather information usually is dry, even when the weather is wet."
Dr. Francis Davis
(member of Broadcast Pioneers)
April 1949

Please contact us by e-mail at newsletter@broadcastpioneers.com or by mail to: Broadcast Pioneers of Philadelphia, PO Box 2886, Bala Cynwyd, PA 19004. Your stories are important, to you, to us, and your colleagues. Contact us today and we'll include your story in the next newsletter!

© 2017, Broadcast Pioneers of Philadelphia
All Rights Reserved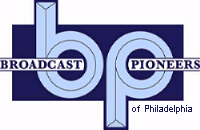 The e-mail address of the Broadcast Pioneers of Philadelphia is pioneers@broadcastpioneers.com
For luncheon reservations call (856) 365-5600 or e-mail us at: rsvp@broadcastpioneers.com