February luncheon
Bala Golf Club
February 20, 2008

Reception at 12 noon
Lunch at 12:30 pm
Ratecard: $25 per person
For You and Your Valentine! It'll be a rock and roll afternoon at the Broadcast Pioneers on Wednesday, February 20th at Bala Golf Club. For us, who've been around awhile, it'll be a sensational return to the early days.
Bill Wright, Sr. - Introduction
Frank X. Feller - Moderator

Panelists:
Joe Terry of "Danny & the Juniors"
Frank Maffei of "Danny & the Juniors"
Ceasar Berry of "The Tymes"
Billy Harner, the Human Perkulator
Billy Carlucci of "Billy & the Essentials"
Billy Jackson, A&R for Cameo/Parkway
Details on the Luncheon! Bill Wright, Sr. will do the honors at the top, as it should be, as a real Pioneer of the Wibbage Good Guys, introducing Frank X. Feller, another Wibbage guy, who will be moderator. They're really good guys.
Check www.broadcastpioneers.com for the latest, up-to-date details but briefly, we will present Joe Terry & Frank Maffei of Danny & the Juniors, Ceasar Berry of "The Tymes," Billy Harner, "The Human Perkulator," Billy Carlucci of "Billy & the Essentials" and Billy Jackson, singer and A&R Man for Cameo-Parkway Records. After the panel discussion, President Gerry Wilkinson who produced local Doo-Wop shows on WHYY, Channel 12, and ended the night with a sing-a-long will provide the same gala ending here. Les Waas, in his inimitable manner, will have a report on where the "Hall of Fame" is. A rock and roll quiz follows with winner to get a DVD of classic TV programs. Again, all this on February 20th, Wednesday, at the Bala Golf Club, at 12N seeing old pals, cash bar, crudities, 12:30 Lunch, $25 is the tab for the whole package. Make reservations by calling (856) 365-5600. It will be BIG, get reservations in early. See ya' there.

NB, for you Latin lovers, or Note well for others: There will be a Board Meeting at 10:15 am before the luncheon at Bala Golf Club. The agenda includes a number of important items. We'd like to see all our board members in attendance.

We always begin the year with a sports program, and this year was the biggest crowd we've ever had for the event. They were wonderfully entertained by Moderator Joe Pellegrino and sports experts from Philly stations. Again, please check the website for details, which you should do anyhow if you want to know what's going on.

Sad to report that member Gloria Dreon is quite ill, and in therapy at the moment. She's the lady from B101 who for many years put this letter together, with a style that is impossible to reproduce. There is very little likelihood that she will return, and while we look for a replacement, Gerry Wilkinson and a large cast, recruited for the emergency from the membership and officers of the club, will continue to see to it that the letter gets out. A round of applause is appropriate for those who've helped through this most difficult period. Our prayers for the quick return to health of Gloria are appropriate.
"When the gods wish to punish us they answer our prayers." Oscar Wilde
Charlie Gracie and his lovely wife will be celebrating their 50th wedding anniversary in February. They were married on the weekend of Valentine's Day. They're taking a trip in celebration.

The Philly Ad Club magazine featured an article on member Art Andrews who has begun a new venture on Radio 1340AM WHAT called "The Corner Table." Andrews, of course, for many years handled morning drive news and information duties at WPEN-AM 950 while the station programmed standards. Art will highlight local celebrities, movers and shakers, on the show, intermixed with great recorded sounds of great artists, now in The Martini Lounge. Join Art at "The Corner Table" at 9AM Saturday mornings on 1340AM.
Ohhh, while we're at it, a guest at "The Corner Table," Jane Norman (Pixanne) will be doing a show in Las Vegas and touring California with a big band, promoting her newest CD "With Love" -- a tribute to Frank Sinatra and Judy Garland. The album is being played on hundreds of radio stations nationwide, including Philadelphia's new station Martini Lounge Radio.

Captain Noah has been in the hospital for minor repairs and adjustments, but Carter, (his legit moniker) and Pat Merbreier, his wife, will undoubtedly be at their usual table at this month's luncheon. One of those sure to be with him is Bill Russell, retired Crew Chief at Channel 6. Bill is staying busy with the Marine Corps League. He was with the 2nd Marines on Okinawa. The Dutch Helweg Detachment in Roxborough, to which he belongs, keeps him real busy as Judge Advocate, and working with Marine families who need help. Once a Marine, always a Marine. Semper Fi Bill. (A non Marine isn't supposed to say that to a Marine, but he'll forgive us, we think).

Sally Berlin will not be kept down, or on a walker. The dedicated member was knocked down on an escalator, hurt her leg and slowed down a bit, but Dorie Lenz reports, after seeing her at a benefit for the Philadelphia Theatre Company, that following her around could wear you out.
People who worked with her for her many years at WFIL-TV, and WPVI-TV are deeply saddened by the loss of Sue Drake, who was a trail blazer in the 60's and 70's and 80's among women getting jobs in television. She was lovely and gentle, but as a TV Director you better do what she says or you'll have a long afternoon. She was a dependable and stalwart member of Pioneers. Shortly after she became heiress to a great fortune and quit her job, she was afflicted with Alzheimer's and left the area to be cared for by her sister. She was 78, and oh, boy, she has been and will be missed.
"If you stand close enough to him, you can hear the ocean." A sentence from a Military Efficiency Report
His friends and fans note the death of Larry Mullenaro (WNAR and WIBF). Larry for many years was heard on the "Polka Party" and "Cuzzin Larry's Cool School," and worked with Marve Bachrod (Marvin's Gardens) and Buddy Brode and many others. Thanks to Richard Franklin for the information.
Herb Clarke has been everything in Broadcast Pioneers, President, Person of the Year, etc. We got to know a little more about Herb in the Inquirer's Daily Magazine. Herb has long been known as a gardener, running the Philadelphia Flower Show for many years, and his reports on the subject are really missed on KYW Newsradio,1060. (Nobody did it better.) Herb was a founder in 1989 of the Men's Garden Club of Philadelphia; no tea and cookies here - burgers and beer and hammers and wheelbarrows for these guys. Herb, at 80, may be the oldest member, but he says one guy looks older than he.
Al Primo, a genius behind Eyewitness News, has a new book at the publisher's office, scheduled for release in March. It's going to be a hum-dinger. Read or listen to a sample chapter of "Eyewitness Newsman" at www.eyewitnessnewsman.com. The Philadelphia story is right there with some pictures you'll be interested in. If you try to read it, be sure to have the cursor in the upper right hand corner to turn the page.
So nice to talk to Austin Culmer, who was a former Board Member and regular attendee at meetings. Austin, a great talk show host, hasn't been around too much of late because he had polio as a child, and it has come back. His leg is now in a brace, but his daughter has brought him to a recent meeting, and just takes good care of dad.
Please greet new members: Bill Wright, Sr. can be thanked for new member Kevin McTear, who has been in broadcasting since 1975 and worked at WMSM, WTHU and WMTR. John Clark since 2001, a sportscaster at Channel 10 and is also a very passionate supporter of Special Olympics. He has become more passionate since his brother began competing in them. Steve Ross, who with Jim Murray, hosts "Remember When" from 10 pm Saturday to 12 midnight on WPHT, the big talker. Welcome all of you, hope we soon see you at lunch.

Don't forget to send items for the Broadcast Pioneers' Newsletter to Paul Norton, 205 Ocean View Blvd., Lewes DE 19958, phone (302) 645-8910, or e-mail nanort@comcast.net. We really need your help.

© 2008, Broadcast Pioneers of Philadelphia
All Rights Reserved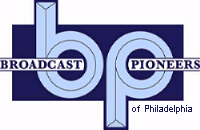 The e-mail address of the Broadcast Pioneers of Philadelphia is pioneers@broadcastpioneers.com
For luncheon reservations call (856) 365-5600 or e-mail us at: rsvp@broadcastpioneers.com