Visit Our Website Often - http://www.broadcastpioneers.com

BOARD MEETING:

There will be three meetings of our Board of Directors in 2010; February. June and October with the next one being on Wednesday, February 17, 2010 at Bala. Starting time is 10:15 am. Members of our board, please mark your calendars.

JANUARY LUNCHEON REVIEW :

The first luncheon for 2010 was held on Wednesday, January 20th at the fabulous Bala Golf Club. It was a sensational happening with well over 100 in the audience! This "SUPER SPORTS SPECTACULAR" was truly a landmark and our biggest sports event of the year! If you missed it, you lost out on a great and fun afternoon!

The moderator for was Broadcast Pioneers member Tom Lamaine. It was historic. Their opinions memorable, recollections priceless and predictions fascinating!

The Panel included:
Don Bell, sports anchor for CBS 3 and the CW Philly 57
Ray Didinger, Sports guy from Comcast SportsNet
Howard Eskin, WIP Radio talk show personality
Dom Giordano, telephone talk host from WPHT Radio
Mike Kern, Daily News Sportswriter & Comcast SportsNet
Tommy McDonald, former Eagle and broadcast sportscaster
Merrill Reese, the radio voice of the Philadelphia Eagles
Also, members Peggy King (former girl singer of the network George Gobel Show) and Les Waas, former Broadcast Pioneers President did their own (and quite remarkable) version of the famous "Who's On First" comedy routine.
In addition, there was a tribute to the late George Michael, former sportscaster, Famous 56 boss jock and a member of our organization. Speaking about George was member Howard Eskin, Michael's first engineer and live on the phone from WRC-TV in Washington, DC was Doreen Gentzler who has been co-anchoring the DC newscasts there for two decades. George did sports on her broadcasts. You may also remember her from her mid-80s days at Channel 10, WCAU-TV.
HEARD AFTER THE LUNCHEON:
"This is a super bowl! The people made it so special. I loved every second of it!" Tommy McDonald
"I enjoyed the give and take, particularly getting a feel for how the audience feels about sports." Ray Didinger
"I absolutely enjoyed the panel. I've lived through these stories…I was there!" Dave Custis
"There should have been 10,000 people watching this. This was a privilege and enjoyable." Mark Stevens of the Dovells
"I liked the panel; Merrill Reese and Ray Didinger. I listen to them all the time and enjoyed what they had to say." John Tuttleman, son of member Dr. Betsy Leebron Tuttleman and grandson of board member Carol Leebron
"It's always a pleasure to be here. What a day!" Dean Tyler
"Just a hoot to be here. It has been a pleasure." Rhonda Dee Hibler, Radio 97.5fm
I enjoy every luncheon. They just keep getting better and better. Today was particularly wonderful with these great sports guys." Paul Big Bear
"I enjoyed Tommy McDonald, because he's older than I am!" Marc Howard
"I loved it! This is a great, wild sports town." Peggy King
"You get to hear the inside scoop. It's interesting hearing the experts. The luncheon was fascinating." Steve Sacks
"Today's luncheon was top drawer. I've been in the booth and it was a pleasure to see these guys today. The Pioneers do a great job. Keep up the good work!" Mike Nozilo
"They talked about why football has become such a big sport. I would have included the gambling element of the game. Americans are gamblers. People will stay in the stands for the last play and bet on the outcome. The gambling element is always present. My advice, hide your money and don't bet on who's going to win!" Joe Pellegrino
MORE IN TOUCH:
Broadcast Pioneers member Bobbie Shaffner and husband Henry celebrated another magical Christmas Eve, caroling at 17 Beekman Place in New York City, the home of Irving Berlin, which is now "The Luxembourg House" (or Consulate). Sounded like fun Bobbie
Every weekend in March, The Franklin Institute will present "Larry Kane's Ticket to Ride," an extraordinary lecture and multi-media presentation featuring the best-selling Beatles author/Philadelphia journalist Larry Kane's experiences with the Fab Four. The shows will be hosted by rock historian and radio impresario Denny Somach and presented on consecutive Fridays at 8pm beginning Friday March 5th and Saturdays both at 5 and 8 pm. By the way, member Larry Kane will be our MC for our March luncheon celebrating 40 Years of "Action News."
After 38 years, Broadcast Pioneers member Johnny Lerro has sold his produce business and now is actively seeking new opportunities in the broadcast industry. Well known and highly recognized for his "Green Grocer®" segments, Johnny is looking to re-connect in radio, TV, voice-overs etc. If you have an opportunity where he can make some cabbage, please contact him at johnnymidnight@comcast.net. Best of luck John!
Broadcast Pioneers Member Sally Starr
in front of WFIL-TV cameras
circa 1969
"Our Gal Sal," Member Sally Starr joyously celebrated her 87th Birthday at Fairchild's Restaurant in Atco, New Jersey. Sally said, "I'm so proud of the baby boomers who came out for the party, particularly in these tough economic times. They get me revived when they're around. We had cake, cake and more cake; dancing and a great time." Sally can be heard hosting "Suppertime Jamboree," on Saturdays, 5 to 6 pm on WVLT, Cruisin' 92.1. Many, many more birthdays Sally!
AM1340, WHAT proudly announced the return to the airways of one of Philadelphia's most prominent broadcasters, Elaine Soncini. She will co-host the Morning Show with Mike Bowe. She spent twenty years as an award-winning news anchor and morning show personality at WPEN, 950AM before "retiring" to Florida. She will telecommute from her Florida home where she does much of her voice-over and commercial work produced by her husband of 15 years Larry Leaf. She began with Mike on February 1st; daily from 6 to 9am. She will make visits to the area for special events. Welcome back Elaine.
We received an e-mail from Kimberly Davidow, who was graduated from LaSalle University in May of 2009. She was the former president of our student group, "The Future Broadcast Pioneers," and winner of one of our scholarships in April of 2008. Her brother, Brandon won one of our scholarships two years earler. Brandon was featured in the scholarship video presented at our annual banquet in November 2009. Both were students of Broadcast Pioneers member Brother Gerry Molyneaux from LaSalle. Kimberly says:
I wanted to let you know that I got a job as an Anchor/Reporter/Producer over at WETM-TV in Elmira, NY. I will be anchoring the noon, reporting for the 5 pm and if I'm not reporting for the 5 pm, I'll be anchoring the 10 pm broadcasts, Monday through Friday. My first day of work is Monday, February 8th.

Also to update you, my older brother, Brandon Davidow (a former Broadcast Pioneers of Philadelphia scholarship winner like myself), was promoted to Sports Director over at his station KXXV-TV in Waco, TX. He is also a graduate from La Salle University.
Hylit Radio.com has a new Friday night destination. Meet HyLit Radio.com and member Sam Lit for food, fun, steak & sushi and some great rock 'n' roll at Spamps, 16 East 1st Avenue, Conshohocken, Pa. It's a live event broadcast from 5 to 10 pm. Keep rockin' Sam!
A final thought...
In 1947, he lived in Roswell, NM, & a reporter asked about the supposed UFO crash & Brookie said, "unless those green guys are good football players & can help us beat the crap out of Carlsbad, I really have no interest."
Tom Brookshier
November 2007

© 2010, Broadcast Pioneers of Philadelphia
All Rights Reserved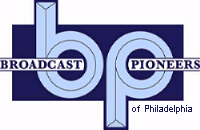 The e-mail address of the Broadcast Pioneers of Philadelphia is pioneers@broadcastpioneers.com
For luncheon reservations call (856) 365-5600 or e-mail us at: rsvp@broadcastpioneers.com