The Broadcast Pioneers of Philadelphia is a federally recognized, state chartered charity. We are a 501(c)(3) non-profit corporation serving Philadelphia since 1962.

Frank Stone
Newsletter Editor

February Luncheon
The Bala Golf Club
Wednesday, February 16, 2011

Reception at 12 noon
Lunch at 12:30 pm
Ratecard: $25 per person

RESERVATIONS REQUIRED!
(856) 365-5600
rsvp@broadcastpioneers.com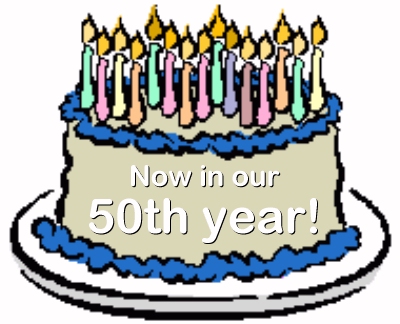 Philadelphia is where it all began! This month we will celebrate and remember the Beginning of AOR on FM in Philadelphia. Yes, Album Oriented Radio or AOR, as it's known in the trade, iswhat we'll be talking about at our Wednesday, February 16th luncheon. It started on FM and basically helped the FM band come into its own.
This event is sure to be a walk down memory lane. Our luncheon panelists will share their memories, insights and passion for the music that took over the nation. Whether you're a fan or a closet fan, this luncheon will be an exciting, informative and entertaining gathering of experts!
Our moderator for the day will be Broadcast Pioneers member Dean Tyler.
Our panel will include, in alphabetical order:
Rod Carson, former WDAS-FM jock on "Hyski's Underground"
Annie Haslam, solo artist and lead singer of the rock group "Renaissance"
T. Morgan, who started AOR in Philadelphia in 1967 on WIFI-FM
Kal Rudman, founder and publisher of the Friday Morning Quarterback
Michael Tearson, former WMMR Music Director and jock
Bill Vitka, WMMR's first news director, now with Fox News Radio
Since Valentine's Day is two days before the luncheon, we'll have some Valentine's fun. We'll have Whitman's Chocolates for you (on a first come, first served basis, of course). Plus, Bill Wright, Sr. will sing his version of "My Funny Valentine" and Bucky Clark will have a piano musical tribute for everyone to enjoy.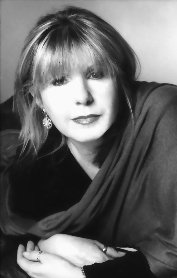 Annie Haslam
Listen to Annie Haslam, former lead singer of "Renaissance," being interviewed by Ed Sciaky on Sunday evening, December 9, 1990 on WYSP Radio. During the interview, Ed played a song by Annie. We have put one second of dead air where the music was so that you continue to hear the entire interview (or at least all that we have).
Listen with Real Audio!
Listen with Windows Media!
Don't miss this luncheon! Everyone who's anyone is going to be there! It all happens at the beautiful Bala Golf Club, 2200 Belmont Avenue in Philadelphia! Just minutes away from Channels 6, 10 and 17, plus the radio stations in Bala Cynwyd. Meet and greet (networking) starts at noon and lunch will be served at 12:30 pm. Be sure you have your place by making your reservation(s) NOW. Call (856) 365-5600
The cost is still only $25 per person. This is our 6th year without a price increase! A full-course lunch, including salad, entrée, coffee or tea and dessert, will be served at 12:30 pm. There's also a crudite and cheese table. Cash bar available all afternoon. Plenty of FREE parking or valet service. The luncheon is open to all our members and any person in the industry or associated fields, whether active or retired. You do not have to be a member to attend. Call NOW with your rock'n reservation(s), (856) 365-5600! We wanna see your face in that place.

Visit Our Website Often - http://www.broadcastpioneers.com

EDITOR'S NOTE: A review of last month's luncheon now appears (both this issue and in the future) near the bottom of the newsletter. This is being done so that there is no confusion which luncheon is taking place next.
WELCOME NEW MEMBERS:
Full Members:
J. Michael Harrison started in broadcasting in 1993 on WPEB with a show called "Is That Jazz." In late 1994, he became involved with WRTI-FM; he worked on remote broadcasts and occasionally filled in as the host of "Point of Departure." His program, "The Bridge" (which Philadelphia Magazine declared the Best Program of 2002) started in November of 1996 on WRTI and is still on the air today (Fridays at 10 pm).
A familiar traffic voice, Walt MacDonald started in 1963. He worked for the Go Patrol for a quarter of a century. He also did similar reports in San Diego. After a few years with Metro Traffic, he headed south to WFOR-TV in Miami and then WPLG-TV. He did traffic helicopter reports for both stations. He's now a photojournalist with Florida's Helicopter, Inc.
Henry Chmielefski has been in the business for a decade. He worked for Acrodyne Industries, Incorporated, in Blue Bell, Pennsylvania. His has been involved in designing the layout of television broadcast facilities and in designing equipment, including transmitters and filters, for low power independent television stations, high power public stations and Sinclair Broadcasting.
Jim Loftus is vice-president of CBS Radio and general manager of WOGL and WYSP. Previously, he was chief operating officer of Shamrock Communications, and he was also VP and General Manager for Susquehanna Radio Corporation. He was also director of sales for Power 99 from 1988 to 1992 and has also worked at WFIL radio and WCAU-FM.
Stan Hochman is currently a sports columnist for the Philadelphia Daily News. However, he also has extensive broadcasting credentials. During the sixties, Hochman worked on WCAU Radio (now WPHT). He was also WFIL-TV's weekend sports anchor. He was a telephone talk radio sports host on WIP Radio and a panelist on programs on Comcast.
Associate Member:
Lois Burak is the daughter of well-known Philadelphia broadcaster Marvin Burak. She was picked as a "Sexy Single" by the Daily News last year. She has been talent on infomercial and a guest host on Sirius/XM Satellite radio. She has worked as an editor for a local production company and was a production coordinator for the WB Network's "Home Delivery" show.
We are thrilled to have these new members. They've helped to bring our total membership up to 409 (an all-time record). We hope to see as many of you as possible at the February luncheon.
NOMINATING COMMITTEE MEETING:
There will be a meeting of the Nominating Committee just before our luncheon on February 16th at the Bala Golf Club. It will start at 11:15 am and you must be a member of the committee to attend.
BOARD MEETING REMINDER:
The next board meeting will be next month at 10:15 am, just before our March 16th luncheon. More details in next month's newsletter.
A LITTLE BIT OF HISTORY!
"Action in the Afternoon" set
WCAU-TV
1953
"Action in the Afternoon" was broadcast live on CBS-TV from the backlot of WCAU-TV. So if it snowed in Philadelphia, there was snow in Huberle, Montana (the "location" of the show).
IN TOUCH:
Celebrate February and Valentine's Day! The exchange of valentines in the form of hand written notes became popular during the 1700s. Notes were soon replaced with cards after the emergence of fancier papers and printing technology in England and the United States. The most elaborate valentines were created during the Victorian era; they were adorned with embossing and made with delicate paper lace. The romantic holiday has been tied to Lupercalia," a Roman festival of fertility, and a Roman Catholic saint named Valentinus or Valentine who lived around 498AD.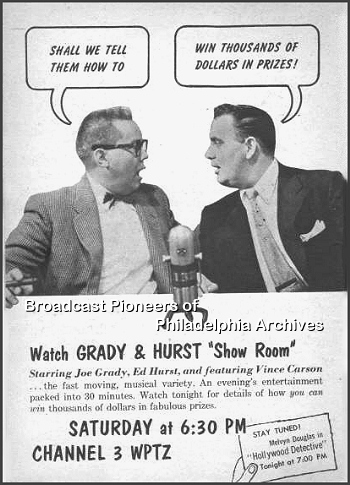 Print ad for "The Grady & Hurst Show Room"
WPTZ, Channel 3, Philadelphia
1955
Broadcast Pioneers board member (and former president of this organization) Dave Abramson is thinking BIG these days. Dave is part of a team at Citizens Bank Park that will see Sony Electronics and Daktroniks"dramatically enhance Phillies' fan's viewing experience at the ballpark." The $10 million upgrade includes the installation of a massive, 76 feet high and 97 feet wide Daktronics HD-15 video display and the latest in Sony HD production technology. The videoboard weighs 42.2 tons and requires 6.1 miles of wiring. Have fun, Dave!
Legendary Philadelphia music-mogul Kenny Gamble's community re-development organization announced a $1 million investment in the neighborhoods of Grays Ferry and Point Breeze. Gamble's Universal Companies raised $500,000 to match a $500,000 grant from the U.S. Department of Education. The money will be used to strengthen education, fight blight and create new economic opportunities in South Philadelphia communities. Kenny's business partner is, of course, Leon Huff, who played piano on many of the Danny & the Juniors sessions. Joe Terry and Frank Maffei, both original members of the recording group, are both members of the Broadcast Pioneers.
We heard from member Ray Didinger on what's been happening with him lately. He said:
I am doing twice weekly appearances on KYW Newsradio during the NFL season (every Monday and Friday at 8:15 am). I discuss various pro football topics with Harry Donahue. I'm also doing Friday reports with Michael Smerconish on WPHT through the remainder of the season. At Comcast Sports Net, I did Eagles Pre-Game Live and Post-Game Live (for the 12th season), as well as three "Under Review" segments each week, breaking down the X's and O's of the previous game with NFL Network analyst Brian Baldinger. I also appeared on "Daily News Live" each Thursday and wrote columns for the CSNPhilly.com web site. I continue to work at WIP Sportsradio co-hosting a Saturday show (10 am to 1 pm) with Glen Macnow and doing weekly visits with the morning show during the NFL season. So I'm staying busy.
Broadcast Pioneers member Harvey Sheldon has written another book. This 824-page tome is called "Philadelphia's History of Music." Author of a dozen books, Sheldon was a dancer on "Bandstand" during the days when Bob Horn was the host. He was also the co-creator of the "The Bunny Hop" dance, which premiered on the Channel 6 show.
The book talks about all types of music and hundreds of artists. A dozen or more of our members are mentioned. The preface to Harvey's new work was written by Gerry Wilkinson, our Chairman of the Board. And speaking of writing prefaces, Gerry has just written one for another book. Due out this summer, Alan Boris' book is a pictorial review of Philadelphia Radio.
If you missed Maura McKinney Mastro's spectacular performance at the January luncheon, you can see and hear her performing "Irish Roots" on two dates in the near future. You can see her at 6 PM on Friday March 4th at the Watervliet Elks (501 Fourth Avenue, Watervliet, New York) and on St. Patrick's Day, March 17th at Canstatters (9103 Academy Road, Philadelphia).
WE REMEMBER :
Edward M. Kazanjian, 85, passed away on Tuesday, January 25th. Ed joined WHAT AM & FM in 1961 in sales and then became controller of both broadcast outlets. He, along with Billy & Dolly Banks and Sid Mark created the WWDB talk format. He also hosted sports-talk shows on the talk station. He retired in 1986 as Station Manager and Vice-President at WWDB. He then became a part-time account exec for Harmelin Media. Joanne Harmelin, a Broadcast Pioneers member, is today the CEO of that company.
Janis Hill, 52, wife of Vince Hill, who runs the KYW Newsradio Business Center daily in morning drive, passed away on January 20th from cancer. She was a former Eagles cheerleader and performed in the Superdome when the Eagles went to the Super Bowl in 1981. She earned her Bachelor's degree in English from Cheyney State University the next year.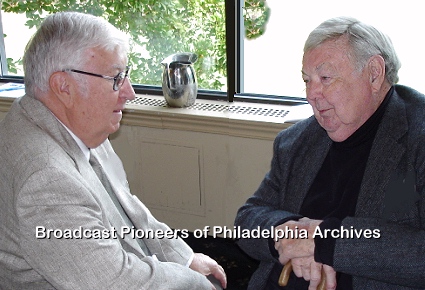 (Left to right) Don Matticks and Joe Earley
(Neither are with us anymore and we miss them both)
Broadcast Pioneers of Philadelphia Luncheon
Bala Golf Club, Philadelphia
Wednesday, October 17, 2007
Photo by Broadcast Pioneers member Bob McCone
Broadcast Pioneers member Bob McCone tells us that Don Matticks, 78, passed away last weekend. Don suffered from myathenia gravis, a muscular disease. He was buried next to his granddaughter, Kristy, who died from cancer at the age of 8 about a decade ago. Matticks was a director for WCAU-TV. He handled Pixanne, Gene London, The Children's Hour and the John Facenda News programs. He was with the station for four decades.
ON THE HEALTH FRONT:
A couple of the guys at WVLT, Cruisin' 92.1, in Vineland have mentioned to us that Broadcast Pioneers member Sally Starr was a little under the weather recently. She's now doing a little better, they say. The good news is that Sally celebrated her 88th birthday last week.
Did you know...
Ralph Kramden and Bart Simpson are distant relatives. The Fox Television Network is a descendant of the old DuMont Television Network. Well, sort of. DuMont's affiliate here in Philadelphia was WFIL-TV, Channel 6, now WPVI-TV. But the station has little to do with this story-- although there is a Philadelphia connection.
(Left to right) Ken Garland and Nancy Ames
(Nancy was on a publicity tour for the "That Was The Week That Was" TV show)
WIP Radio Studios
1965
Allen B. DuMont founded his lab in 1931. The company experimented in television and manufactured world class television receivers. In the late thirties, DuMont started an experimental TV station in New York City, using the initial call letters W2XWV, which later became WABD-TV (The ABD stood for Allen Balcom DuMont). Eleven days after V-E (Victory in Europe) Day, DuMont started W3XWT in Washington, DC. The station later became WTTG-TV, named after Thomas Toliver Goldsmith, Vice-President for DuMont and a good, personal and close friend of Allen DuMont.
The two stations were connected via coaxial cable for live broadcasts and thus this was the beginning of the DuMont network. One of the first live telecasts was the announcement of the dropping of the atomic bomb on Nagasaki in August of 1945. Later, the network would consider this date to be the start of the new network, although real, regular programming didn't start for another year. By 1949, 32 stations were on the network, and most carried the programming live. Those past St. Louis received kinescope copies for airing.
DuMont Television also had another connection to Philadelphia (well, sort of). In the August 31, 1945 issue of the New York Times, it was announced that the grand auditorium of the John Wanamaker in New York City would be the home of DuMont's first studios.
While the other networks basically sought sponsors for complete shows, DuMont sold spots that would later become the standard for the industry. DuMont's network was the place where "The Honeymooners" was first seen. It was part of the Cavalcade of Stars and you can watch it here. The network also had Ted Mack's Original Amateur Hour (which was 30 minutes long), Captain Video and Arthur Murray.
During the 1948 political conventions, DuMont originated a TV version of Don McNeill's Breakfast Club live from Philadelphia. We have a copy of that broadcast in our video archive.
By the mid-fifties, DuMont's network, which was always underfunded, decided it just couldn't compete with NBC, CBS and ABC and ceased operations. Its two O&O stations, WABD-TV and WTTG-TV, became part of the new DuMont Broadcasting Corporation which became Metropolitan Broadcasting in 1957. Its headquarters in New York City were renamed Metromedia Telecenter. The next year, Allen DuMont sold off his shares in the company for a reported six million dollars to German born John Kluge who passed away last year. Kluge had purchased 75% of the company and decided that he would become the company's new chairman of the board. Kluge at one time was known to be the richest person in the entire United States.
Kluge changed the call letters of the TV station to WNEW-TV (now WNYW) to coincide with WNEW AM & FM. In the fall of 1959, Kluge bought WIP AM & FM here in Philadelphia.
Read the press release on the stations sale from our paper and photo archive.
Kluge then went on a buying binge, buying up stations in Cleveland, Stockton, Peoria, Kansas City and Los Angeles. In 1982, Metromedia purchased WCVB-TV in Boston for 220 million dollars. In 1984, Kluge bought out the remaining shareholders and took the company private.
On May 6, 1985 Kluge sold the Metromedia TV stations to Rupert Murdoch and 20th Century Fox (of which Murdoch owned 50%). The reported purchase price was three and a half billion dollars. Kluge then sold off his radio stations, which went back to the company's old name on Metropolitan Broadcasting.
The Metromedia O&O television stations included WNEW-TV, KTTV, WFLD-TV, WTTG and KRIV-TV. Today, they are still owned by Murdoch as Fox owned and operated stations. WNYW (formerly WNEW-TV) is located in the Fox Television Center, previously called Metromedia Telecenter and its earliest name was DuMont's Telecenter. These O&O stations formed the nucleus of what would later become known as the Fox Television Network. The announcement of the "new" network was made just seven months after the purchase of the Metromedia TV stations. Two months later, Murdoch purchased the remaining 50% of the stock of 20th Century Fox. The sale of the stations was approved by the FCC in March of 1986 and later that year, the network's first show, Joan River's Late Show, premiered. Prime time for Fox came the next year with "Married with Children." "The Simpsons" started just two years later. At the time, no one thought that the animated series could bump off "The Cosby Show."
Today, Fox owns WTXF-TV, Channel 29 here in Philadelphia.
This regular monthly column is written and researched by Gerry Wilkinson
A LITTLE BIT OF HISTORY!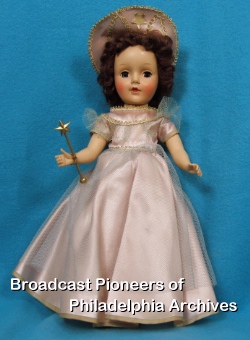 The Magic Lady Doll
The Magic Lady Supper Club was both a radio and television show of the WFIL stations. However, it is more remembered for its radio presence. Janine Goldsmith, a visitor to our website, sent us this photo five years ago. She said to us:
I am a collector of American Character dolls and a few years ago was able to acquire a Magic Lady doll for my collection. At the time, this doll was the first I had ever seen of this kind so I had no more information about her or, indeed, what a Magic Lady was supposed to be. Just recently, I was able to acquire a mint-in-box Magic Lady Supper Club doll. On the end of the box, there was information saying that the doll represented the Magic Lady from WFIL's Magic Lady Supper Club. The doll was produced by the American Character Doll Company for the Lit Brothers Department store. This is only the second of this particular doll that I have ever seen and I have collected dolls for well over twenty years.

The outfit that the doll wears is exactly that of the gown worn by The Magic Lady in your photo on the website. The American Character Doll Company, which was one of the largest doll companies of the era, RARELY made any "special order" dolls. By that I mean any special doll to commemorate an event or a special program on radio or television. There is no way for me to determine what led to the production of the "Magic Lady Supper Club Doll" since it was a local broadcast and the American Character Doll Company was a nationwide concern. Much later on in their company history, the doll company did produce "Kangaroo Kids" for the Captain Kangaroo television program and "Topo Gigio" the Italian mouse featured on the Ed Sullivan Show.
EDITOR'S NOTE: Broadcast Pioneers member Jim Hirschfeld, after leaving WCAU-TV, went on to become the Executive Producer for Captain Kangaroo.
WE NEED VOLUNTEERS:
We always need volunteers to assist in all kinds of activities. From helping at our luncheons and banquets to scanning and writing stories for the website, WE NEED YOUR HELP! We are especially looking for volunteers to assist us with our DAP, Digital Archival Project. We're looking for people with a digital camera with at least 10 megapixels of quality to take pictures of scrapbooks, as well as members with scanners to help scan photos and other items. Also, we'd love to hear from people interested in writing bios and other stories for our website, and we need people who have the proper software to convert VHS tape or DVDs into computer files. Plus other volunteers! If you're interested, please call us at (856) 365-5600 or e-mail at pioneers@broadcastpioneers.com
MORE IN TOUCH:
We heard from member Ted Eldredge, who served on our Board of Directors about a decade and a half ago. He's been living in Miami since 1998 but when he was here in Philly, he was the general manager of WRTI-FM (1985 to 1997). He says that he retired:
...from my position as WLRN radio manager effective January 6th. Since the organization has grown so much in the thirteen years since I was in Philly, many folks may not remember me, but please share the news with them.... I hope to be up north more often now that I'm not working and will certainly attend a meeting if it coincides with my travel schedule.
Three of our members were interviewed by author Michael J. Lisicky for his books, "Wanamakers: Meet Me at the Eagle." They are Pat Ciarrocchi, Trudy Haynes and Sally Starr. The ladies discussed their experiences with the well-known Philadelphia landmark. The book didn't mention WOO Radio, owned by the Wanamaker's Department Store. They did, however, talk about Mary Vogt, the store's organist who often played on WOO. They also talked about WFI Radio (forerunner of WFIL Radio). While the author didn't mention Ed Lewis, we thought you might enjoy reading about him on our website. He was believed to be the first person to sing live on Philadelphia radio (10:25 am on March 18, 1922). We have spoken with Lisicky and he told us that he's now working on a book about Gimbels due out in the fall.
A LITTLE BIT OF HISTORY!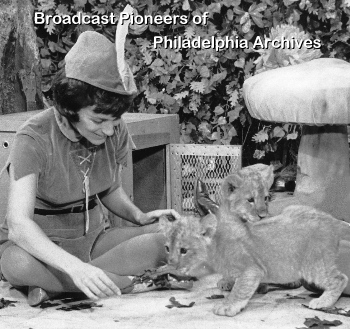 Pixanne (aka Jane Norman) with Lion Cubs from the Philadelphia Zoo
WCAU-TV, Channel 10, Philadelphia
circa 1967
New changes (are there such things as old changes?) at Philly's country radio outlet, WXTU. Brian McKay, formerly of WRBT in Harrisburg and WCTO in Allentown, has taken over the 10 am to 1 pm shift. PD Shelly Easton is doing 1 pm to 3. Ken Anderson, also from WCTO, comes aboard for evenings. Anderson has been filling in during midday (remember when we used to call this "housewives?") since Leigh Richards left in November. Morning and afternoon drive stays the same. The station is this market's number 8 station.
The financial advising people for the State of New Jersey are handling the possible sale (pursuant to a Senate Bill of December 2010) of the state's nine radio station licenses, which are part of NJN. They are WNJT, Trenton; WNJP, Sussex; WNJY, Netcong; WNJO, Toms River; WNJS, Berlin; WNJM, Manahawkin; WNJB, Bridgeton; WNJN, Atlantic City and WNJZ, Cape May Court House. The TV licenses may soon follow.
Well, with Oprah coming to an end, we remember what Broadcast Pioneers member Marc Howard told us a few years ago. He said that if WPVI-TV ever dropped Winfrey, they would replace it with news. He was right. Later this year, Action News will launch its 4 pm newscast going head to head with Channels 3 and 10. The anchors will be Brian Taff, Shirleen Allicot and Alicia Vitarelli. Brian has been with 6ABC the longest. He started in October of 2009. Allicot and Vitarelli both joined the staff last year. Monica Malpass, a member of the Broadcast Pioneers, and Rick Williams, who we inducted into our Hall of Fame last November, will continue anchoring at 5 pm. We also hear that Adam Joseph will be the weather guy for the new Action News broadcast.
Researchers from Indiana University have found that the prettier and sexier the newscast anchor, the less men remember about what was said on the news. They showed short newscasts to 400 test subjects. The same 24-year-old female anchor did both. One time she wore a tight-fitting jacket and shapely skirt. On the second cast, she wore a shapeless jacket and skirt. Lipstick on the first and none on the second. The researchers found that men were able to recall much more of the news on the second newscast and much less on the first. Women seemed to remember more of the news from the sexy anchor.
Geoff Fox, who was an oldies DJ on WPEN Radio in the seventies, became a meteorologist and has been at WTNH in Hartford for a quarter of century. Fox is now off the air. His contract, we heard, wasn't going to be renewed at the end of this month. However, viewers started a Facebook campaign to save him. He was removed from the air early because the station said that he has been "a distraction." Fox said: that he had a "helluva run" and nothing can take that away.
If you are in need of a little humor, then this story is for you. It deals with our very own Captain Noah (W. Carter Merbreier) and his duties as a make-up artist for the late governor of Pennsylvania, Bob Casey. Read the story!
Sean Ross did Radio-Info.com's first "Ross on Radio Readers' Poll" for Oldies stations last month. Nominations started in early December and when everything was counted, there were over 5,000 votes. The Major Market Award goes to WCBS-FM. WOGL-FM was a runner-up. The winner for Small to Medium Markets was WVLT-FM (Cruisin' 92.1) in Vineland, NJ, and WMTR in Morristown, NJ. WIBG-FM, Ocean City, NJ, was a runner-up. The stations were not just in our area but from all over the country. Our area just happens to have good stations. In the interests of full disclosure, we want you to know that our Chairman of the Board, Gerry Wilkinson, was a consultant for WVLT-FM as they were developing their format and station sound.
A LITTLE BIT OF HISTORY!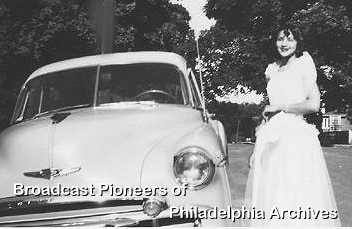 Broadcast Pioneers member Edie Huggins
just before her prom
Jillian Mele will continue as NBC 10's morning traffic reporter. However, she will now originate from the NBC 10's studios instead of Traffic.com's Wayne facility. She's on from 5 am to 7 am. Mele will also host "Arts Around Town" and will do fill in for the station's "The 10 Show."
Ed Perkins, formerly of WRDV Radio writes:
While down DC today, I found something odd when I scanned the FM dial with my portable HD radio receiver and that's finding an AM Philly station being simulcasted on a big DC FM station's digital sub-channel. The station is 106.7, WJFK. On their HD4 channel, you can listen to SPORTS RADIO, 610, WIP.
Ed is right. We have found out that WJFK-FM, 106.7 is offering their station on HD1. On HD2 is Baltimore's WJZ-FM and HD 3 is the Big Apple's WFAN. HD4, as reported by Perkins, is WIP. Word has it that this has been going on since the spring of 2010.
The CBS Radio Leadership Meeting that took place in San Diego last month gave out a number of awards in the Large Market category, including many to Philadelphia stations (KYW, WIP, WPHT, WYSP, WOGL). Marc Rayfield is the market manager for the Philadelphia cluster of stations. Congrats to everyone involved.
Congratulations to Preston and Steve, 93.3, WMMR Philly's 1 st Rock Station, for their 13th Annual Camp Out for Hunger. The lived in a parking lot in Plymouth Meeting for a week, collecting food for Philabundance andbroadcasting live each morning. Listeners filled twenty tractor trailers with over 263 tons (527,285 lbs.) of food. The largest amount ever collected in the event's thirteen year history. Nice going guys
Ed Rendell, who just left office as Pennsylvania's governor, has a new job. He's a political analyst for NBC and MSNBC. His two-year contract will take him through the next presidential and congressional election cycle in 2012.
We heard from Broadcast Pioneers member Sheree Goldflies, who gave us a little more info about "Pennies In Action," which was founded in 2007 by Broadcast Pioneers member Uschi Keszler; Olympic athlete, Olympic coach and double cancer survivor. This organization supports clinical trials of a vaccine that utilizes the patient's own immune system to fight breast cancer. Uschi wanted to help find a way to beat cancer that would not destroy the body in order to heal it.

We heard from Roseann Geers, the widow of Gary Geers, long-time announcer at Channel 3. She wanted everyone to know that Gary was deeply involved in their church, the United Methodist Church of Sun City Center, Florida. He was a lay leader and mission chairman for twelve years. She said:
I can only tell you that Gary was truly the love of my life, we shared a lovely life together and I miss him more than I can say.
EDITOR'S NOTE: Gary never used his legal first name. He was always Gary Geers to everyone. His legal name was Semon Gary Geers.
THANK YOU:
As we do every month, we want to thank Broadcast Pioneers member Johnny B. Hall forhis monthly donation to our DAP, Digital Archival Project. We especially appreciate it since Johnny has doubled his monthly gift. Thanks. Our Digital Archival Project keeps on moving along.
Thanks to new member Walt MacDonald, who didn't get any of January's 38 inches of snow. Why not? Because he's in Florida. He's been sending us tons of DVDs just loaded with all kinds of good stuff for our DAP, Digital Archival Project. It's wonderful, Walt. Keep them coming. Wondering where all this material is coming from? Well Broadcast Pioneers member Walt MacDonald said:
While working and managing the "Go Patrol," I lucked out and purchased something new in my life, a video camera. Up until that time, I was somewhat of a serious amateur photographer. Taking pictures and, yes, hundreds of color slides... Oh yes, the video camera was large and bulky but hey, I didn't care.

No matter where I went, either with my 35 mm camera or my new video camera, everyone reacted with, "Oh, no, it's Walt and his camera." However, I always took my camera to functions like the various radiothons, the Joe Grady retirement dinner run by Larry Wexler and yes, the honoring of Grady and Hurst by the Broadcast Pioneers. I'm glad I did.

It was an honor for me to do it and attend that luncheon. I also attended other luncheons but for some reason never took my camera. In fact, I have 8mm home movies of Uncle Pete from when I was invited on his TV show on WRCV-TV, Channel 3. I was invited to his show after I sent him tons of letters that I wrote to Stan Laurel as a kid and fifty letters from the comedy star in return.
Broadcast Pioneers member Bobb Rayner has donated a brand new dual-deck VHS tape machine. It's still in the plastic and came with complete instructions and a remote. Remember that we still can use additional VCRs because people continue to donate to us programs on VHS. We'll need to stockpile these for future use. They may be hard to get (if at all) in a few years.
Broadcast Pioneers member Mike Nozilo has given us an audio tape of a TV program that he produced in 1963 called "Milwaukee Reports." It aired over WISN-TV and was a public affairs program in association with the Milwaukee Jr. Bar Association. Several years later, Nozilo came to Philadelphia and Channel 6. He's loaned us the original reel to reel tape for us to digitize. Thanks, Mike.
Broadcast Pioneers member Rita Pascal Pagliei, who attended last month's luncheon with her husband (a former Eagles player), has donated some more photos (sixteen, if you want to count them). They range from her time on "The Children's Hour" to the "Think Young" program that she did with Pete Retzlaff.
EDITOR'S NOTE: A few of the photos have Rita with another Children's Hour regular Adrienne Zecca. Adrienne's dad is Tony Zecca, former deputy mayor of Philadelphia and a former newsman for UPI. Adrienne went on to become a vice president for AT&T. At Temple University, Adrienne was a classmate of both Gerry Wilkinson, our current Chairman of the Board, and Jerry Klein, our current President.
Broadcast Pioneers' Board Member Michael Nise has donated some radio material from the 50s and some TV video including "Dancin' On Air" and some programs that Broadcast Pioneers member Peggy King was on. Thanks, Michael.
Kudos go to Broadcast Pioneers member Maura McKinney Mastro who has loaned us some audio tapes to duplicate for our DAP, Digital Archival Project. The tapes contain a whole bunch of her dad's programs (Maura is the daughter of Jack McKinney) on WCAU and WDVT Radio.
The Ed Harvey Estate strikes again. This time, they have donated a Sony mono reel-to-reel audio tape recorder. Thanks so much and special thanks to member Phil Shuman for picking it up for us.
Special thanks to Broadcast Pioneers member Judy Sciaky, widow of Ed, for again allowing us to crawl around in her basement to dig up old Ed Sciaky interviews. So far, we have encoded into digital form over one hundred and fifty Ed Sciaky interviews with different recording artists. Thanks.
If you forgot to make an extra contribution and would like to do so now, it's never too late. We would be thrilled to hear from you at PO Box 2886, Bala Cynwyd, PA 19004.
DIGITAL ARCHIVAL PROJECT NEWS:
During 1979, Walt MacDonald, then with the Go Patrol, invited Broadcast Pioneers member Dave Roberts aboard the Go Patrol helicopter. It was part of an AM Philadelphia segment.
Broadcast Pioneers member Walt MacDonald said:
I'm trying to think back that far. I think that I met Roberts at a public service function and we hit it off well. I was doing the reports on a whole lot of stations and then when the Go Patrol copter had an engine failure and landed hard on the bank of the Schuylkill River I was contacted by the other stations for a voice over. Roberts was doing the morning show on WPVI, which was very successful. That show featured all sorts of stories and after the emergency landing I was contacted to do a story with Robert's flying in the ship. After that we met on numerous occasions doing charitable events. I found him to be a really great guy.
Broadcast Pioneers member Dave Roberts picked a good time to go visit his son, David. By the way, Dave wants us to remind you that David's show, "Bones," is in a new time period. It's now on one hour later on Thursday evenings at 9 pm on Fox 29. And Dave said that David directed last Thursday's show. Well, anyhow, Dave was under the weather (no pun intended) for a little while but is starting to feel better. Dave writes:
I feel as if I was watching another person - not myself and you know, that "other young guy " filed an excellent report! Not missing Philadelphia winter. 80 degrees and sunny today. Wife Patti and I feel as if we're in another world but still miss home though!
Watch in Real Video!
Watch in Windows Media!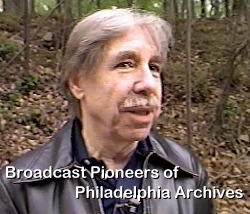 Broadcast Pioneers member Les Waas
on Eyewitness News with Mike Strug
KYW-TV
May 17, 1984
If you attended our January luncheon, you probably enjoyed Les Waas' appearance as Mother's Whistler. He was doing bird calls because we all know that he is strictly for the birds. Well, back in May of 1984, Eyewitness News (Channel 3) ran an interview with Les (we mean Mother's Whistler). Here it is for your viewing pleasure, if you can call it that. In our opinion, the Real Video version is of higher quality.
View with Real Video!
View with Windows Media!
Broadcast Pioneers member Mike Strug (who donated this video to our video archive) said:
This aired at a time when each station had a full-time feature reporter. At 'PVI it was

Don Polec

, 'CAU had Sheila Allen Stephens and I was the guy at KY'. It was our job to do human interest stories...often humorous...sometimes more serious...but always about people.

This was one of the Car-3 pieces that I did with photographer (and Broadcast Pioneers member) Irv Grodsky. The brainchild of KYW-TV GM,

Pat Polillo

, the Car-3 only lasted about a year, but Irv and I agree, it was a great year. It was designed to be light-hearted, personal column-like series in which we could do just about anything we wanted.

There were days on which we had no story ideas and would spot something as we drove around the city and make that our story. And some days, as I make clear in this piece, we would turn to

Chase's Calendar of Annual Events

. On this particular day, I got lucky that Mother's Whistler Day had that local address and lead me to Les Waas with whom I had done other stories in his capacity as president of the Procrastinators Club.

Now somewhere in the intervening 27 years, I stopped doing features, but Les remains Mother's Whistler.
Broadcast Pioneers member Irv Grodsky, who shot this piece, sent us this e-mail from Florida:
The year that Mike and I spent together shooting Car3 was indeed the best time of my career. Mike is a great writer and I really made an effort to make his words come to life with my video. In the piece featuring Les, it struck me that as usual he was not whistling Dixie. Oh, I kid, Les.
And speaking of Les, Broadcast Pioneers member Les Waas said:
Wow! 27 years ago! I'd all but forgotten that I once looked young. (Even the birds back then appeared to be younger.) It took place along the one-track railroad track in Bryn Athyn. It's amazing how Mike had the ability to make something so unimportant appear to be exciting and entertaining. He's a true broadcast professional, well worthy of his inclusion in the BP all of Fame.
EDITOR'S NOTE: Mike Strug was inducted into our Hall of Fame in 2008. Les Waas was inducted in 2005.
Last month, member Bonnie Nadley Silvestri was interviewed about her American Bandstand dancing days on WBZ Radio, a CBS station in Boston. While the interview was on the station's website for a while, it is no longer available. However, before it vanished, we were able to add it to our DAP, Digital Archival Project.
It's the 30th anniversary of "Dancin' On Air," which was produced by Broadcast Pioneers member Frank Nise. His son, Michael (who is on our board of directors) was the EP (that's Executive Producer for you non-TV types). It's also the 25th anniversary of "Dance Party USA" which ran on the USA television network. For about a year, both shows were in production. We found something interesting on You Tube. It's a clip from "Dancin' On Air" and dates from 1985 (was that really three decades ago?). The guys from Shadow Traffic appeared on the show and did a rap song. Mike Nise said that this program originated from Penn's Landing. He also mentioned that they had some great sponsors who were willing to underwrite the extra cost of originating the program on location.
Well, with everyone from Shadow Traffic on the show, who was doing the traffic reports on air? Some of the traffic rap guys included John Brown, Rod Carson, John Butterworth, Walt MacDonald and Randy Chepigan (all members). Bill Roswell (also a member) of KYW Newsradio was one of the singers. Get more information and watch the video.
Broadcast Pioneers member Don Henderson writes us from Florida that he and Doug Miles interviewed former Philadelphian Bill Cosby (who used to do a sports show on WRTI-FM). The interview was broadcast live over WSLR Radio in Sarasota, Florida, where Don spends his winters. Cosby was in the area for a personal appearance. You can listen to the complete interview which is in seven parts on You Tube.
Part One
Part Two
Part Three
Part Four
Part Five
Part Six
Part Seven
Remember, History is ONLY What Gets Saved!
(If there were no portraits of George Washington, how would we know what he looked like?)
ON THE SCENE: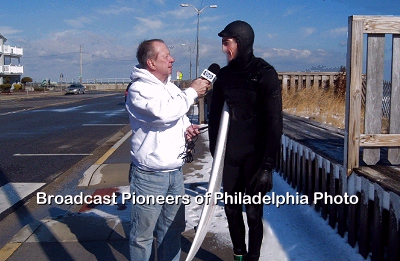 (Left to right) Vice-President Frank Stone and Jodi McKernan
North Wildwood, NJ
January 27, 2011
"On the Scene" caught up with a lone frigid surfer at the "inlet" in North Wildwood, on the morning of the January 27th snowstorm. We spoke with Jodi McKernan, who was on the beach catching waves in 37 degree temperatures. Jodi told us, "It's fun surf. Get out there whenever we can. South Jersey's fun!" Jodi was born in South Jersey and raised in San Diego, but he returned to the area six years ago after spending some time in Hawaii with his wife. Jodi is a construction worker. We guess he doesn't mind the cold or snow. However, he said, "I'm freezing." Go figure!
EDITOR'S NOTE: Doesn't matter what the weather is when you're living your dream!
JANUARY LUNCHEON REVIEW :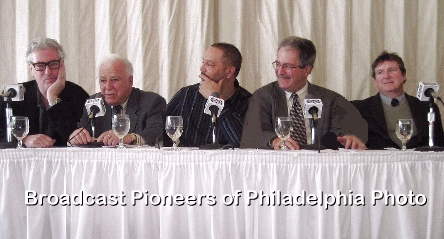 (Left to right) Big Daddy Graham, Stan Hochman, Bill Vargus, Joe Juliano and Kevin Callahan
Broadcast Pioneers Luncheon
Bala Golf Club, Philadelphia
Wednesday, January 19, 2011

2011 had a fabulous start, thanks to our "JANUARY SPORTS SPECTACULAR." The topic was ALL THINGS SPORTS! Once again Broadcast Pioneers filled the banquet room at Bala Golf Club with sports fans, celebrities and an audience brimming with enthusiasm and appreciation for a wonderful program.
The afternoon began with a stirring (standing ovation) rendition of America the Beautiful by Broadcast Pioneers member Maura McKinney Mastro. Maura dedicated to her father, 2009 Hall of Fame inductee Jack McKinney.
Our MC for the afternoon was Joe Pellegrino, former sports anchor for WPVI and WCAU-TV!! Joe also is a member of our Board of Directors.
Our panel (in alphabetical order) included these Super Sizzling Sports Experts:
Kevin Callahan, columnist for the Camden Courier-Post
Big Daddy Graham, comedian and over-night guy at WIP Sports Radio
Stan Hochman, sports columnist for the Philadelphia Daily News
Joe Juliano, columnist for the Philadelphia Inquirer
Bill Vargus, former Sports Director for WTX-TV, Channel 29
Plus there were introductory remarks by Uschi Keszler, former Olympic Ice Skater and German Gold Medal Winner. She was also the coach for Ice Skating Champions Brian Orser, Shae-Lynn Bourne, Victor Kraatz and Elvis Stojko. And avid sports fan, Broadcast Pioneers member and NBC 10 super star Glenn Schwartz spoke from the fan's perspective.
We also had 12 photos from our paper and photo archives on display. We needed your help in identifying some of the people in these snapshots. Our members know most everything and were very helpful in supplying additional information. Thanks to everyone who helped.
Broadcast Pioneers Board Member Les Waas did a comedy routine that was strictly for the birds. If you missed it, you can see a 1984 Eyewitness News version of it in our Digital Archival Project section below.
Our talented panel shared their insight with the audience, all the while looking back to the past year and looking ahead to the future of Philly sports teams. On the phone was Merrill Reese, the voice of the Philadelphia Eagles, discussing the past season, his predictions for the off-season, and the future. If you were there, you heard it first!
HEARD AFTER THE LUNCHEON:
"We had a great panel here. Everyone agreed we had enough discussion about re-plays! And the Phillies will have a great season." Tom Lamaine
"I was impressed and surprised. This was very well done. A great panel. I agreed with them on most things and that made it even better." Dean Tyler
"This was wonderful. An opportunity to see people I've known for years." Dr. Bill Hushion
"The panel was a bunch of all-stars. It was a lot of fun. The audience was great and really appreciated the talents of the panel." Joe Pellegrino
"It was a great event. The spirit and inquisitiveness was wonderful. This is my first time here, and I want to come back." Joe Juliano (Philadelphia Inquirer)
"I think the former Fox 29 sportscaster was especially enlightening. To be a part of this panel was thrilling. This group enlightened everybody." Bill Vargas (the former Fox 29 sportscaster)
"I found it very interesting and entertaining. This is a good crowd of good people. I loved it." Sue Serio (Fox 29 Weather person and wife of Bill Vargas)
"I was thrilled with the audience response. This just shows you how passionate Philly fans are about their sports…even on a cold wintry day." Stan Hochman (Philadelphia Daily News)
A FINAL THOUGHT....
T. Morgan said to Larry Magid (they were both DJs on WDAS-FM), "You're going to give all this (radio) up, for the Electric Factory?"
We welcome your input regarding content, future stories, suggestions, etc. Please contact us by e-mail at newsletter@broadcastpioneers.com. Your stories are important, to you, to us, and your colleagues. Contact us today and we'll include your story in the next newsletter!

Photo Editor & Archival Historian - Gerry Wilkinson
© 2011, Broadcast Pioneers of Philadelphia
All Rights Reserved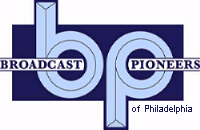 The e-mail address of the Broadcast Pioneers of Philadelphia is pioneers@broadcastpioneers.com
For luncheon reservations call (856) 365-5600 or e-mail us at: rsvp@broadcastpioneers.com