The Broadcast Pioneers of Philadelphia is a federally recognized, state chartered charity. We are a 501(c)(3) non-profit corporation serving Philadelphia since 1962.

Frank Stone
Newsletter Editor

February Luncheon
The Bala Golf Club
Wednesday, February 15, 2012

Reception at 12 noon
Lunch at 12:30 pm
Ratecard: $25 per person

PLEASE RESERVE NOW!
(856) 365-5600
rsvp@broadcastpioneers.com
Another One
Better than the Other One!
(if that's possible)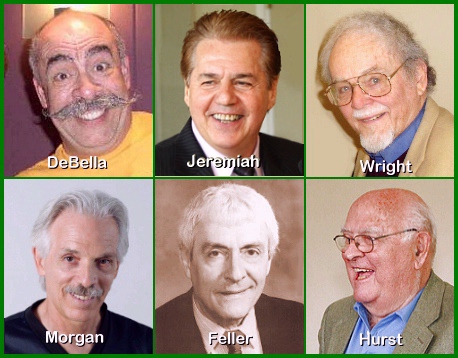 Join us on Wednesday, February 15th, at the Bala Golf Club, for another fabulous luncheon. This one (better than the other one) is all about "MUSIC AND RADIO!"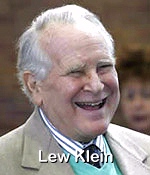 Our moderator and emcee for the afternoon will be Broadcast Pioneers member Lew Klein. Lew was a former president and former chairman of the board of this organization. He was also co-owner of Gateway Communications and was the Executive Producer of "American Bandstand" during its Philadelphia run. Our panel will include these fabulous experts (in alphabetical order):
John DeBella, morning air personality on WMGK, 102.9 FM
Frank X. Feller, formerly of WIBBAGE and WYSP-FM
Ed Hurst, the legendary broadcaster for seven decades
Kenny Jeremiah, entertainer, formerly of the Soul Survivors
T. Morgan, currently, a WMGK-FM, 102.9 air personality
Bill Wright, Sr., the iconic "Rebel" of WIBG and WPEN fame
It all takes place on Wednesday, February 15th at the beautiful and historic Bala Golf Club, 2200 Belmont Avenue (across the street from the State Police) in the Wynnefield section of Philadelphia. Just only minutes away from Channels 6, 10 and 17 and the radio stations in Bala Cynwyd.
Meet and greet (networking) starts at 12 noon, and a full-course lunch including salad, coffee or tea and dessert will be served at 12:30 pm. There will also be a crudité and cheese table. Cash bar available all afternoon!
The cost is still only $25 per person. This is our 7th year without a price increase! Cash bar available all afternoon. Plenty of FREE parking or valet service. The luncheon is open to all our members, their guests and any person in the industry or associated fields, whether active or retired. You do NOT have to be a member to attend. Call NOW with your reservation(s), (856) 365-5600!

Visit Our Website Often - http://www.broadcastpioneers.com

DIGITAL ARCHIVAL PROJECT NEWS: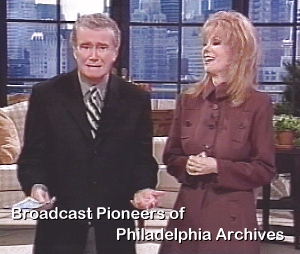 (Left to right) Regis Philbin and Kathie Lee Gifford
tape made especially for our "Person of the Year" Dinner
1998
Our "Person of the Year" in 1998 was former Broadcast Pioneers President and former Chairman Art Moore, who had moved to New York City. Part of his duties included producing "Live with Regis and Kathie Lee." This is the tape from 14 years ago that Regis and Kathie Lee sent us poking fun at Art.
Watch in Real Video!
Watch in Windows Media!
There was a program on WCAU Radio called "Hi Neighbor Party Time" and its host was Ralph Collier. On this particular show, Philadelphia singer turned actor James Darren was interviewed. The house singer was Susan Brooklyn. It dates from early May of 1958.
We do not have the complete show of this broadcast. However, we can present to you three excerpts (as one piece of audio with 1 second dead air between cuts). The running time is a little over 14 minutes.
This specific recording was made via a transcription disc and not on reel to reel audio tape. Because of that, the recording is fairly noisy. It's available as both Real Audio and in the Windows Media format.
Listen with Real Audio!
Listen with Windows Media!
Powers Gouraud, "The Old Night Owl," began some of his earlier nightly commentary on WCAU radio, which was sponsored by Yellow Cab, with "Yel-low, night owls and night owlettes, yel-low!"

Gouraud was an avid sports fan and a patron of the arts. His broadcasts were mostly live and heard at 11:15 pm over WCAU Radio. Gouraud's air presence spanned three decades in Philadelphia broadcasting and he was highly thought of and well respected in the broadcast community.

In this video, from Monday, May 29, 1950, we have a complete Powers Gouraud interview with his "ol' Pal," Ted Husing. They talked about baseball and the "upcoming" 1950 season. Ted picked the winners of each league correctly.
In the mid-60s, we transferred this recording from the original WCAU Radio 16" transcription disc onto reel-to-reel tape. Our tape was cut on half track stereo equipment. The original disc was returned. It is our understanding the original transcription disc no longer exists today. So our tape is the next best thing.
Listen in Real Audio!
Listen in Windows Media!
Up until 1969, WRTI-FM was student run and had student station managers. WRTI-FM is owned by Temple University. Several years before the institution of the all jazz format, WRTI-FM had jazz programs. On Friday, October 15, 1965, there was a Dave Brubeck concert on campus and it was held in Mitten Hall, which was then the student activities center.
WRTI-FM had arranged with Brubeck's people to carry the concert live. We have a three and a half minute piece of the live broadcast from the end of the program. Doing the commentary are Temple student broadcasters Dave McLaughlin and Barry Miller with student Bill Stock heard at the end doing the announcing.
Listen with Real Audio!
Listen with Windows Media!
WELCOME NEW MEMBERS:
FULL MEMBERS
Norman Felsenthal started in the communications business in 1969. He taught communications at Purdue University from 1969 to 1973. He then moved to Philadelphia, where he was a Professor of Communications at Temple University's School of Communications and Theater for a third of a century. He is now a Professor Emeritus at that same school. Welcome aboard, Norman.
Dick Carr started in broadcasting in 1956. Dick is currently president of Dick Carr Productions, LLC. Previously, he was VP of programming for the ABC Radio Networks in NYC and LA. He was also a Vice-President of the Mutual Radio Networks. During his days with Metromedia, he was VP/GM for WNEW-FM, VP/GM for WIP & WMMR, PD for WNEW and Program Director for WIP.
Kim Zachary is the Human Resources and Community Relations Director at NBC 10, WCAU-TV licensed to Philadelphia and located in Bala Cynwyd. She's been with them for thirteen years. She's a local gal who made good. Her education includes Friends' Central and then on to Drexel University where she earned her Bachelor's degree. Welcome aboard, delighted to have you in membership.
We are thrilled to have these new members. They've helped to bring our total membership up to 460 (an all-time record). We hope to see as many of you as possible at the February luncheon.
BROADCAST PIONEERS' SCHOLARSHIPS:
Time is running out! Only eleven more days left to enter our scholarship competition! Because of the success of our annual banquet and because of underwriters for scholarships, this year Broadcast Pioneers will offer a total of seventeen $1,000 scholarships. That's the most we ever have given out. AN ALL-TIME RECORD! If you know of any college student who might be interested, please let them know. You can find all the information at right here!
BROADCAST PIONEERS' COLLEGE CAREER NIGHT: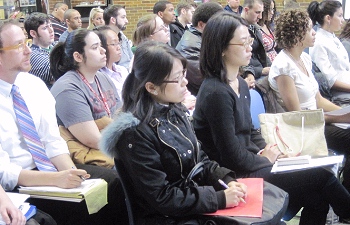 Broadcast Pioneers' Career Night
Annenberg Hall, Temple University
Thursday, March 24, 2011
On Thursday, March 29th, Broadcast Pioneers will hold its 10th annual Career Night for College Students. The event is on the campus of Temple University. It's a FREE Career Night for all interested Communications college majors at area colleges. The event will take place in Annenberg Hall on the campus of Temple University from 6 to 8 pm. Remember, the event is free and is open to all college students regardless of the university they attend. Last year, 113 students from several different colleges and universities attended.
At this year's event, President Jerry Klein will again be our moderator. On the panel will be Pat Delsi, former owner of WSSJ Radio; Linda Munich, Vice-President of Public Affairs at WPVI-TV, 6ABC, Bill Roswell, Director of Digital News and Media at KYW Newsradio and more.
Listen to audio and see photos of last year's event!
A LITTLE BIT OF HISTORY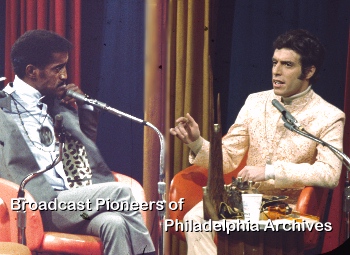 (Left to right) Sammy Davis, Jr. and Jerry Blavat
Jerry's Place TV Set
WFIL-TV, 4100 City Avenue, Philadelphia
circa 1969
Broadcast Pioneers member Jerry Blavat had a television show on WFIL-TV called "Jerry's Place." Many well-known people visited the show. One day, Sammy Davis, Jr. was the guest.
Member Mike Nozilo, who produced the show, took the photo above (originally a slide). Mike told us that after the program, Jerry took Sammy Davis down to his mother's house for some spaghetti and crabs. Mama Geator (as many of us called Blavat's mother) was well-known for her fabulous home cooking.
IN TOUCH WITH OUR MEMBERS:
January 4th was the 30th anniversary of Anne Klein & Associates, now Anne Klein Communications Group. The staff gave Anne the best present ever; a beautiful book of writing. You can look at it online right here! Anne, wife of our President, Jerry Klein, said:
As I paged through more than 150 letters, I was reminded once again about how special each of you has been in my life. You have helped me in many ways achieve this milestone anniversary. With a grateful heart, I say, "thank you."
Congratulations to Board Member Mike Nise, who tells us"Dancin' On Air" is coming back with all new shows. During the summer, WPHL Channel 17, did some testing on air of re-runs of past shows and discovered that on a Saturday night, it was the #1 rated program. Mike told us that the brand new shows start March 31st. Nise is the new show's Executive Producer and TV Director. He said:
We'll have a Saturday morning one-hour show at 10 am. Channel 17 has given us a13-week commitment. Our dancers will be ages 17 to 21. Watching the show will be ages 12 to 16 and, ideally, 12 to 34!
Danny and the Juniors were mentioned in the January 6th edition of "Rewind" heard over KYW Newsradio. Broadcast Pioneers members Joe Terry and Frank Maffei, two of the original guys in the group, still perform all over the country. Their hit of "At the Hop" is one of the top number one records of all time. Way to go!
Congratulations to Broadcast Pioneers member and our monthly luncheon's guru of sound, Dave Michaels (son of our Treasurer and 2001 Hall of Famer Pat Delsi). Dave landed a DJ spot with Thunder 106.3 FM in Asbury Park, New Jersey. Dave is hosting a show on Sundays from 10 am to 3 pm on this all country station. We'll be listening Dave!
Have you noticed the Philadelphia 76ers are off to a great start this season? What's the difference? They have a new Public Address Announcer in Broadcast Pioneers member and 2003 Hall of Famer, Tom Lamaine. Tom told us, "The Sixer's didn't make any personnel changes…same coach…same 12 players…all they did was change announcers!" The attendance so far this year exceeds all of last season combined. Sounds like a good move to us, Tom!
Insider information is that Board Member Carter Merbreier (aka Captain Noah) is finishing up a wonderful new book that is soon to be published. We hear it contains fascinating stories about his years in the business and the people he met along the way.
Editors note: We recently spoke with Carter, who tells us he's feeling much better. He had a few rough months health wise but is back on track and feeling like the rascally ol' Captain once again.
Member
Bonnie Nadley Silvestri
, will be dancing on stage with The Dovells, for the "50th Anniversary of the Bristol Stomp" on Saturday, February 4th at Merighi's Savoy Inn, Vineland. Bonnie's the President of the Dovells Fan Club and their "official" Bristol Stomper! The Dovells are Jerry Gross and member Mark Stevens. A few weeks ago, Bonnie was interviewed on the Colin Lively Show from NYC. It's an Internet radio program and she talked about growing up in the sixties, dancing on "American Bandstand" & her current dance gig on BCTV's "Dance Party."
The program is available here!
Member Peggy King continues her monthly Internet radio broadcast, "Off the Cuff." It's heard the fourth Sunday of every month. The old broadcasts are also archived for your listening pleasure. Peggy is the former girl singer on "The George Gobel TV Show." Watch a clip of Peggy on the Gobel show!
And speaking of Peggy, member Harvey Sheldon's last book, "America's Greatest Jazz and Pop Singers" is due out shortly. Peggy is included in this encyclopedia of American icons. Our own Chairman of the Board, Gerry Wilkinson has written the preface for the book. This is Gerry's third preface for as many books, including "Philadelphia Radio" by Alan Boris. In Harvey's latest, Gerry says in part:
I associate Rosie Clooney's "Come on-a My House" and "Botch-a-Me" with the whip amusement ride that was on the back of trucks that cruised through West Philly looking for kids with a nickel. These were the only songs I remember the trucks playing. I'm sure there were others but I don't recall them. We were outraged when the price doubled to a dime. I could no longer afford to ride, but I would still run out of the house to listen to the tunes.
The January 13th edition of The Catholic Star Herald contained an insightful story about former Board Member Larry Ferrari and his 43 years at Channel 6 as an organist and entertainer. His was the second-longest running show on the station, behind Chief Halftown. Read the complete article here! Wanna watch a clip of a Larry Ferrari Show? Member Dan Fleishman, an area pianist appeared dozens of times on "The Larry Ferrari Show." Larry and Dan quite often played duets with Fleishman on piano and Ferrari on the organ. We have an excerpt from Christmas 1990 broadcast over WPVI-TV.
Watch in Real Video!
Watch in Windows Media!
A little over a week ago, veteran broadcaster Jane Pauley made an appearance at Drexel. It was part of a program run by the Kal and Lucille Rudman Institute for Entertainment Industry Studies. It was a celebration of 60 Years of "The Today Show." The head of the institute is member Karen Curry. We have a six-minute video shot by board member Brad Seecof's company, Metra4.com. Watch the interview!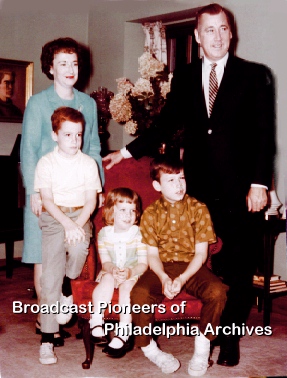 Barbara and Herb Clarke and children
circa 1966
January was a sad month for us at Broadcast Pioneers. We lost our long-time member and friend, Herb Clarke, probably best known for his weathercasting at WCAU-TV for 40 years. Herb was a former President and a former Chairman of the Board of this organization. He also served on our board of directors for a quarter of a century.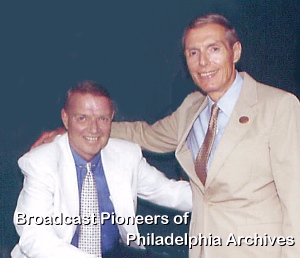 (left to right) members Harry Kalas and Andy Musser
A couple weeks after Herb's death, we were again saddened. This time we lost another member and our friend Andy Musser, who is best remembered for his 26 years in the Philadelphia Phillies announcer booth. He was active in our organization and was a panelist or speaker at many of our luncheons.
Just moments before sending out this newsletter, we found out that long-time member Mary Anna Snowden, better known as Ronnie, passed away on January 19th at Cathedral Village, where she has lived for the last ten years. Right out of high school, she started working at WCAU Radio as the producer/director on the "Talk of Philadelphia," hosted by former Broadcast Pioneers' Vice-President Ed Harvey. She was also a research associate for Channel 10's News Department and produced several documentaries for the station. Ronnie also was the PR director for the Careers in Nursing Committee. Snowden was a member of our Board of Directors for more than a decade and served many years on our Newsletter Committee. There will be a memorial service on February 18th at St. Martin in the Fields Church in Chestnut Hill.
Fattish Ali, 56, passed away on Monday, January 23rd in her sleep. She did 10 am to 12 noon on WURD, 900 on AM here in Philadelphia. She has been on the air in this market for more than 30 years. She was a former columnist for the Philadelphia Daily News. Ali was, at one time, married to State Senator Vincernt Hughes. She was also married to WDAS Newsman Brahin Ahmaddiya, who passed away a dozen years ago. In addition to WURD, she had also worked for WDAS and WHAT in Philly and all-news WINS in NYC. WURD issued this statement:
It is with great pain and sadness that we bring you the tragic news that WURD program host, and veteran journalist and broadcaster, Fatimah Ali passed away. The WURD staff would like to say that Fatimah's life was a tribute in and of itself.

Did you know...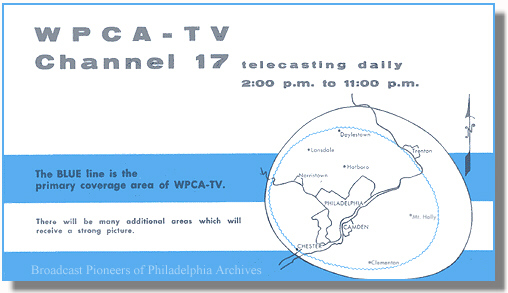 Graphic originally donated by Broadcast Pioneers member RJ, Ron Joseph
that there a Channel 17 in Philadelphia before WPHL-TV? Well, there was. It was WPCA-TV. David Stanislaw, a visitor to our website, worked at WPCA-TV and was the step-grandson of Wayne Cody, who portrayed "Uncle WIP" on WIP Radio. He wrote to us:
Up until the late 1950s, all that Evangelical organizations could afford is radio stations to spread the Gospel. Evangelist Percy Crawford was encouraged by Billy Graham and others to find investors to fund a Christian Television station. At that time, one of the largest TV markets would have been the East Coast and the FCC was offering UHF Television licenses. Philadelphia was chosen for the site; the name WPCA was chosen meaning "People's Christian Association."

The station and equipment were second hand, except for the UHF transmitter on Channel 17. No other TV commercial station in Philadelphia, or for that matter NYC, operated yet on UHF. The earlier TV cameras used Image Orthicon video tubes; however, Percy was advised to use the newer Vidicon video cameras at WPCA. Most spare parts were surplus; the station purchased used Vidicon tubes from other stations, and reused them until the dark spots became too objectionable. Then back to RCA who rebuilt them for the industry. The UHF transmitter was new however; I can remember the station being off the air for a week while we waited for a replacement tube from RCA, probably C.O.D.

Percy Crawford died in 1960, but his five children; Don, Dick, Dan, Dean and daughter Donna-Lee took over running the station. Don Crawford was President, the station engineer with the FCC radio license was the only permanent employee. Everybody else was working for minimum wages with promises of the future; the budget was tight. There were so many leaders that some times it was difficult deciding who's direction to follow. Actually, there was little religious programming from 1960-1962.

I am the step-grandson of (Radio and) TV personality Wayne Cody who produced the first Philco Television station.... In fact in his childrens' show, he was called Uncle WIP. As a youngster I often visited the TV set and was fascinated with the Television cameras; but was not allowed to touch anything. This "hands off" indignity lasted until I was 22 and learned that there was a TV station in Philadelphia that would virtually hire anyone who could recite the books of the Bible.

At that time I was in the USAF flying F106s at McGuire AFB, but I drove to Philadelphia to work at WPCA on the weekends. None of us had any experience. So, we each got a chance to operate cameras, control audio, mix video and do the Saturday night newscast we got from UPI. I never got paid so little for having so much fun. Unfortunately, none of my friends ever saw me on WPCA, since it was a UHF station. Then one Saturday in 1962, I showed up at the station and found a lock on the door. A sign that said that "WPCA had gone off the air and your final check will be sent through the mail." The post office must have lost it.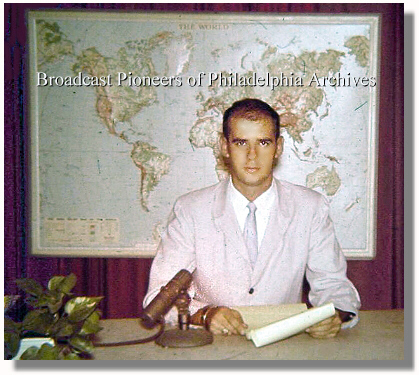 Saturday's Channel 17 News Anchor David Stanislaw
WPCA-TV
circa 1962
A couple of historical points that need clarification. WPCA-TV was not Philadelphia's first UHF television station; it was the city's first commercial UHF outlet. In 1957, WHYY-TV started broadcasting on Channel 35, and that was UHF. Channel 35 during the first few years mainly broadcast during the day, telecasting educational programs and courses to the children attending Philadelphia's Public School System. The school TV sets had UHF converters (so that they could receive Channel 35). Of course, when the school day was over, the buildings were locked with the converters inside. So, it is also a true statement that hardly anyone in the general population had UHF converters on their sets or even knew what they were.
The "Uncle WIP" show started on radio in 1922. However, Wayne didn't start to portray the popular kiddie host until ten years later. The program originated from the Gimbel Brothers Department Store. After Philco received their commercial television license for Channel 3, the call letters were changed from W3XE to WPTZ. During the forties, the station carried a television version of the popular radio program, "Uncle WIP" with Wayne Cody. The programs were different from the radio broadcast with radio originating from Gimbels and the TV show originating from the television station. Later, the TV show moved to Channel 10. There have been rumors (but never confirmed) that a few of the very early television shows may have originated from the department store.
Broadcast Pioneers member Ron Joseph, better known to millions as RJ, had a half-hour talk show on WPCA-TV called "Spotlight on America" weekly for two and a half years until the station went dark. He had young people talking about different vocations and guest celebrities from the Philadelphia radio and television family such as Dick Clark, Phil Sheridan, Mort Farr, Hy Lit, Joe Niagara and Frank Hall from WRCV.
The first year he broadcasted on Mondays at 8 pm, but the second year he moved Wednesday evening at the same time. It was a live broadcast for a total of about 140 shows. This was the first TV show starring Ron Joseph. Afterwards, there would be many more.
WPHL-TV came on the air on Channel 17 here in Philadelphia on September 17, 1965. It was owned then by Broadcast Pioneers member Len Stevens, but that's a whole different story.
This regular monthly column is written and researched by Gerry Wilkinson.
MORE DIGITAL ARCHIVAL PROJECT NEWS:
Jim Gardner
Action News, WPVI-TV
New York City
Thursday, August 14, 1980

Jim O'Brien
Action News, WPVI-TV
Philadelphia Studio
Thursday, August 14, 1980
It's 1980 and the Democrat Party is holding its convention in New York City. Action News goes to the Big Apple to cover the story. Jim O'Brien is anchoring the 5:30 pm cast with Marc Howard doing the 6 pm. This excerpt is from the 5:30 pm newscast. Part of this clip contains an exclusive WPVI interview done by Jim Gardner with First Lady Rosalynn Carter.
Our transfer comes direct from a WPVI-TV 3/4" video tape. However, it is a generation down. Why? Well, this 3/4" recording consisted of various reports. This was taken from an aircheck and then dubbed onto the final 3/4" tape. In our opinion, the Real Video version is slightly clearer and cleaner.
Watch in Real Video!
Watch in Windows Media!
In 1983, Broadcast Pioneers member David Madden was a newscaster at WFIL Radio. Of course, we all know that David Madden has been with KYW Newsradio for decades. He also hosted a late Sunday evening telephone talk show on WFIL Radio called "Crossfire."
On the Sunday Jim O'Brien died, September 25, 1983, the plan for the 11 pm to 1 am broadcast was to be an open forum program, but the events of that day would quickly change the nature of the broadcast. It turned into a two-hour tribute with the general public and friends and co-workers of Jim O'Brien, many of whom are members of the Broadcast Pioneers of Philadelphia. For the first time, this program is now also available in the Windows Media format.
Listen in Real Audio!
Listen in Windows Media!
In 1971, the KYW Newsradio format was about 6 years old. What we have is a complete 30 minute segment of the station featuring Don Lancer. The first voice we hear is that of Bill Gregory. It's Sunday, January 10, 1971. In this clip, there's a report from KYW's Harrisburg's correspondent Sandy Starobin. Sandy was previously with the Philadelphia Inquirer and passed away at 50 from cardiac and idabetic problems. This segment aired from 2 to 2:30 pm. At the end of the aircheck, the ID is done by Harry Johnson. For the first time, this audio is now also available in the Windows Media format.
Listen in Real Audio!
Listen in Windows Media!
We have in our archive, a clip from Monday, September 15, 1969 from WXUR Radio. It's RIGHT-CENTER-LEFT and the host was Broadcast Pioneers member Irv Homer. By the way, on the days where Marvin Burak (father of member Lois Burak) or Irv was the host, the broadcast originated from Marvin's home. For the first time, this audio is now also available in the Windows Media format.
Listen in Real Audio!
Listen in Windows Media!
Remember, History is ONLY What Gets Saved!
(If there were no portraits of George Washington, how would we know what he looked like?)
A LITTLE BIT OF HISTORY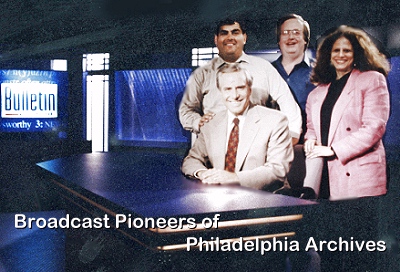 (Left to right) Scott Herman, member Paul Gluck and JoAnn Caplin
(seated) Broadcast Pioneers member Larry Kane
"The Bulletin" TV Set
KYW-TV, 5th and Market Streets, Philadelphia
1993
This is a production still, shot for "The Bulletin with Larry Kane" at KYW-TV. The show premiered on Friday evening, July 30, 1993 at 8 pm. Broadcast Pioneers' Vice-President Paul Gluck who was the show's Executive Editor tells us:
The Bulletin was, we at KYW believed, the first locally-produced, hour-long, news magazine show to air in prime time (WPVI's long running, 30-minute feature magazine show, "Prime Time," aired in the Saturday access hour).

Surrounding Larry Kane (in this image) are Scott Herman (then News Director, now Senior Vice-President for Operations with CBS Radio), Me (then Executive Editor) and JoAnn Caplin (then Executive Producer of "The Bulletin," now an independent producer and instructor at University of Pennsylvania). This photo was taken in Studio B in the KYW Building that stood at Fifth & Market Streets.
MORE IN TOUCH WITH OUR MEMBERS:
RJ, Ron Joseph, a member of Broadcast Pioneers tells us that "RJ's Disco Show" has started its second year on WZBN-TV, Channel 25. It's on Sundays at 4 pm. While the station is licensed to Trenton, RJ tells us that some Philadelphians can also get the station over the air. Details here!
Member Bob Jawer has told us that his son, Michael, has just published his second book. This one is entitled, "Your Emotional Type." You can visit Michael's website and find out more about yourself by taking an eighteen question quiz. Bob was inducted into our Hall of Fame in 1995. You can also listen to Bob talk about his career here!
A few weeks ago, Member Charlie Gracie was featured on reports heard over KYW Newsradio. His new single, "Baby Doll," is doing very well. The Philadelphia Inquirer reported that the song is now number one in Philadelphia and number fifty-two nationally, according to Billboard Magazine. In fact, just this past Sunday, Charlie was interviewed on WMMR by Jacky Bam-Bam and yesterday his picture (with a front page story) was in the Inquirer.
Member Anthony DiFlorio tells us that we should check out the facebook page for his colleague Jim Davison's new music video, "I Dream of You Everyday," a catchy new pop tune that he was instrumental in creating. Composed and performed by Jim Davison, it was produced, shot, edited and co-directed by Anthony DiFlorio.
We heard from member Paula Wholey. She was a showing member of the Ocean City's Fine Arts League. The show got her so excited she's laid the groundwork for an exciting new sculpture series and has three pastels in the works! She says:
I was asked to judge one of the shows in 2011, so I am now part of the annual "JUDGES SHOW" running through the month of January. Each juror has one panel of wall. I have one portrait bust, one pastel, and an array of my framed Irish photographs on view..
Board Member Paul Big Bear is entertaining, singing and performing stand-up. He has a one man show, "A Night With Paul Big Bear," and a cabaret performance with his long-time stage partner, Bill Apter, called "Just The Two Of Us And Nobody Else Make Three." Plus, Paul has recently gone back to cooking. He tells us
I am a chef at the Willow Grove VFW. Everyday, we put out a lunch buffet that is open to the public (and veterans) for $8.25 (including tax) on Monday through Friday.We prepare an extensive menu complete with entrees, soup, salad, etc. My wife, Angel, also works at the VFW, and we do all we can to support our veterans. On Valentine's Day (February 14th), we are running a lovers special -all the women get a free carnation and couples eat two for the price of one.
If you've been watching TV recently, you're sure to have seen member Sylvia Kauders in the Visa Super Bowl commercial. Dressed in a Cleveland Browns jersey, she played a character named Mee Maw. The commercial has been airing on all the NFL football games, as well as the highest rated network and cable shows. Sylvia can also be seen on a newly-aired Pennsylvania Lottery commercial along with Broadcast Pioneers member Ruth Leon Weiman (daughter of former Broadcast Pioneers Vice-President Max Leon). Coming soon is a commercial for Bottom Dollar Foods where Sylvia co-stars with a pig! Sylvia also had a great role (she's the angry traffic woman) in the newly released film, "Man On A Ledge" and will soon be filming a movie titled, "Inside Llewyn Davis."
Mid-month saw member Jay Meyers mentioned in the Inky about his association with former basketball great, Wilt Chamberlain. It's an interesting read. Here's the story!
Harmelin Media (member Joanne Harmelin is CEO) has announced some promotions with the company. Joyclyn Faust, Andrea Ferrino, David Moore and Wendy Rumer were promoted to Senior Buying Directors. Brian Carter, Heather Foster, Mark Hogan, Melissa Long, Nicole Pearse and Jamie Rudenstein became Media Directors. Congrats.
Member Bill Roswell was down in Washington D.C. for a short time helping the CBS Radio Group launch the all-news format on WNEW-FM in the nation's capitol. The station is at 99.1 on FM. No relationship to the old WNEW based out of New York City, home of the old stomping grounds of new member Dick Carr. Dick plans to be with us for our March luncheon celebrating 90 Years of WIP Radio. (More about that in the March newsletter).
Sorry, but we can't help ourselves for one more story self-promoting our luncheons. Former WIP jock Bill St. James is no longer hosting the quarter of a century old "Flashback" radio broadcast (heard over 200 stations), but don't worry about his bank account. He's doing well with voiceovers. He's thinking of hosting another syndicated show, however. He's also thinking about joining us at the WIP Radio luncheon in March. We're thinking that you should plan to be there.
THANK YOU:
As we do every month, we want to thank Broadcast Pioneers member Johnny B. Hall for his monthly cash donation to our DAP, Digital Archival Project. The amount totals $1,800 yearly and really helps us to underwrite this much needed but expensive project.
Johnny has also underwritten four scholarships. Three scholarships have been underwritten by various donators in the memory of Mrs. Noah. Five additional scholarships have also be underwritten by Ira & Robin Adelman, the Harry Hurley Golf Tournament, Sylvaia Kauders, Leon Love and Esther Kurtz in memory of her late husband, David Kurtz, founder of B-101.
We also want to thank member Robin Mackintosh for his generous donation for our scholarship fund. While we award the scholarships every April (17 of them this year), we can accept contributions at any time. Thanks for thinking about us and more importantly the future of a current communications student. We are a state chartered, federally recognized charity with a 501(c)(3) status.
Former KYW-TV staff designer Tom Cloyd has donated 22 copies of "Scan Lines," a quarterly national publication for the Broadcast Designers Association. Some are a third of a century old. Thanks Tom and thanks to Sheree Goldflies who efforts to obtain this material has paid off.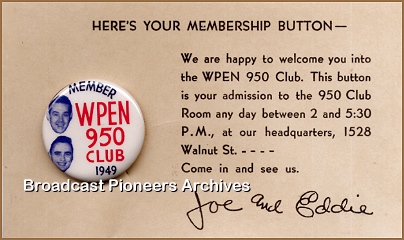 Member Andy Kortman has donated some reallt wonderful stuff. It includes his mother's "950 Club" pin with Joe Grady and Ed Hurst on it. The pin is still attached to the card it came with. It dates from 1949. Also included were the original envelope (with a two cents stamp on it) and a 950 membership card. Thanks, Andy.
Member Anthony DiFlorio has donated audio from 4,000 hours of WHAT Radio from 2009 and 2010. It came direct from the WHAT logger. This is a wonderful edition to our audio archive. Thanks Anthony.
If you forgot to make an extra contribution (cash or memorabilia) and would like to do so now, it's never too late. We would be thrilled to hear from you at: PO Box 2886, Bala Cynwyd, PA 19004.
A LITTLE BIT OF HISTORY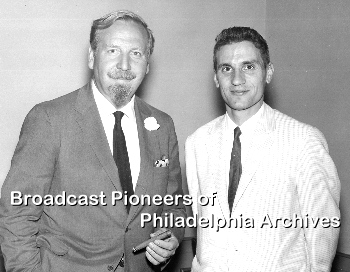 (Left to right) Skitch Henderson and Skip Clayton
(Skitch was in town promoting his new LP)
A Restaurant on Chestnut Street, Philadelphia
May 1965
At the time this picture was taken, Skitch Henderson was the Music Director and Band Leader for "The Tonight Show Starring Johnny Carson." Member Skip Clayton was Music Director for WRCV Radio. The station is now KYW Newsradio.
Skip was WRCV Radio's last Music Director. When Westinghouse told back over the stations here in Philadelphia, radio became KYW but for three months, it remained with its musical format. Skip was their Music Director. He told us the story of how Mike Douglas came out with a hit single, "The Men in My Little Girl's Life." KYW Radio's Program Director wouldn't allow Skip to add it to the play list. One day, Mike Douglas, who was moving his syndicated show from Cleveland to Philadelphia in September of 1965, was at the station and was shocked that the station wasn't playing his record. Skip said he wanted to but was overruled. Mike said to Skip, "Do you mind if I follow this up with the powers that be? " Skip told him to see what he could do. The next day, the song went on the KYW Radio playlist.
IN TOUCH WITH THE INDUSTRY:
Member Dennis Bianchi, who was President and General Manager of WCAU, NBC 10, jumps ship. Tomorrow he becomes the VP/General Manager of WTXF-TV, Channel 29, the Fox O&O in town. Bianchi had been with NBC in various positions for a quarter of a century. He's been with NBC 10 for 14 years. Dennis replaced Patrick Paolini, who was promoted to Senior Vice-President of Station Sales last fall. Bianchi's first day was this morning.
Dennis finds his old colleague, Steve Schwaid (former News Director at NBC 10), in that same position at Fox 29. Steve says that they have promoted Kerry Barrett as co-anchor of the station's evening newscasts. She has been filling in at that post since the fall. John Bolaris is no longer with Channel 29. A Fox spokesperson said that it was by mutual agreement. As we reported last month, Caitlin Roth has joined Fox 29 doing the weather. She started this past weekend. She is a Bucks County native.
Investigative reporter Jim Osman is no longer at CBS 3, KYW-TV. He's been there since 2005. The Philadelphia Daily News reported that the station says that they were interested in Jim's staying with the station, but he, according to the report, decided to explore other opportunities.
Jeff Cronin, the Assistant Director of Communications at Temple's School of Communications and Theater, tells us that the school has established an award to recognize the best investigative journalism in the Delaware Valley. It's the Larry Weiss Award for Investigative Journalism and is open to journalism of any medium (print, broadcast or online) produced in the Philadelphia metropolitan area, South Jersey or Delaware. This award will include one top prize of $10,000 and two special recognition prizes of $2,500. Here's more information!
For all those golfers out there, "Golf Talk Live," hosted by Tony Leodora, will be closing in on its 6th year in March on WNTP 990-AM. The program interviews many of the great players of the game, celebrities such as Merrill Reese, Ron Jaworski, Phil Martelli and Fran Dunphy, plus golf executives and golf architects. From Play-a-Round Golf on Lancaster Avenue in Malvern, PA, to Iberostar Resort on Montego Bay in Jamaica, they thoroughly cover the game.
Trade publication, "Radio Ink," added to their list of "Best Program Directors in Radio." Congratulations to Steve Butler of KYW Newsradio for his recent addition to the list. Individuals were nominated by their co-workers. Selection was based upon several criteria including dedication to the medium, track record of success and leadership abilities.
On January 25th, Patty Jackson celebrated 30 years with WDAS-FM, 105.3. Patty is currently the midday host and can be heard from 10 am to 3 pm Monday through Saturday and from 9 a.m. to noon on Sundays. Congratulations, Patty!
A full page of photos taken at our December luncheon has been published in the February issue of ACT. It can be seen on www.PhillyBizMedia.com after February 10th. Also, members of the Broadcast Pioneers of Philadelphia and their guests are invited to the Executive Networking Card Exchange, February 21st at the Radnor Hotel. It's free. This includes hors d'oeuvres, cold buffet, and non-alcoholic drinks.
Wendy Wild joins WISX, Mix 106.1 here in Philadelphia. The station is adult contemporary in format and owned by Clear Channel. The station's PD, Brian Check, has said that Wendy is a flying trapeze artist in her free time. Hard to believe, isn't it?
We heard that kudos should be going out to member Jerry Lee, who owns B-101 here in Philly. When it switched to all Christmas music, B-101 pulled in a 15.3 share over the holidays and that put it in the number one station slot.. That's a 100% increase over November. Lee is a former president and former chairman of the board of this organization. KYW Newsradio was second and WDAS-FM third. All great stations.
Wired 96.5, owned by Beasley Broadcasting, has added some comedy to its morning team of "Chio and Shila." Steve Tingle joins the early AM gang. He started in broadcasting 14 years ago in Phoenix. From there, he moved on to Chicago. Now to Philadelphia. Truly, the morning team at WRDW can now be said to give you a real Tingle. (Sorry, we couldn't help ourselves!)
WRFF (Radio 104.5), owned by Clear Channel, has added "Kade" to its nightly lineup. Kade is also voice tracking for CC sister stations in Dallas and Los Angeles. By the way, Clear Channel Radio has re-branded itself as Clear Channel Media and Entertainment.
And more news from Clear Channel. Power 99 (WUSL) has a midday personality, Cappuchino, who comes here from Louisana. She takes over Shamar's old time period. At WDAS-AM (also owned by Clear Channel), Bobby Holiday is doing mornings (6 am to 12 noon). Bobby was in our market in the late 90s at WPHI owned by Radio One. Joe "Butterball" Tamburro does noon to 6 pm at the all oldies R&B station.
We reported last month that John "Records" Landecker was back in Chicago at WLS-FM doing weekends and we said that we heard he may be asked to do additional air work. Well, John has now moved into Dick Biondi's old slot of 6 to 11 pm. Biondi, 79, is still there now doing 11 pm to 2 am. Landecker has worked at several stations here in Philly earlier in his career.
Former CN8 (now the Comcast Network) guy Kevin Walsh has a new book out. It's called "Follow the Dog Home." Walsh in now in Boston for Comcast SportsNet. The new work is actually penned by Bob, Samantha and Kevin Walsh, three generations of the family. It a work all about the one constant in our changing world, the family dog.
On the Merlin Media website (as of 1-27-12), they are saying that the company is looking for announcers who can pronounce "Schuylkill, Wissahickon, Manayunk, Tredyffrin, Gwynedd, Pennsauken, Bala Cynwyd and Bryn Mawr." The group has agreed to purchase WKDN, licensed to Camden and serving the Philadelphia metropolitan area. It's a safe bet that they are planning an all-news operation to butt heads against ratings giant KYW Newsradio. The group has already done so in other markets where CBS Radio (owners of KYW Newsradio) have all-news stations.
ON THE SCENE:
(Left to right) Frank Stone and Phil Pizzi
(Photo by Barbara Farley-Stone)
We were On the Scene with Phil Pizzi, on-air talent for WCZT 98.7FM, "the Coast." Phil co-anchors "The Morning Wake-Up" show and also presents news and weather. When we caught up with Phil he was doing a live remote at a local spirits retailer in Rio Grande, New Jersey.
Phil started in the business in 1977 in college as a broadcaster doing sports, music of the day and a jazz program. From 1980 to 2000 he worked as a program manager for the cable organization doing programming and special video and audio production. Because he's from the area, Phil is very visible in the market and enjoys meeting the listeners. Phil told us:
There's always something different going on and we try to be out here and be a part of what's happening in the community.
A REVIEW OF OUR JANUARY LUNCHEON:
IT WAS ALL ABOUT SPORTS!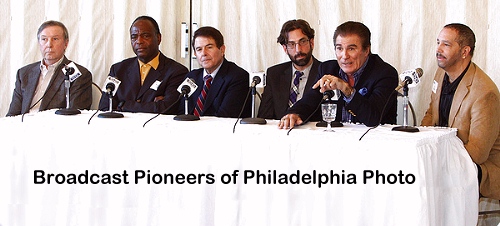 On Wednesday, January 18th, at the Bala Golf Club, we had a great luncheon which was a panel discussion "All About Sports!"
Our moderator and emcee for the afternoon was Broadcast Pioneers Board Member Joe Pellegrino. Our panel included these fabulous sports experts (in alphabetical order):
Ray Didinger, award winning sportswriter and broadcast commentator
Jim Melwert, street reporter for KYW Newsradio and avid sports fan
Vince Papale, former Eagles player and broadcast sportscaster
Beasley Reece, lead sports anchor for CBS 3 and the CW Philly 57
Merrill Reese, co-owner of WBCB and the voice of the Eagles
Bill Vargus, former WTXF-TV (Channel 29) lead Sports Anchor
It all took place on Wednesday, January 18th at the beautiful and historic Bala Golf Club, 2200 Belmont Avenue (across the street from the State Police) in the Wynnefield section of Philadelphia. Just minutes away from Channels 6, 10 and 17 and the radio stations in Bala Cynwyd.
These copyrighted images are protected under US Copyright.
Any usage without the express, written permission of
the copyright holder is strictly prohibited!
Usage does NOT fall under "Fair Use" of copyright laws!
ABOUT THE LUNCHEON:
The January "All About Sports" luncheon was another one for the record books.
Our six celebrity panelists and MC Joe Pellegrino shared memories, predictions and candid insights that you'll hear only at a Broadcast Pioneers luncheon. If you missed this one, you missed a r big one!
Here's some of what they had to say:
"I think Juan Castillo will be back, maybe not as defensive coach, but Andy is a loyal guy and Andy put him in this spot…this was the worst tackling secondary I've ever seen." Ray Didinger
"Right now there's a major de-brief going on to figure out what went right and what went wrong. You can solve most of your problems, but you have to keep your quarterback clean…do that and they could be one of the best teams next year. I'll come back here next year and be happy to say I told you so." Beasley Reece
"From a special team's point of view, I think sometimes they're just trying to be fancy. It's about basics, holding onto the ball and lighting a fire…cut out the [celebrating] stuff when they make a big play. This team needs two major ingredients, leadership and chemistry…the Eagles are lacking that right now and that's what they need the most." Vince Papale
"I've been sitting in the house crying for four weeks. This has been the most disappointing season I've ever experienced. They loaded up with great talent and all the pieces and blow the leads, game after game. However it's a very talented team and I'm optimistic, but they need to make some critical changes, and the defense has to do better." Merrill Reese
"You have to wonder, if they had made the changes that were necessary in the second half of the game, it would have been a different season." Jim Melwert
HEARD AFTER THE LUNCHEON:
"I thought it was a great panel. A good sampling, of a lot of different guys, with different backgrounds. A lot of different opinions…some were convinced about the Eagles, others were not. The opinions made the program more interesting. It was fun, I really enjoyed it." Ray Didinger
"I think Bill Vargas was probably the best looking man on the panel. I like how he stirred things up a bit. You've got your Andy Reid fans and you've got your Andy Reid non-fans. It was great to be here." Sue Serio (Ed note: Sue is the wife of Bill Vargas and weatherperson on WTXF Fox 29)
"I've known all these guys for years. The panel was diverse and knowledgeable. It was an easy job for me and fun to get back into it. They helped us decide what side of the line you're on." Joe Pellegrino
"It was great to be up there with all these great guys. To look at the audience with all those great pioneers was a bit intimidating, a great day." Vince Papale
"It was a lot of fun and an honor to be up there with those guys. I really appreciate you having me." Jim Melwert
"I thought this was very interesting. Finally I could come to a luncheon. I'm not a sports nut, but do follow the teams. I really liked what they had to say. I'm only three weeks into it (retirement) but really enjoying myself." Cathy Gandolfo
"It's a lot of fun, it's good to be back and see everybody. In this business anything could happen. The upcoming press conference with Andy probably won't have any surprises, but we'll see, you never know." Merrill Reese
"Today's panel was really excellent. There was one young man who was just the best! Some were positive, some were less positive like me, but there was only one opinion that made sense-mine, but really for the sports fans I hope they found it interesting." Bill Vargus
"It's always fun to be around that group of guys. The people in the room are folks I don't get to see every day. It was like a reunion. To be with that fraternity of friends was just wonderful. I had a wonderful time and intend to make more lunches because of this experience. I really had a good time." Beasley Reece
A FINAL THOUGHT....
"Human lives expire and I am hoping to bolster my faith in Jesus Christ to be prepared for the transition to the mysterious heavenly realm which awaits us all. After a good life and s strong belief in God, I do not expect any grief at a memorial service but the celebration of a full and happy life."
Herb Clarke
from his book entitled,
"The Times That Made Me, Me"
Please contact us by e-mail at newsletter@broadcastpioneers.com. Your stories are important, to you, to us, and your colleagues. Contact us today and we'll include your story in the next newsletter!

Photo Editor & Archival Historian - Gerry Wilkinson
© 2012, Broadcast Pioneers of Philadelphia
All Rights Reserved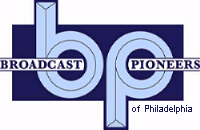 The e-mail address of the Broadcast Pioneers of Philadelphia is pioneers@broadcastpioneers.com
For luncheon reservations call (856) 365-5600 or e-mail us at: rsvp@broadcastpioneers.com