Another "Third Wednesday" Luncheon!
Wednesday, February 19th!
"The Role Sports Plays in Local
Newscasts & Broadcast Programming"
NOTE: THIS LUNCHEON WILL BE
AT THE NEWLY RENOVATED BALA GOLF CLUB!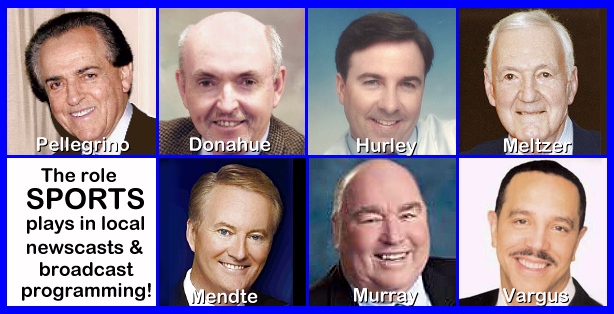 Our monthly "Third Wednesday" Luncheons are simply Hit After Hit; Smash After Smash; Blockbuster After Blockbuster. Here's another "monster" lunch where the "stars" don't wait to come out at night. They're here at lunchtime!
RESERVE NOW! (856) 365-5600!
Our next luncheon will be on Wednesday, February 19th. Our "red hot" topic will be "The Role Sports Plays in Local Newscasts & Broadcast Programming." Our MC is Broadcast Pioneers member Joe Pellegrino, former sports guy for Action News and Channel 10.
Scheduled to appear are many marvelous panelists, including (in alphabetical order):
Harry Donahue, morning news anchor of KYW Newsradio, 1060
Harry Hurley, legendary South Jersey talk show radio host
"Big Al" Meltzer, former sports director for Channels 3 and 10
Larry Mendte, former main news co-anchor for CBS 3 and NBC 10
Jim Murray, former Eagles GM and current talk host on WPHT
Bill Vargus, former sports director WTF-TV, Channel 29 (Fox)
(856) 365-5600! RSVP TODAY!
It all takes place at the beautiful, newly renovated and historic Bala Golf Club, 2200 Belmont Avenue (across the street from the State Police) in the Wynnefield section of Philadelphia. Only minutes away from Channels 6, 10 and 17 and the radio stations in Bala Cynwyd. Call now for reservations. (856) 365-5600! Don't miss this one!
Meet and greet (networking) starts at 12 noon, and a full-course lunch including salad, coffee or tea and dessert will be served at 12:30 pm. There will also be a crudité and cheese table. Cash bar available all afternoon!
Plenty of FREE parking. The luncheon is open to all our members, their guests and any person in the industry or associated fields, whether active or retired. You do NOT have to be a member to attend. Call NOW with your reservation(s), (856) 365-5600! Don't be left out! If you're not there, your friends will tell you about it. So BE THERE!
In order to speed up check-in at the luncheon, it would help if you had the $28 in exact change or your $28 check already written. Make it payable to the Broadcast Pioneers of Philadelphia. If you would like to include an extra contribution, it would be appreciated.
WE'LL BE PROUD TO SEE YOU IN THE CROWD!


Visit Our Website Often - http://www.broadcastpioneers.com
Check out of Facebook Page - http://www.broadcastpioneers.com/facebook
Tune in to our YouTube Channel - http://www.broadcastpioneers.com/youtube

WELCOME NEW MEMBERS:
FULL MEMBERS:
Chris Blackman started in the business in 1982. He is the principal in "Chris Backman Media Consultants." Chris was Vice President of News for WCAU-TV, NBC 10, from 2002 to 2012. Before that, he was Assistant News Director at the station. . Previous to that, he was Vice President of News and Programming for CNBC Asia (Hong Kong-Singapore). In the eighties, he worked at NBC5 in Chicago and WJZ-TV in Baltimore.
Melissa Cannavo-Marino is the Marketing Adviser for IAPRM in Wilmington, Delaware. She started in the business a decade and a half ago. She lived in Italy while studying at the American University of Rome where she earned her BA in Mass Communications. In Italy, she worked for Patria Broadcasting, PAX Television and Mediaset Network. Melissa produces and hosts Italian American broadcasts heard on WILM Radio.
NBC 10 Jersey Shore Bureau Reporter Ted Greenberg has been in the business for almost a quarter of a century. Greenberg started at WMGM-TV (NBC 40) in Atlantic City, NJ and then moved to stations in Rochester, NY (WROC-TV) and Hartford, CT (WTIC-TV) before returning to the ocean as News Director at WMGM-TV. He came to NBC 10, WCAU-TV in 2003, where he has been for the last decade.
Starting in the field in 1998, Chris Coleman has joined. He's with Townsquare Media in Atlantic City, New Jersey, where he is program director of WPG, Talk Radio 1450. That's the home of member Harry Hurley (who does morning drive). Coleman is also production director for the group, including WFPG, WPUR, WSJO, WENJ and WPGG. In addition, he does afternoon drive (3 to 7 pm daily) on WPUR, Cat Country, 107.3
ASSOCIATE MEMBER:
Joe Cook began his broadcast career in 2006 at 1360, WNJC in Washington Township, NJ. In early 2009, he was hired as a weekend board operator at WVLT, Cruisin' 92.1 in Vineland. That July, Joe began a weekly Beatles request show on the station. For two years, Joe produced "Suppertime Jamboree" with member Sally Starr. He is currently Chief Operator of WVLT as well as their Public Service Director.
We are thrilled to have these new members. Over 500 Members. More than ever. We hope to see as many of our members as possible at our February Luncheon.
DIGITAL ARCHIVAL PROJECT NEWS:
VIDEO:
FRANK RIZZO & THE 1987 ELECTION!
Action News Anchor Jim Gardner
WPVI Studios, City Avenue& Monument
Tuesday, November 3, 1987

(left to right) Mayor Frank Rizzo and
Action News Reporter Chris Wagner
Tuesday, November 3, 1987
Frank Rizzo was often said to be a figure larger than life. He was mayor of Philadelphia (as a Democrat) for two terms in the seventies. Rizzo was replaced by Wilson Goode and then, in 1987, Frank Rizzo switched parties and registered as a Republican. Keep in mind that Rizzo was a Republican until the fifties when he switched to the Democratic party.
On Tuesday, November 3, 1987, the election was close and Rizzo was quite ready to concede. Frank Rizzo had said at the time that if he lost the election, he would retire from politics and never run for political office again. He had also said that if he won, he would only serve that term and no more. However, he won and decided to run again for mayor in 1991. Once again, he ran as a Republican. He got the nomination but passed away on July 16, 1991 from a massive heart attack.
By the way, an interesting side note is that 25-year-old Michael Smerconish was Rizzo's Campaign Manager for that 1987 election. Smerconish was still four years away from his first telephone talk radio broadcast. That was on WWDB Radio.
On election night, Chris Wagner from WPVI was at Rizzo's campaign headquarters where Rizzo learned the vote was close. He wasn't willing to concede.
Watch with Real Video!
Watch with Windows Media!
AUDIO:
We have next three different clips, all from late summer or early autumn of 1958. The audio was originally recorded on an eight and three-quarter inch flex green disc, the kind used for dictation machines. Obviously, the quality is never the best under these circumstances. It took us hours of work to put the audio in the form available on this site. Because of the reconstructive nature of the audio, it does NOT fall under "fair use" and the audio from these three cuts is protected under United States Copyright. These three pieces of audio were donated by Broadcast Pioneers member Michael Muderick. First up is a WCAU Radio program featuring Ed Randall. We cannot identify the name of this broadcast. However, at this time on WCAU, there was a program called "The Ed Randall Show," which aired from 3:45 pm to 4 pm on a daily basis. We believe that this is from that series.
Listen with Real Audio!
Listen with Windows Media!
Next up is a piece of audio from Paul Parker, who worked in the WIP News Department and also hosted a daily program called "The Quaker Answer Man." This broadcast dates from Wednesday, August 13, 1958. Parker is reporting live from the United Nations, where later that day President Dwight Eisenhower spoke to the General Assembly. This feed was during the morning radio program of Broadcast Pioneers Hall of Famer Joe McCauley.
Listen with Real Audio!
Listen with Windows Media!
Our next green disc audio also features Paul Parker. This time, he's doing the Quaker Answer Man program but is broadcasting live from the United Nations. The Answer Man broadcast aired four times a day (each one live and each one different). This particular one is the noon broadcast. It's the same day as the previous cut, Wednesday, August 13, 1958. President Eisenhower had already addressed the delegates and this report gives Philadelphians an update.
A LITTLE BIT OF BROADCAST HISTORY!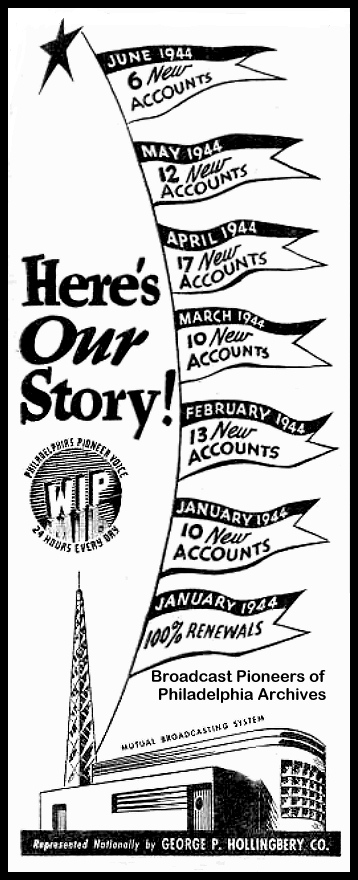 WIP Radio Ad
1944
IN TOUCH WITH OUR MEMBERS:
Member Larry Litwin tells us that he has a new book out. He tells us:
Please give me a few moments to share exciting news. The new PR Playbook (626 pages) leaves little to the imagination. Like any coach's playbook, it contains "plays" relevant to everyday decision-making -- financial, business and personal. It demonstrates how public relations and relationship building affect almost every person every day. Kim Glovas, KYW Newsradio, wrote, "Reading The PR Playbook is like listening to Larry tell me the story of public relations. It is straight and to the point in a conversational way." More details are available at http://www.larrylitwin.com.
Larry Litwin also tells us:
My wife Nancy and I were honored by our alma mater Parsons (Iowa) College by being placed on its Wall of Honor. There are only 49 on the wall. Also, I retired from Rowan University on August 31 (2013) after teaching there for 42 years. I taught there as an adjunct the entire time I worked at KYW Newsradio. In fact, I was the first person to teach Broadcast Journalism at then Glassboro State College back in 1977. And the South Jersey Baseball Hall of Fame just named me its 2013 "Hot Stover of the Year." That is the organization that oversees the Hall of Fame at Campbell's Field in Camden. I was inducted in 2011.
Member Jackie Strauss of "Remember When" on WPHT 1210 AM writes a column about memories of her childhood and growing-up years. Her column features each week on the "Fans of Remember When on The Big Talker 1210" group page on Facebook. She writes these stories to encourage her readers and listeners to add their own memories to the group page, as well as to call in to talk about them on the all-nostalgia radio program. "Remember When" is heard every Saturday night from 11 pm. to 1 a.m. with members Steve Ross and Jim Murray co-hosting. The stories are very well-received and many readers have urged Jackie to compile them into book form and publish them. She says that she would love to do that - if and when she figures out the best way to go about it!
Member Sheree Goldflies told us that WHHS student staff welcomed back Broadcast Pioneers Board Member Kal Rudman as he stopped by to see their updated radio studio at Haverford High School last week. The Kal and Lucille Rudman Studio received a technological upgrade including digital consoles and state-of-the-art omputers thanks to a generous gift from the Kal and Lucille Rudman Foundation last year.
Member Bunny Gibson reports from the west coast that she has done some TV commercials. One for Comcast and the other for JC Penney, which will air around Valentine's Day. Gibson was a regular on "American Bandstand" when it originated out of Philadelphia.
Member Kenny Jeremiah and Bittersweet are having a Valentine Weekend Celebration on February 14th and 15th at La Piazza Restaurant and Nightclub, Pacific and Burk Avenues in Wildwood, NJ. We plan to check them out as a good time is usually had by everyone.
Member Frank Stone told us that member Bob Perkins has celebrated a half-century on the air and his 80th birthday last month. Bob hails from Philly but left the city to get the needed experience in Detroit. Then he returned to Philadelphia where he was news director at WDAS Radio for 19 years. He also did a jazz show on WHYY and then moved to WRTI where his jazz broadcasts are still heard. In the early seventies, Perkins did a four hour radio documentary about the life of Dr. Martin Luther King. The program aired several times over the years and was produced by our Chairman of the Board Gerry Wilkinson, who was Operations Manager of the station at that time. It is one of the longest radio documentaries ever done about Dr. King.
For those you missed last night's airing of "Going Black: The Legacy of Philly Soul Radio" on WXPN, you get another chance. The two-hour documentary will air again on WHYY-FM (90.9) on Sunday, February16th from 6 pm to 8 pm. The program is hosted by record magnate Kenny Gamble (of Philadelphia International Records). The program includes material from our audio archive and interviews with some of our members who worked at WDAS and WHAT Radio.
Seems like Gerry Wilkinson keeps running into people he knows in the supermarket. Well, a couple of weeks ago (the night before the 14" snowstorm), Gerry ran into someone he has known for thirty years: U.S. Congressman Bob Brady who was there doing the shopping for his family. Bob said, "You gotta eat, right?"
For decades, Wilkinson and Brady lived just two blocks away from each other and the congressman was a frequent guest at the doo-wop and rock & roll events at WHYY-TV. Gerry produced the local segments (with members Ed Cunningham and Jerry Blavat as hosts). The congressman was invited to our annual Rock & Roll luncheon on Wednesday, March 19th. Bob said that if he was in Philadelphia, he would be there.
Other members keep running into people we know (but not in the supermarket). Lew Klein, past president and a past chairman of the board of this organization, told us that he was in Florida last week at a convention. There, he ran into David Crane (son of member Gene Crane) and Brian Hurst (son of Board Member Ed Hurst and his late wife Cissy, who was also on our board). It's a small world and Broadcast Pioneers seem to be everywhere.

Did you know...
WCAU Building
City Avenue, Bala Cynwyd
1952
We have been closely following the announcement of a new future home for WCAU-TV, Channel 10. While today's media has covered that completely, we felt we might want to dwell on the beginning of the WCAU Building on City Avenue.
The day after the dedication ceremony, the Main Line Times said that the building was "the largest and most modern broadcasting telecasting station in the world." At that time, the facility sat on ten acres of land with a 100,000 square foot plant. It was 201 feet wide and 220 feet deep and the equivalent of three stories in height. The structure was completely air conditioned with two sides having no windows and two (the south and east sides of the lobby) entirely of glass. It had 600 foot frontage plus a huge backlot for parking and producing television shows (like "Action in the Afternoon." The backlot was wooded and had a stream on the property. The structure cost three million dollars to build in 1952 money.
The land was purchased by the station during the summer of 1950. The Austin Company (Cleveland) was picked to construct the facility and worked stated in October of that year.
The 1952 dedication ceremony was attended by Joe Clark, mayor of Philadelphia (and later an United States Senator). Why is this interesting? Well, the stations had moved outside of the city limits.
WCAU President Donald Thornburg told (in part) the crowd of 300 at the official dedication ceremony on May 27, 1952:
For two years has engineering department has been deeply involved in planning and supervising the construction and engineering of this modern now functional radio and television studio.

The culmination of our efforts came in the transfer last week when television was moved on Sunday night between midnight and 8 am, and radio the following Friday night instantaneously, both without the loss of a program and without a facility failure of any sort. With the complicated electrical engineering involved, this represents a herculean accomplished by Vice President John Leitch, our engineering department and the other operational departments of our organization.

...Our new motto "Speaking for Freedom" expresses our hope that we can disseminate this service from the birthplace of freedom in the truly American way.
Bill Paley, chairman of the board of CBS said:
Today, there comes into operation this magnificent and highly efficient radio and television center, the finest thing of its kind in the country. Philadelphians have cause to be very proud of this structure. And so has everyone in broadcasting, for, more than anything, it represents past accomplishments which deserve the highest praise and a faith in the future which gives encouragement and incentive to us all....

WCAU has had a glorious history since its early days. The people of Philadelphia and its surrounding territory know well of its many accomplishments, its pioneering spirit, and its consistent determination to serve its listeners with the best in entertainment, information and public service. Broadcasters throughout the country would have no hesitation in naming WCAU as an illustration of broadcasting at its best.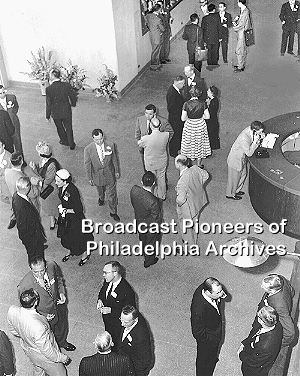 WCAU Lobby
City Avenue, Bala Cynwyd
Tuesday, May 27, 1952
The architects for the building, George Howe and Robert Montgomery Brown, said:
This is the first large building that has been designed for large-scale radio-TV broadcasting. In its pioneering, WCAU's new TV Radio headquarters in Philadelphia (sic) has met and solved the major problems of this new building type....

Operational efficiency primarily concerns the production space. Heart of this area is the trio of large studios isolated by corridors.
John Leitch, Vice-President in charge of engineering said:
Thirty years of regular broadcasting and four years of regularly scheduled television programming were celebrated by WCAU with the opening of its new radio and television center at City and Monument Roads.

The building has been divided into two parts. One contains services on the ground floor, operational offices on the main floor and administrative offices on the second floor.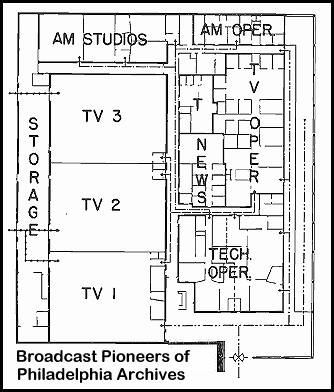 WCAU layout
City Avenue, Bala Cynwyd
1952
...TV Studio One has a working area of 40 x 60 feet, seating for 230 persons, with a clients' room and overhead control in the rear. All three of WCAU's television studios have similarly equipped control rooms, the same twenty-foot clear height, overhead lighting and camera platforms.

Since studio number two and three have no audience section, each has 4800 square feet of set space, which will accommodate six 24-foot sets simultaneously. Studio number two is normally used for the smaller sets required on a day to day basis. Some of these sets, such as the kitchen set are left in place more or less permanently.

For normal day to day operation, WCAU has a number of smaller sets more or less permanently in place in studio number two, but keeps the main floor area of Studio Number Three relatively free of heavy sets so that it will be available for telecasting or rehearsal of larger shows such as "Candy Carnival." Folding bleachers, which can be set up wherever is most convenient, are used to provide audience seating on shows where an audience is desirable.
The WCAU building has been in use for almost two-thirds of a century. Previously, channel 10 was located at 1622 Chestnut Street in Center City. That building served the broadcaster for half the time of the Bala Cynwyd location. The new location is not very far from the first home of WCAU Radio, 1936 Market Street. WCAU seems to be coming back home.
By the way, many of us forget just how much land WCAU owned back in the day. Here's three photos from a half century ago that feature Bill Bennett on the backlot of WCAU. It looked like the land just went on forever.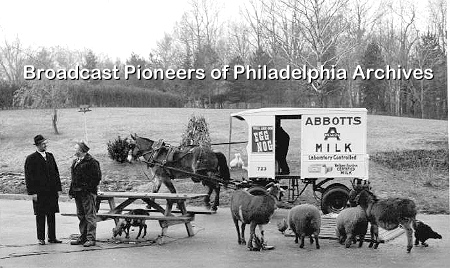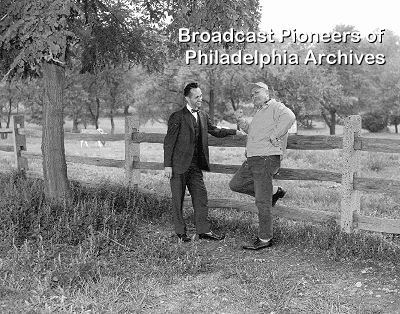 MORE DIGITAL ARCHIVAL PROJECT NEWS:
VIDEO: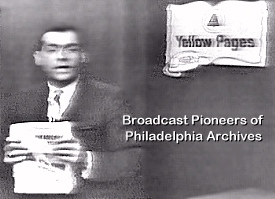 Broadcast Pioneers member Bill Webber
doing a Bell Telephone Yellow Pages commercial
circa 1964
We have in our video archive a live commercial done by Broadcast Pioneers member Bill "Wee Willie" Webber for the Bell Telephone Yellow Pages. While the commercial was live, it recorded on professional 2 inch video tape. There will film inserts in the spot. However, over the years the tape deteriorated and it was dubbed and dubbed again. The version we received was on high speed VHS tape. The quality is not very good. We have worked on it to try to correct some of the problems. Right now, in 2014, this is the best it can be.
Watch with Real Video!
Watch with Windows Media!
AUDIO:
In 1981, the Broadcast Pioneers' "Person of the Year" was member Jack Whitaker. Part of the event was recorded on audio. We have three speakers. First up is long-time member Les Waas, followed by the MC, Jack Steck, and then President Bill Mulvey. The clip starts out with an imitation of Howard Cossell. We wish we had more of this historic event. However, this is all that is known to have survived into the 21st century. The audio came from member Les Waas, who told us:
Scott Sanders, as a favor to me, imitated Howard Cossell, reading a script I gave him. He did such a fantastic job that Jack said to me afterwards, "How did you ever get Howard to keep a secret? He's my best friend. We have dinner together twice a week. One thing he cannot do is keep a secret. How'd you DO that?" When I explained that a friend replicated his voice, he said, again "How did you ever get Howard to keep a secret?" I often wonder what occurred the next time they got together.
Listen with Real Audio!
Listen with Windows Media!
Our final cut comes from September 9, 1986. It is from the Frank Ford radio program on WDVT, which was the old WFLN-AM. At that time, the station was owned by Ford who was on vacation with his wife, Lynne Abraham. Filling in for Frank was well-known talk host, Jack McKinney. We have a complete hour of the broadcast. The topic was boxing. The audio was donated by Jack's daughter, member Maura McKinney Mastro, who wrote this:
Dad loved the sport of boxing and the work ethic of the boxer. His peers (N. Collins) have lauded him as the "best boxing writer the City of Brotherly Love ever had..." He taught his children to train and prepare in each field of endeavor as a boxer prepared for the ring so that we would be "ready to meet (our) great opportunity" when it arrived. If you are a boxing fan, you will love this program replete with spirited, knowledgeable discussions of virtually all aspects of the boxing world by three great boxing experts. Dad, Jack McKinney, interviews veteran boxing promoter, J. Russell Peltz and Nigel Collins, editor of Ring Magazine. All three of them share their their excellent personal and professional stories and they share opinions, facts and experiences that made history.
Listen with Real Audio!
Listen with Windows Media!
Last week, folk singer Pete Seeger passed away. We have in our audio archive (and elsewhere on our website) an interview that Jack McKinney did with Seeger. While many remember Seeger in the sixties as a Vietnam War protester, this show is strictly about music and is wonderful. It dates from Friday, April 14, 1967. The station, WCAU Radio (now WPHT). The show, "Nighttalk." Member Maura McKinney Mastro told us:
It is invaluable to have access to dad's excellent interview with the enormously talented, funny and informed Pete Seeger, who has left us with an incredible music legacy that will never go out of fashion or die. Here, Pete is notably humble and complimentary towards his constituents like Woody Guthrie, Melvina Reynolds and Tom Paxton and to musicians and techniques he encountered in his extensive travel with his wife and children to over twenty-five countries.

Pete and Dad talk about the art of building on eight-note melodies passed on through generations, the talking drums and the Ashanti of the Gold Coast of Africa and so much more. This interview helped me personally just after our dad passed in 2002. Fight promoter Don Elbaum had asked that I sing a few songs in dad's honor in the boxing ring of the Legendary Blue Horizon. There was conflict in my spirit as I wondered if it would be appropriate. For the comfort of hearing my father's voice, I had taken to listening to his saved radio programs. It so happens that this particular morning, I chose the Pete Seeger interview. To my complete surprise, Pete spoke colorfully about his experience of singing in the prize fight arena in Dublin. There was my confirmation. Dad always worried that audio interviews would go out into the air and disappear. We are so thankful he had the foresight to record so many of them. Thanks to the Broadcast Pioneers for successfully transferring the tapes for their archives.
Listen with Real Audio!
Listen with Windows Media!
Remember, History is ONLY What Gets Saved!
(If there were no portraits of George Washington, how would we know what he looked like?)
IN TOUCH WITH THE INDUSTRY:
The future of streaming on the Internet seems strong. Sunday's Super Bowl drew an average of over a half million viewers per minute on Fox's website. That's a record for a live streamed sporting event. The average online viewer saw almost 48 minutes online, that up 25% from last year. Peak audience was 1.1 million online concurrent viewers at 9:11 pm Philly time. Traffic for FoxSports.com during the game had five and a half million unique visitors. This month, the Broadcast Pioneers of Philadelphia celebrates the 14th anniversary of our website. We have been streaming video and audio since our website's inception.
The really big news this past month is the relocation of WCAU-TV from its current Bala Cynwyd location to center city in a few years. The big facility will be part of the brand new Comcast Tower in Center City. This story was covered quite completely in the media, but we share some history and memories of the current building elsewhere in this issue.
WIP's Wing Bowl is one of the most popular radio events in the country and receives worldwide media coverage. In keeping with Wing Bowl 22's theme of "doubles," SportsRadio 94WIP's Wing Bowl 22 was also broadcast in Spanish on 94WIPHD-3 on Friday, January 31st. It was the first time in the event's history that Wing Bowl was heard in Spanish. WIP host Rickie Ricardo was the Spanish play by play announcer.
NBC 10 News Anchor Vai Sikahema will be in Russia this month to cover the Olympics for the station. NBC-TV, along with other NBC-owned cable outlets, will be covering the event for 2014. Sikahema was inducted into our Hall of Fame last November. And, speaking of sports and traveling, Broadcast Pioneers member Howard Eskin will be in Florida this month for the Phillies Spring Training.
The people at NBC 10 sent us an e-mail letting us know that COZI-TV is now in their second year of broadcasting. COZI is seen in our area on 10.2, WCAU-TV's sub-channel 2. It is available off air and on cable. The network carries mostly old TV series. The powers that be let us know that you'll be able to see "The Avengers" (the original series) starring Diana Riggs later this month. Also in the works for the future will be Knight Rider, Starsky & Hutch and Hart to Hart.
In case you didn't notice, we have in our market a second TV station with the call letters beginning with a K. Channel 2 in Wilmington, Delaware is KJWP. The station moved here from Jackson, Wyoming. They came on the air in November and on their main channel is Me-TV, a network of old TV shows. Me-TV is currently also on Channel 69 out of Allentown on one of their sub-channels but it is reported that affiliation will eventually be dropped. While licensed to Wilmington, their tower is up in Roxborough at 1020 feet with a power output of 9.36 kilowatts. The station also plans to do local news and other programming. When we looked off air, the station was also running two sub-channels. However, both had bars and tone on screen.
Does your child have dreams of a career as a TV weathercaster? CBS 3 Meteorologist Kathy Orr is giving local youngsters a chance to show off their forecasting skills on television. Orr and the Eyewitness News weather team are hosting auditions for young broadcasters to audition at the "Kidcaster Search" Saturday, February 8, 12 noon to 3 p.m. in the Center Court at Plymouth Meeting Mall in Plymouth Meeting, Pennsylvania.
Orr, who has helped area teachers develop coursework for children in meteorology, began the program in 2004 to give area youngsters a chance to play TV weathercaster while encouraging their enthusiasm for science. The best performances of the February 8th "Kidcaster" try-out will be featured on the early morning and 5 p.m. editions of Eyewitness News the week of February 17th.
WE REMEMBER:
Frank P. Grazian passed away on Christmas Day at age 83. He was a Professor Emeritus of Communications at Rowan University, where he co-founded the journalism major and chaired it for 10 years. He was also co-founder and former executive editor of Communication Briefings, an international business-management newsletter with subscribers in 32 countries. He has served as News Editor of the Asbury Park Press, Public Relations Director of the N.J. Department of Education, and was a freelance correspondent for the New York Times.
Josephine "Jo" Campbell, wife of member Bill Campbell, passed away mid-month in January from a brain tumor. Jo and Bill had been married for 67 years. Jo was 94. She worked at WCAM Radio and then WIP Radio, where she was the personal assistant to Ben Gimbel, General Manager of the radio station. At WIP, she met a young man in his early twenties named Bill Campbell. In 2007, Jo attended one of our Broadcast Pioneers luncheons. We talked her into speaking for a few minutes about working for Ben Gimbel and WIP.
Listen in Real Audio!
Listen in Windows Media!
Glenn Farnsworth was originally from Iowa. He worked at Channel 3 for thirty-eight years as an engineer. He help create two major inventions: the shotgun microphone and the wireless mike. Back in the day when Ernie Kovacs had a local show on WPTZ (now KYW-TV), Farnsworth created many things for Ernie to use on the broadcasts (which were all live back then). After serving in World War II, he went to Drexel where he studied electrical engineering. He got a decent job with the Philadelphia Gas Works but when he heard Channel 3 was hiring, he applied and was hired (for less money) but he never regretted it.
Member Mel Klawansky reports that Jeff Leonard Sr. passed away at the end of January. Jeff was the son of a coal miner, born in Mount Carmel, PA in 1944. After moving to Upper Darby in his early teens, he and his friends formed the Doo Wop group "Little Joey and the Flips." They were discovered singing in the Lit Brothers Parking garage (near 69th and Market), were signed, and recorded the hit record in 1962 "Bongo Stomp." Following the Doo Wop era, Jeff restructured the group. He played drums and landed the gig as the house band for Channel 10 on the Hit TV Show"Jerry Blavat's Discophonic Scene."
ON THE HEALTH FRONT:
Member Joe Pelletier had a stroke a couple of months ago and is coming along fine. His biggest problem is one similar to what Tom Moran had: putting thoughts into words. Tom has done well and so we fully expect Joe to do the same. We spoke with him on the telephone last week and he seemed to be making progress. Pelletier was the guy mainly responsible for putting Channel 29 on the air in 1965.
VISIT OUR YouTube CHANNEL: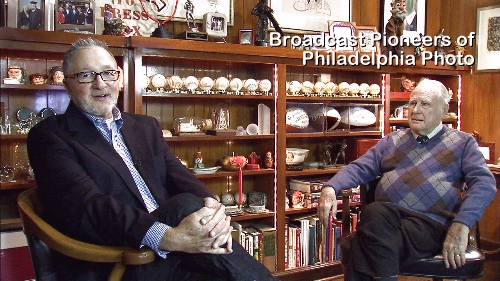 (Left to right) Members Mike Strug and Lew Klein
Lew Klein's home
Monday, December 30, 2013
Newly posted is our half-hour interview with Broadcast Pioneers member Lew Klein. He is a former president and chairman of the board of this organization.It was shot just before the New Years.. You can check it out here! Check out dozens of great videos (we're always adding more) on our YouTube Channel at: http://www.broadcastpioneers.com/youtube!
THANKS FOR THE MEMORIES:
Thoughts about the Bala Cynwyd WCAU Building!
Broadcast Pioneers member Jane Norman (aka PIXANNE) shares some of her memories of the City Avenue Channel 10 building. She says:
I can't even imagine the City Avenue landscape without WCAU being there. What a wonderful building; what wonderful memories for all of us who were fortunate enough to work there! Oh, the secrets those hallowed walls could tell. But we won't get into that. As a twenty-something wide-eyed gal walking up the ramp and seeing those bigger-than-life photos of the Channel 10 personalities lining the entry wall, I was star-struck and nervous. Never would I have believed that only a few months later, my picture would be right up there close to John Facenda's. What a thrill!

Every part of the building was special, from the TV Newsroom (where I learned of the death of JFK, moments after it happened, and had to relay the devastating news to parents and children alike, during the taping of a Christmas show) to the other studios filled with cameras, camera men (no women at that time), boom operators and magical sets. No studio held more precious moments than the small Studio 4, from which the PIXANNE show originated for many years. Who could forget the infamous "Fire Blooper" which happened in that iconic studio? That was one outrageous segment director Jim Hirschfeld, the crew and I will never forget; nor will the millions of people who viewed the blooper on Dick Clark's blooper show, as well as four other national blooper shows. That was the day the "Magic Forest" and Studio 4 nearly went up in flames! And many will recall when PIXANNE shared space in the "Big Studio" with the TV 10 News set.

Another infamous day, our crew (no robotic cameras then) was frightened by a full-grown tiger who unexpectedly darted up one of our cardboard trees. I was left alone in the studio with the tiger clinging for dear life to the top of the fake tree, as our "gallant crew" of grown men fled to the hallway. This was "live" television, folks!

Even the Channel 10 cafeteria was special. Our G.M. at that time, Jack Schneider, would join "the rest of us" for lunch, which endeared him to those who worked with him. (I doubt that any other G.M.s before or after, ever had lunch in the cafeteria.) And how nice of the cafeteria staff to always prepare a thermos of hot chocolate for Gene London and me, so we'd have something hot to drink as we froze on our float while riding in the Thanksgiving Parade! Oh, yes. Let's not forget the active radio studios and the incredible, small music library where George Thomas was so helpful in scoring and every other musical need. And I'll always remember the time George gave me a tape he had made for my four year old son (a compilation of 20 or so cuts of "I Think I'm Going Out Of My Head") because he knew my son loved that song.

And of course, the Sales Department offices, where I met my future husband, Frank Beazley, who was the Sales Director. He told me he would sometimes watch from the top floor window outside the Sales office, as I taped my show in the "Big" studio.

Every nook and cranny of the WCAU building inspires a flood of positive memories: Bill Bennett's Farm Show behind the building. (What other television station ever had that?); The elevators, where you never knew who would share a ride with you. (Herb Clark, Gene Crane, a film editor or a movie star.); The much-too-small, but productive Set Department working their magic. Need another toadstool? No problem; Incredibly talented people, staying overnight in a snowstorm, so they wouldn't miss work the next day.

Just walking the halls of WCAU was a joyous adventure. No doubt, the move to the new Comcast Building will be exciting, ultra modern and technically state-of-the-art. But those of us who remember "when," will miss the camaraderie and "let's put on a show" feeling (minus computers) that we experienced in a simpler, and perhaps, more creative, fun time in the Golden Age of Television.
WPHL-TV in 1978!
From our archives, here's the WPHL-TV, Channel 17 program schedule effective on September 4, 1978.
Monday through Friday
8:10 am - Sign on followed by News
8:30 am - Homer Formby Show
(America's Black Forum on Tuesdays)
9 am - Delaware Valley Forum
9:30 am - Romper Room
10 am - The 700 Club
11:30 am - Various CBN Programs
12 noon - Great Adventure
1 pm - The Afternoon Movie
3 pm - Cartoon Time
3:30 pm - Porky Pig and Friends
4:30 pm - Speed Racer
5 pm - Space Giants
5:30 pm - Spiderman
6 pm & 6:30 pm - Hogan's Heroes
7 pm - The Odd Couple
7:30 pm - Carol Burnett and Friends
8 pm - The Rookies
9 pm - the Nine O'Clock Movie
11 pm - Get Smart
11:30 pm - Nightowl Theater (Fridays was Nightmare Theater)
1:30 am - Delaware Valley Forum
2 am (approx) - Sign Off
Saturdays
6:15 am - Sign on
6:30 am - Delaware Valley Forum
7 am - The 700 Club
8:30 am - Gerald Derstine Shares
9 am - Dr Thea F. Jones
9:30 am - America's Black Forum
10 am - Life Around Us
10:30 am - RJ's Disco USA
11 am - NFL Games of the Week
11:30 am - The Bowery Boys (Movies)
1 pm - Voyage to the Bottom of the Sea
2 pm - Saturday Theatre I
3:30 pm - Saturday Theatre II
5 pm - Championship Sports
6 pm - Hee Haw (starting 9-16-78)
7 pm - Classic Thrillers
9 pm - The Nine O'Clock Movie
11 pm - To Be Announced
11:30 pm - Alfred Hitchcock Presents
1 am - The 700 Club
2:30 am - Delaware Valley Forum
3 am - Sign Off
Sundays
6:15 am - Sign On
6:30 am - Delaware Valley Forum
7 am - Time of Deliverance
7:30 am - Dr. Thea F. Jones
8 am - Day of Discovery
8:30 am - Oral Roberts and You
9:am - Robert Schuller
10 am - Leroy Jenkins
10:30 am - Rex Humbard
11:30 am - F Troop
12 noon - Shirley Temple Playhouse
1:30 pm - Philadelphia Phillies Baseball
4 pm - Hollywood's Finest (Movies)
6 pm - Tarzan
7 pm - Wild Kingdom
7:30 pm - Hee Haw Honeys
8 pm - Great Adventure
9 pm - The Untouchables
10 pm - Jersey People
10:30 pm - Delaware Valley Forum
11 pm - Dr. Thea F. Jones
11:30 pm - The 700 Club
1 am - Dr. Thea F. Jones
1:30 am - Faith Alive
2 am - Sign Off
From that same time period, a WPHL-TV document says:
650,000+ households in five states

WPHL-TV's market potential and coverage are extended from 19 counties (ADI) in three states to 69 counties in five states through CATV.

Cable operators look to major markets for the programming they wish to import for their subscribers. Since they are generally prohibited from importing duplicate affiliate signals, independent television provides the operators wit the major portion of their programming. These cable connections add to Channel 17's potential market reach with the addition of more the 600,000 cable households. These cable serviced-homes receive an excellent wired-in signal equivalent to the best off-air grade A.

WPHL-TV, with its CATV network provides increased market potential and expanded area coverage especially for the regional advertiser.
Bon Bon on WDAS Radio!
(Left to right) Announcer Bon Bon and Pianist Howard Reynolds
WDAS Radio
Fall 1949
George "Bon Bon" Tunnell, a former singer with the Jan Savitt band, was an air personality on WDAS Radio in the late forties and early fifties. Bon Bon was born in South Philly (reportedly in 1912) and went to work for Savitt who got his start as music director for KYW Radio in the thirties.
Tunnell found himself out of work when Savitt died at the age of 41 from a cerebral hemorrhage in California. Bon Bon came back to Philly to find employment and located it at WDAS Radio. His one radio broadcast started on August 15th of 1949. Tunnell's program was the winner of a "Freedoms Foundation" Award.
This program was the first broadcast in the Philadelphia market done for blacks by blacks. When the station was looking for a host, they had four requirements. The first was someone well known in the community. Next, they wanted someone with experience in show business. Thirdly, they wanted someone of good character and finally someone with a good mike presence.
Bon Bon and the station evolved the format of this variety broadcast with the concept of good entertainment and informative public service. It included music, interviews and much more. It aired from 11:30 am to 12:30 pm Monday through Saturdays.
"The Bon Bon Show" was sponsored. Each day was sold to just one advertiser instead of the usual quarter hour or half hour segments. For example, The Spatola Wine Company purchased Wednesdays and Fridays. Other advertisers included a cosmetic manufacturer, a furrier and a furniture store. In just the first four months of the broadcast, Bon Bon made over 100 personal appearances in the Delaware Valley.
An one-hour broadcast usually had ten parts to its 60 minute time slot. There would be vocal and instrumental music from both the general market and from the black community. There would be news from the AP wire and also stories from the Overseas News Service. It would spotlight international, national and local stories important for the black community.
There was also a segment called "Inquiring Reporter," which featured local stories and those associated with the news. There was also fraternal, religious, social and club information aired on a daily basis. Each day, the show would also feature a "name guest." It would be with newsmakers and entertainers from both the general market and black community. What's happening in town was called, "The Entertainment Whirl." There was also a "mother of the day" contest which listeners would mail in their choice. The winner would get a box of bon bons and a dedication for their favorite tune. There was a segment called, "Thanks for America," which had a patriotic tone and a "Reminder for the Day" with a philosophical message.
Howard T. Reynolds, songwriter and pianist on the broadcast received $1,500 from the Freedoms Foundation for his song, "Speak Up for America."
Bon Bon worked full-time for the radio station and when not devoting his duties to his broadcast, he also sold time for WDAS. Tunnell's salary was reportedly $150 a week (Very good money from 65 years years ago). Bon Bon left the station shortly after Broadcast Pioneers member Max M. Leon purchased the station. Tunnel died in 1975.
A Broadcast Pioneer in Southeast Asia!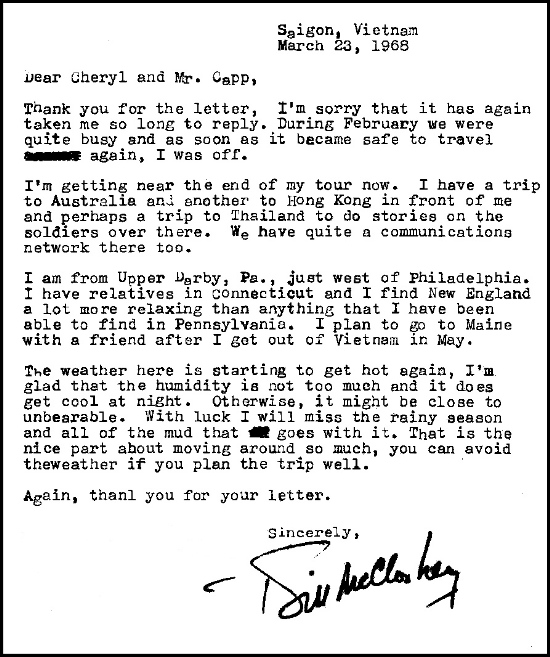 Letter written by member Bill McCloskey from Vietnam
March 23, 1968
For a larger version of this letter, click here!
In mid-January, we received this e-mail from Cheryl Ham, a visitor to our website. She wrote:
Hi, my name is Cheryl Ham. I was going through some old school papers and found a letter written by Bill McCloskey on March 23, 1968, from Saigon, Vietnam. The letter was in response to a school project supporting our soldiers in Vietnam. I was twelve when I wrote to him. When I looked up his name, I couldn't help but wonder if this is the same man. I know that he was doing stories on soldiers in Australia, Hong Kong and Thailand. He is from Upper Derby, PA and has relatives in Connecticut.
Member Bill McCloskey replied:
At the time Cheryl mentions, I was an information specialist serving with the 1st Signal Brigade, writing stories and providing radio interviews with Signalmen for the Armed Forces Hometown News Center. I was using a Sony TC-100 "piano key" cassette recorder WIP had bought for me in hopes I could provide some stories from Vietnam. Unfortunately my Army bosses frowned on that. Many of us enlisted types joked when threatened with discipline for small infractions shrugged and said, "What are they going to do, send us to Vietnam?" But this seemed a little higher infraction, so I didn't challenge the rule.




We appreciated the letters that were sent to us and I answered the few that I received. It is special that someone held on to one of them for so long and then used today's wonderful technology to search me out. The Broadcast Pioneers foster such great camaraderie and this is a great indication of the value of the history we save.




I tried to get on with Armed Forces Radio Saigon, but the Signal Brigade wouldn't release me, as they were just starting a Public Information Office and saw five years of pre-Army experience at WIP on my resume and thought I could help. One of the AFVN DJs when I was in Vietnam was (member) Don L. Brink, the WIBG "all night fink" before he got drafted. This was during the Adrian Cronauer "Good Morning Vietnam" days.
LET'S VISIT THE ZOO ON KYW RADIO!
This is part of the memories of Roger Conant, Director Emeritus of the Philadelphia Zoo. It was written in 1973.
My most long-lasting assignment was the KYW radio program called "Let's Visit the Zoo" that remained on the air for the incredibly long period of 33 years and 8 months. We learned recently it survived longer than "Amos and Andy" did (on radio), but there were major differences. They broadcast five days a week instead of once, and they had a commercial sponsor to pay them for their efforts.

It all started in 1936 when Dr. Roderick MacDonald, then the Managing Director of the Zoo, strode breathlessly into my office one Saturday morning stating he didn't have time to do the radio program and would I take his script down to KYW and read it on the air. There was nothing to do but comply, but when I looked at my watch I discovered I must leave for the studio posthaste. I wasn't even sure just where it was, but I arrived just in time. I was pushed in front of a microphone, and there was not a moment to review the script. I read it slowly and deliberately but ran out of copy five minutes before the program was scheduled to conclude. The station filled the gap with music much to its consternation and my embarrassment.

After the same thing happened two weeks later, I pounded out a script of my own on the typewriter, and the next time Dr. MacDonald asked me to substitute for him, I was well prepared.

He had started the program on February 15, 1936, shortly after KYW transferred its operations from Chicago to Philadelphia. After the 10th program the show was mine, and I prepared every script from that time forward. I talked about everything under the sun, and I am sure that every animal in the Zoo collection was the subject of at least one program. Some of them, like the gorilla, Bamboo, made repeatedly good subjects.

It became apparent almost at once that a straight talk, even in those early days, was deadly and virtually certain to make any listener turn to another station. Also, because we were extremely anxious to increase the numbers of visitors to the Zoological Gardens, we needed some device to arouse interest, not only in the program, but in the Zoo itself. At first we invited listeners to send us questions. That worked for a while, but it was the same dozen or so persons who cooperated.

Dramatizations, sarcastically dubbed "soap operas" because they were sponsored by the manufacturers of soaps and other household necessities, were popular at the time. So we tried using true stories about the catching, transportation, and care of animals in captivity. Soon I found myself being a playwright faced with the necessity of coming up with a new topic each week. We dramatized Sir Harry Johnston's discovery of the okapi, Martin and Osa Johnson's adventures in Borneo and East Africa, stories about catching animals, events that happened in zoos all over the world, and so on. It was great fun. My role was that of narrator, but what a time we had getting enough different voices to lend credibility to the various adventures!

Mark Mooney, who was then the Zoo photographer, always took part, and we dragooned our friends, and even Boy Scouts into visiting the station on Saturday morning to take part. Phil Edwards, a member of the Zoo's Public Relations Department for several years, furnished all the sound effects. Shaking a large piece of sheet metal sounded like thunder. We had creaking doors, and one of us would go inside a closet to produce the effect of talking in a cave or at the bottom of a well, as we were hunting for bats or snakes. Some of the shows were truly professional in nature, and we found we were acquiring a large audience.

The dramatizations last for five years, but eventually we were forced to quit because our talent deserted us, one by one. It was then that we hit on the device of running summertime contests with prizes of free Zoo tickets for anyone who could answer five simple questions correctly. Unless the listener was disturbed, as by the doorbell or telephone during the program, he had no trouble in culling the answers from the conversations I held each week with the announcer. We began modestly in 1939 with ten contests that stimulated 202 pieces of mail a week. Later, contests were offered for 30 weeks each summer until the show went off the air in the autumn of 1968 after KYW had gone "all news all the time."

In 1947, we received 18,131 pieces of mail, or an average of 604 a week. "Let's Visit the Zoo" was attracting far more mail to KYW than any other program. With the advent of television the audience dwindled, but even as late as 1967, we had more than 200 responses a week.

During the winter months we conducted interview programs, talking with persons with a broad spectrum of interests, including such explorers as Lowell Thomas and Osa Johnson, and experts on various subjects in zoology, persons with unusual hobbies involving animals, and sometimes just plain interesting visitors who were fond of the Philadelphia Zoo. Eventually, we ran out of such talent, and during the last several winters the program consisted chiefly of conversations I held with the announcer about animals or what was going on at the Zoo.

The management of KYW was very liberal, and I was allowed to choose my own subjects. In retrospect, I am pleased with my conversation efforts. For example, I inveighed strong against the use of DDT and other chlorinated hydrocarbons when I felt like a voice cruising in the wilderness. They were finally, of course, outlawed by both federal and state governments. Quite naturally, the reptiles came in for their share of attention, and I think I convinced a number of persons that snakes are highly useful animals that deserve protection, instead of slaughter on sight.

There is no doubt that the KYW program was a useful tool for getting people interested in the Zoo, and we are extremely grateful to the station for the enormous amount of free time they gave our "public service program."

The singles greatest individual benefit we derived from "Let's Visit the Zoo" surfaced when the will of a deceased elderly lady was probated. We were delighted but amused to discover she had bequeathed $30,000 to the Zoo in my honor, but with the understanding that none of the money was to be used for the purchase of reptiles! I never had the pleasure of meeting her, but it turned out she was an ardent listener, and she proved it by her substantial bequest to the Zoo. By the time we received the money, it had increased to $37,000. We used it to help build the Hummingbird Exhibit to make sure that not a penny would be spent on reptiles.
A LITTLE BIT OF BROADCAST HISTORY!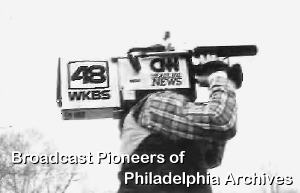 WKBS-TV camera operator Joe Danner
Camera is an RCA Hawkeye (which weighted less than 25 lbs)
1982
THANK YOU:
As we do every month, we want to thank Broadcast Pioneers member Johnny B. Hall for his monthly donation to our DAP, Digital Archival Project. Johnny donates $250 every month. The amount totals $3,000 yearly and really helps us to underwrite this much needed but expensive project. We welcome others to join in by supporting this venture.
We have underwriting for seventeen $1,000 scholarships to be awarded in April of this year. We received $1,000 for a scholarship in the memory of Broadcast Pioneers Hall of Famer Mac McGuire. The contribution came from member R. Alan Campbell. Also, the final $1,000 scholarship (part of a five year package) from Broadcast Pioneers Hall of Famer Sylvia Kauders. We also have pledges for seven $1,000 scholarships from member Johnny B. Hall and his wife Ginny. Also, a scholarship from the Adelman family for a $1,000 scholarship and also one from Robin Adelman's dad, member Leon Love. Member Harry Hurley has pledged a $1,000 scholarship from the proceeds of this year's Hurley in the Morning Golf Tournament.
Broadcast Pioneers Vice-President Kal Rudman started underwriting scholarships for our organization several years ago. He was the person that underwrote our first scholarship way back when. Now, there are many following in his footsteps. Kal has just said that he'll be underwriting two more scholarships for this year. Thanks, Kal. Another contribution came from Esther Kurtz. Included in her membership renewal was a $1,000 for a scholarship in memory of David Kurtz (founder of B101).She has been doing this now for 8 years.
Plus, we have added two more $1,000 scholarships for April 2014. One is from Bette Lavine of Center City and the other is from Len Stevens, long-time member of the Broadcast Pioneers.
And again, we wish to thank member Jerry Del Colliano for his $1,000 contribution to our DAP fund. This is the second year in a row that Jerry has done this. We thank him so much for his gift to this most important project.
Last month, Robin Adelman (on behalf of the entire Adelman family and Leon Love) presented us with a $600 contribution to be split between of our DAP project and our general fund. We welcome other gifts for these and other projects in the form of money and/or donated items like video tapes, audio transcriptions and photos.
We also received a $1,000 check from member R. Alan Campbell. It is for a scholarship to be given in April of 2015 in the memory of Fred Ruggieri, who used the air name Fred Randall. Thanks, Alan. We also have a pledge for 2015 from member Harry Hurley with a $1,000 scholarship (limited to students either residing in or attending college in South Jersey). The proceeds for this scholarship will come from Harry's Charity Golf Tournament next year. Also, a pledge from Harry for a $1,000 gift to our DAP project. Thanks, Harry. We also just received two checks for two scholarships for April of 2015. They come from the Adelman Family and Robin's dad, Leon Love. Thanks.
We would like to thank all the people who have been donating video and audio tapes to our DAP. The latest gift was from members Larry Mendte and his wife, Dawn Stensland. They donated over 500 tapes. All have been digitized. If you have tapes, you would like to be part of this project, please contact us.
We would like to thank those of you who included an extra contribution with your January luncheon ticket or sent us a contribution. Those members include: Bill Kelley, Mike Bove, Corky Warren, Robin Mackintosh, Loretta Bove Crowell, Harry Hurley, Brooke Fieldling, R. Alan Campbell and Gerry Wilkinson. Thanks so much for your support.
Our special thanks go to TUTV and The Kal & Lucille Rudman Media Production Center.

They have underwritten a grant to be used to fund an entire year of all our newsletters for calendar year 2014. We thank them so much for their support!
If you forgot to make an extra contribution (cash or memorabilia) and would like to do so now, it's never too late. We would be thrilled to hear from you at: PO Box 2886, Bala Cynwyd, PA 19004 or call us at (856) 365-5600.
A FINAL THOUGHT....
One day, when member Tom Brookshier was doing the sports on the "TV10 Big News," anchor John Facenda, who was also a member of our organization, ended the newscast with a story about a local golf tournament. Then Facenda said that he, himself, was quite an excellent golfer. He got up from the anchor desk and came into the middle of the studio floor. He placed a golf ball on the floor, and the camera panned up. While this was happening, someone on the crew removed the ball (because hitting a real golf ball in the studio could damage equipment). John then took a swing and the director cut to a shot of Brookie with a golf ball in his mouth. "Hole in one!"
Joanie Baldini
2006
Please contact us by e-mail at newsletter@broadcastpioneers.com or by mail to: Broadcast Pioneers of Philadelphia, PO Box 2886, Bala Cynwyd, PA 19004. Your stories are important, to you, to us, and your colleagues. Contact us today and we'll include your story in the next newsletter!

© 2014, Broadcast Pioneers of Philadelphia
All Rights Reserved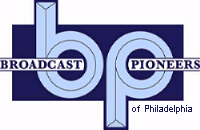 The e-mail address of the Broadcast Pioneers of Philadelphia is pioneers@broadcastpioneers.com
For luncheon reservations call (856) 365-5600 or e-mail us at: rsvp@broadcastpioneers.com