| | |
| --- | --- |
| | Broadcast Pioneers of Philadelphia is a federally recognized, state chartered 501(c)(3) non-profit organization serving the Philadelphia Broadcast Community since January of 1962. |
February Luncheon
The Bala Golf Club
Wednesday, February 18, 2015

Meet & Greet at 12 noon!
Lunch at 12:30 pm
Ratecard: $28 per person!

PLEASE RESERVE NOW!
CALL (856) 365-5600!
rsvp@broadcastpioneers.com
Another "Third Wednesday" Luncheon!
Wednesday, February 18th!
"Winter Potpourri of Speakers - 2015"
$5 Discount for Members
with coupon!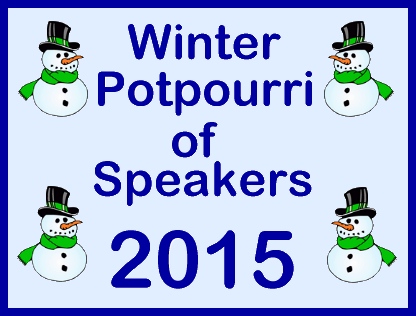 Hit After Hit! Smash After Smash! Blockbuster After Blockbuster! Here's another "monster" lunch where the "stars" don't wait to come out at night. They're here at lunchtime!
Don't Miss This One!
Only $23 with coupon!
It may be cold outside, but things will be heating up on the inside. This may well be the best luncheon of the year. Plan to be there.
Our MC for the afternoon will be (rescheduled from December) Harry Hurley, well known area telephone talk show host. Voted one of the top 100 Powerful People in the entire State of New Jersey by Politicker NJ.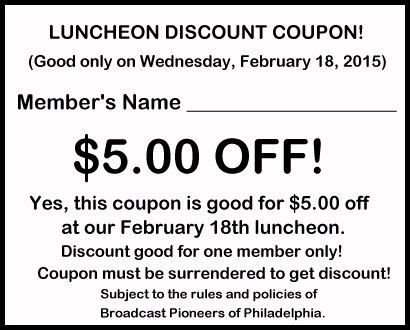 (Click Here to get a printable version of coupon)
Scheduled to appear, our speakers include (in alphabetical order):
Howard Blumenthal, CEO of Philly's Channel 35 & national television producer
David Boardman, former Sr. VP of Seattle Times, now Dean at Temple University
Valerie Morrison, well known area psychic who works sometimes for Philly Police
Terry Ruggles, former NBC 10 news anchor and long-time street reporter
This takes place at the beautiful and historic Bala Golf Club, 2200 Belmont Avenue (across the street from the state police) in the Wynnefield section of Philadelphia. Only minutes away from Channels 6, 10 and 17 and the radio stations in Bala Cynwyd. Call now for reservations. (856) 365-5600! Don't miss this one!
Plenty of FREE parking. Our luncheons are open to all our members, their guests and any person in the industry or associated fields, whether active or retired. You do NOT have to be a member to attend. There is no reserved seating at our luncheons. Feel free to sit anywhere. Well, the three people on the camera crew sit near the cameras but that's in the back of the room.
The cost is only a donation of $28 (or more) per person! With coupon, it's $23 (or more) donation! In order to speed up check-in at the luncheon, it would help if you had exact change or your check already written. Checks can be made payable to the Broadcast Pioneers of Philadelphia.
If you would like to add a few dollars extra, we would appreciate it. It would help us with all the important work we are doing. Thanks!
WE'LL BE PROUD TO SEE YOU IN THE CROWD!

Visit Our Website Often - http://www.broadcastpioneers.com
You should check our website often on the front page (above) for important information!
Check out our Facebook Page - http://www.broadcastpioneers.com/facebook
There are things on our Facebook Page that are NOT on our website (like our vintage photo of the week)
Tune in to our YouTube Channel - http://www.broadcastpioneers.com/youtube
Our YouTube Channel has all our luncheons, exclusive interviews and archival material

WELCOME NEW MEMBERS:
FULL MEMBERS:
Tom Louden started in our industry fifteen years ago. He worked his way up at Fox 29, WTXF-TV. Starting as a production assistant in 2000, he became a writer and segment producer the next year. During 2005, he was elevated to producer at the same station. That was a position he held for a half dozen of years. In 2011, Tom was appointed as Senior Producer and three years later became Executive Producer at Fox 29.
Since 1980, Donna Benner has worked in broadcasting, mostly television. She's a three-time Emmy winner. Donna has worked at three major TV stations here in town and has done a lot of work in the Big Apple. She has been an Executive Producer for Dick Clark Productions, Sony Pictures Entertainment and much more. She currently operates Lip Service Talk Productions based here in Philly and in NYC.
One of the best PR guys in television has been doing it for over a quarter of a century. His name is Art Ellis. Last October Art was named Vice-President for Communications and Member Relations at WHYY. Before that, he was Executive Director of Communications and Brand Management at Channel 12 and WHYY-FM. He started at the stations in 1987 as an Associate Director of Public Information. Welcome aboard.
John "Lefty" Rajca has been in our business since 1969. With radio experience under his belt with the U.S. Army Signal Corps, the Philadelphia Fire Department Radio and Philadelphia Police Radio, John moved into broadcasting oldies on local stations here in the Delaware Valley. He did this for almost two complete decades at WNJC, Cruisin' 92.1 (WVLT-FM) and WRDV-FM. He is now retired.
We are thrilled to have these new members. Now over 500. More than ever. We hope to see as many of our members as possible at our February luncheon.
DIGITAL ARCHIVAL PROJECT NEWS:
VIDEO: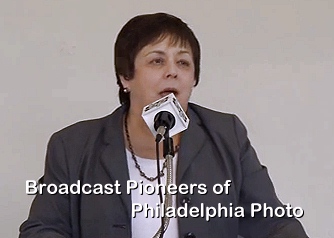 Chris Campbell, Bill Campbell's daughter
Broadcast Pioneers Luncheon
Bala Golf Club, Philadelphia
Wednesday, January 21, 2015
Watch the video of our "Tribute to Bill Campbell" luncheon. Bill was the Dean of Philadelphia sports broadcasting. He met his wife, Jo, while they were both working at WIP Radio in the forties.
Watch the Video from our YouTube Channel!
Video courtesy of Board Member Brad Seecof and Metramedia Broadcasting and Studios
AUDIO:
It's the year's end. It's Thursday, December 30, 1965. The KYW Newsradio format is only 3 months old. We have an excerpt from 2:42 pm. The newscaster has yet to be identified. Again, we are asked, "why not play more?" The answer is simple. That's all we have.
Listen in Windows Media Format!
In 1982, Broadcast Pioneers Hall of Famer Ed Sciaky was working at WIOQ Radio. On Tuesday, March 2nd of that year, Sciaky interviewed live on the air, Chubby Checker who had just issued a new LP. The broadcast discusses Chubby's past success and his hopes for his latest album. This interview is almost a third of a century old. The original tape was found in the basement of the Sciaky home.
Listen in Windows Media Format!
From 1960, here's Dick Heist and Bob Allen with part of a test run on WNPV, 1440 on AM in Lansdale, PA. This is a test run in advance of the station officially signing on the air.
Listen in Real Audio!
Listen in Windows Media!
Today's News Becomes Tomorrow's History!
(This is what our Digital Archival Project, DAP, is all about!)
A LITTLE BIT OF BROADCAST HISTORY!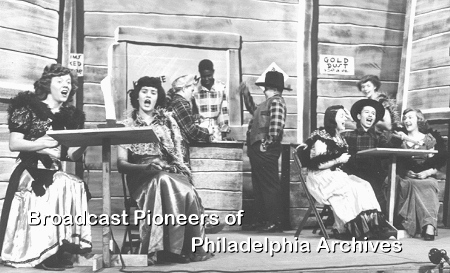 Performer from the Paul Whiteman TV Teen Club
originated through the facilities of WFIL-TV
and carried live over the ABC Television Network
(from the episode about "The Gold Rush")
circa 1949
IN TOUCH WITH OUR MEMBERS:
Member Dave Coskey is the President and General Manager of Longport Media. One of their stations is WOND, at 1400 on AM. News Talk 1400 WOND, a legacy radio station in southern New Jersey for more than 60 years, has added new programming to its weekday lineup. The station will also add ABC News at the bottom of each hour to complement its top-of-the-hour newscast, meaning listeners will never be more than 30 minutes away from news.
Off The Press airs Monday through Friday from 3 p.m. to 4 p.m. and features Scott Cronick and a series of reporters and editors from the region's only daily newspaper highlighting different features each day. Spatz, who currently anchors The South Jersey Edition from noon to 1 p.m., returns with The South Jersey Edition PRIME¸ a fast-paced evening drive-time newscast Monday through Friday from 6 p.m. to 6:30 p.m. The show will focus on today's news, tonight's sports with Chuck Betson and tomorrow's weather with Dan Skeldon.
Member Charlie Gracie's new book, is now available in stores (since January 20th). It's called, "Rock & Roll's Hidden Giant: The Story of Rock Pioneer Charlie Gracie." Forward by Paul McCartney and Cliff Richard. Rock and Roll History would not be the same without Charlie Gracie and this remarkable account is essential for all fans of Rock & Roll! Also available from Amazon. Speaking of Charlie, Chubby Checker said: "He started it and made it possible for the rest of us."
Member Jerry Klein and his wife, Anne, traveled to Vail, Colorado for some skiing fun last month. They were there for 10 days and they plan another similar adventure later this month. Jerry told us from Vail: "We came out here to get away from the cold in Philly. Seriously, it's been warmer here than at home. But we had 4" of new snow last night, and skiing has been great." See their photo here!
Member Ed Cunningham retired officially from WHYY last month, although you'll still see him on the tube holding up boxes during fundraisers. He had a nice party at David Othmer's home in the University of Pennsylvania area. David at one time was a top official at the station. About 40 people were there including our CEO Gerry Wilkinson, who went to college with Ed and Ed's wife, Ellie many years ago Wilkinson and Cunningham also worked together at WHYY. Click here to see a photo of Ed and Gerry on Friday evening, January 23, 2015.
Member Cathy Gandolfo was one of the judges at Saturday evening's "Miss West Chester University 2015" contest. It was the 17th annual pageant. Other judges included: Bethanie Lori, a QVC on-air guest for over a decade, Angela B. Kosar, a lawyer and Mark Edwards, an off-Broadway actor.
Member Peggy King (former girl singer on the network "George Gobel Show") performed in concert this past Sunday at the Sellersville Theatre with the All Star Trio. If you missed her in concert there, maybe you'll get a chance sometime to see her perform when she sings for the Broadcast Pioneers.
A LITTLE BIT OF BROADCAST HISTORY!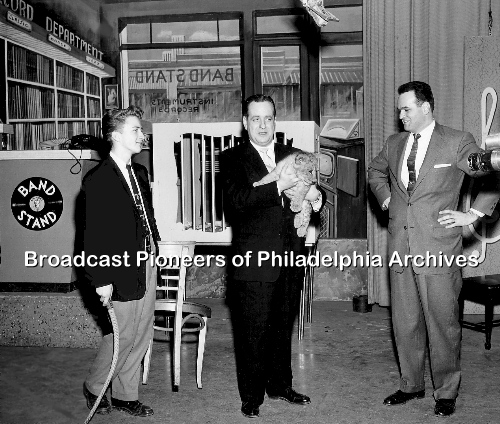 (left to right) unidentified, Bob Horn and Tony Mammarella
"Bob Horn's Bandstand"
WFIL-TV
circa 1953
This photo was donated to us by Tony Mammarella's daughter, Mary. At the top center, you can see the boom microphone. At the right (by Tony's shoulder), you can see the lens of one of the TV cameras. At the extreme left where the LP says "Bandstand," if you enlarge it, you'll see that it actually says "Bob Horn's Bandstand." Bob does not look happy holding the lion cub. Note the original set is shown in this picture.

Did you know...

From a WIBG Letterhead
1933
that in the forties WIBG was owned by the Seaboard Radio Broadcasting Corporation. Broadcast Pioneers Hall of Famer Paul F. Harron was the president. Ownership to the station changed in 1939. WIBG was originally licensed to Glenside, Pennsylvania, a suburb of Philly. In August of 1941, the FCC granted the station permission to move its city of license from Glenside to Philadelphia. Although the station had planned to move to Philadelphia and the 1425 Walnut Street address in June of 1942, the move wasn't until December 16th with the first broadcast took place from the new location the very next morning. Just 10 days before, WIBG ran commercial free for an entire day. Why? It was the first anniversary of the bombing of Pearl Harbor. The WIBG promoted buying war bonds for the entire broadcast schedule.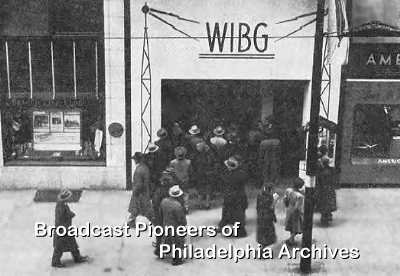 WIBG Radio Studios
1425 Walnut Street
Center City Philadelphia
1948
This building had three floors. The street level had a large plate glass window with a newsroom plus a large auditorium that seated 250 people. The Navy League of Pennsylvania shared the building and the use of the auditorium. The second floor housed the station's master control and three studios. That level also housed executive offices for programming and production. Audition rooms were located on the third floor. The basement had work areas for the engineering staff, artists' lounges and shower rooms.
The plate glass window area was used for the station's newscasts and celebrity interviews. Passersby on Walnut Street stopped and watched what was going on.
Because of the second World War, there were no special ceremonies. A 10,000 watt transmitter was under construction when the station moved to Center City. Until the 10 kw unit was ready, the station continued to broadcast with 1 kw. The construction permit was approved by the FCC on December 14, 1942. When the station went to 10 kw the next year, an union engineer's starting salary was $40 a week. The union, the American Communication Association (a CIO affiliate at that time) won the increase with the argument that with the power increase, the station could afford it.
The new transmitter was located in Harmanville, Whitemarsh Township, Pennsylvania on a 35 acre tract and work on the new site began in June of 1942. Reports from that era said that the power increase took an investment of $150,000. The station at that time was owned Seaboard Broadcasting. 49% of the stock was owned by A. J. Drexel Biddle, Jr. and former City Democratic leader John B. Kelly. Holding the other 51% of the stock were Broadcast Pioneers Hall of Famer Paul F. Harron and Joseph Lang, who during the second world war also had control over WHOM Radio in Jersey City until early in 1944. Edward D. Clery was the WIBG General Manager.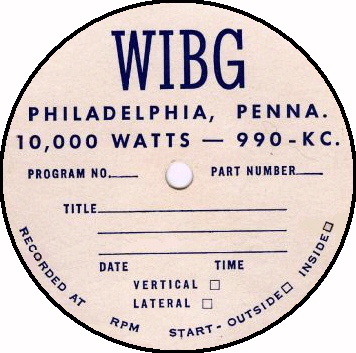 Blank label used on 16" transcription discs
WIBG Radio
circa 40s
By the way, 13 months after they moved into their "new" digs on Walnut Street, Broadcast Pioneers Hall of Famer Doug Arthur conducted his danceland poll of WIBG listeners. The number one dance band was none other than Captain Glenn Miller. Arthur was the only disc jockey at the time conducting band popularity contests. The voting took place during the first two weeks of 1944. Miller had over 14,000. Coming in second was the winner of the same contest in 1943, Harry James. Harry had just a hair over 9,000 votes. The third and fourth position went to Tommy Dorsey and Jimmy Dorsey. Charlie Spivak's band didn't even show in 1943 and ended up in fifth place. The other positions were taken by Benny Goodman, Kay Kyser, Woody Herman, Artie Shaw and Sammy Kaye. There were 53,000 votes cast in total.
This regular monthly column is written and researched by Gerry Wilkinson

IN TOUCH WITH THE INDUSTRY: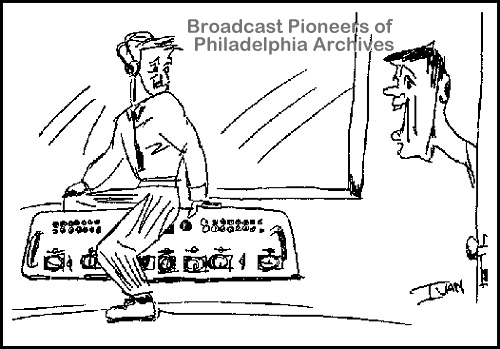 Caption: I Don't Care What You Learned in Radio 43, That's Not How We Ride Gain!
Cartoon by Ivan Shaner (aka Gene Shay)
WRTI Newsletter
1955
The Legendary Gene Shay has retired from broadcasting after 53 years in the business. Gene celebrates his 80th birthday this month and thought it was time to leave the air waves. Gene started on WHAT-FM in 1962, then on to WDAS-FM, WMMR, WIOQ, WHYY and finally to WXPN where he has been since 1995. Gene was the co-founder of the Philadelphia Folk Festival. Broadcast Pioneers CEO Gerry Wilkinson said:
When alot of us were young, we looked up to Gene. I remember on many occasions sitting in front of the WHAT (AM) audio console on Sunday evenings and peering through the window at Gene Shay. My college buddy, Ed Sciaky, was hired by Dolly Banks to run board on the AM station Sunday evenings. The AM programming was a bunch of religious broadcasts. Ed hired me to sit in front of the AM console while he went went next door to WHAT-FM and hung out with Shay. Gene was Ed's mentor. Gene Shay is as much Philadelphia as the Liberty Bell, Cheese Steaks and Soft Pretzels.
Broadcast Pioneers Hall of Famer Lu Ann Cahn has joined Temple University's School of Media and Communication as Director of Career Services. This is a new position and Cahn will help students get internships and full-time jobs. She previously was a reporter for WCAU-TV, NBC 10 for 27 years. She was inducted into The Broadcast Pioneers Hall of Fame in 2012.
iHeartMedia (formerly Clear Channel) has appointed Casey Reed as its new afternoon drive jock for Q102. Casey Reed also be the station's music director. She started her broadcasting experience at Q102 as an intern. Reed recently was at WPLJ and had spent nine years at WRDW Wired 96.5. Elsewhere in the iHeart family, Jessie Sabella will join Radio 104.5 as the new evening jock. She was doing weekends and now is full-time. Mike Jones has been moved to afternoon drive.
WE REMEMBER:
Member Joanne Calabria tells us that Muriel "Bo" Ettlinger passed away. As Nelson Cohen and then, Roy Shapiro's assistant at KYW Newsradio, she was the go-to person for your projects with Newsradio.We are happy that she got to celebrate her 90th birthday with friends and family this past summer.
Legendary New York talk show host Joe Franklin passed away last month from cancer. He said that he had interviewed well over 300,000 guests in five decades in broadcasting. He was married, according to the New York Times, on the TV show, "Bride and Groom." He was 88 years old.
A LITTLE BIT OF BROADCAST HISTORY!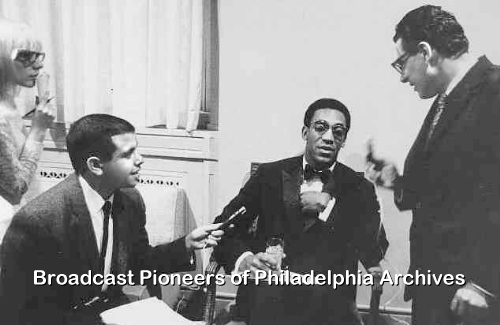 (Left to right) Pat McKeown, Michael Muderick, Bill Cosby & Jerry Grove
The Bellevue Stratford Hotel
Center City Philadelphia
Saturday, April 8, 1967
ON THE HEALTH FRONT:
Member Harvey Sheldon who lives out on the west coast but whose heart is still here in Philly is scheduled for several procedures in the next half dozen weeks. Back procedure in 2 weeks, kidney procedure shortly thereafter and a lung cancer procedure in March. He says: "I told the doctors that I have to go home right away to write another book." Harvey has written over a dozen.
Broadcast Pioneers board member Bill Wright, Sr. is still recuperating from knee surgery. He now in a different rehab facility, The Wayne Center, 30 West Avenue, Room 115A, Wayne. He is making wonderful progress. The phone number there is (610) 293-2764. The doctors are telling him that he may be going home this Friday. By the way, Bill tells us that he may make the February luncheon and he'll be walking.
THANKS FOR THE MEMORIES:
More on Aldo Farnese!
Member Fred Woskoff e-mailed us:
As always, the Broadcast Pioneers Newsletter is one of the best things to arrive in my e-mail each month. I really enjoyed reading about our old friend Aldo Farnese.

I had the pleasure to work with Aldo at WKBS and again at WPHL, and his humor always brought a smile to all. There are many great stories involving Aldo, and it's sad he can't still relate them to us all.

If somebody has a copy of the WKBS Christmas Party tape that Aldo and Chick did with Hank Belicki playing Santa Claus visiting Dickory Doc's workshop, it's a classic. An R rated classic for sure, as Santa gets in quite a few of the "7 deadly words not for broadcast", but hilarious still.

Or the time Al put a microphone inside the large end of a fire extinguisher, with an RCA logo attached, and spent 20 minutes getting WKBS Afternoon Movie host Bernie Herman to do mic checks, finally having the huge thing just a couple of inches from Bernie. Bernie kept reading copy as Al kept asking for more, and finally Bernie asked, "isn't this thing going to be in my closeup?, never catching on that Aldo wasn't actually talking to anybody in the control room.

And of course when WKBS was airing a series of Opera Movies which were hosted by Ray Fabiani, who of course was involved in wrestling, with "Fabiani's Mat Time" on WKBS. As Mr. Fabiani sat on the set, and Al was putting the mic on, Aldo started humming the theme from "The Godfather". Mr. Fabiani listened for a few moments, and then took Al's hand and said, "I get it Aldo, I get it".

He was a very funny and talented guy, and it's always good to remember old friends.
If you missed the story that Fred was talking about, you can find it here!
Welsh Rarebit a la Campbell!
In 1951, Bill Campbell's wife, Jo, said that Bill should come up with a recipe for a snack like fellow sportscaster George Walsh (who was also a Phillies announcer in the late 40s and early 50s). Bill did. He called it "Welsh Rarebit a la Campbell."
Ingredients you'll need:
Butter or Margarine - one tablespoon
American Cheddar Cheese - a half pound grated
Salt - a few grains
Dry Mustard - a half teaspoon
Beer or Ale - half cup
Egg - one large egg
Here's the directions:
Place butter or margarine along with your grated cheese in the top of your double boiler. Add the salt and dry mustard. When the cheese begins to melt (don't wait until it is completely melted), gradually stir in the beer or ale. Bill reminded people that the alcoholic beverage was a very important part of the recipe.

Once the beer or ale is all included, beat the mixture briskly until it is smooth and satiny. Then add the egg which should be slightly beaten before adding. Add to the cheese mixture. Continue cooking, stirring constantly, until it is velvety and as thick as heavy cream.
Pour the cheese sauce over hot, dry toast (instead of rabbit) and serve with lots of cold beer (sounds like another important part). There's plenty for four people. However, Bill said that he could often polish off three-quarters of it himself.
Member Bill Campbell was inducted into the Broadcast Pioneers Hall of Fame in 1999 and was the Broadcast Pioneers Person of the Year in 2008.
The Beginning of WRTI!
On Thursday, January 22, 1948, a Philadelphia radio station was born. It was the very beginning of WRTI. The studios were constructed in the basement of Thomas Hall, previously the Park Avenue Episcopal Methodist Church at Park Avenue and Norris Streets in North Philadelphia. The building which was erected in 1886 was the oldest structure on the Temple campus (predating Baptist Temple by several years). It was the home of WRTI from its beginning in 1948 until 1968 when WRTI-FM moved across the street to the new Annenberg Hall. In 2004, WRTI-FM relocated to new digs at 15th and Cecil B. Moore (Columbia) Avenue.
On that cold Thursday January afternoon, WRTI was only an AM station operating via carrier current (then called a wired-wireless station). The facilities of WRTI from its inception until 1968 were also used to record educational broadcasts for the WFIL radio stations.
The dedication ceremonies of the WRTI studios were broadcast live over both WFIL & WFIL-FM. The next day, January 23rd, the Philadelphia Inquirer referred to the basement facilities in this way: "The Thomas Hall unit, one of the most complete school installations of its kind in the country, includes two large studios for feature programs and two smaller ones for newscasting and discussions by small groups. There also are four control rooms in addition to a master control room."
The Inquirer continues: "It serves the university's new department of Radio, Speech and Theater which was established last September after a $25,000 fund was made available to Temple for that purpose by The Inquirer and Radio Station WFIL. Dr. Armand L. Hunter, chairman of the Department of Radio, Speech and Theater, arranged the day's program which started with an open house for the students at 1 P.M. At 4:30, a special demonstration program was held and the dedication ceremony began at 5 P.M."
Then the newspaper said: "After the dedication, a dinner was held in Mitten Hall, where C.B. Joliffe, executive vice president of the RCA laboratories division, Princeton, was the principal speaker. Dr. Joliffe predicted that television -- "mass communication of sight and sound" -- will in the future "have an enormous effect on the social and political life of our nation." "Television development," he said, "is now out of the hands of technical men and in the hands of businessmen, educators and entertainers. Television will have its first important part in the political life of our nation during the Presidential election campaigns this year, starting with the televising of the national conventions from Philadelphia."
By the way, the first WRTI (AM) broadcast took place on Monday, March 15, 1948 at 4 pm. It was a test broadcast and was fed to Alpha Sigma Alpha, Delta Sigma Upsilon, Theta Sigma Upsilon, Williams Hall, Thomas Hall and the Radio, Speech and Theater office at 1951 North Broad Street. The transmitter's output power was 40 watts. That was the very first time the transmitter was ever online. The station was on the air from 1 pm to 8 pm, according to John B. Roberts, former Broadcast Pioneers President/Chairman of the Board and former Temple University Professor.
The Swarthmore wired wireless station was on the air before WRTI with the University of Pennsylvania station coming a little while later. These three universities formed a network with each station providing a part of the program schedule, said Roberts. However, if you accept as a "broadcast," audio being fed from Thomas Hall to Mitten Hall's East Alcove via wire (with no transmitter), then the first regular broadcast was March 1, 1948.
During the dedication of the studios on January 22, 1948, similar wired feeds took place. At 4:30 pm, a transcribed organ recital was "beamed" to the Thomas Hall Auditorium, the main sanctuary of the old church. The auditorium was one floor above the WRTI studios, which were in the basement of the building.
At 5 pm, the formal dedication took place and was "broadcast" including a speech by Dr. Millard E. Gladfelter, then the University's Provost and later Temple President. This was followed by a short musical program followed by 20 minutes of live music featuring a chorus of 30 and an orchestra of 25 students directed by Dave Davis. At 5:40 pm, "Altars of Peace," an original drama based on the Friendship Train was aired on WFIL-FM live. The drama was written by Temple evening students Amy Faust, Alice Groff and Martin Katz. It was produced and directed by Broadcast Pioneers member John Roberts and featured Bob Feldman (Spring 1950 Station Manager) as the narrator, Clair Gomberg and Bill Brown (Fall 1948/Spring 1949 Station manager). Al Sher ran the sound effects truck.
At 6 pm, there was a short dedication speech by current Temple President Robert L. Johnson. The address was carried live on WFIL-FM. This was followed by a five minute newscast presented by Stan Isenberg, WRTI's Station Manager. Then at 6:30 pm, dinner music was "piped in" to the Mitten Hall Club Room where a VIP dinner was being held.
More About The Beginning of WRTI!
Here's some information about the beginnings of WRTI-FM. Information in the Temple Times, a PR newspaper published by the University dated February 9, 1995, states, "...The station was established in 1948, went on the air as WRTI-FM on October 5, 1953...." However, that date seems to be incorrect. That was actually the date of the beginning of regular, full-length programming. Remember that until 1969, WRTI operated only from October to May, which was the school year. It was off the air during the summer.
However, regular (though logged as "experimental") programming was broadcast daily earlier in the year. Broadcasting Magazine Yearbook of 1973, states that WRTI-FM started on July 9, 1953. This was the date of the original FCC license which hangs on the walls of today's WRTI-FM. It is that date that WRTI uses as its beginning. However, keep in mind that at this time, WRTI and WRTI-FM did not broadcast during June, July, August or September.
We have found a Western Union telegram from the FCC to the University dated March 7, 1952 authorizing the FM station. The February 15, 1952 issue of Broadcasting magazine shows that the application was filed by Professor John B. Roberts, director of radio on behalf of Temple University. The filing date was February 4, 1952. According to the 1995 article, the frequency was to be assigned at the FCC's discretion. Roberts said in May of 1998 that he now feels that the FM station may have started broadcasting late in 1952. He said, "It's hard to say because of all the tests and sample programs aired on the FM frequency." According to a March 7, 1952 Temple News article, the estimated cost of building the ten watt FM station was $27,513.
A Temple News article dated November 10, 1952 said:
Telephone lines for the University's new FM station are being installed today, announced Berwyn Collentine, radio instructor. The lines will connect the WRTI radio station, basement of Thomas Hall, with the new ten-watt FM transmitter on the twelfth floor of Conwell Hall. According to a WRTI publication, the height of the tower was initially 275 feet high.
A test broadcast (a simulcast of WRTI AM & FM) was conducted later that same day. That would put WRTI-FM's first broadcast as November 10, 1952. According to John Roberts, other WRTI (AM) broadcasts were aired over WRTI-FM during the month of November (1952). In the October 15, 1956 issue of "On Audition," the weekly WRTI Newsletter, it stated that FM was broadcasting by..."February of 1953. Its hours were erratic, and so were its programs."
OUR HATS OFF TO YOU:
Special Thanks for 2015 Scholarships:
Vice-President Kal Rudman - 5 scholarships (all for Temple students)
Member Johnny B. Hall and wife Ginny - 4 scholarships
Members Robin and Ira Adelman & Leon Love - 2 scholarships
Member R. Alan Campbell - 1 scholarship in the memory of Fred Ruggieri (Fred Randall)
Member Harry Hurley's Golf Tournament - 1 scholarship (for South Jersey residents or students)
Member Sylvia Kauders - 1 scholarship (from a grant for 5 yearly scholarships)
Member Marlin Taylor - 1 scholarship
Member Esther Kurtz - 1 scholarship in memory of her late husband, David Kurtz
Member Bob Pantano - 1 scholarship (for a Temple University student)
Bette Lavine (neighbor of Mike Nise) - 1 scholarship
Special Thanks for contribution of $1,000 or more to our DAP, Digital Archival Project:
Member Johnny B. Hall and wife Ginny - $3,000
Member Marlin Taylor - $1,000
Member Harry Hurley's Golf Tournament - $1,000
Member Glenn Schwartz - $1,000
Underwrite a complete scholarship and we'll give you credit in the electronic newsletter until the scholarship is awarded in April of 2015. Give us a donation of $1,000 or more and we'll list you in our "Thank You" column for a year.
More Thanks:
Thanks goes to Member Linda Munich who just recently sent in a very nice and very generous contribution. Thank you. Also, a special thank you goes member Debbie Elias for her generous donation to our Digital Archival Project. It is very much appreciated. Also, kudos to Brother Gerry Molyneaux at LaSalle for his contribution to our scholarship fund.
Again, member Johnny B. Hall has surprised us (he does this alot) by sending along an extra check for our scholarship fund. This is in addition to his usual generous amount. Thank you.
We would like to thank those of you who included an extra contribution when they paid for their lunch at the January luncheon. They include: Phil Shuman, Steve Tatz, Gerry Wilkinson, Steve Sacks, Bill Kelley, Tom Lamaine, Carol Leebron, Robin Mackintosh, Bill Roswell and Keith Stacy.
A growing portion of the revenues that fund the different activities of the Broadcast Pioneers comes from donations. This includes our archival project and our scholarship program. Now, we are making it even more beneficial for our donors. Broadcast Pioneers is now able to accept gifts of appreciated stock, which provides a significant tax benefit to you. By giving appreciated stock (stock which is worth more now than what it cost when it was purchased), you can get a charitable contribution tax deduction based on the current market value of your stock. At the same time, you avoid the capital gains
tax that would arise if you simply sell the stock. So if you'd like to support our educational mission or our archival project and save money on taxes too, please consider making a gift of appreciated stock. We are a federally recognized, state chartered charity with a 501(c)(3) status. Contact us at (856) 365-5600 or e-mail pioneers@broadcastpioneers.com for more details.
Lunch with Uncle Pete Tray
Visitors to our website, Em and Jim Richards (formerly of Wilmington) donated to the Broadcast Pioneers archive an original "Lunch with Uncle Pete" tray (seen above). It advertised Supreme Bread, the house brand of the Acme Supermarket and American Stores chain. Emily-May was named after Emily McGordy and May McGordy, daughters of James McGordy. James is the maternal great-grandfather to Emily-May and he was the gatekeeper at Henry DuPont's Winterthur Estate in Greenville, Delaware. James assumed his responsibilities as gatekeeper around 1896.
Don't be left out. You too can make a pledge. It's never too late. You can earmark it for scholarships, our Digital Archival Project or our general fund. Thanks so much for your support.
Our special thanks go to TUTV - Temple University Television and The Kal & Lucille Rudman Media Production Center.

They have underwritten a grant to be used to fund an entire year of all our newsletters for calendar year 2015. We thank them so much for their support!
If you forgot to make an extra contribution (cash or memorabilia) and would like to do so now, it's never too late. We would be thrilled to hear from you at: PO Box 2886, Bala Cynwyd, PA 19004 or call us at (856) 365-5600.
Remember, History is ONLY What Gets Saved!
(If there were no portraits of George Washington, how would we know what he looked like?)
A FINAL THOUGHT....
"No man has a good enough memory to be a successful liar."
Matty "The Humdinger" Singer
Record Promotion Man
quote from the forthcoming book by
member T. Morgan, "Confessions of a Teenage DJ"

Please contact us by e-mail at newsletter@broadcastpioneers.com or by mail to: Broadcast Pioneers of Philadelphia, PO Box 2886, Bala Cynwyd, PA 19004. Your stories are important, to you, to us, and your colleagues. Contact us today and we'll include your story in the next newsletter!

© 2015, Broadcast Pioneers of Philadelphia
All Rights Reserved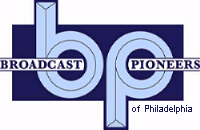 The e-mail address of the Broadcast Pioneers of Philadelphia is pioneers@broadcastpioneers.com
For luncheon reservations call (856) 365-5600 or e-mail us at: rsvp@broadcastpioneers.com